What is this Emerald River Adventure that everyone is raving about?
An awesome day of fun as the best crew in Bled take you north into the Julian Alps (see the map below) to see some amazing alpine scenery and also invite you to take part in some fabulous outdoor activities like hiking, rafting and swimming (perfect for a hot summers day!)
Yeah, sounds good, tell me more!
It's a great day out run by the best bunch of guys you're likely to meet! They all have one thing in common, they like to have fun and want you too as well! So send us an email now (ok, read the rest first...then send us one!) and book yourself in. The sights are amazing and you'll have an action packed day and enjoy a few coldies along the way with your new best friends.
Ok i'm in, where is it?
It departs from central Bled at 8am and arrives back at roughly 8pm. It runs every day from April to October depending on numbers. Those in Ljubljana can catch a bus to Bled and the guys will pick you up at the bus station.
How much is it?
80euros per person for your guide, free drinks, music, entertainment, photos and transport. How good is that? The bus holds up to 16 people. Please note that extra activities incur an extra charge: Rafting 40euros per person (and bring extra spending money for lunch and anything else you see along the way!)
Sounds good, what else do i need on the day besides extra cash?
Bring your swimming gear and a towel plus a fun attitude :)
How do i book this amazing event?
Glad you asked! Just email us here at Sloveniaforyou.com and
we'll set the ball rolling!
Click here for more info or to book
Follow the Emerald River Adventure (in red, cyan and orange)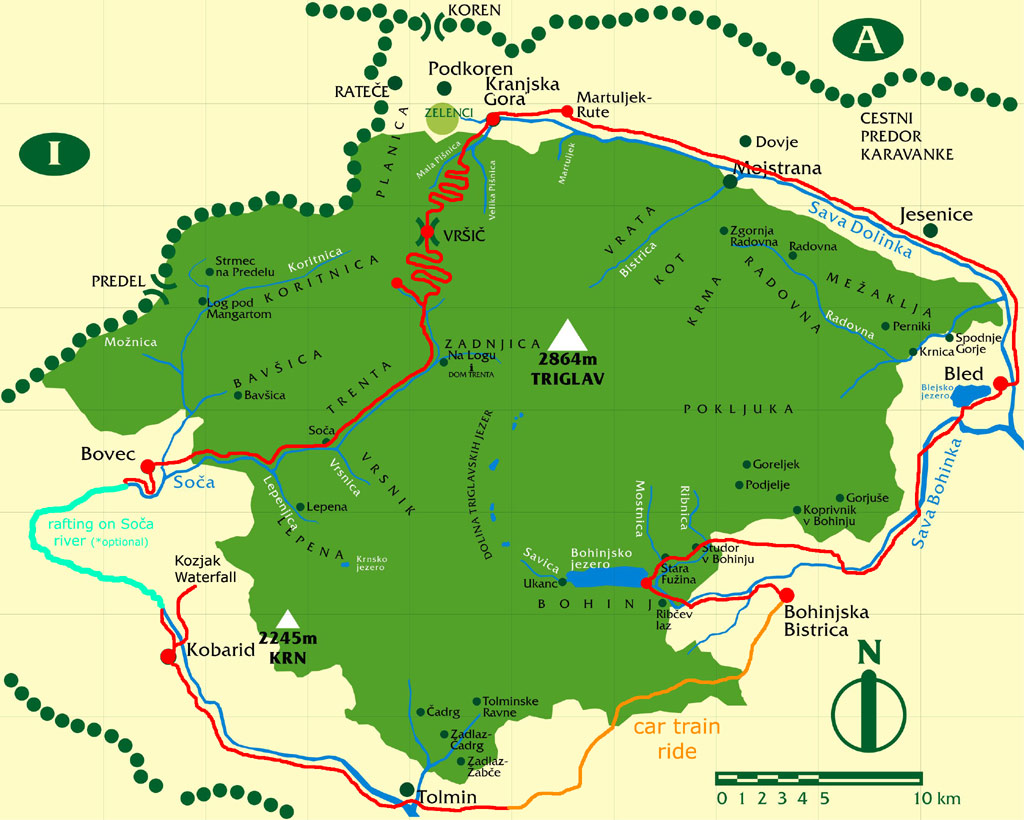 Sloveniaforyou.com would like to emphasise that we are not a Travel Agency and are only representatives for our tour operator partners and their tours as highlighted above. We only work with companies that offer quality and value so rest assured that you're in good hands when booking a tour with our partners through Sloveniaforyou.com