Ryan on tour in Slovenia. Part 1
Author: Ryan Callan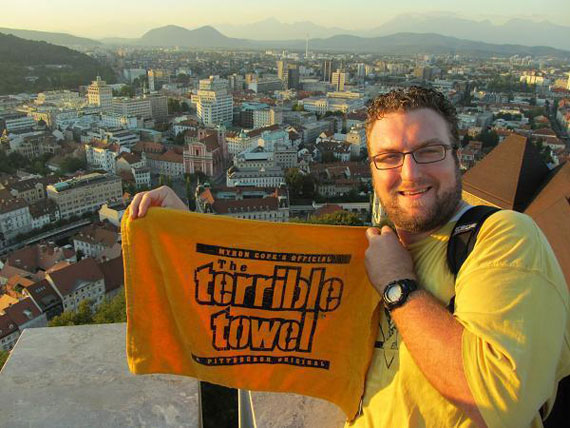 First, I would like to thank 'Sloveniaforyou' for all of your help. I would never have been able to have such an amazing itinerary without your help. Slovenia far exceeded my expectations. I would like to include some of my own reviews for you.
LJUBLJANA!
My first day was spent in
Ljubljana
. It was a beautiful, but small city, so everything of interest can be seen in less than one day.
I recommend visiting Prešeren Square to take in the beauty of such buildings as the Franciscan Church of the Annunciation, Ljubljana Central Pharmacy and the Triple Bridge.
Nebotičnik (skyscraper) provides a lovely terrace to enjoy a cocktail, and some great views of the capital city including Ljubljana Castle sitting alone, high on its hill.
Dragon Bridge and Robba Fountain are also worth stopping for a picture of two, perhaps on your way to Ljubljana Castle.
Ljubljana Castle has a beautiful courtyard for a brief stroll, and I highly suggest climbing the tower to get more great views of the city. I didn't experience very much of Ljubljana's night life, but I did stop in a little bar called Bi Ko Fe where I tried beer with ginger for the first time. It was quite good.
Preseren Square by night, Ljubljana
POSTOJNA CAVES, PREDJAMA CASTLE
My second day was spent driving down to the coastal city of Piran, but on the way, I would stop to see Postojna Cave, Predjama Castle and the Škocjan Caves.
Postojna Cave
was nice, but other than the unique "human fish" at the end of the tour, it was not much different than many of the caves we have in the U.S. but I still enjoyed it.
Predjama Castle
is a must-see. About 9km from Postojna Cave, it is a castle built right into the side of a cliff in front of a cave. It has a very unique history, and seeing how the building is fused in with the rock is really neat.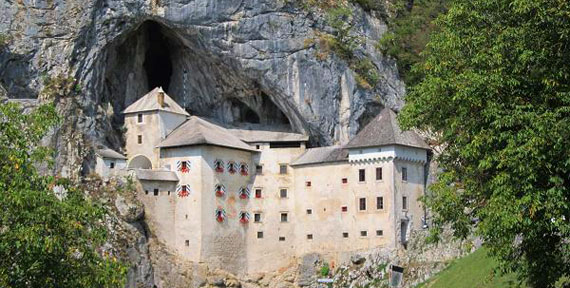 Predjama Castle
SKOCJAN CAVES
Škocjan Caves
, CANNOT be missed. My tour visited first the "Silent Cave" and the "Murmuring Cave." The Silent cave (named for its silence due to the lack of a river flowing though it) featured large, colorful underground rooms with different types of stalactites.
I especially liked the "Organ Hall" named for its large, beautiful pipe organ stalactites. The Murmuring Cave (named for the sound of The Reka which flows through it) looked like something out of "Lord of the Rings." It's great feature was a walk across a bridge spanning one of the largest underground canyons in the world. The beauty does not end upon exiting the caves.
If you so choose, you can also choose a self guided, half hour walk back to the start. The trail takes you through many beautiful Karst phenomena such as collapsed valleys and natural rock bridges. You will also see some beautiful waterfalls along the way.
PIRAN
The rest of day two, and three would be spent in the beautiful coastal town of
Piran
. Piran's beauty is further accented by the way it juts out into the Adriatic Sea.
Because of its narrow streets, driving a car is prohibited unless you live there, and have a special sticker for your car. I was well aware of this before arriving, so I had my GPS guide me to a parking garage on the outskirts.
At this point, I was down the coast a little, and around a bend, so
Piran
was not in my sights, and I had no idea what would be in store for me. I grabbed my luggage, and began walking down and around the hill. A little more than halfway down the hill, I rounded the bend, and all of a sudden, just like that, Piran was there in the distance beyond sea waters.
The view was breathtaking, and I was glad to have come upon it in that way. I had seen so many pictures on the internet, but seeing it there in person was so surreal to me. I could not believe I was actually there.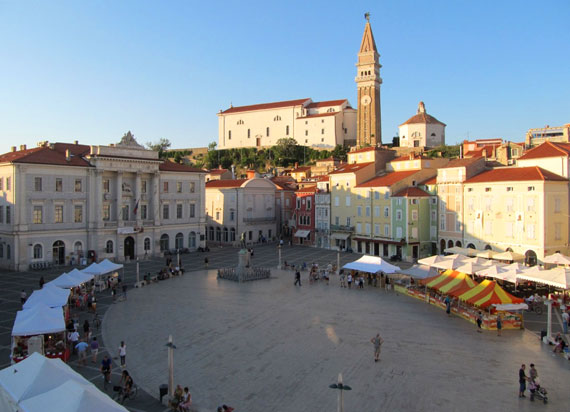 Tartini Square, Piran
I really enjoyed just walking all around the city, and seeing the kind of narrow streets and compact houses which give the town its special charm.
I highly recommend visiting the Church of St. George which sits on a hill on the northern coast. The bell tower also provides amazing views, which are well worth the long climb up narrow steps. Down from the church, there is a nice promenade which takes you east along the northern coast to a little town called Fiesa which is worth a visit if you have spare time. The city walls to the east provide some more great views, and are neat to explore, but they can be skipped if you do not feel like climbing a steep hill. Tartini Square (back on the southern coast) is exceptionally beautiful at night.
I got a seaside room in
Hotel Piran
which offered spectacular views of the sunset over the Adriatic Sea. Breakfast was served on the fourth floor which also provided great views of ships, and sailboats on a blue sea. My original plans were to rent a bike, and ride a trail along the coast to visit Izola, Strunjan, and Koper, however intense heat plus the fact that I was enjoying Slovenian beer a little too much made for a very tiresome combination. (Maybe next time!)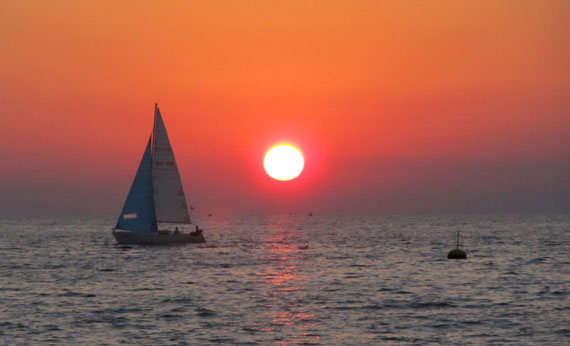 Piran Sunset, Slovenia
SNEZNIK CASTLE, KRIZNA CAVES
Day four, it was back up north to
Ljubljana
(and a little beyond) to see the rocking side of Slovenia. Along the way, I made a couple spur of the moment decisions that I would not regret.
As mentioned earlier, the intense heat combined with excessive alcohol consumption altered a few of my plans on the coast, so the fourth day had me heading back up north earlier than originally planned. I was to first go to my hotel in Ljubljana, then another 30 minute drive north to Vodice for a rock concert. (Before my trip, I had learned of the Slovenian folk rock band "Avven." As luck would have it, they would be playing a show during my stay.)
While on the road, my GPS indicated to me that I would be arriving at my destination well before I would be allowed to check in, so I realized that I had better find something to do!
Along the highway, I saw a sign for Snežnik Castle, and decided that would be a good way to kill some time. Of all the castles in Slovenia, Snežnik Castle is the most well preserved, so all the goods and furniture are original from at least the last owner. This made for a beautiful tour with all the old, yet well kept furniture and paintings. I especially liked the room with the Egyptian furniture on the top floor.
While on the road back to the highway, my GPS was STILL indicating that I would arrive at my hotel too early. I remembered seeing a small rather unassuming sign for Križna Cave on my way to the castle, and thought I would give it a try as well. Based on the lack of fanfare, the fact that I had never heard of that cave in all my research of Slovenia, and the long, one-way driveway of a road I took to get there, I was not expecting much. When I turned out to be one of only three people on the tour, I was really wondering if it was going to be worth my time and money.
The truth is Križna Cave may very well be Slovenia's best kept secret. Unlike the other caves I had visited, this cave had no lighting, and no walkway built into it. This made rubber boots, and a flashlight necessary, which in my opinion added an extra sense of adventure.
The cave is full of natural wonders and history. There were rocks eroded by the ice age, (the now extinct) cave bear bones, unique looking worms, and an underground lake. Unfortunately, I was only able to take the short one hour tour which included a small ride on a raft. For my next visit to Slovenia, I will be sure to make it a priority to take the four hour tour which goes farther down the lake, and must be booked in advance.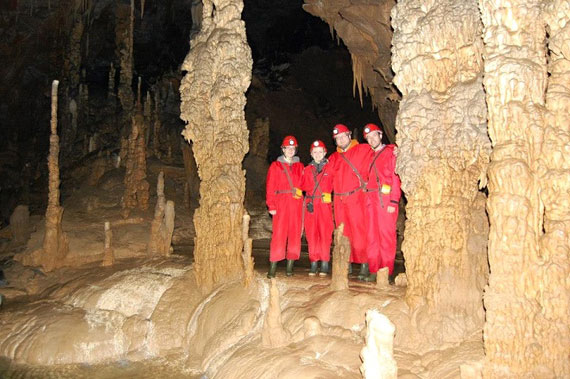 Krizna Caves, Slovenia
LJUBLJANA #2
By the time the cave tour was over, I had killed enough time to finally go to my hotel in
Ljubljana
. After a check-in, a quick dinner, and few hours of rest, it was time for a cab ride up to Vodice to see what the rockin' side of Slovenia was like.
Vodice was hosting the annual "Rock Fest." The four bands playing were SUCCESS, Ne Še, Metalsteel, and Avven. I found all four bands to be very good. SUCCESS was a cover band playing the popular songs of other Slovenians band. Ne Še was a very good melodic rock band which sang mostly in English. Metalsteel had a bit of a throwback rock style much like Guns N' Roses, and Avven was a great folk rock band (including a flutist and violinist.) I made a lot of new friends at the concert.
Word got around that I was there, and everyone was intrigued that an American had traveled half way around the world to their small country and was attending their small rock concert. The band Avven even invited me backstage, and wanted me to join them in their post concert photo sessions. At the end of the night, I got a ride back to the hotel by some of the band members!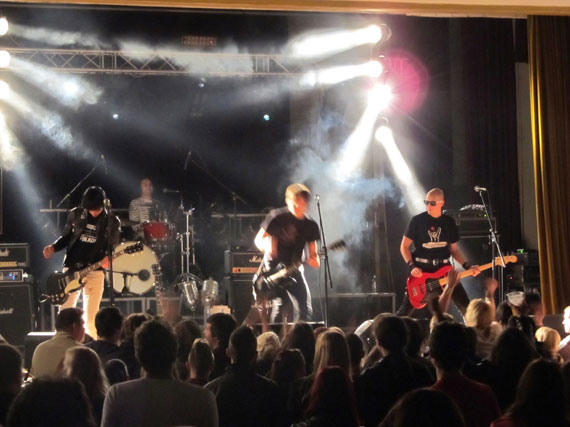 Rock Festival, Ljubljana, Slovenia
STANJEL, BRANIK
Back to the south and west, it was time to visit the medeival town of Štanjel. The old town up on the hill, was just a neat place to walk around, and check out the medieval ruins mixed with other building perfectly in tact. There is really not much else to say about the place (I forgot to look for Ferrari Park,) but it is certainly worth a visit. It would be a more relaxing part of the Slovenia trip, with just a simple stroll through the narrow streets, to check out the sights.
After, I was done walking around Štanjel, and on route to Most na Soci train station, I stopped in Branik to see Rihemberk Castle. It is a magnificent castle high on a hill above Branik. Unfortunately, it is not open to the public, so it is only worth a visit if it is on your way to somewhere else.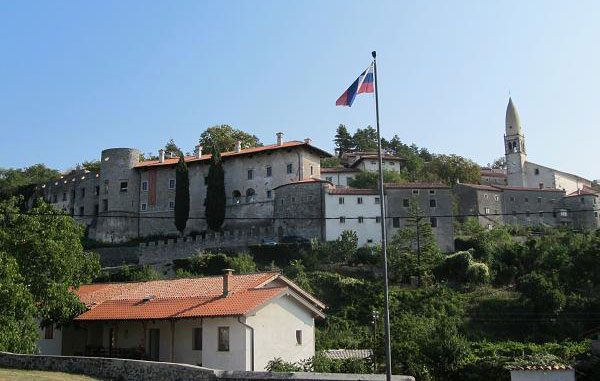 Stanjel, Slovenia
MOST NA SOCI CAR TRAIN
After Branik, it was on to Most na Soci, where I would begin one of my most unique experiences ever: the cartrain. I would literally drive my car onto the flatbed of a train, and ride 45 minutes to Bohinjska Bistrica. (From there I would drive to Bled for the next leg of my trip.)
The ride itself was enjoyable, taking me though many tunnels, and around some breathtaking sites of the Julian Alps. After reaching my final destination, I was to drive from Bohinjska Bistrica to my hotel just outside of Bled.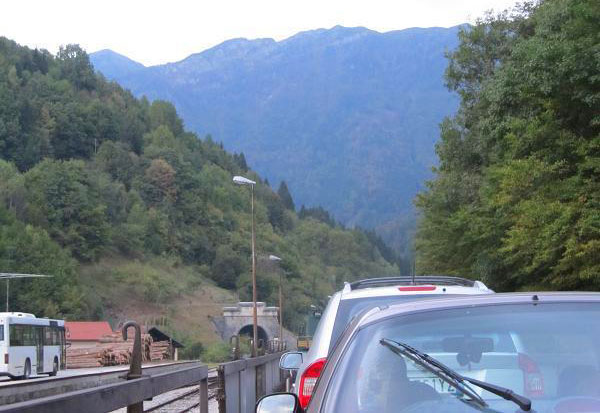 Most Na Soci car train, Slovenia
BLED
I was very fortunate to get to drive into
Bled
at night. It was one of the most amazing, beautiful sights I had ever seen, and was a great first impression of the town. Both Bled Castle high upon a hill above Lake Bled, and the church on Bled island were beautifully illuminated.
I was driving in almost pitch black, not entirely sure where I was, anxious to get to my destination soon, and wondering how much longer I had. (Driving through narrow roads in a foreign land had been very stressful for me.) As I came down to the bottom of a hill, I suddenly caught a glipse of the lit Castle. I recognized it and immediately knew where I was! As I got to to bottom, and was along the lake, I searched for the Island, as saw the church just as beautifally, lit.
My nerves were immediately calmed. I highly regret not having taken pictures of this. :( (Maybe next time!)
The next two days would rain, which was a little disappointing, because it wat the part of Slovenia I had been looking forward to the most. (Northwest in the Julian Alps.) It would be too hard to complain though, because those were the only two days of rain out of the ten I was there. The first day wasn't so so bad. It was more of an off and on light rain, so I was still able to see some incredible sights. ow I was with other members of my family who were taking me to see several different sights in and around Triglav National Park.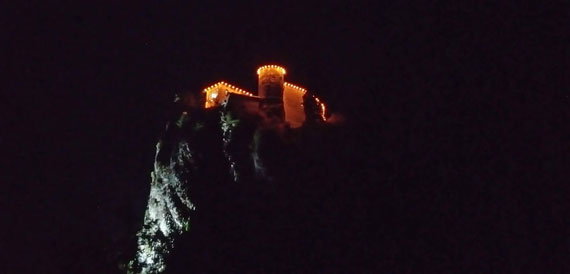 Bled castle by night, Slovenia
TRIGLAV NATIONAL PARK
We would start by driving from Bled, through Jesenice, and into Italy. The mountains to the left provide an amazing view. (I love mountains.) It is worth a brief stop to see Lake Zelenci, which is a source of the Sava River. Look through the clear water to the bottom of the lake, and notice occasional bubbling coming through what looks like underwater craters. This is the source of the lake itself. The water actually emerges from the bottom from the sediment of lacustrine limestone. It is a natural phenomenon unique to Slovenia. We drove past Magart Lakes and Predel Lake. Both were beautiful, but unfortunately it was raining too hard to stop for photos at this point. Then it was on to Predel Pass back into Slovenia.
After that, we drove up the Mangart Road. At 2055m (6,742ft.,) it is the highest paved road in Slovenia. It was a very windy drive with lots of beautiful scenery until to top in the Mangart Saddle just below Mount Mangart. From there, thanks to a break from the rain, I was able to see Mangart Lake in Italy (which we had passed earlier) from high in the mountains. I would highly recommend visiting the Mangart Road unless you easily get motion sickness. On the drive from Mangart road to Vršic Pass we stopped several times to take in the beauty of the Soca River. Slovenia's purest river, it's water is safe enough to drink.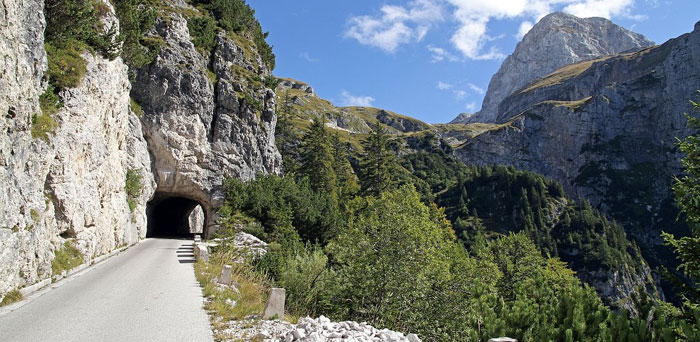 Mangart Pass, Slovenia
VRSIC PASS
The Vršic Pass is a windy mountain road built by Russian prisoners of war during World War I. The drive provides many opportunities to look around at several different mountains including, at one point, Slovenia's national symbol Mt. Triglav. At the end of the pass, we stopped to visit the "Russian Chapel" which was built by the POW's to honor those who perished in an avalanche during the construction of the road. After that, it was Pericnik Waterfall which is a must on anyone's itinerary in Triglav National Park. A trail takes you up to, and even BEHIND the falls. I would love to see it in winter someday, as I hear it freezes, and people ice climb on it.
We stopped a few more times to get pictures of some more mountains on our way back to their house in Lesce where I was treated Slovanian meats (including the delicous Karst ham) and desserts. The second day was so rainy, there was really nothing I could do. This cost me a visit to
Bohinj
, Savica Waterfall, and the Vogel Cable Cars which will have to be a priority for my next trip!
BLED #2
For fifteen minutes I had been driving in pitch black on a road through the Julian Alps on my way to my hotel just outside of Bled, Slovenia. However, the stress from the previous days of driving in a foreign land, never knowing what to expect next on narrow roads, cliff side roads, windy roads, and sometimes all three at one time, made the fifteen minutes feel like hours. Up until that point, I had been fortunate enough to avoid driving after sundown. This night, I would not be so lucky. Driving in the dark, not knowing how much farther I had to go made me that much more anxious to arrive at my destination.
With every bend, I hoped to see some sort of sign that would let me know how close I was. Finally, when I began my descent down a long hill, I noticed lights at the bottom, and signs of civilization. I hoped upon hope it was Bled. As I neared the bottom of the hill, I began to see the reflections of lights dancing in the water of a lake directly in front of me. I got a little more excited, but careful not to get my hopes up too much, that I had, in fact, finally reached Bled.
I immediately scanned the lake, searching for the island with the church on it to confirm my hopes. I did not want to take my eyes off the road for too long, so when I failed to find it in a few seconds, I started to worry that I was just passing though another small town with a lake. Then, I took another quick glimpse, this time looking for Bled Castle. I figured finding something up high would be much easier than looking for something low. Sure enough, I spotted the castle illumintad beautifully atop a cliff high above the lake. It was one of the most amazing sights I had ever seen in my life.
The sheer beauty of Bled Castle at night calmed my nerves even more than realizing that I had indeed made it to
Bled
. I turned right onto a road that ran along side the lake, and was actually thankful for the red lights I got that gave extra time to appriciate its magnificence.
Lights were at the bottom of the hill shining up toward the castle so that that rocky cliff could be seen. Lights under the eaves of the castle's roof tops shines back down to make the castle appear as if it were glowing in the clear night sky. It seemed to perfect, too beautiful to be real, and yet there is was right before my eyes. I almost couldn't believe I was there, as exhilaration coursed through my veins. A few minutes later, I took my gaze back down to the lake to see if I could locate the island. That time, I had no problem finding it. Across the water, to my left, the church was illuminated almost as beautifully as the castle. It is something I will NEVER forget. I cannot wait to see it again!
So I finally took a look at a map, to try to figure out the route I took around Bled, and apparently it was not exactly as I remembered it. The hill I came down does not appear to be that much of hill, but every little thing on the road was exaggerated to me. The right turn was not a right turn at all, it was a sharp bend to the right. (At least I was correct that I turned to steering wheel to the right) I am starting to think the red lights were not red lights. I remember getting stopped behind a lot of buses. They must have just been loading or unloading, but I really was not paying attention, because my eyes were fixated on the castle upon every stop.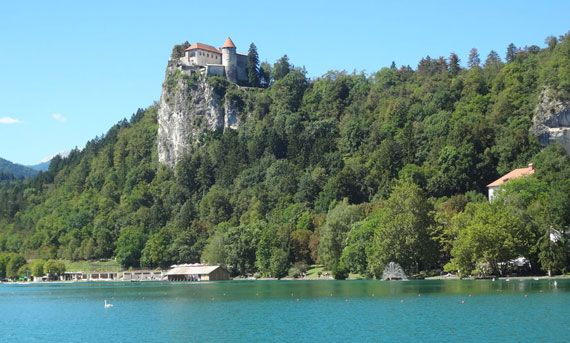 Lake Bled, Slovenia
VINTGAR GORGE, BLED
The next day was a day of a lot of walking for me. Because of the rain, I had to squeeze in Vintgar Gorge as well as Bled because of the rain the previous day. Because I was sick of driving, I chose to do it all on foot. (If you don't mind really long walks, I recommend this method. You can see so much more by foot, than by having to pay attention to the road.) From my room, it was a littler more than a 2km walk to Vintgar Gorge.
Vintgar Gorge is another MUST SEE for anyone travelling to Slovenia. Just out side of Bled, it is a beautiful ravine almost a mile long (1.6 kim) with the Radavna River flowing through it. At some times, it is green with trees, other times it is rocky. The river flows rapidly through the gorge, at times so powerful, you can feel mist jumping at you on the wooden walkway which zig zags along and over the river. There are also two wonderful waterfalls well worth a photo along the way. (The second of which will require a five minute walk off the end of the trail.)
At the end of Vintgar Gorge, I noticed a sign that said "Bled" and pointed up a path through the forest. This would prove to save me a LOT of time. (I was expecting to walk back through the gorge, and back to the main road into Bled.) I just simply followed the markers through the wooded area, sometimes a little unsure of myself, and wondering if I made the wrong choice, before I finally broke into a clearing at the top of a hill. A little disoriented, I scanned the landscape for a sign that I was still on the right track, and just as it had before, Bled Castle would provide me with the relief I sought. This time in the light of day, I saw it sitting on another hill opposite mine, and knew I was almost there. It would be about another hour walk down the hill, and through the beautiful countryside before I would reach Bled.
Bled was the inspiration for my trip to Slovenia. My mother oftened talked about when she visited Bled when she was fifteen years old. She spoke of the lake, the church on the island, and the castle on the hill above the lake. I found the church on the island to be very intriguing, so almost forty years later, I chose to follow in her foot steps. The beauty of Bled would not disappoint! Once in
Bled
, I started by walking the promenade around the lake, watching beautiful swans swim in the peaceful water.
Rather than take the traditional pletna to the island, I chose the quicker electric boat. A ten minute ride on the boat gave me nice views of the city, as well as some nice angles of the caste.
On the island, I took a nice little stroll, enjoying more of the scenery as well as The of the Church Assumption. I was very excited to know that I had finally got to go to the island my mother had told me about so many years ago. I was finally following her footsteps. (Bled Island was MY Mecca. Perhaps it will be for my brother and sister as well.) There is also a lovely, quaint little boutique on the island. I would eventually make my way into the church where I got to ring the church bell with a long rope dangling in the sanctuary. They say, if you make a wish when you ring the bell, it will come true. (I forgot to make a wish though)
After returning to the mainland, it was time to eat. I went to the second floor of the Gostilna Pri Planincu where I enjoyed a delicous pizza. Then it was on to Bled Castle. I found a path which lead up to the main gate. Bled Castle was much smaller than the other castles I had seen, but it was still worth the visit. It provided some great view of the city below, the mountains all around, and of course Bled Island. The town of Bled is another must on the itinerary of anyone visiting Slovenia.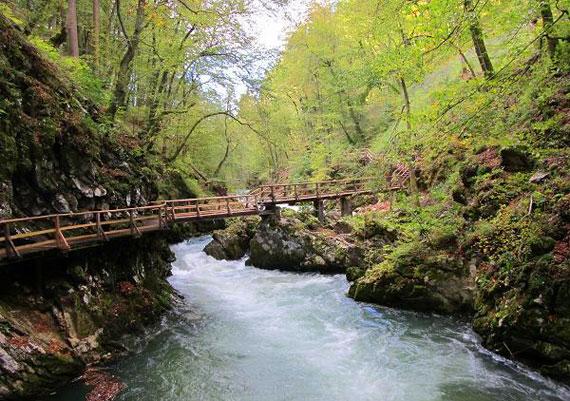 Vintgar Gorge, Slovenia
SKOFJA LOKA, KRANJ
Škofja Loka, like Štanjel, is a wonderful place to take a relaxing stroll. It is Slovenia's most well preserved medieval town with a lovely array of colorful houses, old churches, and a beautiful castle on the hill.
The Škofja Loka Castle garden is small, but worthwile little walk. I wish I could have more to say about Kranj than I do, but by that time, I was so exhausted, I did not really care to do much there. Much like Škofja Loka, it boasted many medieval colorful houses. In fact, it may have even been more beautiful than Škofja Loka. Some of Kranj's old city walls were still in tact. Perhaps when I return to Slovenia, I will have to be sure to visit Kranj with much more enthusiasm. (I will also have to be sure to visit the WWII Tunnels.)
THE PEOPLE OF SLOVENIA
I found the poeple of Slovenia to be very friendly, and helpful. They excused my American ignorance, and most of them spoke English very well. In fact, when people found out I was American, they were very eager to talk to me.
They were just as curious to learn more about my country as I was of theirs. When I had questions about where to eat or what to see, they were excited to tell me. When I explained my itinerary, I was given helpful tips on what to see when I got to certain towns, as well as where I should go that has not been included on my itinerary. (I was given enough information to plan my next TWO trips there!) The people seemed genuinely interested in boasting about their beautiful country, and some even seemed to regret that their jobs prevented them from joining me on my trips to act as my personal guides. The service I got at restaurants and hotels was very friendly and acommodating.
FOOD
I am from Pittsburgh, Pennslyvania which is full of people of Eastern European descent. In fact, the state of Pennsylvania has the second highest number of Slovenians living there. (Ohio, which is right next door to the west, is number one.) I say this to explain why ethnic Slovenian food did not interest me much. It was all pretty much what I grew up eating at home! The different types of sausages, salami, kolbassi, and ham are found everyday in Pittsburgh, so it was a bit of a let down for me when I got to Slovenia. (Given the figures from above, I guess I should not have been surprised at all.) However, I had never seen Karst ham. That was one big, very delicious difference. It was a thinly sliced, very tasty dry-cured ham which I am told takes two years to make.
Because I was already familiar with traditional Slovenian food, I spent most of the time eating in pizzerias. The pizza pies there were very delicious, and much different than the typical pizzas of America. For one, you don't get a large pizza to share with friends or family. Everyone gets his or her own personal pizza, with a fork and knife. The pizzas are not sliced into triangular shaped pieces to be eaten by hand. The toppings are different than what we traditionaly get in America. In fact all the pizzas I had in Slovenia would be considered "gourmet pizzas" in America. (The next time I am there, I will have to make it a point to try as many different pizzas as possible.) These were my three favorite pizzerias in Slovenia.
1. Just behind the inner harbor, where the buses to Portorož stop, and in the side of the Court House in Tartini Square is a wonderful little pizzeria. Unfortunately, I cannot recall the name. You can choose to dine inside, or out on the patio which is opened by large arches. There, I enjoyed two delicious pizzas with different combinations of seafood. From the outdoor seating, you can choose to watch the activity in Tartini Square to the east, or on the swimming piers along the coast to the west.
2. My favorite pizzeria in Slovenia was Gostilna Pri Planincu in Bled. It was not just about the delicious pizza, it was the character and charm of the place I enjoyed. The actual pizzeria is in the back on the second floor of the gostilna. It has the look and feel of an old tavern, and even has a loft. The tavern was adorned with antique equipment including some antique motorcycles, and there were large round tables with private beer taps for parties of up to twelve. I first ate there on the rainy day when I had nothing else to do. I enjoyed it so much, I returned the next day when I was able to enjoy Bled in nice weather. Removed from the coast, and into the mountains, the toppings on the pizzas here were meats and cheeses rather than the seafood toppings like in Piran. The first day, I enjoyed a five cheese pizza, and the second day I had a pizza which was completely covered in Karst ham. Both were quite delicious.
3. In Škofja Loka, Jesharna came highly recommended, and it did not disappoint. I knew it was a winner when the aromas hit my nose as I crossed the bridge over the Selška Sora. The restaurant was a small and cramped as it was, but being such a popular place, and therefore very busy made it feel even more tight, but that did not ruin my dining experience. The toppings here were mostly vegetables, and sometimes the topping were arranged to create an edible work of art. On top of delicious pizzas, they also served pastas and had exceptionally good dessert crepes. The crepes offered a variety of diffent combinations of fillings. (I chose dark chocolate and cherry.) The crepes are huge, so if you want dinner and dessert, be sure to pack a large appetite! Also unlike America, many of the cafes in Slovenia served as coffee shops, ice cream shops, and bars all at once. These were very pleasant places to stop for rests and/or quick snacks, and a coffee or a drink.
For someone like me who is not into the crazy night club scene, they were also nice places to finish my nights. My favorite was Vahtnca Kavarna in the town square of Škofja Loka. There was outdoor seating in the front as well as an outdoor terrace in the back. My last day in Slovenia, I made it a point to try a horse burger from the Hot Horse in Tivoli Park. It was interesting.The burger was a little tough, but tasty.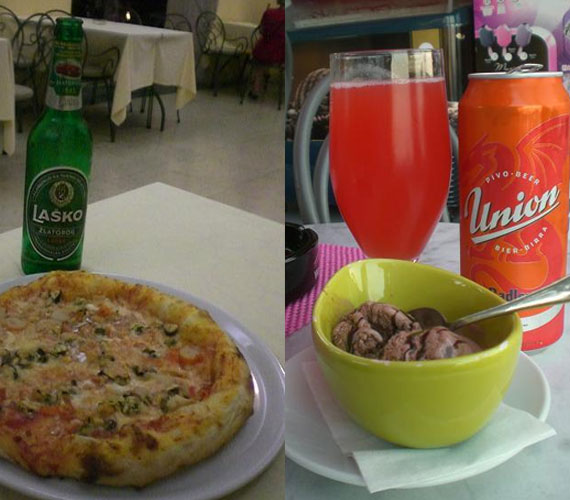 Food and Drink in Slovenia!
ALCOHOL
I have heard that the wine is very good in Slovenia. Being more of a beer drinker, I did not drink much wine, so unfortunately I do not have much to say about it. I did enjoy one glass of red wine at the
A Hotel
in Ljubljana, and it was very good. I wish I could remember the name of it.
Some bars in Slovenia did have some of the imports we see in the USA like Guinness and Heineken, but the main brews were Laško and Union. Although both owned by the same company, I noticed their is a bit of a rivalry between "Green" (Laško) and "Red" (Union.) I preferred the Laško myself. It was tastier and stronger while Union seemed weak to me, however I did enjoy something called "Radler." Radler was simply Union beer mixed with Fanta soda. Some bars mixed it for you on the spot, other times you could by it already mixed in a can. It also came in different flavors such as red grapefruit and lemon.
I was also surprised that beer can be purchased EVERYWHERE! In the USA, owners must have liquor licenses to serve alcohol so we are very limited as to where to have drinks, but in Slovenia I could buy some on the beach, in any pizzeria, or any cafe (as mentioned above.)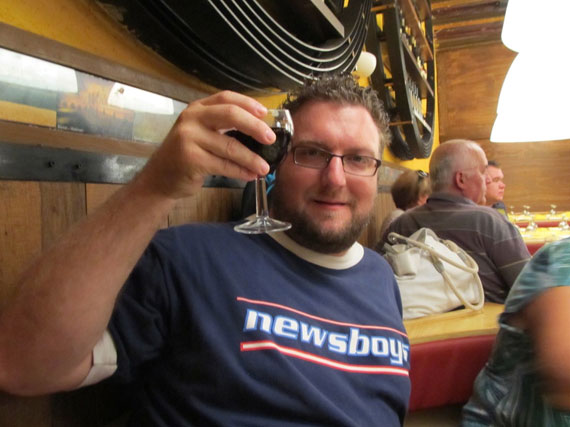 Ryan trying some vino, Slovenia
DRIVING/PARKING
If you do not know how to drive a manual transmission, I recommend you learn before travelling to Slovenia. Although automatics are available to rent, you will very appreciate the control a manual gives you in certain situations that an automatic does not. Whether you know Slovenian or not, the road signs are very easy to follow, and figure out.
Highway driving is pretty easy. The roads were very well maintained, and trucks have a separate lane so as not to slow down other traffic. This means you can step on the pedal, and drive fast (as most do,) and get where you are going without getting stuck behind a fully loaded truck laboring up a grade.
Be sure you have a Vignette Sticker for the toll roads. You do not stop at the toll stations, but make sure you go through the right lane. (It will be marked "Vinjeta") The car rental company I used included the Vignette Sticker in the rental price, so I did not have to worry about that for the duration of my trip.
I have heard that finding a parking space can be very hard in Ljubljana, but that was not an issue for me. The only time I did any driving in Ljubljana was when I picked up my rental, stayed at the A-Hotel for one night, and returned my rental. In each of those situations, I was guaranteed a parking spot. Otherwise, I opted to walk or take a taxi through the city since it is not that big. I have also heard that traffic gets really bad in
Ljubljana
, but I guess that is a matter of percpective. I found that driving through Ljubljana with bad traffic is like driving through Pittsburgh with good traffic. Pittsburgh does have the same kind of awkward traffic patterns as Ljubljana, so perhaps that helped me to be well prepared.
In
Piran
, Kranj and Škofja Loka, there is no driving in the old towns unless you live there. In Kranj and Škofja Loka, I had hotels withing easy walking distances of the old towns which provided me with parking. In Piran, my hotel was in the old city, so I had to park in a garage outside of the old city which was not so much an easy walk, but it was convenient and cheap. (I chose the Fornace Parking Garage.) If you do this, I recommend you pack your carry-on bag only with what you will need for the duration of your stay rather than hauling all of your luggage.
Driving through some small villages can be intimidating at first, but you eventually get comfortable with it. Roads get very narrow, and sometimes houses will literally just appear out into the road. If you should meet a car coming the opposite direction you will have to slow down, and crawl very slowly by each other. In some cases, the road is so narrow, one might have to back up a little bit to the next widest part of the road. However, traffic is so light in these small villages, that you really do not have to worry about that so much. Beware of mountain driving. Again the roads tend to be very narrow, and you can expect a lot of hairpin turns. (This is where I REALLY appreciated having a manual transmission. I could put the car in low gear, and not worry about it picking up speed going downhill like an automatic would.)
ACCOMMODATION
(All prices I list are from my trip which was in September, so they will be lower than typical tourist months)
Hotel Emonec
, Ljubljana: This hotel is convienently located in the old town just outside of Prešeren Square. If you are picky, this is probably not the place to stay. There is no parking, and the bed was small, and not particularly comfortable. Because I did not have a car at the time, I am not that picky, and I was probably too excited about my first day of vacation I did not care, and the hotel was fine for me. The staff was very friendly and helpful. I thought 70 Euro seemed a little high considering the simplicity and lack of luxury of the room.
Hotel Piran
, Piran: I had a room on the seaside, and my balcony gave me great views of the Adriatic Sea and the sunset. Breakfast was served in a dining room on the fourth floor with large window also providing great views of the sea as well as the old town. Outside seating was available. The room was large and accommdating, but not very attractive. (No big deal to me.) 80 Euro/night was very reasonable to me, but I was disappointed that wireless internet was not free.
A Hotel
, Ljubljana: This hotel was a very pleasant surprise for me. After having paid 70 Euro for one night in the lackluster Hotel Emonec. It was a very beautiful hotel. In fact, I liked it more than even Hotel Piran. Wireless internet here was free, and the lounge served delicious food and beverages. It was a great, relaxing place. Its one and only setback was its distance from the heart of Ljubljana. It was about a 20 minute walk or 5-10 minute drive south of the center of the city, but the staff is very helpful in acquiring a taxi for you if you do not want to drive yourself.
Hiša Sonca
, Zgornje Laže (Just outside of Bled): As far as accomodation goes, this was the highlight of my trip! Located in farm country, it is a quick drive (or long scenic walk if you are like me,) from Vintgar Gorge and Lake Bled. The owner, Petra, was very friendly and very accomodating. She even came out to find me when I got lost. (If you program the correct address into you GPS, this should not be a problem.) This is more of an apartment than a hotel. You get a wide open living room, a small bedroom, full kitchen, and a bathroom which is all in the basement of Petra's house. Free wireless internet was offered here as well. It was such a quaint and beautiful place, I was almost tempted to find a job in Bled, and ask Petra how much she would charge me live there permanantly. 45 Euro per night seemed like steal to me. Anyone spending any time in Bled should stay here (unless it is during the second week of September. That time belongs to me! )
Turizem Loka
, Škofja Loka: This hotel outside of the old town was another very pleasant surprise. I got free wireless internet, the room was very beautiful, and the owners where very friendly and helpful. Breakfast was fantastic. Again, I thought 45 Euro/night seemed like a steal.
Hotel Creina, Kranj: I found this hotel to be disappointing and overrated. The room was big, and the bed very comfortable, but my window frame was busted, and though I got free internet, it wasn't wireless, and so I had to go to the desk to ask for a wire. I probably would not have minded so much if it had not cost me 70 Euro.
Sloveniaforyou would love to thank Ryan for his in-depth review of his recent trip. We can't wait for his next trip!
All photographs are owned by the author and not to be used without his permission