Ryan on tour in Slovenia. Part 2
Author: Ryan Callan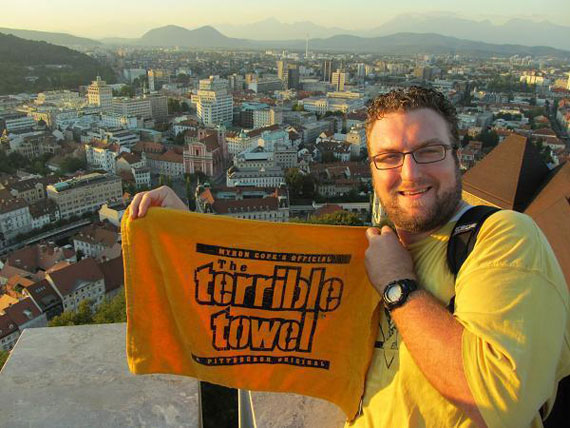 DAY ONE: LJUBLJANA
Arrival into Ljubljana!
DAY TWO: SALZBURG, AUSTRIA
I decided to do some exploring outside of Slovenia this time. My original plan was to visit
Vienna
, but unfavorable train schedules forced me to look at
Salzburg
instead. I would NOT be disappointed. A four hour train ride from
Ljubljana
, Salzburg is a picturesque European city with many beautiful fountains, statues, churches, and small roads with no vehicular traffic. The mighty Hohensalzburg Fortress sits high on a hill above old town. Great views can be had from the terrace of the Hotel Stein across the Salzach River from old town.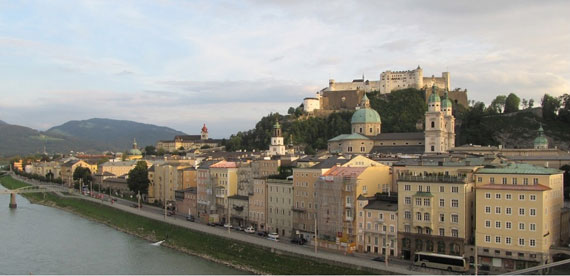 Salzburg Fortress
After a walk around the old town of Salzburg, it was time to catch a bus to the Werfen Ice Cave. I had previously purchased a ticket for an excursion to the cave which is about a twenty minute drive south of Salzburg. The meeting point was at a terminal near Mirabellplatz which was used in a scene for "The Sound of Music."
The Werfen Ice Cave is a must see for anyone travelling to or around
Salzburg
. A spectacular wonder of nature, the cave was formed by the Salzach river, which eroded passageways into the mountain. The ice formations in the cave were formed by thawing snow which drained into the cave and froze during winter. Since the entrance to the caves is open year-round, chilly winter winds blow into the cave and freeze the snow inside.
In summer, a cold wind from inside the cave blows toward the entrance and prevents the formations from melting. Unfortunately, I was not permitted to take any photos inside the cave. The hike up to the cave entrance is very physically demanding. It requires a long hike uphill on an unpaved path to get to the cable car station. After the cable car ride, ANOTHER long hike continues until the entrance is finally reached. The cave tour itself isn't much easier. It is seven hundred steps up, and seven hundred back down inside the freezing cave. The beauty of the ice formations is well worth the strenuous journey to get there, however. The road to the ice cave circles around Hohenwerfen Fortress which is well worth stopping for photos, and even a visit if time allows.
Upon returning to Salzburg, I had time for another walk around town and a stop for a Stiegl beer before going back to
Ljubljana
via the night train in a surprisingly comfortable sleeper car.
DAY THREE: KAMEN CASTLE ~ LAKE BOHINJ
On the third day, it was time to pick up my rental car from Budget at the Hotel Union in
Ljubljana
. My first drive would be to Lake Bohinj, but on the way, I would stop to see the ruins of Kamen Castle first.
In Begunje, Slovenia, Kamen Castle is a once mighty fortress now in ruins and is worth a visit if it's on the way to another destination. Watch your step as you walk through the ruins on your own at your own risk. The castle was built on a rocky terrace at the entrance to the Draga Valley, and was an important stronghold protecting the important cargo path over the Prevala Pass to Carinthia. It is first mentioned in 1145. In the early 18th century, the fortress lost its protective function, and was therefore abandoned. I enjoyed a casual walk over the different terraces, looking at the thick remaining walls, imagining what life would have been like there several hundred years ago while the castle was still fully intact.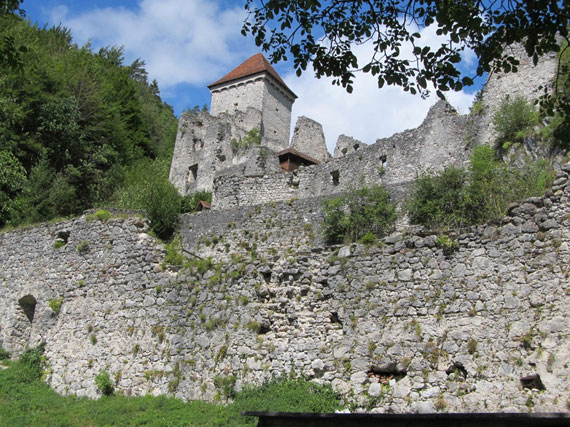 Kamen Castle
After I was done walking through the castle, I made my way to Hotel Bohinj by the clear, serene water of
Lake Bohinj
. Hotel Bohinj was a beautiful hotel with friendly service conveniently located within a short walk down to the lake. I got a really nice, large room that was more like a suite with a living room separated from the bedroom by a small hallway. Dinner there was delicious, and consisted of a salad, soup, main course, and dessert. I definitely felt I got a lot for a good price.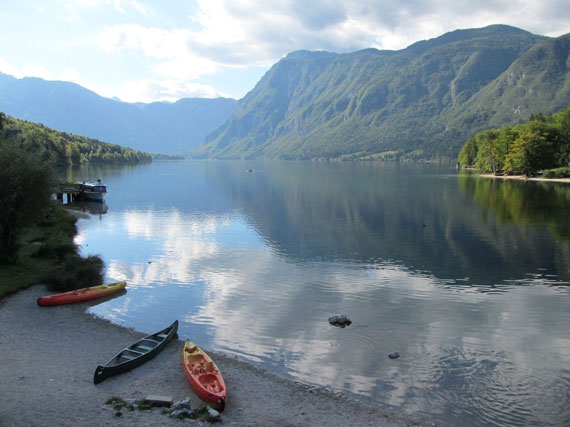 Lake Bohinj
Situated in the Bohinj Valley in the Julian Alps,
Lake Bohinj
is Slovenia's largest permanent lake. Being in a very small town, there isn't much to do around the lake, which makes for a perfect setting for a relaxing portion of a vacation. (I do not mean to say it is a boring place. I mean it is much less commercialized than Lake Bled, so don't look for nightlife or mini golf courses.) There are many trails for hiking and biking with great views around the lake, and a boat will take you to the other side and back if you don't feel like rowing in a canoe. Unfortunately, I did not get a chance to ride the Vogel cable car, but I've heard the views from the top station are breathtaking.
An approximately 4 km drive from the lake took me to the head of the trail to the Savica Waterfall. The trail was a somewhat difficult 25 minute long hike, but the destination was well worth it. Previous pictures of Savica Waterfall did not give me any perception of how big it really is. I was assuming I was going to see a rather small waterfall, but that was not the case. When I got there, I was surprised to see a mighty waterfall 60 meters high (196 ft) crashing into a pool, but not before splitting into two streams forming a giant letter A.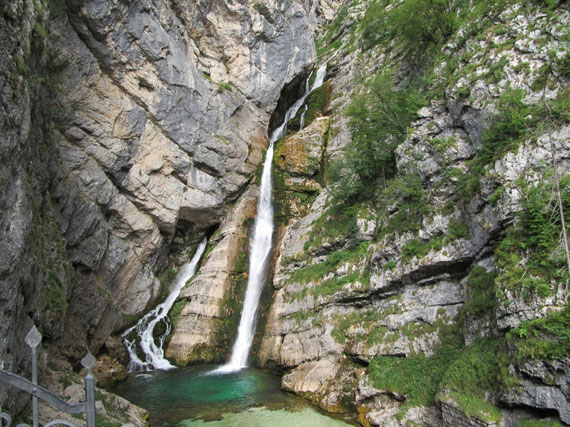 Savica Waterfall
DAY FOUR: EMERALD RIVER ADVENTURE
Four my fourth day overseas, I signed up for the
Emerald River Adventure
. This was an all day tour visiting various points of interest along the Soca River in Triglav National Park. The first stop on the tour was Jasna Lake in Kranjska Gora. It was a beautiful, small lake with beautiful mountains in the backdrop. A statue of Zlatorog sits on its shore. Zlatorog is a golden horned mythical goat of Slovenian lore who guarded a large treasure in the Julian Alps. It is said that riding the goat gives you good luck.
When we were done at the lake, we rode the windy Vršic Pass to the top. The Vršic Pass is a mountain rode built by Russian prisoners of war duing WWI so the Austrians could supply the front lines. At the top of the pass, we got out of the van to do some hiking above the road, and take in the amazing views all around us.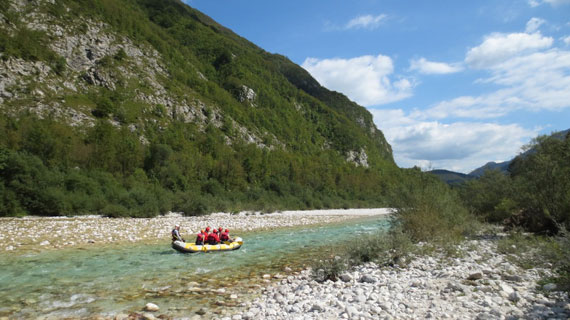 Emerald Adventure Tour
After winding back down the other side of Vršic Pass, we went to see the source of the Soca River. The path to the source is a very narrow trail in the wall of a small rocky ravine, high above the creek spawned by the spring.
The source of the Soca is a deep fissure below the mountain of Šnita from which the water gushes, then flows to the crystal clear river.
Next, it was onto the starting point of our rafting adventure on the Soca River. On the way to the starting point, we had a couple of stops along the river for some nice views. Once we got to the starting point, we were met by rafting experts who gave us our wet suits, oars, and helmets, and divided us into groups for the rafting. The water was about medium level, so the rafting was not so fast and difficult nor was it too shallow to keep moving without getting stuck. Halfway through the rafting adventure, we took a small break. One of the rafts was hung up-side-down against the side of a large rock for us to use as a slide into the cold water. I took some time to take advantage of the pureness of the Soca, by taking large gulps of the frigid, refreshing, and very drinkable river water.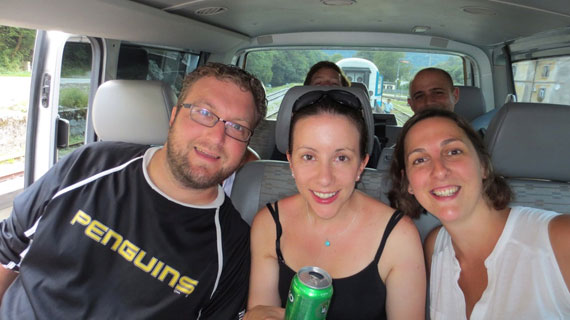 Emerald Adventure Tour
The next stop would be the highlight of my two trips to Slovenia. Near Kobarid is the majestic Kozjak Waterfall. The water falls along the back of a small, dark, semi-cavern, into a cold pool below. Some of us took the time to swim in the ice cold water below the most beautiful waterfall in Slovenia.
When we were done swimming, we headed to Most na Soci to catch a cartrain to Bohinjska Bistrica. Before getting to the station, we stopped at a bridge for an opportunity to jump into the Soca River. Only two of us were brave enough to take the 12 meter plunge, however it should be noted that had I properly calculated the conversion into 40 feet, I might have reconsidered. It was definitely worth the thrill anyway!
By the time we got off the train in Bohinjska Bistrica, and drove down to Lake Bohinj we only had time for a brief look at the lake (which was fine by me since I had been there all day the day before.) The tour ended at the headquarters in Bled, but it did not mean the end of our night. My new friends (five women from England, and two guys from California) and I finished off the night with dinner up in the loft of Gostilna na Planicu in Bled. Delicious pizzas were served, and it was a great way to end a great day! I highly recommend booking an adventure tour. They are very friendly, and can show you a fantastic time.
The Emerald River Adventure
I took was a great way to spend an entire day, and make new friends for life. However, they offer other adventures such as bicycling, canyoning, and skydiving.
DAY FIVE: RELAXING BY LAKE BOHINJ ~ PIRAN
The first half of day five was spent relaxing from the long, strenuous adventure from day four, and walking around the lake some more. I was also hoping to get a chance to ride the Vogel cable car, but the sky was so cloudy I could not see the top cable car station. A local gave me the heads up, that if you can't see the top cable car station, it's not worth going, because you won't see much. Early in the afternoon I made my way to the beautiful, medieval, coastal town of Piran.
Once in
Piran
, I spent the day taking a nice stroll along the beaches, and through the narrow, vehicle free streets. I finished my pizza at Pizzeria Batana, (my favorite pizzeria in the world!)
DAY SIX: VENICE, ITALY
Early in the morning, I went out to the pier to meet the
Dora
which would take me to
Venice
, Italy via a two hour ride on the Adriatic Sea. This is a great way to visit Venice for a day for someone like me who just likes to admire beauty and architecture without lingering around any one point of interest. (I generally read all about any point of interest I visit before or after my trip. This way, I can admire, snap a few photos, and move on to the next thing. This allows me to fit a lot in a small window of time.)
I was able to see all I needed to see in a few hours. Sometime after boarding the Dora, passengers were broken up into groups by their native languages. Each group was led by a tour guide who told us everything you need to know about the history of Venice, and how to get around. He also told us of four extras we could purchase. The extras, which I will mention later since I purchased them all, could be purchased separately or all at once as a package for a discount.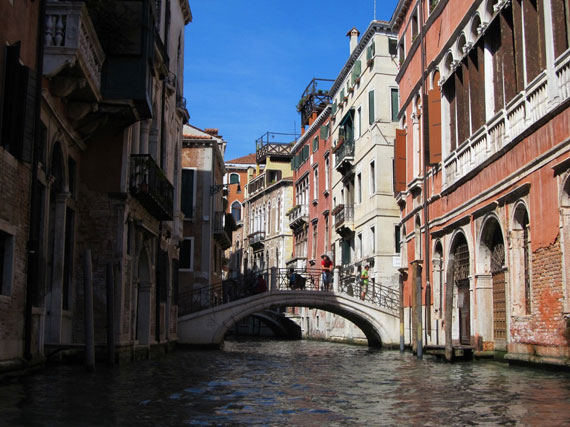 Venice Canals
The first extra was a ride on a shuttle boat from the docking of the Dora to San Marco Square which would be the check point with the guides who would give us more history of
Venice
, more tips, and lead us to where we needed to go for our extras. I would recommend skipping this for two reasons. First is after two hours on a boat, the last thing I needed was to get onto a smaller one. The second is that it went back the same way the Dora comes in to dock. There were no new photos to take. I imagine the people who opted to walk to the square on their own got to see more, and take more photos.
The second extra was dinner Hotel Canaletta. I can't say I'd highly recommend taking this, but I will say I had the best lasagna I've ever had in my life there. I also had the best wine in my life there. (I should point out that I'm hardly a wine connoisseur, so I may not be the right person to make that judgment.) I don't even know what it was, as the bottles were on the table, and unmarked. But whether it was red or white, I was really enjoying it. So you may choose to eat on your own, or you can buy a ticket for this restaurant, and have a preselected meal. You can't go wrong either way, it's what's most convenient for you.
The third extra was a gondola ride. This I WILL recommend. I enjoyed a nice leisurely ride through several canals of Venice including parts of the Grand Canal. I was able to get a lot of great photos.
The fourth extra is a ride on a water taxi through the Grand Canal. I also highly recommend this. In case you are familiar with the movie "The Tourist," the water taxi is the same kind of boat that Angelina Jolie uses to rescue a captured Johnny Depp. I got to see a lot along the Grand Hotel including the famous Rialto Bridge, and again was able to get a lot of good photos.
At about 17:00, it was time to get back on the Dora, and return to
Piran
. Thankfully the seats on the Dora are very comfortable as a nice nap was needed after a long, enjoyable day.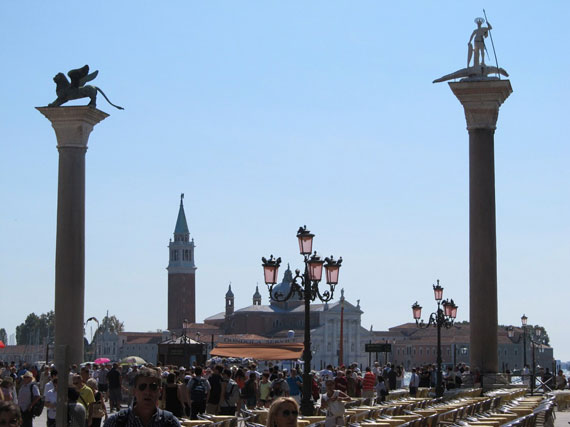 Venice San Marks Square
DAYS SEVEN AND EIGHT: LOGARSKA DOLINA
After I was done with the coast on the south, it was time for the long drive to the north for Logarska Dolina. Logarska Dolina is a beautiful valley in the Savinja Alps near the border of Austria. Much like Lake Bohinj, you won't find any bars or clubs, but you will find plenty of spectacular hiking trails, waterfalls, and beautiful green pastures. When I entered the valley, I drove straight to the other side to see the Rinka Waterfall. Once again, it was another long, hard hike from where I parked to get to the waterfall, but once again, it was well worth it. At 105 meters (344 ft.,) it is the highest waterfall in Logarska Dolina.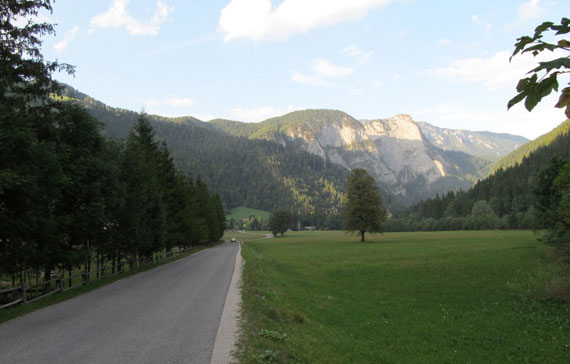 Logarska Dolina
Hotel Plesnik was a very beautiful hotel located approximately in the middle of the valley. The service was great, and the room was beautiful. The food was also delicious, which was a good thing, since that was pretty much the only place I could have a full meal. After checking in, I had a few hours of daylight left, so I took a walk to see as much as I could. The first stop would not be very far away. Just behind the hotel was Palenk Waterfall. It is a waterfall the fans out from the narrow part at the top until the much wider bottom. It is 78 meters (255 ft.) high. The combination of its height, width, and its location in a wooded area made it impossible for me to capture the magnificent falls with one shot.
I took a walk down the road towards the entrance when I came across a sign for the Rastovški Waterfall. A ten minute walk from the road through a farm, the Rastovški Waterfall is small, but well worth the short trek.
After that, it began to rain, so I went back to my room sooner than I hoped. I did enjoy an excellent full course dinner before calling it a night. After waking up the next morning, I spent the day hiking along the road, and winding through scenic trails between spurts of rain. Hopefully the next time I go, the weather will be much more favorable so I can see more of what Logarska Dolina has to offer, as well as checking out the neighboring valleys of Matkov Kot and Robanov Kot.
DAY NINE: ŽUŽEMBERK CASTLE ~ OTOCEC CASTLE ~ NOVO MESTO
A little before noon on the ninth day, I made my back south to Novo Mesto. On the way, I stopped by Žužemberk Castle. Unfortunately it was not open, but it was still worth the stop, as I was still able to walk around it. I got a really nice view of it from the Krka River below the hill on which it sits.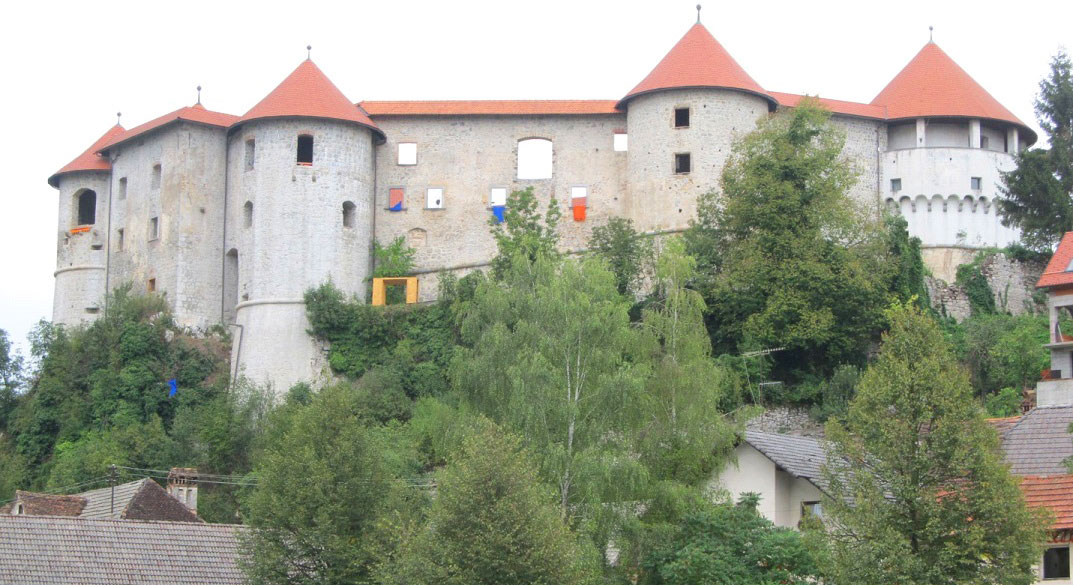 Zuzemberk Castle
After I was done in Žužemberk, I started for Novo Mesto. I was on pace to get there before I could check into my hotel, so I decided to take a little detour to Otocec Castle. It is a nice little castle built on an island in the Krka River. It is now a four star hotel. There were a lot of trees around it, and I didn't find a perch on higher ground (not that I looked very hard,) so it was hard for me to get any great photos of it. Finally, it was on to Novo Mesto. Not the most exciting town in Slovenia, Novo Mesto is still a nice little city to see for a stopover, and some strolling around. I followed signs to Grm Castle, but was disappointed in what I saw. Still the walk to the caste, gave me some nice views of the city. I finished the day with a great pizza at Go Pizza Go which was a small pizzeria and coffee shop that had an outdoor deck overlooking the Krka River.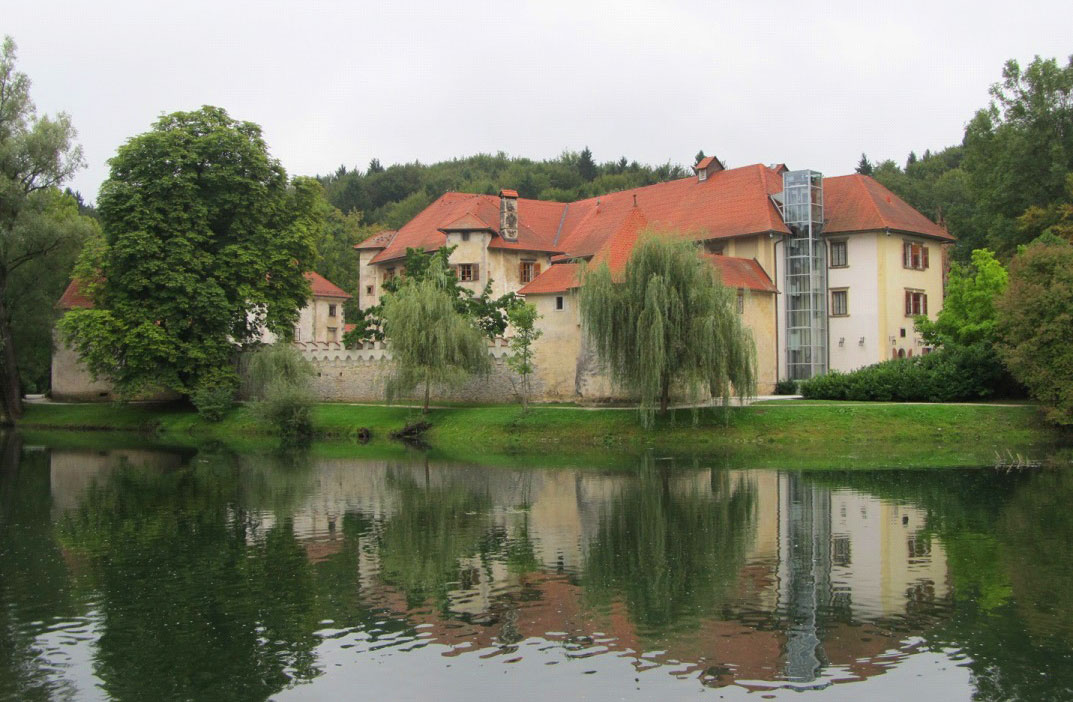 Otocec Castle
DAY TEN: PODCETRTEK CASTLE ~ PTUJ
On the way to
Ptuj
, I stopped to take a walk through Podcetrtek Castle. First mentioned in 1251, and updated to the Baroque style in the 18th century, the castle was looted, and left in disrepair in 1945. Still the imposing building on the hill is a neat sight to see. Though nothing special, I still really enjoyed walking through all the levels, and, just as I did at Kamen Castle, try to imagine what life was like in its heyday. Not a must see, I would still say it's worth a stop, for a nice casual walk, and a break from driving.
Ptuj is a very beautiful city on the Drava River in Eastern Slovenia. I really enjoyed my brief time there. It is the oldest city in Slovenia. The self-guided tour of Ptuj Castle was broken into three parts. The first part featured fantastic tapestry and furniture. The second part featured music and instruments, including the history of instrument making throughout Slovenia. The third part, and my favorite, was the armory.
My room was in the Apartments Šilak, and was very beautiful. I checked in with an elderly man named Vladimir. He was a very friendly man who, before even showing me to my room, pulled out a tourist map, and gave me tips on where to go and where to eat, as well as a history lesson on
Ptuj
. Some might find this as "boring ramblings of an old man," and grow impatient, but a history buff like me really enjoyed it. I walked around town, visiting many of the spots he suggested, and took a walk to Terme Ptuj for a swim followed by relaxation in a giant hot tub. I finished the night at one of the restaurants the old man recommended, and was not the least bit disappointed by Gostilna Amadeus. There I enjoyed an amazing plate of beef steaks in gorgonzola sauce.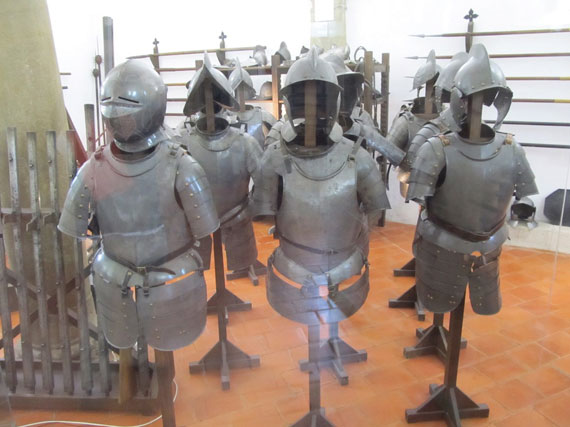 Ptuj Castle
DAY ELEVEN: VINEYARDS OF KOG ~ MARIBOR
Driving through the eastern side of Slovenia, of course I had to drive go visit some vineyards. On the way from Ptuj to
Maribor
, I stopped at the Hlebec Tourist Farm in Kog. There, I rented a bicycle, and rode a couple of hours on the roads through what seemed to be endless fields of beautiful vineyard. I most likely would have ridden a lot longer if it had not been so hot that day.
After I was finished riding, I returned the bike to the Hlebec Tourist Farm whereupon I was invited to stay for a wine tasting. Naturally, I was interested in purchasing wine from the vineyard, so I stayed. I must mention here that it wasn't so much of a wine tasting, as much as it was a wine drinking party. I had been expecting small samples of wine, but instead our server filled our glasses full. Each pour came with a history of that particular wine. So after six wine "tastings" plus a shot of Konjak (their clever version of Cognac) I had to stick around a couple hours longer than I had intended. (Not that it was a bad thing. I was on vacation, so I had no problem relaxing in the beautiful countryside of Slovenia.) I ended up buying three bottles. Liking the sweeter wines, I went with the chardonnay, Muškat Otonel, and the bottle of Konjak.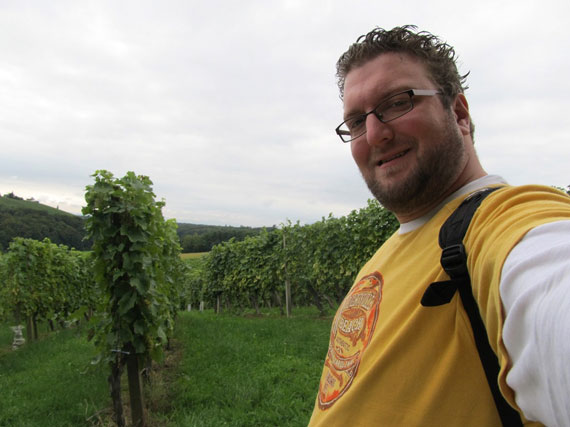 Kog Vineyards
Maribor
was a very pleasant surprise for me. When I learned it was the second biggest city behind
Ljubljana
, I expected a much more modern city. In hindsight, that was probably a silly assumption considering that the larger Ljubljana has plenty of old town to see. Maribor was a lovely blend of the modern and the old. It had large, very modern shopping mall where I was able to buy a nice blue Slovenia team soccer jacket. A large roundabout had a large, colorful, modern fountain. But it also had old churches, an old water tower, and small streets with outdoor dining in old cafes. I didn't see Maribor as a place I could visit over and over again, but I definitely saw it as a place I could live.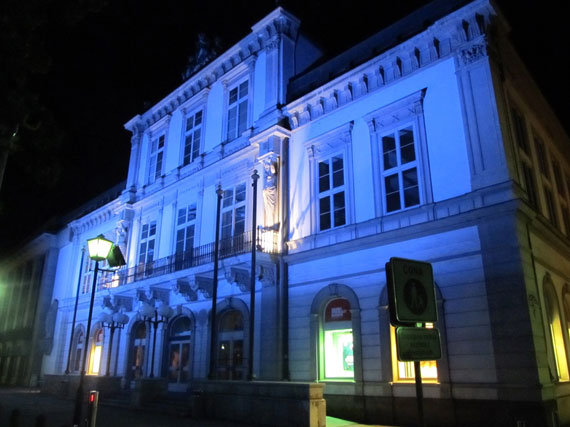 Maribor
DAY TWELVE: CELJE OLD CASTLE ~ BACK TO LJBULJANA
On day twelve, it was time to head back to the capital, return the rental car, and wind down the last three days of my trip. Along the way, I made sure to stop in Celje to vistit Old Celje Castle. The castle is first mentioned in 1322, and was the former seat of the Counts of Celje who were the most important late medieval noble family on the territory. The three stars on the Slovenian shield come from the coat of arms of the Counts of Celje. The castle is partially in ruins, but is in the process of being restored.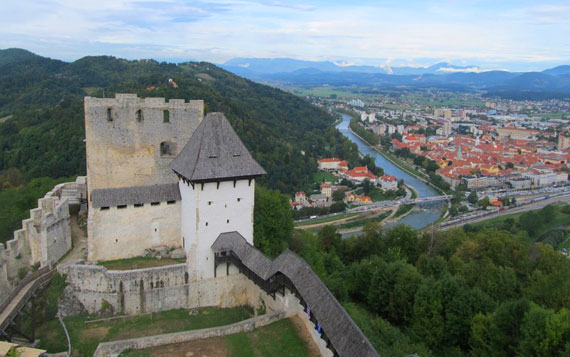 Celje Castle
After leaving the castle, I went straight back to
Ljubljana
, returned the car, and checked into the Guesthouse Stari Tišler which was a most excellent place to spend my last three nights. Later that night, I took a taxi up to Vodice to attend RockFest where I met up with some friends from my trip two years prior. We were all happy to see each other, and had a great time. I probably had way too much to drink, but that's what happens when you party with a rock band. (Avven. The band I had seen two years before at RockFest. They were there in support of the other local rock bands.)
DAY THIRTEEN: KRIŽNA CAVE ~ CHILLING WITH RELATIVES
First thing the next morning, while still a little hung over, I met my cousin Matjaž and two of his friends to take the four hour tour of Križna Cave. On my last trip, I made an impromptu visit to this cave, because my GPS informed me that I would be arriving at my next hotel far too early for check in. I only got to see the one hour tour, but absolutely loved it. This time, I was very excited to get the four hour tour which would include floating over 13 underground lakes. This is an exciting cave to tour, as it is not artificially lit like most tourist caves, nor does it have a built in walkway. Special equipment, including waterproof boots and a helmet with a light, was needed to enter the cave. (Most of the equipment was supplied. All I needed was to dress in layers beforehand.)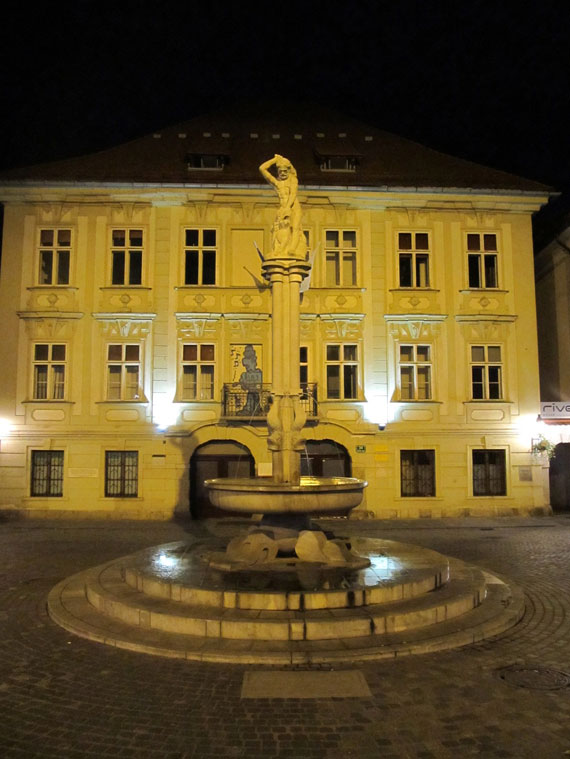 Ljubljana
For the rest of the afternoon, I went back to Ljubljana to hang out with other cousins, and aunts and uncles. We had a delightful time catching up, giving reports on family members who were not present, drinking wine, eating traditional Slovenian sausages. I returned to downtown Ljubljana with three new friends I met, and we partied all night in Metelkova. Metelkova was a very unique, artistic place, and a fun place to hang out. It is an autonomous social center in the center of Ljubljana, Slovenia. It is located on the site of former military barracks of the old Yugoslavia. It was squatted in 1993, and now with its seven buildings and 12,500 square meters of space, it hosts a range of activities including an art gallery, bars, artist studios, space for designers, offices of cultural organizations, and concerts featuring different types of live music from free jazz, rockabilly, heavy metal, and techno.
DAY FOURTEEN (MY FINAL DAY IN SLOVENIA): RELAXING IN LJUBLJANA
Two consecutive nights of hard partying plus the fact that I am not so young anymore made my final day in Slovenia a day for sleeping in, relaxing, and taking a final stroll through
Ljubljana
to snap a few random, last minute photos. I wanted to stay out as late as I possibly could that I would be able to fall asleep on my flight over the Atlantic Ocean, and be as fresh as I could be after 17 hours of travel when I finally reached Pittsburgh. I started by going straight to Neboticnik, an excellent place to get a cocktail and enjoy fantastic views of Ljubljana. I headed into old town, took some photos at night of some things I missed my first day there. Of course I had to go to Dragon Bridge again. I LOVE that bridge. (So much, in fact that I got the dragon worked into my tattoo on my left arm.). I discovered a concert by the lovely Slovenian pop star Nina Pušlar. I was even lucky enough to snag a photo opportunity with her after the show.
MY PERSONAL RECOMMENDATIONS
After two trips to Slovenia, I have seen much of it from north to south and east to west. I have seen most of what I wanted to see. Pretty much all I have left is to climb Mt. Triglav. That will be number one priority for my next trip. Anyway, here are my personal recommendations for a trip to Slovenia:
ABSOLUTE MUST SEE
Ok, I pretty much love ALL of Slovenia, but if you only go one time, these are places you cannot miss:
Kozjak Waterfall ~ In Kobarid Most majestic waterfall I've ever seen. Not huge, or powerful, just very beautiful.
Škocjan Caves
~ Near Divaca. Magnificent caves, and the walk back through Karst valleys and natural bridges is every bit as enjoyable as the caves themselves.
Lake Bohinj/Savica Waterfall ~ Peaceful and beautiful.
Bled/Vintgar Gorge
~ A beautiful lake with a beautiful church on an island, and a small castle sitting high on a hill above the lake. The castle and church are exceptionally beautiful at night. Also, a very short drive from Bled is Vintgar Gorge. A nice little ravine with a wooden walkway about 1.7 km long through which the Radovna River rushes. At some points the rushing water is so powerful you can fell the mist, and there is a small waterfall in the middle, and a larger one at the end. Should only take a couple of hours out of your day.
Križna Cave ~ Lož Valley. If you can, go for the four hour tour. If not, you can still see plenty during the one hour tour. Either way, this a great cave to see. Bonus points for the element of adventure because of the equipment required, the need to watch your step, and the minor climbing done inside.
Logarska Dolina ~ Solcava. Jewel of the Alps. A beautiful green valley in the Savinja Alps near the Austrian border. Peaceful, picturesque hikes, green meadows, and great waterfalls.
Celje Old Catle ~ Partially in ruins, but still very much worth seeing. Even with parts missing, it's a menacing castle with thick walls and high towers.
Piran
~ A beautiful medieval city on the Istrian Coast. A small peninsula that juts out into the Adriatic Sea.
Soca River ~ Pretty much guaranteed to see this beautiful, pure river if you are driving around Triglav National Park. (If you follow my recommendations above, you will be.) Stop anytime you see it where stopping is possible. It's really almost unnecessary to include this in recommendations since you'll most likely see it anyway, but I put it in there just in case. If you find an opportunity to go rafting or swimming in it, I suggest you take it.
Triglav National Park: Spend a day driving all around the park with a drives over the Vršic Pass and up Predel Pass. Also, make stops for Pericnik Waterfall, various views of Mt. Triglav, various spots on the Soca River (as mentioned before,) and the source of the Soca. There is plenty to see.
*Note: These are not in any particular order. They are all MUST SEE, regardless of order.
I also did not include anything in Ljubljana. This is not because Ljubljana is boring with nothing to see. I simply lift out Ljubljana because it will most likely be where you spend your first day, and you can pretty much see all of Ljubljana in a day or two.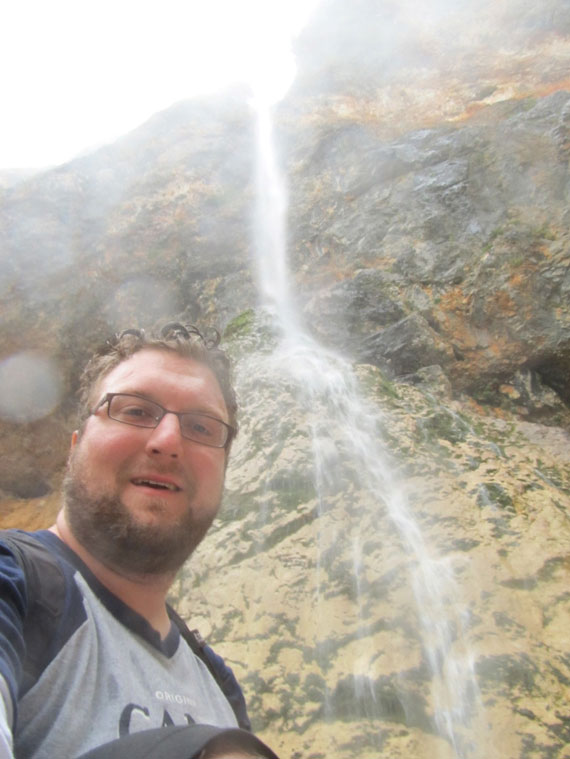 Rinka Falls
HONORABLE MENTIONS
Don't plan your trip around these places, but they are "must see" if they are even somewhat on the way between points of interest:
Predjama Castle ~ A castle built precariously into the side of a cliff with some very interesting history. Along with Postojna Cave and Škocjan Caves, this can easily be seen in one day. Since I put Škocjan Caves above under "MUST SEE," this is also technically a "must see," based on the description of this list. You can visit all three on a drive from Ljubljana to Piran, and still arrive at Piran before nightfall.
Postojna Cave ~ A very nice cave well worth seeing. Bonus points for the human fish at the end of the tour. And like I said earlier, this can easily be seen along with Predjama Castle and Škocjan Caves in one day, which, again, I guess technically makes it a "must see."
Kamen Catle ~ Between Ljubljana and Bled/Lake Bohinj. The ruins of a once mighty fortress in Begunje.
Snežnik Castle ~ Lož Valley. A little bit past Križna Cave off the highway between Ljubljan and Piran. Most well preserved castle in Slovenia. Even the furniture is original.
Štanjel ~ A neat little medieval town half in ruins. A good place to spend a couple hours strolling if the weather is nice. Not really between any of my "MUST SEE" points, unless maybe you drive from Piran to Lake Bohinj via the cartrain (which is next on the list.)
CarTrain ~ For a unique experience with great scenery, go to the train station in Most na Soci, drive your car onto a flatbed, and ride the train to Bohinjska Bistrica (or vice versa.)
BEST ACCOMMODATION
In Slovenia, every hotel room in which I stayed, whether fancy and expensive or the cheapest I could find, had amazing character. There was not one single plain, cookie cutter style with drab décor like we have in the USA. Here are the best of the best:
Hiša Sonca in Zgornje Laze ~ If you visit Bled, you must stay in this beautiful apartment just outside of the town. Vintgar Gorge is just off the route from the apartment to Lake Bled. You get an entire basement of a farm house with a full kitchen, bathroom, bedroom, and a large living room. I got very friendly service from Petra who gave me some sort of concoction made from tree bark made by her son. (It had much needed calming qualities after a very stressful night of driving) Free Wi-Fi. Tall people, watch your heads!
Rooms and Apartments Šilak in Ptuj ~ Very beautiful and very old building in the oldest city in Slovenia. Nice looking rustic rooms with free Wi-Fi. Comes with 10% discount to Terme Ptuj . Within short walking distance of the best restaurant in Slovenia. (Gostilna Amadeus) I was greeted by an elderly man named Vladimir. Before even showing me to my room, he grabbed a map of Ptuj, and gave me tips on what to see and where to go. He also gave me a history lesson on Ptuj, some of the points of interest, and even the hotel. (Some might lose patience listening to "the ramblings of an old man," but I really enjoyed the educational info.
Guesthouse Stari Tišler in Ljubljana ~ Most expensive of my two trips to Slovenia, but it was very nice. Beautiful rooms with free Wi-Fi. Excellent restaurant with outdoor courtyard setting. Quick walk to the train and bus stations. No parking on site, however.
Hotel Plesnik in Logarska Dolina ~ I don't know how many options there are in Logarska Dolina, but this is most definitely an excellent one. Very warm, welcoming, friendly service. Beautiful rustic rooms with free Wi-Fi. Just in front of the magnificent Palenk Waterfall. Great food in the restaurant.
Turizem Loka in Škofja Loka ~ A bit of a long walk to the old town of Škofja Loka, but not too bad. Friendly service and great breakfast. Simple, but nice looking rooms. Though it is Idrija that is known for making lace, Škofja Loka also makes it. The hotel has a display case for nice pieces of framed bobbin lace available for purchase. (I bought my grandmother a nice angel for Christmas.)
Hotel Bohinj in Ribcev Laz ~ Just a short walk to Lake Bohinj. I got a very nice large room which almost seemed more like a suite to me. Great dinners served in the basement. Only setback is that the free Wi-Fi can only be accessed in the main lobby (and I still had issues connecting.) Maybe this issue will get resolved eventually, but then again, when you're surrounded by such beauty, you won't want to spend too much time on the internet anyway.
BEST RESTAURANTS
Very rarely was I disappointed with any of the food I had in Slovenia. Here are my favorite places:
Gostilna Amadeus in Ptuj ~ This may be my new favorite EVER, not just in Slovenia. It is located on the oldest road (Prešernova) in the oldest city in Slovenia. I was told it was an expensive restaurant, but considering how good the food was, and the great setting, I thought the prices were fair. I've paid more for food not as good. (Beef steaks in Gorgonzola Sauce was my favorite dish.)
Restaurant Stari Tišler in Ljubljana ~ Located inside the Guesthouse Stari Tišler on Kolodvorska ulica near the train and bus stations. Great soups and pasta dishes. They also serve Cevapcici. Make sure you try Cevapcici at least once on your stay. It is a popular Serbian dish of sausages made of seasoned beef and pork served with bread, minced onions, and roasted red pepper sauce.
Pizzeria Batana in Piran ~ This is my favorite pizzeria of all time. Great seafood pizzas with outdoor seating where you have the choice of looking out at the Adriatic Sea (with a beautiful sunset if the time is right) or watching the activity in Tartini Square.
Gostilna pri Planincu in Bled ~ I've never actually eaten in the lower part where the dinners are served, but I did love the pizza served up in the loft. It is also a great "party" setting where you can laugh and make a little more noise than usual with newly made friends. Also a great place if there happens to be an important sporting event to watch.
Jesharna in Škofja Loka ~ Very tight, small restaurant with a low ceiling, but an excellent pizzeria well worth a little discomfort.
Again, I thank you for all your help Sloveniaforyou!