Travel FAQ
Here is a list of the most frequently asked questions by travellers to Slovenia.
Click on any question to view the answer.
FERRY from VENICE to SLOVENIA (Piran, Izola) - When does it run?
How do i book ferry tickets? What is the cost?

In the warmer months (April to October), there are regular weekly ferry services between Venice and Piran and Izola in Slovenia (and vice versa). For all the information on dates, prices and booking tickets, see our Ferry page (click here) and of course email us with any queries you may have!



VIGNETTE - What is a Vignette? Do I need a Vignette? Where do I get a Vignette?

A Vignette is a sticker that must be displayed on all vehicles under 3500kg whilst using any designated Motorway\Expressway and the Ljubljana Ring Road in Slovenia. (see map below)

All motorbikes (one track) and cars (with or without trailers - two track) must display a Vignette on their windscreen or side bike panel whilst using any designated Motorway\Expressway (and the Ljubljana Ring Road) in Slovenia . You will be fined if detected without one.

Vignettes are sold at Petrol Stations, Post Offices and some Newstands in Slovenia.
Find a complete list Here

It is important that tourists are aware that if they are entering Slovenia and proceeding onto any designated Motorway\Expressway, they must purchase a Vignette at the border before proceeding. Heavy fines apply if you do not possess one.
For more information, visit the official government site:
DARS Website
Map of Slovenian Motorways\Expressways\Ljubljana Ring Road: (larger map on site)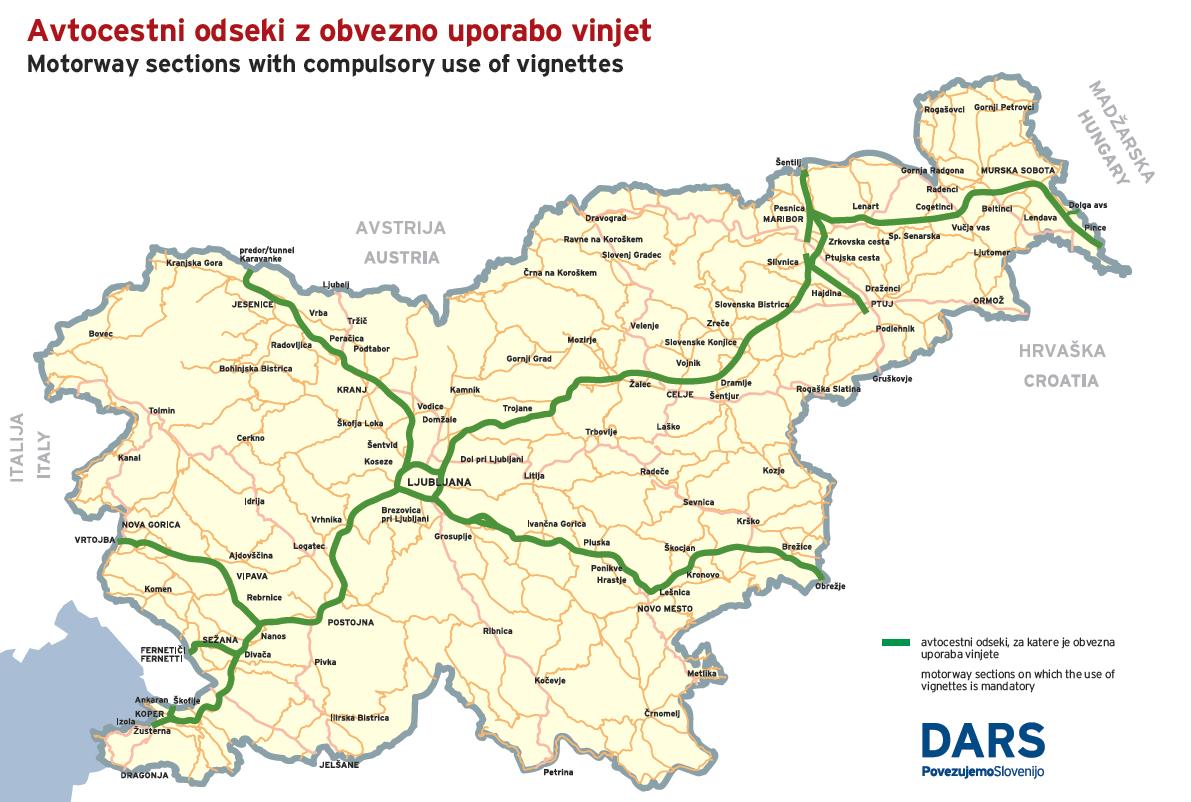 VENICE - LJUBLJANA - How to get from Venice to Ljubljana and return
Connections between Italy and Slovenia are not as simple as many people would think and this has led to numerous posts to forums asking what the best choices are. Political differences have meant that there is no longer a direct train connection and travellers have to make do with several indirect options that may mean a combination of both bus and train.

The route via Nova Gorica is straight forward and is the most direct in that you are virtually travelling in a straight line to Ljubljana. Take a taxi from Gorizia Station to Nova Gorica Bus Station if you can't be bothered waiting for a bus.

The funicular route from Trieste is a very scenic choice if you have time to kill. They run every 20 minutes from 0700-2000 and costs a few euros. ** Please note the funicular may not be running at times due to maintenance **

The route via Koper is probably the least convenient but is still another option if you wish to spend a couple of hours exploring the beautiful old town of Koper.

Of course, all these options can be done in reverse for those travelling from LJUBLJANA to VENICE.

See below for details:



By Train Direct:
Please note that as of DEC 2011, there are no direct trains from Italy to Slovenia.



By Bus Direct:
DRD Buslines
Dep VENICE Mestre 1130 Airport 1205 Arr LJUBLJ. 1500
Dep VENICE Mestre 1830 Airport 1845 Arr LJUBLJ. 2145
Dep LJUBLJ. 0815 Arr VENICE Airport 1115 Mestre 1130
Tickets:
OneWay 15 to 25euros.
Return 25 to 45euros.
Florentia Buslines
Dep VENICE Mestre 1610 Arr LJUBLJANA 2020
Dep LJUBLJANA 0500 Arr VENICE Mestre 0840
Tickets:
OneWay 11 to 22euros.
Return 20 to 40euros.
By Bus\Train Combination:
Option 1: VENICE -GORIZIA -NOVA GORICA -LJUBLJANA
1. Take local train from VENICE St Lucia or Mestre to GORIZIA. (~12-19euros one way)
2. Trains run from 0500-2200.
3. GORIZIA lies on the border with Slovenia.
4. Take No1 bus from GORIZIA train station to NOVA GORICA bus station. (~2euros)
5. NOVA GORICA lies on the Slovenian side of the border.
6. Take local bus from NOVA GORICA to LJUBLJANA. (~12euros)

Example:
TRAIN - Dep VENICE 0704 Arr GORIZIA 0919
BUS - Dep GORIZIA 0935 Arr NOVA GORICA bus station 1000
BUS - Dep NOVA GORICA 1045 Arr LJUBLJANA 1303

Links:
ITALIAN TRAINS:Click here
GORIZIA BUSES:Click here
SLOVENIAN BUSES:Click here

Option 2: VENICE -TRIESTE -SEZANA -LJUBLJANA
1. Take local train from VENICE St Lucia\Mestre to TRIESTE.
2. Trains run from 0500-2200.
3. At TRIESTE you have 3 options to reach SEZANA in Slovenia:
4. Take a taxi from outside the train station to SEZANA (email us for quote) or
5. Take a bus from the station to SEZANA (4 every weekday from 0730-1440) or
6. Take the funicular tram from OBERDAN PIAZZA (a few minutes south-east of Train station).
7. The funicular will take you to the town of VILLA OPCINA where you can take a taxi to SEZANA
8. Trams run from 0700-2000 daily
9. Take a train from SEZANA to LJUBLJANA

Example:
TRAIN - Dep VENICE 0911 Arr TRIESTE 1116 (~11-18euros)
TRAM - Dep TRIESTE 1140 Arr VILLA OPCINA 1205 (~2euros)
TAXI - Dep VILLA OPCINA 1215 Arr SEZANA 1230
TRAIN - Dep SEZANA 1338 Arr LJUBLJANA 1528 (~8euros)

Links:
ITALIAN TRAINS:Click here
BUSES TO SEZANA:Click here
FUNICULAR SITE:Click here
TAXIS IN SEZANA:Click here
SLOVENIAN TRAINS:Click here
Option 3: VENICE -TRIESTE -KOPER -LJUBLJANA
1. Take local train from VENICE St Lucia\Mestre to TRIESTE.
2. Trains run from 0500-2200.
3. Take a bus from outside the train station to KOPER in Slovenia.
4. Take a bus or train from KOPER to LJUBLJANA.

Example:
TRAIN - Dep VENICE 0911 Arr TRIESTE 1116 (~11-18euros)
BUS - Dep TRIESTE 1230 Arr KOPER 1327
TRAIN - Dep KOPER 1445 Arr LJUBLJANA 1702 (~11euros)

Links:
ITALIAN TRAINS:Click here
BUSES TO KOPER:Click here
SLOVENIAN TRAINS:Click here
SLOVENIAN BUSES:Click here