FERRY PIER in PIRAN
The ferry pier in Piran is easily found. It is the main pier as viewed from St George tower.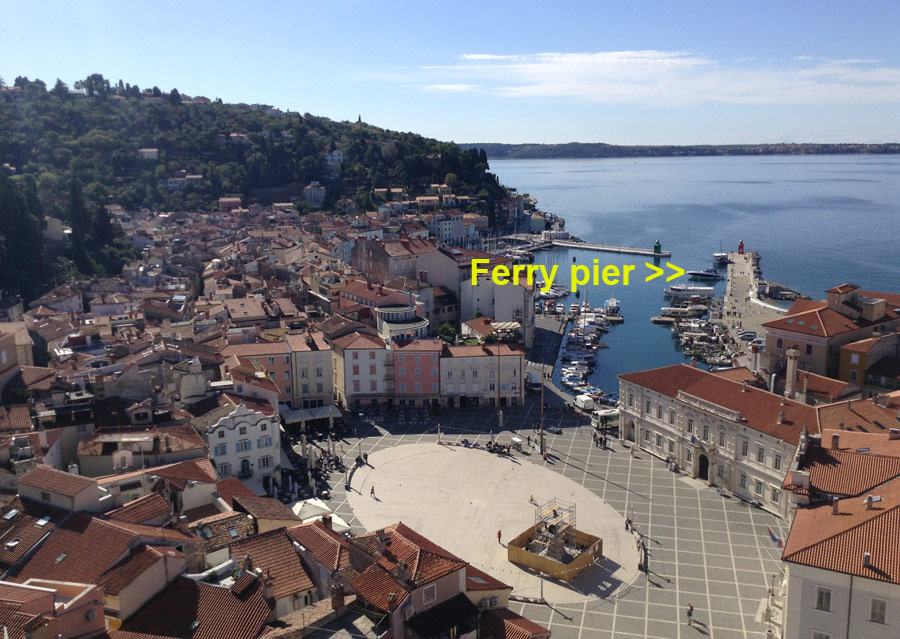 FERRY PIER in VENICE
The ferry pier in Venice is San Basilio. Located on the southern edge of the main island of Venice (red pointer).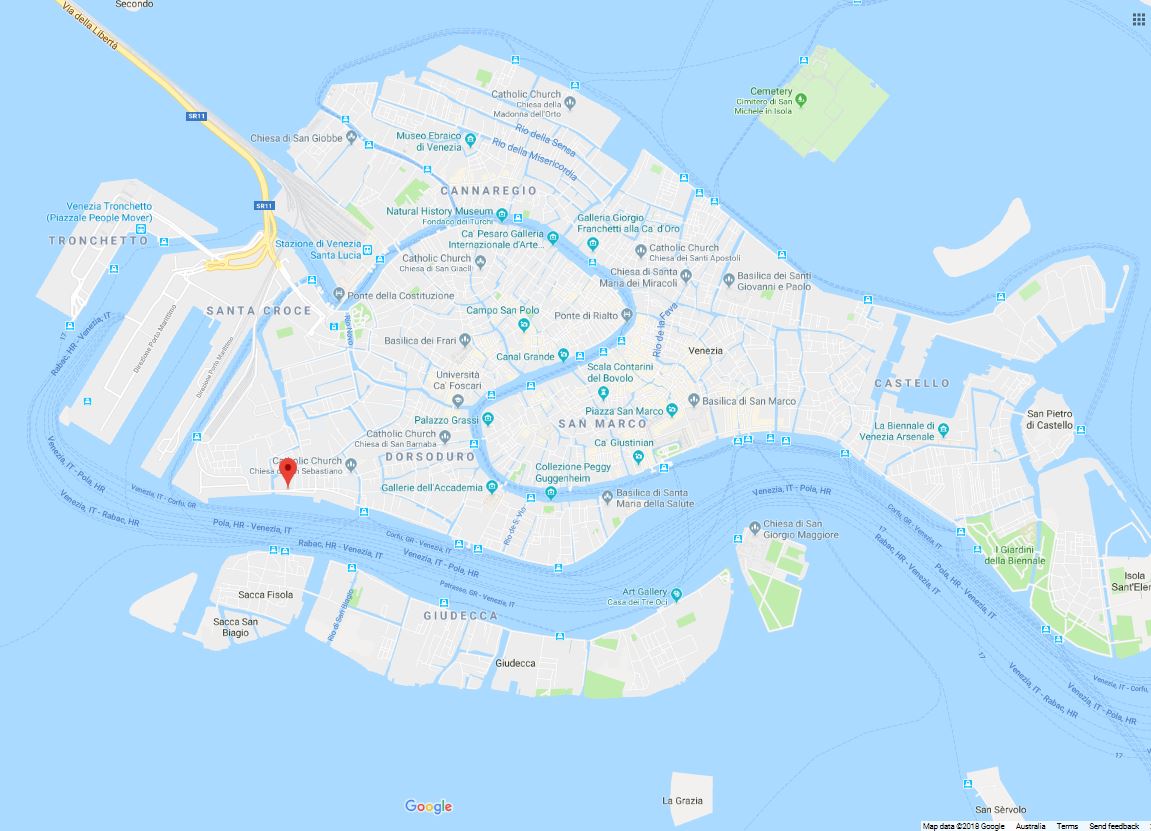 Guided Tour of Venice from Piran


If you're heading to Venice for the guided day tour then you're in good hands! Your guides speak many languages including Slovene, English, German and Croatian and are on hand to ensure that you have a great day.

Once you have booked your ticket, you can either print off an electronic version or come into the agency office in Portoroz to collect it. All patrons are advised to be at the pier at least 30 minutes before departure to ensure the boat leaves on time.

Patrons can make their own way to the pier or if they are on the coast they can take advantage of the courtesy shuttle bus that picks up passengers from various stops before reaching Piran. (see times below)

Once underway, an announcement will be made telling people where to gather if they want to hear an in-depth description of the tour and everything Venice has to offer. The tour preview is given in Slovene, English and German.

The boat slows down once they near Venice and then slowly glides past the Lido and onto San Marco Square veering left into the Guidecca Canal before docking at San Basilio. Outside the terminal, passengers are split into language groups but everyone is still in close proximity to each other.

The itinerary offers guests a chance to take a water taxi to San Marco Square or walk. A tour of San Marco's square from the outside is followed by freetime where you can have lunch, take a gondola ride at a special rate or simply wander the lanes and canals.

There is a water taxi back up the grand canal so you can see all the famous landmarks again and all passengers must be back at the pier around 1630 for 1700 departure. Have a great day!


---
Pick up locations for Free Shuttle for departures from Piran

Adria Ankaran - Koper Oviesse - Izola PO - Izola San Simon - Izola Belvedere - Strunjan Hotel Svoboda - Roundabout Strunjan - Portorož Fiesa Hotel - Portorož Hotel Lucija - Portorož GH Bernardin


"Dear Greg and Ronalee,

I just wanted to come back to you with respect to the above trip to Venice which we were able to enjoy thanks to you excellent services.

The trip was really perfect in all aspects, starting with a pick-up next to our hotel San Simon at Izola by bus on time and transport to Piran. The ferry was nice, surprisingly fast-only 2,5 hours- and very comfortable with a sufficient space even for long legs. The information provided by the guides in 3 languages was interesting and funny and there was a broad scope of services offered by them for Venice, allowing us to choose what we intended to do there.

Venice as such definitely makes sense to be visited, you have the feeling you are in a fairy tale where the palaces and the canals are impressive, San Marco square is amazing, the Rialto Bridge and the gondolas emphasizing the fascinating atmosphere of this beautiful city. By help of the guides we were escorted smoothly to to the main square and then enjoyed the rest of the day on our own except for the gondolas organized also by the travel agency (EUR 25).

We did not have the lunch with other passengers, but what we heard they were satisfied by both the quality and the price of EUR 25. And we were also surprised that Venice was not overcrowded at this part of the year, this being a bonus for us.

Having been exhausted after the day at Venice, we have further enjoyed the films on TV at the ferry on our way back to Piran and the bus back to Izola.

Based on the above, we can strongly recommend to everybody to go to Venice for one day by the ferry, as 6 hours there give you enough time to see the city, and to use for this purpose SloveniaForYou and the ferry operators as reliable partners who have done all what the promised in their marketing materials. Not only that, even more!"

Best regards,
Josef