Sloveniaforyou's wine guide for the:

GORIŠKA BRDA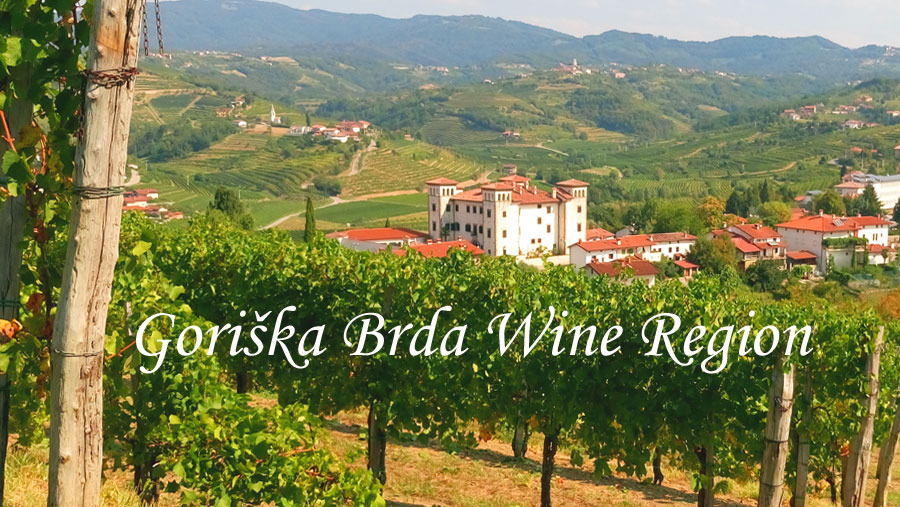 This secluded almost hidden corner of Western Slovenia is often referred to as the "Tuscany of Slovenia" due to its hilltop villages, orchards, cypress trees and of course, its rolling hillsides lined with vines.
It is almost a mystical place because it is hidden behind mountain ranges to the east and north and there is only one road into the region from Nova Gorica.
In fact, it is indeed like entering another world because you actually travel through a few kilometres of Italy before emerging on the other side in Slovenia once again. Because of this it has a very different feel. The views are amazing. Welcome to your own secret paradise!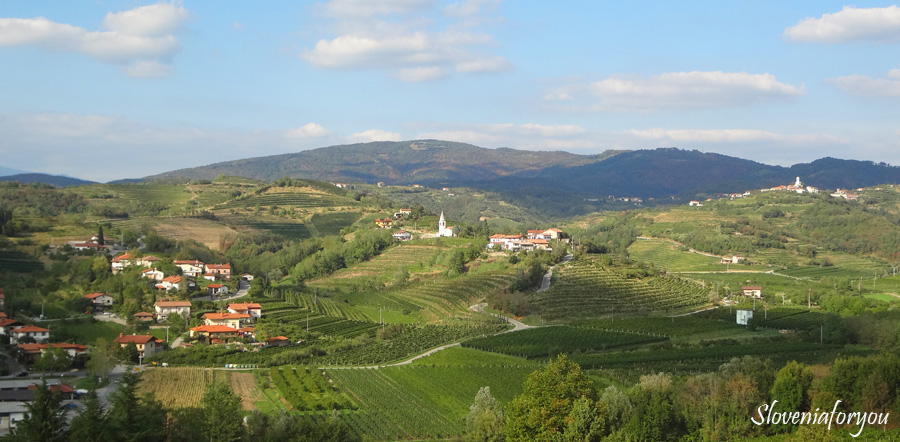 WHERE TO START?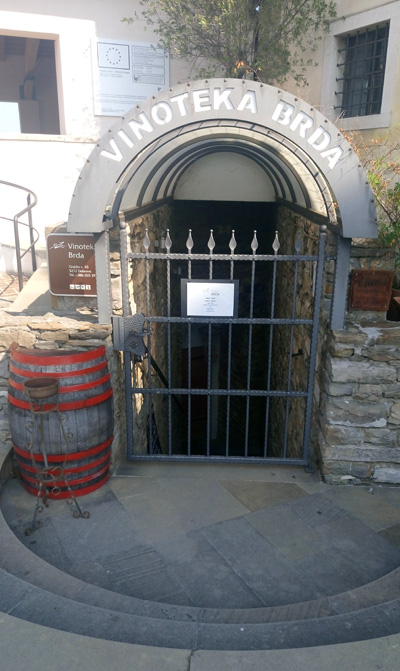 A car is really a necessity to travel in the region and the Vinoteka at Dobrovo Castle is a good place to start.
What an inspirational location. The castle is a very impressive site where the views from the terrace are amazing.
The Vinoteka itself is downstairs in an old cellar once used by the original counts of the region.
They have over 300 local wines from over 50 producers for tasting in a really cosy and inviting environment. This will set you up nicely for the day as they can explain everything about the local labels and varieties they produce. You will be an expert before you hit the road!
Pop next door to the information centre where they have maps, information and can call ahead to see which wineries are open for tastings.
Some local towns to explore include Dobrovo, Smartno, Kojsko, Neblo, Medana, Vipolze, Kozana and Gradno - but just driving around the whole area is an experience!
---
THE VINO
They take their wines very seriously here and there are a few big estates that dominate the landscape. Names like Movia, Klinec, Primosic and Keber will feature strongly when you visit, but the region is also made up of hundreds of smaller vineyards, who combine their produce at the local Co-operative Viniculture Brda which is owned by 680 operators and has the capacity to produce 18 million litres of vino!
---
HOW TO GET TO GORISKA BRDA?
From Ljubljana, you take the main freeway towards Koper and the coast. After Postojna, take the turnoff on your right at Razdrto towards Italy and Nova Gorica.
At Sempeter pri Gorici take the exit north to Nova Gorica (103) and go through Nova Gorica. North of Nova Gorica you will see the turnoff on your left (402) to Dobrovo and Goriska Brda.
You can also enter from Italy at the western edge at Neblo (402).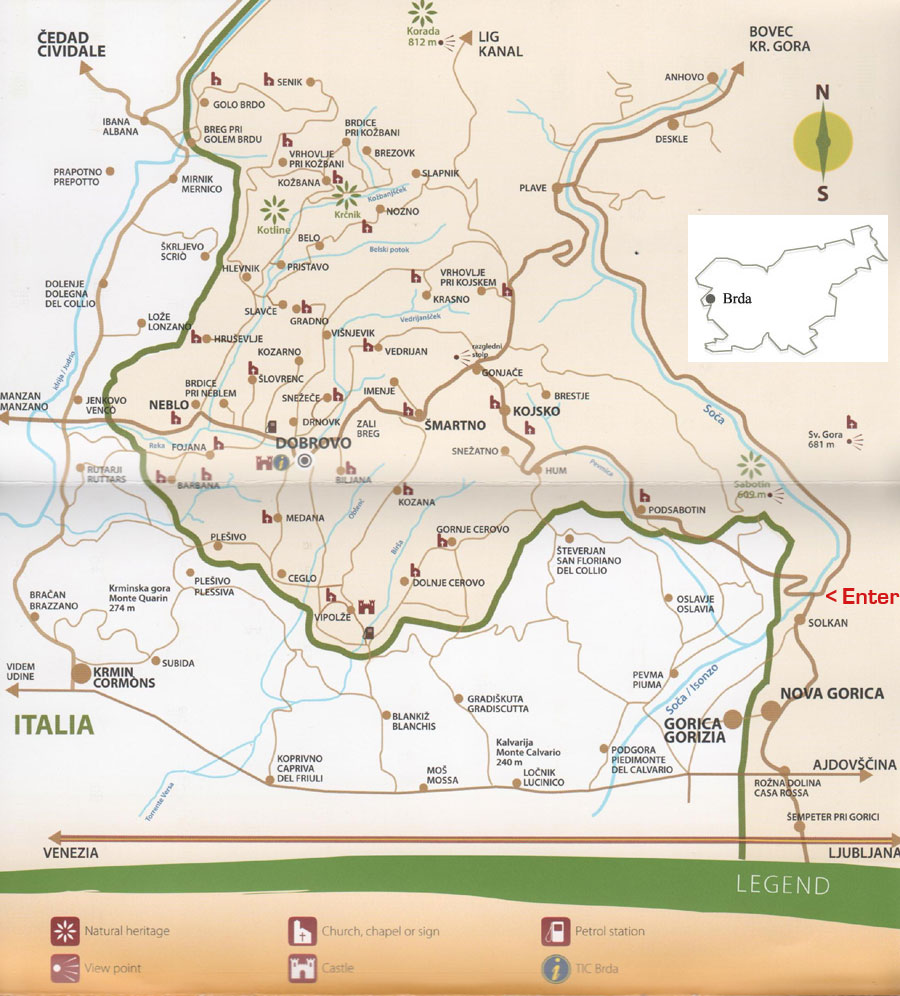 Back to Top
THE MIGHTY REBULA (white)
The most prominant and famous variety produced here is the Rebula. It accounts for around 25% of all the wine produced in Goriška Brda. Rebula, aka 'Ribolla or Ribuela (meaning ruby red)' is originally from Greece but has been grown in Slovenia for at least 750 years.
Literally, it means reboil allowing for the grape's propensity to undergo malolactic fermentation no matter what the conditions. Rebula is an autochthonous Brda variety, modest and resilient. It grows well in the marlstone, flysch and stoney soil. On sunny sites, it gives outstanding results. After years of quality anaylsis and selection, the experts of the Goriška Brda Wine Cellar say they have developed four clones of Rebula.
The ripening of the grapes depends on the location, the exposure, the biotype, the training system and soil conditions, which is why Rebula is usually harvested at different times in Brda and the situation in the vineyard needs to be closely monitored. Because of such a specific ripening process, Rebula can only be picked by hand, as the grapes are quite easily damaged despite their thick skin.
Its a lively dry white with all the complexities of a chewy red and traditionally best drunk young. But the grapes are not suitable only for young, fresh wines but for ageing as well. The wine is an excellent basis for sparkling wines. Traditionally, the Brda Rebula grapes have also been dried for the production of excellent dessert wines and the local favourite "slamno vino" or straw wine.
Colour: It is of gold black colour with greenish shades.
Scent: Intensely fresh and fruity, reminiscent of lemon, green apple, grapefruit and acacia blossom.
Taste: The harmony of acids makes it fresh and easy to drink. Excellent, matured wines taste of cedar wood.
The wine is suitable as an appetizer; it pairs deliciously with sea fruits, fresh water fish, poultry and vegetable dishes.
WHAT OTHER VARIETIES ARE PRODUCED?
Besides Rebula, you will also find Merlot, Chardonnay Sauvignon Verde, Pinot Grigio, Cabernet Sauvignon, Pinot Bianco, Sauvignon and Cabernet Franc. In smaller numbers you will also find the odd Syrah, Modri Pinot, Refosk, Pikolit, Verduc, Malvazija, Rumeni Muškat (Muscatel), Barbera, Gamay and Prosecco.
Here is a summary of some of these varieties:
WHITES
PIKOLIT (Piccolito, Weiser Blaustinge)
Pikolit is an old vine widely cultivated in Goriško, Friuli and Hungary. It was held in high esteem in Antique Rome. As early as the 18th century the wine had the right of domicile in the courts of French kings and Russian tzars as well as in the Vatican. The variety is old and suffers from poor pollination; consequently, the harvest is relatively small. This is the reason why the variety has not spread to farm vineyards. It used to be grown in the vineyards owned by feudal lords and in parochial vineyards.
Colour: Its colour is gold black to amber.
Scent: The bouquet is reminiscent of white peach, apricot and honey.
Taste: Pikolit is a full-bodied, alcohol wine with the distinct aroma of fresh fruit and acacia honey. A semi-dry or sweet Pikolit complements fruit desserts perfectly.
GREEN SAUVIGNON (Sauvignonasse, Sauvignon Vert)
Green Sauvignon is another old cultivar of the Goriška Brda region where it was introduced in the 18th century. Before October 2004, Green Sauvignon went under the name of Tocai Friulano; however, due to the Protected Designation of Origin status given to Hungarian Tokai it was not allowed to keep the name. Hungarian Tokai, of course, belongs to the category to the liqueur wines and does not originate in the variety of Tocai Friulano (Green Sauvignon) but in Furmint (Šipon). It is classified as a quality cultivar for white wines and requires favourable vineyard sites and medium strong soil. It is rather sensitive to water shortage.
Colour: It is of straw black with greenish shades.
Scent: Medium intense aroma with the accompanying fragrance of almonds and field flowers.
Taste: Green Sauvignon, a strong, full-bodied and extracted wine, is warm, nicely harmonious and of lower acidity.
The taste of almonds is felt on the tongue. Green Sauvignon is a classic aperitif wine in the Italian part of the Goriška Brda. It has become established with fish dishes, poultry and grilled rabbit.
VERDUC
Verduc is an autochthonous variety of Friuli and has been known for long in the Goriška Brda, too. It is cultivated on 3.5 ha of vineyards. The cultivar is sensitive to water shortage and to peronospora, a fungal disease. Boasting a flourishing crop, it gives a constant yield from year to year.
Colour: It is a straw black colour.
Scent: Medium intense, soft acacia blossom- or honey-scented aroma; sometimes it can be intensely fruit-scented.
Taste: Structured and full-bodied, its medium sour taste emanates warmth depending on the alcohol content.
CHARDONNAY (Morrillon, Beaunois, Pinot Chardonnay)
Chardonnay is a variety which many consider to be the most noblest among white cultivars. It is cultivated in many wine-growing countries world-wide but its origins are in Burgundy. Chardonnay requires sunny and airy sites and medium heavy soil. Winegrowers are fond of it as it is of a robust growth and yielding enough so there are no problems with its cultivation. The variety offers a choice of different styles: the wine can be simple, drinkable, medium-bodied or full-bodied and structured.
Colour: It is of a straw to gold black colour only rarely refreshed by tiny green strands.
Scent: The wines made from Chardonnay are known for their rich, pronounced and complex varietal scent which differs from one place of origin to another since it is so widely spread on various latitudes. The aroma of young wines is apple-, pear- and peach-scented.
The Chardonnays from southern, sunny sites have pronounced aromas of citrus fruits, melon, pineapple, fresh hazelnuts and caramel. With the wine maturing, the primary aromas of the grapes change and the aromas of butter, honey, bee wax, vanilla, minerals, spices, dried hazelnuts and nuts become more distinct.
Taste: A sip of the wine offers the luxury of scents while being full-bodied. It is strong and rich leaving a long impression in the mouth. The luxury of scents and tastes is further intensified in the production of the wines of special quality.
GRAY PINOT (Rulander, Pinot Grigio, Pinot Gris)
The homeland of Gray Pinot is Burgundy in France. It belongs to the narrower family of Pinots as it originates in the bud mutation (hereditary change) of Blue Pinot. Historically speaking, Pinots are one of the oldest wine variety in the history of mankind. In the beginning of the 18th century, Ruland, a merchant, discovered it in his vineyard in France and named it "rulander". The vine is not choosy as to the soil, but too much moisture in the soil and drought periods do not agree with it. Its flourishing crop can be relied on.
Colour: We are usually confused by the shades of colour of this wine as it offers a subtle shade of pink. The grape skin of Gray Pinot contains some more shades of red. Depending on the processing of grapes, the wines can be anywhere from a translucent black colour to intensely coloured wines or they can even have a hardly noticeable translucent shade of rose.
Scent: The wine offers a range of scents of exotic fruits (pineapple, grapefruit), butter, pear, cinnamon all of which are of average intensity.
Taste: The wine is rich-flavoured with pronounced acid. Its after-taste is lengthy.
SAUVIGNON (Sauvignon Blanc, Sauvignon Bianco, Sauvignon White, Muskat Sylvaner)
Sauvignon originates from France and is cultivated in most of the winegrowing countries. The variety is not too choosy as far as soil is concerned but it does better in good soils, even more so if the vineyard bathes in the sun. It is boasts profuse growth, which is manifested by rank foliage of the vine during vegetation. It is considered to be a high quality variety for white wines, which is owed to its varietal character that depends primarily on the selection, type of soil and microclimate.
Colour: It is of a greenish black colour.
Scent: The primary aromas are distinct, characteristic of the variety and distinguishable as to the origin although they do differ in shades. They are reminiscent of the scent of elder blossom, cut grass and tomato or blackcurrant leaves. Some wines are gooseberry-scented. The scent of asparagus is also a component part of the aroma of this wine.
Taste: It is full-bodied and with, almost as a rule, sufficient acid, it is tasty and fresh. Under-ripe grapes are expressed in the wine, which, consequently leaves some bitterness on the tongue, which in turn provide evidence of the easily recognisable character of this variety. Depending on the degree of the expressiveness of the Sauvignon varieties, those less expressive can be served with fish or vegetable stews while the more expressive ones pair well with fish sauce. Better vintages combine very well with goat cheeses offering delicious and piquant pleasures.
WHITE PINOT (Pinot Bianco, Weisser Burgunder, Pinot Blanc)
Its homeland is Burgundy in France. About twenty years ago when the Chardonnay wine gained in popularity world-wide, the wine experts in Slovenia realised that the majority of the vineyards, until then considered to be planted with varietal White Pinot, were actually planted with Chardonnay. Before the two varieties were formally separated the wine was fully labelled Pinot – Chardonnay. Furthermore, White Pinot wines are less characteristic variety-wise than Chardonnay wines. The variety is not sensitive to site. Airy, light and medium heavy soil agrees with it.
Colour: It is of a light black colour which changes to an almost gold black shade over years.
Scent: The wine is enjoyably aromatic with traces of fresh fruit scents, to wit, those of apple, strawberry leaves and grapefruit. If the wine is very well made they can be quince- and caramel-scented.
Taste: The wine is full-bodied and flavourful with a pronounced aroma of lemon and grapefruit.
REDS
MERLOT (Plant Medoc, Merlou)
Merlot is a relatively young variety which originates from France, i.e. from the surroundings of Bordeaux. It was first documented in the 18th century. It is named after blackbirds (merle is French for blackbird) which enjoyed pecking the grapes. In our assortment of red varieties, the share of Merlot is by far the largest, which is owed to the good results it has been producing in the Goriška Brda terroir. In addition to the high quality grapes provided by the variety, which is also very important for a levelled quality of vintages, Merlot likes medium heavy and not too moist soil as well as sunny and easily permeable sites.
Colour: The young wine is of a beautiful ruby red colour which changes fast over the years and acquires tiny gold strains which are followed by amber and later by brownish strains.
Scent: The scent is fruity and reminiscent of ripe cherry, raspberry, mulberry and blackberry.
Taste: The wine is rich, fruity with extremely well integrated tannins and a long finish. The harvest from limestone and sandy soil contains soft tannins, while on clayey-sandy soil the tannins are heavier and astringent.
CABERNET SAUVIGNON (Cabernet, Petit Cabernet, Vaucluse)
The variety originates from France (Bordeaux). As far as popularity and genetic features, Chardonnay represents among white varieties what Cabernet Sauvignon represents among red varieties. The variety is choosy as far as soil is concerned; it requires airy and warm vineyard soil. The choice of sites for Cabernet Sauvignon needs to be paid special attention to. In the Goriška Brda premium Cabernet Sauvignons are produced from the elevated southern sites where the sun shines all day through. It is a variety which matures late in the Goriška Brda. It is among the last varieties to be harvested. Colour: It is of an intense red colour which combines with shades of violet and scarlet in a young wine.
Scent: Several families of scents are perceived: fruit (blackcurrant, olive), the scent of frying (smoke) and vegetal scents (cedar wood, green pepper, humus, truffle, tobacco, mint, chocolate etc.).
Taste: We become enthusiastic with the richness of tannins which enable a long life to the wine; over the years they turn soft and sweet. Its flavour is rich and full, leaving a lingering finish in the mouth.
CABERNET FRANC (Gros Cabernet, Petit fer, Veron, Breton, Cabernet Franco)
Cabernet Sauvignon originates in France and its to ampelographic characteristics place it to the family of Cabernets. The distribution of Cabernet Franc in Goriška Brda is relatively moderate. Similarly to Cabernet Sauvignon, it requires sunny and airy vineyard soil and elevated southern sites. It is a variety that matures late.
Colour: Its colour is an intense ruby red with the shades of grenat and violet.
Scent: Raspberry-, strawberry-, violet-, fresh hay- and wild apple-scented.
Taste: The wine is full-bodied. When young, it is aggressive and meadow-flavoured, after a few years of maturation id becomes smooth. It complements nicely venison, smoked meat and grilled meat.
BLUE PINOT (Blue Burgundy, Burgunder, Pinot Nero, Pinot Noir, Modri Pinot)
Blue Pinot is undoubtedly the noblest among the red wines of the cooler parts of the European continent and the ancestor of all Pinots. It originates from Burgundy in France and is originally named Pinot noir. As early as in the beginning of AD, Plinius described Blue Pinot from the surroundings of Rhone. The first document dates back to 1394. As far as soil is concerned, it is not a very demanding variety. It enjoys the sites which are easily permeable and not too sunny. In the Goriška Brda region, it is harvested the first among red varieties. Blue Pinot is suitable for white vinification as the basis of sparkling wines and for the production of the roses. The roses of Blue Pinot differ from the roses of other varieties by their subtle fragrance and softness, yet full-bodiness and lingering after-taste.
Colour: It is of a lighter ruby red colour which, the wine developing, acquires copper and coffee brown shades.
Scent: Its scent is characteristically winey. When the wine is young, the scent is that of blackberry, redcurrent and blackcurrent, raspberry and strawberry), later it takes on the scent of the marmalade made of these fruits; with the wine developing, vegetal scents emerge (humus, truffle and coffee): they are followed by animal scents (leather and fur).
Taste: The taste is rich, harmonious and full with perceived soft tannins.
Back to Top

ORANGE WINE - The 4th Wine type!

Did you know that there is a 4th wine type?
Along with the Friuli region, Goriska Brda lays claim to being an original producer of Orange Wine which is somewhat of a speciality novelty wine.

So how do you get or make an orange wine?
Basically they follow the same process they would for a red wine, but using white grapes. Normally when making white wine, the crushed grapes are immediately separated from their skins. In the case of Orange Wines, they are left to macerate with their skins, seeds and stems for longer than usual. This contains pigments, phenols, and tannins that give orange wines both their distinct colour and flavour.

The orange wine process is, in fact, the exact opposite of rosé, when the producer uses red grapes but removes the skins right after crushing to give them their light hue. Slovenia happens to be one of the foremost producers of orange wines.

In recent years, orange wines have gained immense popularity as a delicious and fascinating alternative to the standard three options, but they are by no means a new type of wine. Slovenian winemakers, particularly in the hills of Karst (also known as the Slovenian Tuscany), Goriška Brda, and their Italian brothers from Friuli have been macerating white grapes with their skins for years.

Many are aged in a way that gives them a nutty, oxidized pungency that some liken to sherry but they are definitely an intriguing vino!! Orange wines are often on the pricy side. Here and there you can find one that is pretty reasonable but the better ones are generally up there. Ask to taste some whilst in Brda!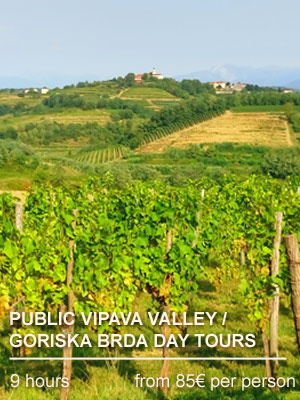 PUBLIC VIPAVA VALLEY / GORISKA BRDA WINE TOURS

Visit 2 of Slovenia's most prominent wine regions at Goriska Brda (the Tuscany of Slovenia) and the delicious Vipava Valley. Charming stone built villages, local wine varieties and great company.
You're invited, so book today!

- One winery tasting included plus you can opt to visit 2 more!
- Guest Pick up and Drop off in Ljubljana
- Experienced Tour Guide/Wine Expert
- Meet the Winemakers. Learn the process, the culture
- Taste the wine and cuisine
- Additional Tastings approx. 15-20€pp per winery
- Relaxed Atmosphere, great company!
---
2-8 persons (from 85€/per person)
May 1 to Oct 31.
Includes transport, English speaking guide. One wine tasting



---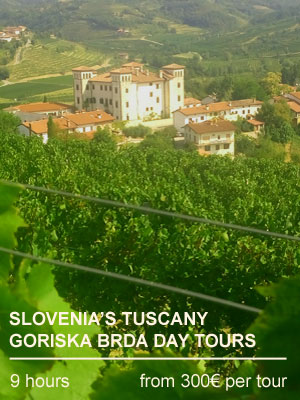 PRIVATE GORISKA BRDA WINE TOURS

The philosophies, the wines, the homemade cuisine, the local stories, the laughter. It's all about having a good time and learning something new. Expert, Enthusiast or Novice, You're invited, so book today!

- Visit 1 or 2 handpicked cellars
- Guest Pick up and Drop off in Ljubljana and Bled
- Experienced Tour Guide/Wine Expert
- Meet the Winemakers. Learn the process, the culture
- Taste the wine and cuisine
- Tastings approx. 20-25€pp per winery, optional Lunch 25€pp
- Relaxed Atmosphere, great company!
---
2-8 persons (from 300€/per tour)
All Year Round.
Includes luxury transport, English speaking guide.



---
PRIVATE GORISKA BRDA WINE & SIGHTSEEING TOURS

The scenery of this region is absolutely stunning, characterised by rolling hills, medieval hill top villages and lush green vineyards – The area is renowned for its cuisine where you can enjoy a variety of traditional Slovene dishes with hints of Italian influences. So book today!

- Visit 1 handpicked cellar
- Guest Pick up and Drop off in Ljubljana and Bled
- Experienced Tour Guide/Wine Expert
- See some beautiful scenery and the best sightseeing stops!
- Taste the wine and cuisine
- Tastings approx. 20-25€pp per winery, optional Lunch 25€pp
- Relaxed Atmosphere, great company!
---
2-8 persons (from 300€/per tour)
All Year Round.
Includes luxury transport, English speaking guide.



---
Sloveniaforyou.com have hand picked the best of the each accommodation category to make it easy for you to book!
HOTEL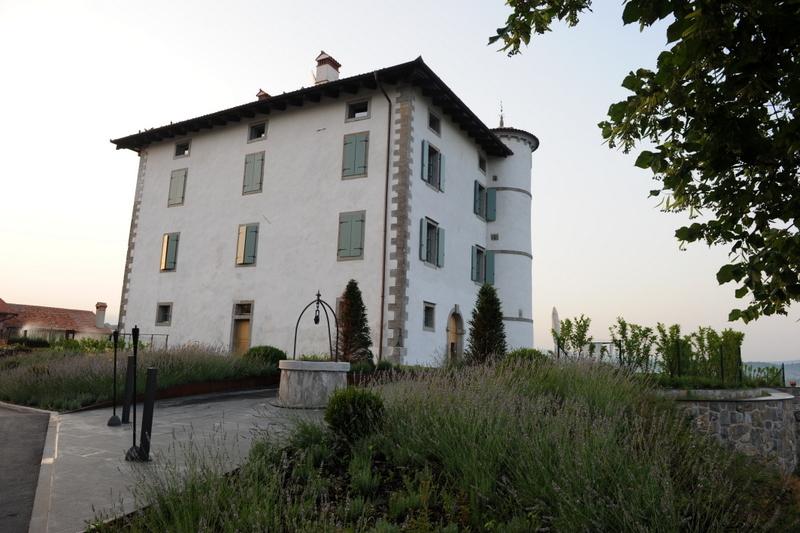 HOTEL GREDIC

Set in a 16th century castle, Hotel Gredič is located in the heart of Brda Wine Area. Only 250 m from the Italian border, it features free Wi-Fi, modern accommodation units and a restaurant serving local specialities. Enjoy drinks on the terrace with terrfic views.



WINERY STAY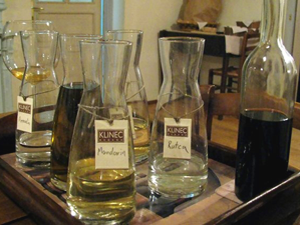 KLINEC B&B

B&B Klinec offers an outdoor pool and a restaurant that serves homemade dishes made with fresh seasonal ingredients. Free Wi-Fi is available. All rooms have A\C and overlook the garden and the pool. Klinec B&B offers a bar with terrace where guests can partake in wine tasting.



WINERY STAY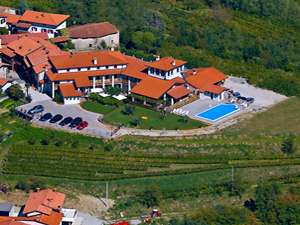 BELICA

The Belica is located at the top of the village Medana, where the view reaches to the Alps and the Adriatic Sea. You can taste seasonal local dishes, such as prosciutto and salami plus their famous wine. Stay in one of eight rooms and two suites, located far from everyday noise!



GUEST HOUSE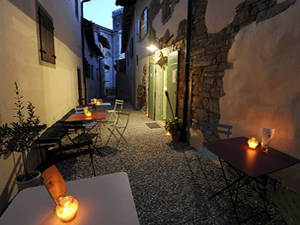 MARICA

The Marica houses an old renovated wine cellar, where you can taste fine Belica wines. This special position not only gives beautiful panoramic views, but also an ever-present breeze, which has a beneficial effect on the maturation of hams, salami, bacon and other delicacies.



HOTEL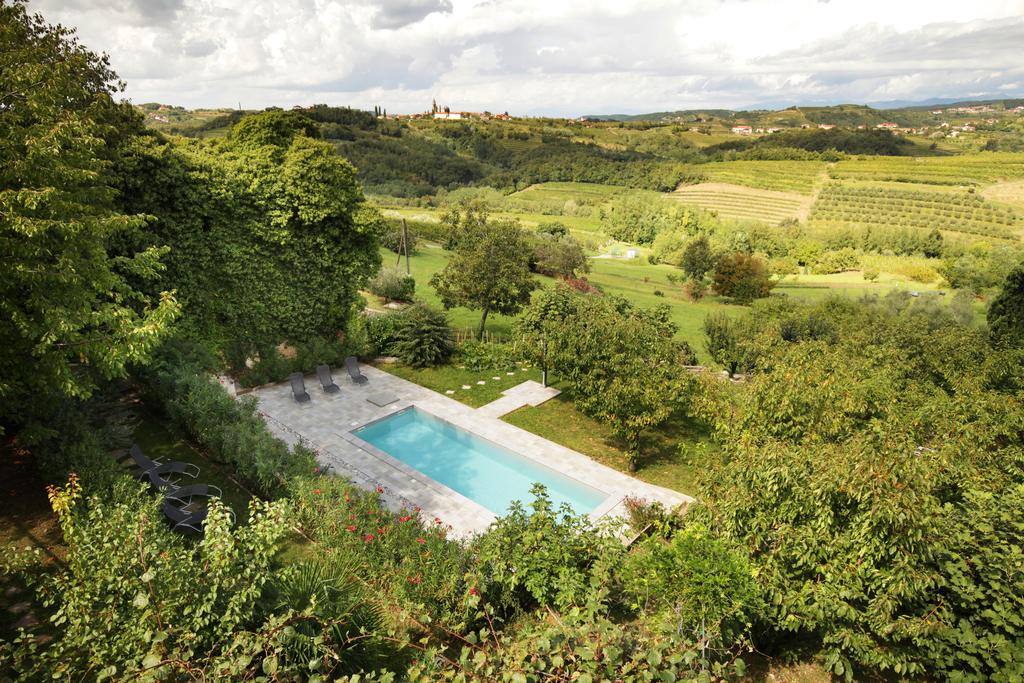 HOTEL GARNI DVOR

The ambience of the property will exceed your expectations. Admire the magical views from the patios and decks, enjoy a sumptous breakfast buffet and of course indulge in the wine tasting room. Very welcoming hosts and a pool to enjoy on a hot day. Superb.



&nbsp&nbsp
HISTORY OF WINE IN GORISKA BRDA
Due to the advantageous climatic conditions, wine-growing in this region originated in pre-Roman times, when the area was inhabited by the Venets. During Roman times, Brda was part of the tenth region, named "Venetia et Histria," and called Colles or, In Collibus.
Since 181 B.C., the region was influenced by nearby Aquileia . Numerous amphoras found in this area testify to the importance of the town and its surroundings as a centre of viticulture. The Brda region was part of the patriarchate of Aquileia . Archaeological finds of so-called "villae rusticae" (farming estates) prove that Brda was a settled, wine- growing area at that time.
Christianity spread through this territory from Aquileia as early as the 6th century with the first church presumably built in Medana in 630. The sparsely populated Brda region was subjected in the 8th century to immigration from the Slavs, who also engaged in viticulture and wine production. Local varieties were Pika, Glera, Tržarka, Muškat, Pikulit, the grapes of St. Ana, and Rebula.
The border between the Venetian Republic and Austria cut across the Brda wine-growing district until the 19th century when, after the unification of Italy and the establishment of the Austro-Hungarian empire, it became the border between these new states. The fine quality of wines from Brda was known and appreciated also at the Vienna court, and Austro-Hungary became an important market for Brda. French grape varieties were introduced to the region during the second half of the 19th century; they were Pinot Gris, Chardonnay, Sauvignon, Cabernet Sauvignon, Cabernet Franc, and Merlot.
---
CLIMATE FOR GROWING GRAPES IN GORISKA BRDA
The climate in Goriška Brda is particularly favourable for the growth of vines since the Brda region faces the sea, thus being considerably exposed to its climatic influences. The sea is only 20 km away and it can be easily seen from the slightly steeper slopes and hills. There is only the Soča Plateau between the Brda region and the Adriatic Sea. Higher hills in the north and a slightly elevated limestone ridge in the east protect the Brda region against northerly winds and the cold.
Owing to the exposure of Goriška Brda towards the south and west, a warm and sunny climate prevails. South-east winds are the most frequent visitors, supplying warm and humid air which warms the Friuli Plain. The Burja (bora) is sometimes caused by high air pressure in the hinterlands. Springtime frosts brought about by lengthy recurrences of cold winds in the anticyclone conditions is more dangerous.
Winters in the Brda region are mild with an average January air temperature of 3c. They can say they know no winter here. Even the recurrences of the bora are not felt so strongly, except, of course, as a general drop in air temperature. Snow stays here for only a couple of hours, rarely for a day or two. Summers are very hot with average July air temperatures between 23 and 24c. More than 80 days a year the air temperature is higher than 20c, which represents ideal conditions for the growth of plants.
The quantity of precipitation increases with the above sea level altitude from the sea towards the hinterlands. The results of recet monitoring the quantity of precipitation measured an average of 1695 mm of precipitation per year.
It is the strongest in the autumn month of November when the growing period and grape harvesting are already completed. In spring, the quantity of precipitation rises steadily until July, which is very important for agriculture as the soil gets soaked with water. Such a reserve of water serves its purpose particularly well by the end of July and August when the temperatures are the highest and there is the risk of drought.
---
SOIL IN GORISKA BRDA
The landscape of Brda has created a distinct landscape of hills with north-south stretching ridges which are mostly sedimentary flysch rock composed of alternating layers of sandstone, marl, and carbonate turbidite, as well as limestone or calcarenite ranging from a few centimetres up to half a metre thick.
The Sub-Mediterranean and the more temperate continental climates have been turning sedimentary rocks into flysch for millions of years. Since Goriška Brda is a hilly region without flat surfaces, more than a third of the vineyards are terraced facing the sun. On certain parts of the hills where vines grow, the terrace gradient exceeds more than 50% but usually it is between 10-30%. In damp areas and where the soil is heavier the vineyards are grassed, which results in a steady growth of vines.
This, in turn, is reflected in a high quality grape crop. The hills in Brda are mostly exposed towards the south and that may be another element of the favourable growing conditions. The locals have always known that Rebula grows best in flysch on the eastern slopes and higher altitudes, so that the vine is woken up by the first rays of sunshine and its berries warmed up by the rays from above and the ones reflected the light flysch ground.
Flysch would seem to play an important role in producing Rebula, as the complex soil structure of alternating layers of sand, sandstone and marl enables the vine to drive the roots between them and find supplies of water and minerals, which make their way into the grapes and wine. Rebula needs an efficient root system to supply its lush foliage and high yields. This is even more important particularly in dry flysch high in calcium.
In certain areas, the new system of preparating the terraces and a new method of planting vines has enabled them to increase the density of vines from 3,000 to 5,000 and more, per hectare. With the same yield per hectare, the higher density of vines has allowed them to take the load off individual vines, which is reflected in increased sugar and concentration of minerals, antocyans, phenols, acids and other substances in the grapes.
Among the main problems that winemaking and fruit-growing in the region have faced is protecting soil against erosion, prevention of sliding, and too frequent droughts. The use of cultivated terraces made agriculture possible and prevented the erosion of high-quality fertile soil, although sometimes, as several authors have pointed out, this is not the best solution.
Compared to other wine growing regions of Primorska, the Goriška Brda has the most diversified topography. The entire region is considered suitable for production of quality wines among which white wines stand out with numerous world recognized certificates of excellence.
Back to Top
Klet Brda
Just below the Dobrovo Castle is the giant Co-Op which could be your first stop so feel free to peek inside and have a look at this massive operation!
The "Goriška Brda" wine cellar or Klet Brda Co-Op unites 400 families in the region who manage 1200 hectares of vineyards that spread half-way between the Adriatic and the Alps. The largest share of vineyards is planted with the indigenous Brda variety Ribolla Gialla (27%) which is followed by Merlot (20%), Chardonnay (16%) and Sauvignonasse, formerly known as Tocai Friulano (12%). In addition to the above-mentioned varieties the vineyards are also planted with Pinot Grigio, Sauvignon Blanc, Cabernet Sauvignon, Cabernet Franc, Pinot Bianco, Pinot Noir, Shiraz and the indigenous Pikolit and Verduc.
On average every one of the winegrowers cultivates less than 2 hectares and thus takes care of each vine with devotion, resulting in a superior quality of grapes and wine. One of their leading principles is that quality is created in the vineyard. Annual yield from the Co-Op is from 6 to 9 million litres of wine (9 to 12 million kg of grapes) They produce Dry still wines, sparkling wines, vintage wines, dessert wines under the labels A plus, Bagueri, Quercus, Villa Brici of which 70% is sold in the domestic market. External markets include the EU, USA and Japan.
Klet Brda act in a socially responsible way from their vineyards up to the wines on the shelves. A number of years ago, they reduced the harvest of grapes per hectare so as to maintain quality. They encourage the cooperative workers to opt for an integrative (nature-friendly) grape production, which implies a restricted and controlled usage of phytopharmaceutical plant protection products.
Klet Brda Website
Simčič
Other notable and famous local brands include the Simčič family where wines are also made naturally, without filtering or adding sulphur dioxide before the final blending. The white grapes are macerated before fermentation to extract every last bit of flavour and complexity. This extended skin-contact is unusual outside Slovenia and in the wrong hands produces clumsy, heavy wines.
However, Simčič has a modern winery with new technology, so the result is a structured wine of considerable complexity and deep colour but where freshness and drinkability is also retained. A combination of stainless steel and oak casks are employed for fermentation, with maturation of the three base wines on their lees taking 28 months in various woods before final blending and bottling.
"We believe in the Goriška brda soil which was left by the sea on the hills' surface in ancient times. Wind, rain and sun have ground, washed and heated it for thousands of years. The outcome was a soil rich in minerals, which contributes to the production of unique wines. Here the Mediterranean and the Alps shake hands. These are the ideal climate conditions for the vine's growth. We believe in grape cultivation with the most natural methods. We respect vine's natural capacity of producing grapes. It is for this reason that we have a low return, with grapes left on vines as long as possible. We believe in the most traditional and ancestral vinification methods. We believe in the power of nature. Our cultivating method obliges the plants to compete for water and the minerals from the soil. In this way they become more resistant and naturally produce healthy and strong grapes – this method gives wine nobility and elegance. We believe that high quality can be reached only by complete devotion and trustiness. All our vines have been accurately selected and planted spaced out, just like in typical Friuli vineyards. We believe that modern knowledge can implement traditional winemaking methods. However, every step we take is the consequence of precise evaluations, there is no automatism. We believe there is truth in wine. Our wine tells the story of our region and our family. This story flows in every glass of our wine."
Teodor White for example is a distinctive and terroir driven white wine that is capable of further ageing and is excellent with food. In the glass it's a deep brassy yellow, flecked with amber. The nose is distinctive and striking, with hints of dried flowers, butterscotch and vanilla.
Simčič Website
Erzetič
Our village is nestled in the midst of Brda hills at an altitude of 219 meters. Višnjevik has been known since the Middle Ages for its Ribolla vineyards and olive plantations. Steep marl slopes demand hard work in the vineyard, but the resulting wine quality serves as a reward for all the effort and encourages future expansion.
The Erzetič estate is comprised of several vineyards, each with their own strengths and characteristics given by nature. The winemaker has the opportunity to seek out the most appropriate location for each wine variety. The wind blowing atop of the hill is not the same as the one in the valley, and the sun exposure for south facing vineyards verses southwest facing vineyards bring opportunity and challenge. For some vines a windy hillside proves to be the most suitable location, while others prefer the quiet and an early afternoon nap. The family jewel is the vineyard at an altitude of 300 meters; considered one of the highest vineyards and probably one of the most beautiful vineyards in all of Brda.
In the Brda region, and especially in our vineyards, there is no room for heavy machinery so harvests are handpicked. Terraces caress the natural lines of the slopes which wind left and right and adjust to the hillside. Our family has decided that we as well will adjust to nature. We advocate natural, ecologic winemaking and we are in the process of certifying by acquiring a certificate for ecologic wine production.
It may sound contradictory, and yet it is not: in our newest wine cellar, there are immense clay amphorae receded into the cellar's earthen floor with just the top of the rim at the surface, much like those in which cider and wine were boiled in ancient times. It is with these Amphorae we marry ancient technique with state-of-the-art wine making. Come and see them if you want to see something unique in Slovenia!
The Yellow Ribolla, also known as Ribolla Gialla, has long been a variety which bears the flag of the wine-growing Brda region, while the Ribolla Nera, also known as Pokalca was almost forgotten. The Erzetič winery is the first in Brda to offer both varieties. Each has exceptional characteristics that enable a winemaker to use them as a base for sparkling wines, for fresh still wines, for longer aging of wines in barrels and also for aging in amphorae (immense clay vessels). Ribolla is a wine of a thousand friendly faces...
Erzetič wines can be found and tasted in many places, but if you truly wish to experience them we recommend you visit our home. While strolling through the wine cellar you will learn where and how our wines are made, which we believe is the perfect accompaniment for our premium wines.
Erzetič Website
Movia
The Movia estate dates back to 1700, passing into the hands of the Kristančič family with a wedding in 1820. The estate extends over 22 hectares of land, about half of which lie on the Italian side of the Goriška Brda (Collio).
It wasn't until 1988, as the Yugoslav government became more open prior to its dissolution, that the Movia brand returned. Today, the Movia Estate offers a range of award-winning wines, from both autochthonous and international varieties. Vila Marija Belo, for instance, is a blend of 30% Sivi Pinot, 30% Sauvignon and 40% Rebula, made from grapes grown on young vines (with an average age of 25), following by an eight month maturation process.
Movia is more than a mere wine brand and the name of an estate on the borderland between Slovenia (ZGP Brda) and Italy (DOC Collio). Movia is a way of life, life in all its glory, purity of nature and sincerity of the author. Movia is a label beyond time, a mark of standards surpassed as sought by so many wine connoisseurs around the world. From gentle and light classics, through a range of mature wines with good ageing potential, to one-offs second to none other in the world. That and very much more is what Movia is about. And when you alight from the cellar and taste the wines with Aleš, you will taste magic!
The name 'Rebula' (or 'Ribolla' in Italy from the word 'ribollire', which means to 're-boil') derives from the fact that the Bora wind would cool the cellars sufficiently to stall fermentation; only for the process to be 're-boiled' once Spring arrived. It has been cultivated in this part of Slovenia since at least the 13th century, giving wines that a light bodied, with pronounced acidity, floral and aromatic aromas, with peach and citrus notes. The 14th century Italian poet, Giovanni Boccaccio, described over indulgence in Ribolla as a sin of gluttony; a fitting reason if ever one was needed to sample Aleš Kristančič's Rebula from the Movia Estate.
All promotional text courtesy of their respective websites and photos credits to their respective owners.-
Movia Website
Please read this first!
Wine is serious business in Slovenia. The winemakers are passionate and genuine about their craft and love to convey this energy to all those who visit. Wine tasting is a fun, socialable and often educational activity and well worth the cost. For those who want a memorable private tour (note the emphasis on memorable, these are not meant to be drinking sessions!), we at sloveniaforyou only work with the most knowlegeble partners who can offer an above par Wine Experience.
We and our partners do not offer "pub crawl" type experiences as we feel this takes away from the true aspect of what Slovenian vinters work so hard to achieve. Our aim is to offer an opporunity for our guests to encounter Slovenian wine culture at its finest.
Ok, I'm staying in Ljubljana or Bled and want a great day out in the Goriška Brda, what do I do?
Take one of partners amazing private or public wine tours of course!
Scroll up to the tours section to see the three types of tours on offer. A total wine experience or some wine tasting combined with local sights. Either way its a great day out with an experienced tour partner who knows their stuff and are eager to show you this great region!
---
What if I'm staying in the Goriška Brda region and I don't want to drive or don't have a car?
Not a problem. If you are staying in Brda then we would assume you have a car but even if you don't, Brda is an excellent choice because if you are staying in Dobrovo or Šmartno for example then wineries and restaurants are within walking distance so a car is not totally necessary.
WALKING TRAILS AND WINERIES
The Brda tourist board have come up with 9 specific walking trails that take in wine cellars, orchards, local villages, places of interest and of course some stunning views.
The CHERRY BLOSSOM TRAILS are 9 different walks with the shortest being 4km (2 hours) and the longest being 17km (6 hours). Most start from Dobrovo Castle and head off in all directions so depending on how much time you have, you can try a different route each day.
Get the guide from the Tourist Centre in Dobrovo and decide which walk you wish to do. You can then discuss with them which wineries are located along the trail and call ahead to make a booking for wine tastings or lunch.
As an example Trail 5 passes or is near the Simčič winery, Movia, Klinec, Kristančič, Belica and of course don't forget Klet Brda which is below the Dobrovo Castle.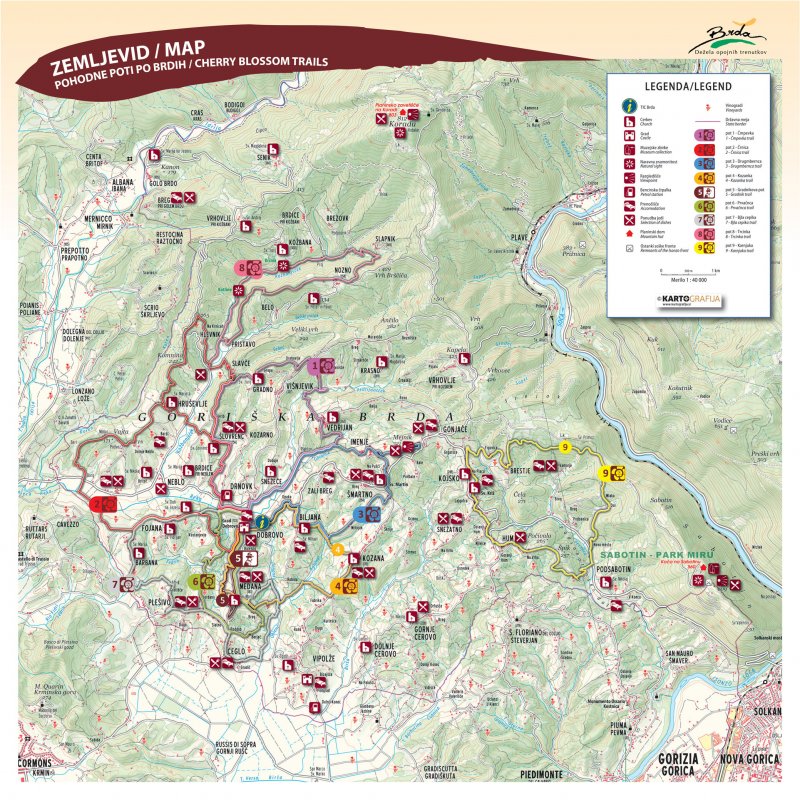 Make sure if you're visiting Goriška Brda wine region you check these off your itinerary!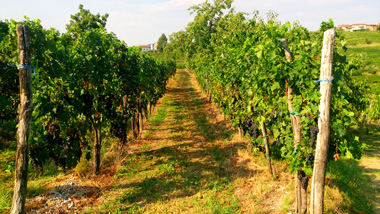 > Visit Vinoteka Brda and Info centre at Dobrovo Castle
> Visit Klet Brda below the castle
> Visit a winery or two and buy some local product
> Try the local fruit as well - Brda is famous for its cherries!
> Try local Varieties Rebula, Green Sauvignon & Orange wine!
> Learn about biodynamic and organic winemaking
> Learn about wines stored in amphoras!
> Drive through wine villages of Brda
> Views from Mount Sabotin and Gonjače Viewing Tower
> Take a relaxing hike/cycle through local villages & vineyards
> Take in a local festival - see below
Thanks for visiting Goriška Brda!

WINE & FRUIT EVENTS/FESTIVALS IN GORISKA BRDA





APRIL -
Rebula & Olive Oil Festival Višnjevik - Mid April
This traditional wine and food festival takes place every spring in Višnjevik. Višnjevik is said to be at the origins of producing Rebula in Brda and it was first mentioned in local text in the 14th century. Come and try various Rebula varieties like Orange wines and Sparkling wines. The event also celebrates local olives and olive products including of course olive oil which will be served alongside other local delicacies.

Brda & Wine - last week april
Brda and Wine is a traditional event held in the village of Šmartno every April. Close to the Italian border, the event introduces the best wines from both countries. There are Guided tours, wine tasting and tasting of excellent traditional local food.

JUNE -
Cherry Festival - Early Mid June or late May
The Cherry Festival is the biggest cultural and tourist event in Brda. It draws over 30,000 visitors from the local and neighbouring Italian and Austrian regions. This event is full of ethnological, cultural and sports events and entertainment for all generations. The following events are part of the festival:

Heroes of the Vineyards Cycling Marathon around Brda - early June
Hike from cherry tree to a cherry tree - if you love cherries, this is for you! - early June
Wine Day - Winemakers open their cellar doors. They will share experiences with wine connoisseurs and give valuable tips about the art of winemaking. - early June
Traditional Parade - The centrepiece of the Cherry Festival is the traditional parade of country carts which present rural life and customs of the Brda region - mid June
Traditional Brda Wedding - Since 2012 Newlyweds get married according to traditional Brda customs and habits, in costumes and in a ceremony characteristic of Brda weddings between 1920 and 1930.


JUNE -
Dreams in Medana, Festival of literature and wine - last weekend
Dreams in Medana Festival and book and wine days in Šmartno. The two villages will lull you into a magical atmosphere. Medana, with its literary importance, and Šmartno, village created as a set for fairy-tale events.
Early afternoons are usually dedicated to the younger ones. However, slightly older ones can also join: in the storytelling, photographic, musical and artistic, music workshops or visual and street group workshop. Evenings are dedicated to poetry, prose and music. These events take place under the mulberry tree at Gradnik's homestead and in a magical atmosphere of the medieval village Šmartno. The events are "spiced up" with a wide range of Brda delicacies – wine tastings, omelettes, prosciutto, homemade marmalades etc.

NOVEMBER -
St Martins Day - November 11
St.Martin's is the 2nd biggest feast on the calendar in Brda. It is a time when the must turns into wine and when tasters, connoisseurs and lovers of autumn delights, especially wine, are united in lively company. An excellent glass of wine, good music, a rich cultural programme and excellent company.
Each year, the St. Martin's feast is held in the shelter of medieval walls of the fortified village Šmartno. Tasting of high-quality wines of more than 30 winemakers from Brda and Collio take place in wine cellars of abandoned houses. In the village, within the walls, there is a cultural and entertainment programme and also stands with Brda products and local food.


Sloveniaforyou.com would like to emphasise that we are not a Travel Agency and are only representatives for our partners in Slovenia and their products as highlighted above. Client details for potential tour bookings are transferred to the actual tour company for assessing and processing under their terms and conditions. As such, Sloveniaforyou.com assumes no liability for any outcomes pertaining to any bookings made with these companies.