Our complete wine guide for the:
SLOVENSKE KONJICE REGION
welcome
dobrodošli
Sloveniaforyou
Slovenia's no1 independent website!


---
Where is Slovenske Konjice?
Where to start?
How to get to Slovenske Konjice?
What varieties is Slovenske Konjice famous for?
Slovenske Konjice Wine Tours
Slovenske Konjice Accommodation
Leading Estates
History
Climate
Soil
Wine Touring
Checklist
Festivals

---
WHERE IS SLOVENSKE KONJICE?
Just before the mighty Pohorje forests wrap you into their hug, the doors to the town Slovenske Konjice, with the thousand-year-old square design, open in front of you.

The town of Slovenske Konjice is found just off the main freeway between Ljubljana and Maribor and lies under the northern slopes of the Konjiška Gora mountain and winegrowing hills of Škalce.

A medieval country town with six thousand inhabitants, it is laid before the mysterious Slovenske Konjice Mountains on one side and the sunny golden hills of Škalce on the other side. The town which was first mentioned in 1146 by the name Conouwiz is typical of the valley around the river Dravinja.

Slovenske Konjice is the centre of the Dravinja valley which opens through beautiful fields towards Boč, the Ptuj Mountains, Haloze and Drava fields. The town is becoming a good model of kindness and tidiness. It was awarded with seven awards for the most beautiful excursion town and won the golden medal in the European competition Entente Florale.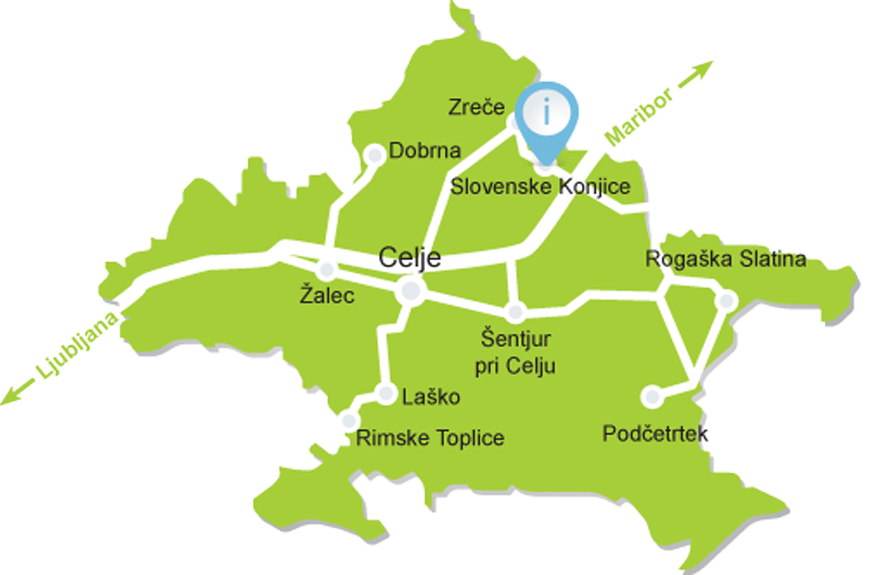 ---
WHERE TO START?
The hills rise above the plains of the river Dravinja with its nicely cultivated fields, meadows and groves. The word hill in this area means more than elsewhere. It means kindness, sun, vine, tradition and life.

A walk along the wine roads through the wine growing Škalce hills will reward you with pleasant memories no matter what season of the year. The golden hills are a nature park; they are a gallery of well arranged vineyards enclosing a golf course with sweeping views of the town that touches them.

A stop in the Zlati grič wine shop is a stimulation and a reward at the same time. It is an experience in the excellence of Slovenske Konjice wines and home made dishes from the area.

The grapes are grown on about 1000 acres of vineyards which cover hills from the best known hills of Škalce and Polene to Žička gorca, Kraberk, Suhadol, Klokočovnik, Tolsti vrh, Lipoglav, Zbelovska gora and many others. The excellence of wines from this area has been proved through many different awards since 1994, when Zlati grič (Golden Hill Company) produced its first Viteško vino (Noble wine).

The nobleness of the wine can be felt in delicious whites and also in their reds of which the queen is Blue Frankish. All wines go well with the selection of homemade dishes from around here. You need to take time to visit these places and to experience the diversity in the way that you sense it. The memories that will linger are the promise that you will come again. You will be accepted kindly and leave in a good mood because happiness is hidden in the drops of wines from the Slovenske Konjice area.

THE VINO

Wines from Slovenske Konjice area are something special. The flavours inside these wines will satisfy all your expectations as they intertwine in perfect harmony. The poetry of local vintage wines is offered to be tasted in the town wine shop and other local wineries. The excellent quality of wines from the Konjice area is becoming a tradition, and a walk between sunny vineyard hills is a dessert for nature lovers!


---
HOW TO GET TO SLOVENSKE KONJICE REGION?
From Ljubljana, take the main freeway to Maribor (A1) and turn off on your left at Slovenske Konjice which is about two-thirds of the way from Ljubljana.

Of course if you don't have a car, please email us to arrange a transfer!
---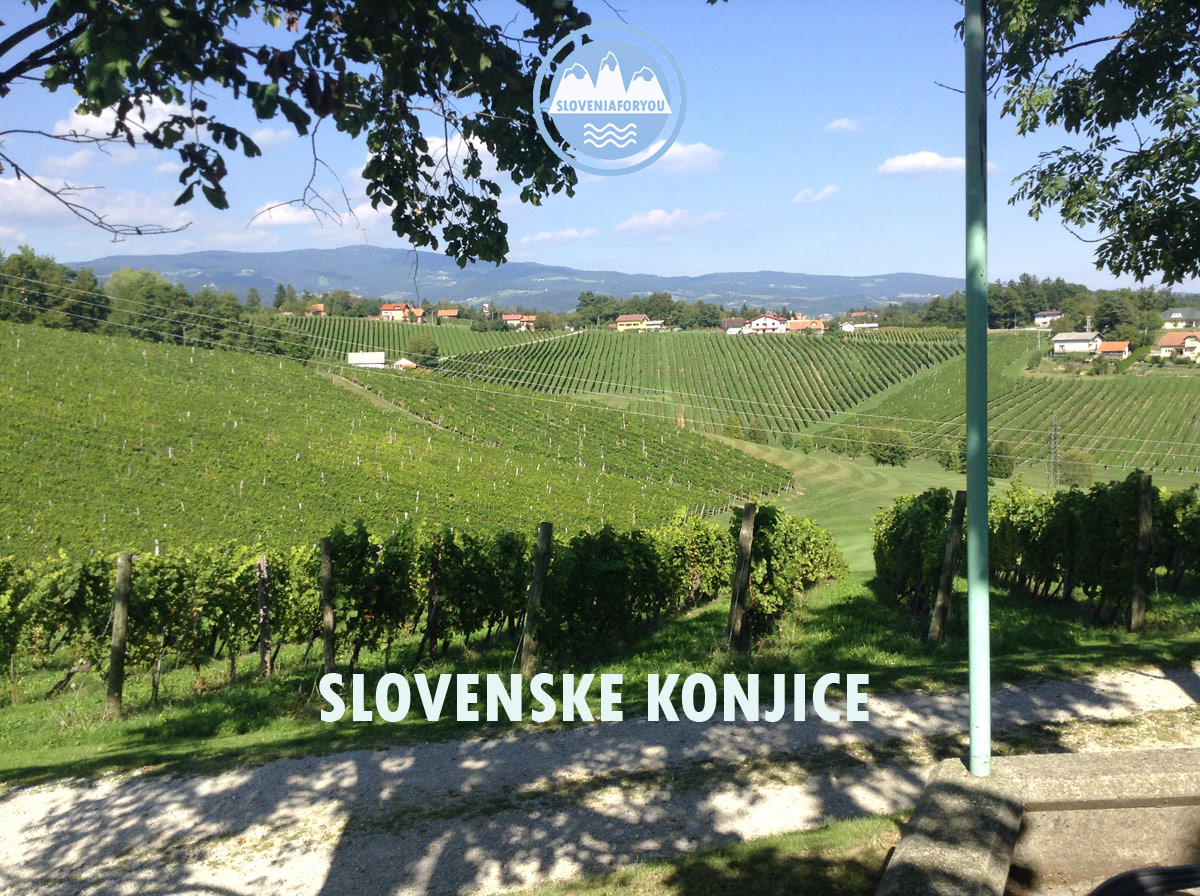 WHAT VARIETIES IS SLOVENSKE KONJICE FAMOUS FOR?
THE KONJICAN (white)

White Konjičan is a blend of four varieties: Italian Riesling, Müller-Thurgau, White Pinot and Riesling.
Its gold-yellow colour with green shades looks very lively. The scent perceives pleasant blossomy and fruity notes. It is a very drinkable and harmonic wine, because White Pinot delivers a pleasant acidity, Müller-Thurgau fruitiness and drinkability. Italian Riesling construction gives Riesling its unique character, which is pleasantly fruity (influence of growing grounds) and characteristic only of the white Konjičan.

Konjičan Plus is a blend of five varieties: Italian Riesling, Müller-Thurgau, White Pinot, Riesling and Sauvignon. Golden yellow color with greenish hues. Its gold-yellow colour with green shades gives it an exciting colour. The scent perceives pleasant blossomy and fruity notes. It is a very drinkable and harmonic wine, because White Pinot delivers pleasant acidity, Müller-Thurgau fruitiness and drinkability. Italian Riesling construction gives Riesling its unique character, which is pleasantly fruity (influence of growing grounds), Sauvignon gives freshness and aroma of elder.


WHAT OTHER VARIETIES ARE PRODUCED?
Other varieties produced include:

Welshriesling -
variety of Italian Riesling, scent distinguished by a wide range of fruit and blossom fragnance. Its taste is very fruity, harmonic and drinkable, but from here on, senses that indicate its width and fullness, continue. Characteristic is its pleasant acidity, which emphasizes a fruity taste in every drop that leaves a pleasant sensation and long-lasting aftertaste.

Rheinriesling -
A wine variety produced on selected grounds for various bottlings. Characteristic of all of them is the preservation of variety purity and mineral containment, a reflection of soil and position under the southern hillside of the majestic Pohorje. Wine complexity is given by smaller vine load, along with conscientious and attentive work of winegrowers and cellarmen. Wines are distinguished by harmony, freshness and drinkability , which is the result of acidity ratio and different sugar remains at different bottlings. Ripening in bottles gives wines an extra interest and selectivity.

Pinot gris -
Deep straw yellow color with pink accents, typical of Pinot Noir, which was cold macerated (12 hours). Fermentation at lower temperatures and grape must, squeezed from hand picked berries, gives the wine an open, fuity variety scent. Adjusted proportion between acids and sugars along with distinctive variety are felt at the first draught, continues into a medium long aftertaste. The wine is drinkable, youthfully fresh, smooth and one spoils themself with every taste.

Traminer -
The vines bare only one kilogram of grape, which results in a strong variety of characteristics and high sugar levels in grape extract. The wine boasts a delicate variety of fruity flavours. The taste is pure, rich and intense. Low acidity in combination with low sugars leaves a pleasant feeling of balance and harmony. It is ideal for immediate consumption, but it will taste just as well in years to come.

Sauvignon -
The exciting wine is distinguished by a typical Sauvignon flavour that is unique to southern Pohorje hillside grounds. Fresh herbal notes taste lively in the mouth with hints of currant. The intensive taste is completed with fresh juicy acidity and a long and pleasant aftertaste. It is very convenient for drinking within one or two years.

Chardonnay -
Yellowish-gold color at the beginning points to an interesting wine. Promising, fruity fragrance is released soon in the fruity-floral aroma that enchants. In the mouth it is pleasant, first impressions continue and completes the pleasant acid. Wine has freshness, fruitiness and is full, juicy and delicious. Ten percent of the wine was matured for three months in local barrique barrels, the rest in stainless steel tanks.



Special Wines:

Blue Franconian-
Blue Franconian has a very intense and concentrated deep ruby red colour. In its scent you will first notice fruity perceptions and afterwards it develops an aroma of roasting and spices. It feels lively in the mouth, balanced, full, and quite harmonic. Tannins are still juvenile, but guarantee quality wine development. Top-level Blue Franconian is ripened in a big oak barrel for nine months with preserved recognition and nobleness.

Rose Blaufrankisch-
They cool the grapes down to 8 degrees Celsius and gently squeeze them, so they keep their gentle aroma and freshness. Long lasting grape maceration is avoided to avoid excessive colour elimination. After alcohol fermentation the wine lies for a few weeks on fine sediments, which gives it additional body. The Wine is of a sparkling rose-colour, with an intense aroma. Fresh sourness is balanced with an elegant fruity and long-lasting aftertaste. It is appropiate for hot summer days and immediate consumption. It is best consumed within a 2 year period.


---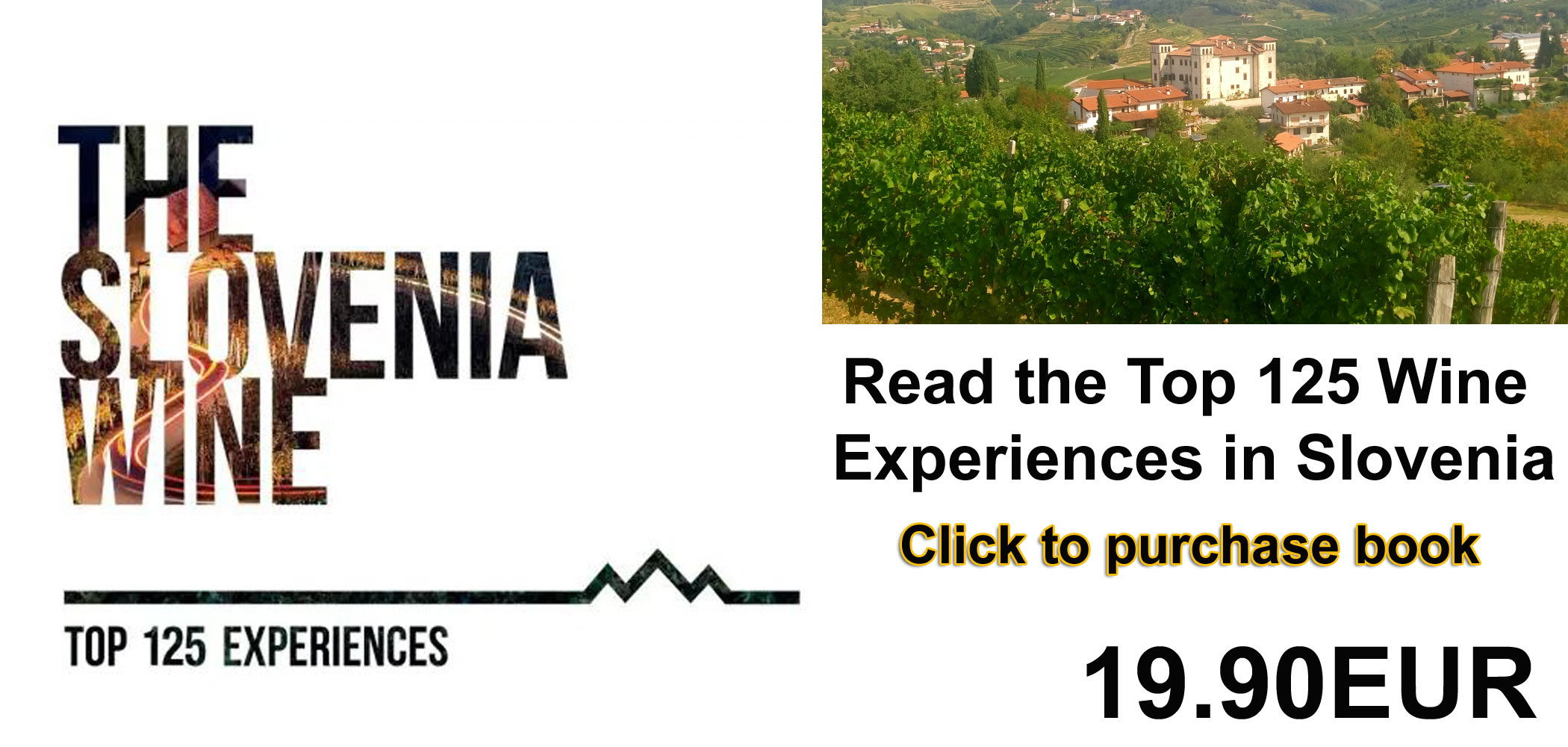 ---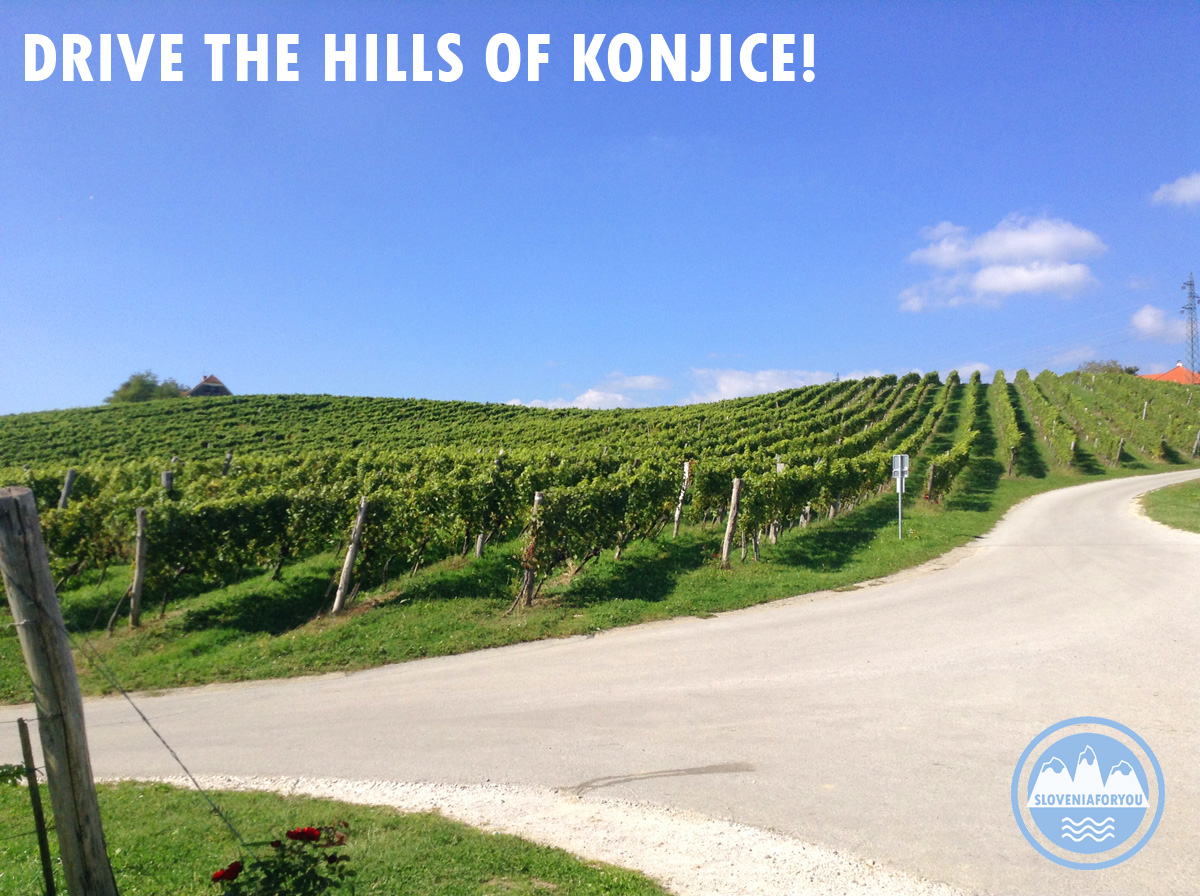 SLOVENSKE KONJICE WINE TOURS
---
A typical Konjice/Jeruzalem wine tour
What is the cost?
How do we book?

---
WHERE TO STAY?