Slovenian Istra or Istria is another holiday paradise for those who love the seaside and their vino as well! The Adriatic Coast is lined with beautiful seaside towns like Piran, Koper and Izola while Portoroz tries to exude a more ritzy feel on the Slovene "Riviera".

But it's inland where all the vino magic happens. The hinterland away from the beach crowds feels like another world. Lazy hillside villages bask in the sun and life moves at a very gentle pace. Whether you stay on the coast itself, or in a charming B&B inland, this is a great spot to relax and unwind!
A car is really a necessity to travel the wine routes as the inland villages and wineries are connected with narrow local roads where there is little public transport. Pick up a map and further information at the information centres in Koper, Piran or Portoroz (assuming you may be staying at one of the locations).

You can hire a car in Koper from our partners at ATET, Just use code SLOFORYOU for the best rates. Or Email us with your details and we can get you a quote.

From Koper for instance, the sign for VinaKoper stands out like a beacon on the side of the opposing hill and this makes a great first stop just across the freeway. From here you can head further inland down towards the Croatian border taking in wine making villages like Parecag, Korte, Padna, Nova Vas, Sveti Peter And Dragonja. Then head back via the coast perhaps. Have a great visit!

THE VINO

The rich wine tradition of Slovenian Istria dates back to the Roman period almost two millenia ago. Wines of local varieties (Refosco (Refošk), Malvasia and Yellow Muscatel) and other varieties that grow in the area are starting to win acclaim across Europe and beyond. Istrian winemakers often present themselves at wine and gastronomic events in Slovenian Istria and abroad. Their best wines can be tasted in most local restaurants so what are you waiting for? Come to Slovenian Istria and enjoy the hospitality!
From Ljubljana, you simply take the main freeway (A1) towards Koper and the coast. From Trieste, there is a short freeway portion before turning into Koper or you can take the charming coastal road through Muggia and Ankaran.



Refošk (red)

Red wines dominate here and Refošk is the most widely cultivated grape. Slight differences in climate producing two varieties. Refošk from the coast is more mature with slighter acids and richer in colour; wine from the "continental" part of the area is heavier, with more acids and a distinctive character.

The Refošk in Slovenia is a member of the large Refosco group, which comprises several different types that are denominated according to the cultivation area and morphological or oenological properties, e.g. Refošk, Teranovka, Teran, Terrano, Refoscone etc. It is cultivated mainly in the coastal part of Slovenia (Karst and Koper winegrowing districts), in Croatia (Istria) and in Italy (Friuli-Venezia region). In Slovenia, Refošk is of economic importance as the leading red wine variety and the fourth most frequent variety, following Welschriesling, Chardonnay and Sauvignon blanc.

As an example, the Refošk from VinaKoper is exclusively hand-picked at the beginning of October with the ripe grapes macerated for up to 18 days. The Wine is kept in large oak barrels until the end of the deacidification process, and is then decanted in Barrique barrels where it matures for at least two years. The colour is an nntensive ruby red colour while the bouquet surprises with ripe fruit reminiscent of ripe blackberry, jam, sour cherry, mulberry, blueberry, and dry Mediterranean spices. Notes of wood and forest undergrowth can also be sensed.

The taste is rich and expansive. Pleasant acids keep this rich wine lively and fruity. Beautifully structured tannins give this wine a long and pleasant finish. Food and wine pairing recommendation: Refosco wine goes nicely with rich and also more fatty food. It is also a very good companion to cold cured meat products, steaks, beefsteaks, and grilled meat dishes


WHAT OTHER VARIETIES ARE PRODUCED?
Cabernet Frank, Cabernet Sauvignon, and Merlot are also very popular: in this area, these wines are particularly rich, lively in colour, moderate in alcohol, vivacious, and not too heavy. In good years, the Koper area's Cabernet Sauvignon is arguably the best produced in Slovenia. The predominant white wine is Malvazija - very fresh, rich, with a pronounced character. Chardonnay is also very popular - the Chardonnay wine from vineyards up to ten meters above sea level are cultivated and marketed separately as ricorvo to distinguish it from the labor Chardonnay grown in higher vineyards; these qualifiers are derived from names of two characteristic sites.



The best known blended wines of the area are the white Capris, a blend of Rebula, Malvazija, Chardonnay, and Rumeni Muskat - an aromatic, semi-dry wine with an intriguing bouquet; the red Capris blended from Merlot, Refošk, Cabernet Sauvignon, and Cabernet Frank - a dry, heavy, full- bodied wine frequently compared to Bordeaux red wines; and the dry red Koprcan - a blend of Refošk, Merlot, Cabernet Frank, and Gamay.
---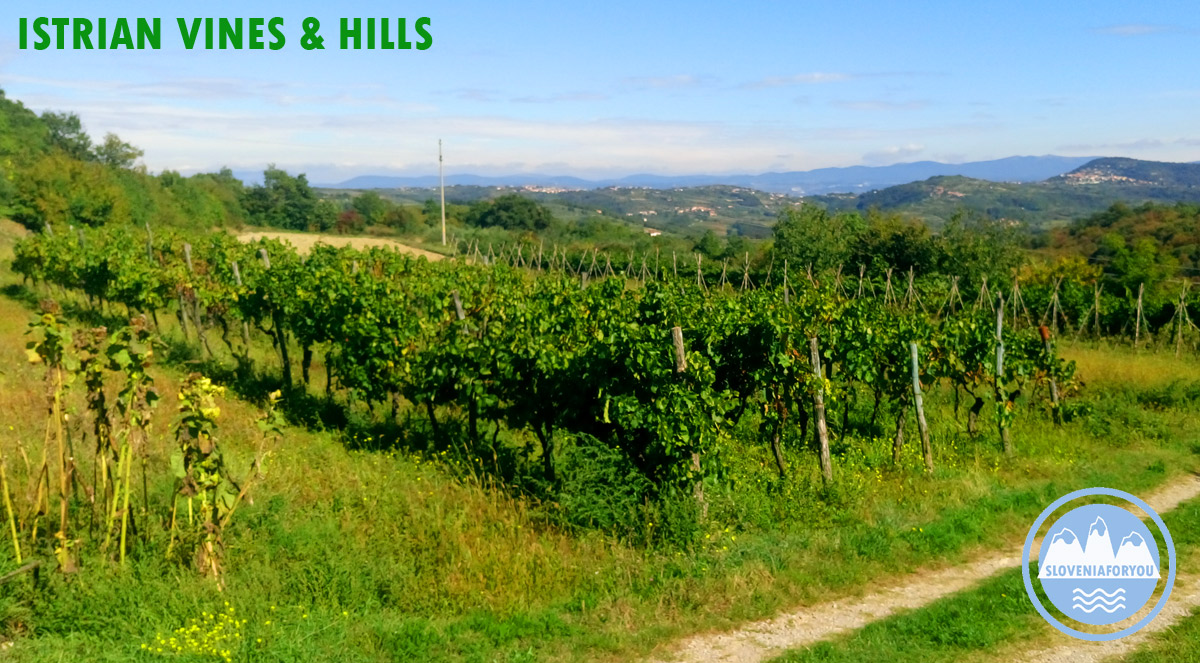 ISTRA WINE TOURS
---
A typical Istrian Wine Tour
VISIT ONE WINERY with TASTINGS, TOUR plus SIGHTSEEING.

Visit a unique family run winery and partake in some of the best award winning Reds and Whites that Slovenia has to offer. You will also experience their excellent extra virgin olive oil which is produced in their own olive grove and a degustation of delicious local produce including prosciutto, cheeses and traditional bread. Round off this fabulous day with your choice of spectacular sightseeing stops such as Piran, Izola, Koper, Secovlje Saltpans or charming Istrian hillside villages. You're invited, so book now!
What is the cost?
Private tour - email for a quote. Can be booked for any day with our partner depending on availability. 8 people per van.

What can be included?
- Pick up and drop off from Ljubljana or Istra
- Modern Van
- English speaking driver (no guide)
- Visit a hand picked winery for tastings of local varieties like Refošk and Malvazija.
- Also accompanied by local cuisine like pršut and cheese.
- Listen as the winemaker describes the process of making wine in the Istra
- Visit the cellar, olive grove and vineyards.
- Visit local sightseeing spots like Piran, Izola and Sveti Peter.
* If you staying in another location, please email for a quote!
* A guide can be hired to enhance the experience further, enquire for a quote!
* Winery to be confirmed depending on availability
* Tastings 30€ pp for minimum 6 people. Add 30% for less than 6.
* Any entry fees for sights not included.
How do we book?
Simply email us your details:

tourname (Istra1), name, date, number of people, location, mobile number, any sightseeing preferences.

We will get back to you quickly with a quote!

---
WHERE TO STAY?


Guest House Red Fairytale - Marezige
Excellent quiet location on the vineyard, beautiful views and close to the coast in Marezige. The apartments are very cosy, clean, well-designed, modern and well equipped. Enjoy a welcome drink from your kind hosts!



---
Set in the heart of Piran, the hotel was completely renovated in 2018 with finishing touches provided by one of the most famous Slovenian artists. The elegant rooms come with free WiFi and provide views of the picturesque Tartini Square or the sea.




---
This property near Izola is a peaceful Oasis surrounded by nature! Everything is brand new, well designed and thought out. The wine they have in the rooms is amazing and made by the owners family. Perfect to recharge and the hot tub is great as well! Book today.



---
This is a great property with everything you would expect and even most of the things you didn't think you would need. Very friendly and helpful host who is very hospitable and very helpful with suggestions about local sights and activities. Great location in Koper with easy walking access to centre.



---
Featuring an a la carte restaurant with a terrace boasting panoramic views of the mountainous landscape, Residence Gold Istra offers charming rooms with free WiFi and private patios. Quietly located in the village of Padna, there are hiking and biking trails in the near surroundings and arranges Truffle hunting tours.



---
Farm Stay Domacija Butul - Koper
The hosts are wonderful and so welcoming. They will welcome you with wine, give suggestions for things to do and provide a delicious breakfast. The rooms are spacious with kitchens and the views from the patio and backyard overlook their gardens and vineyard.



---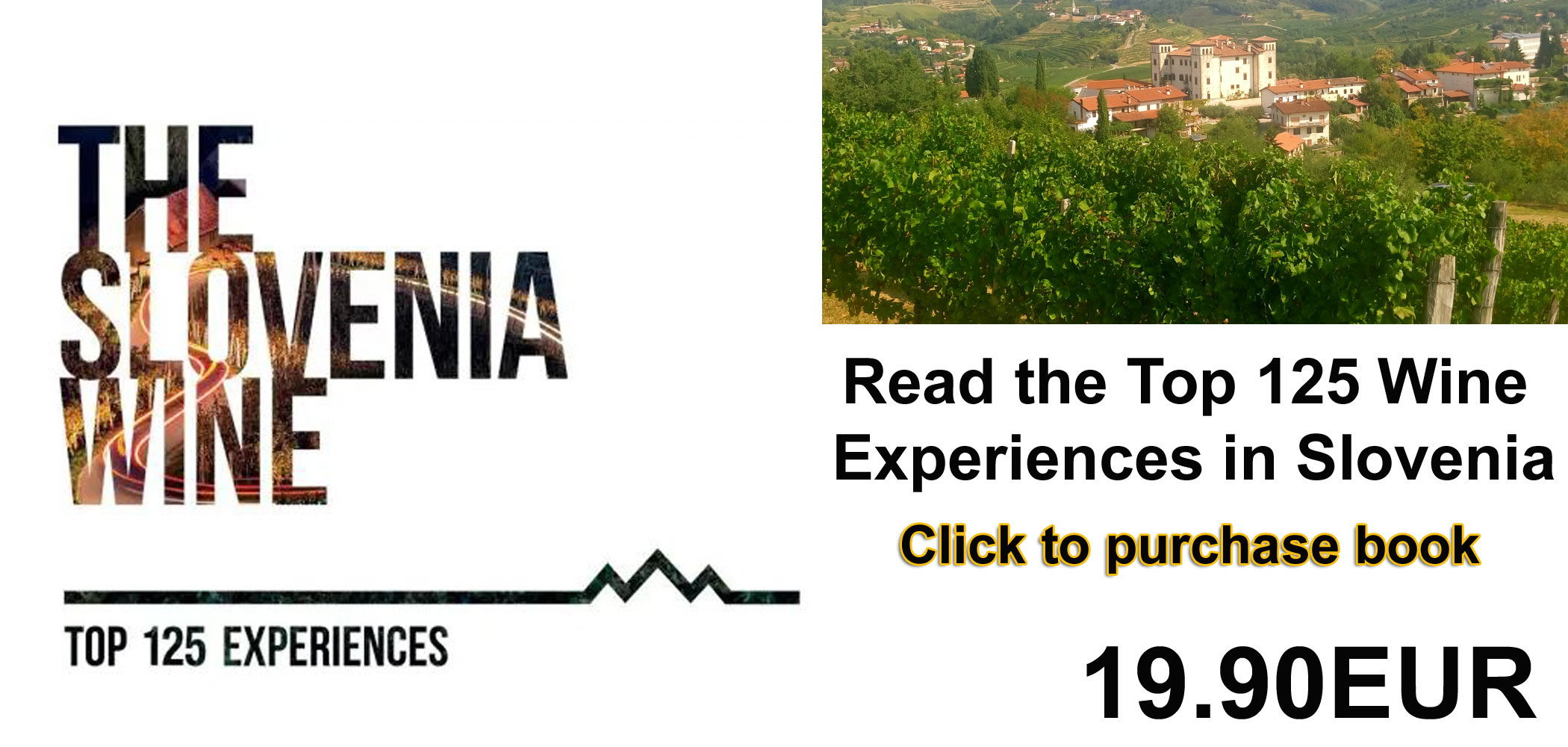 ---
LEADING ESTATES
Vina Koper


You are invited to discover our precious wines and to explore the exquisite aroma of our ruby jewels from the Istrian soil and the Mediterranean sun, the trademarks of the tireless efforts of Istrian locals. In our shop, along with a complete assortment of our wines, you can also find local products typical of Slovenian Istria such as olive oil from renowned producers, Sečovlje Saltworks salt, and various handcrafted products. Partake in a delicious meal at the Winery Restaurant.

FUN FACTS - Locals use bowser pumps to fill up on wine like they do petrol! Their largest barrel in the White Cellar is one of the largest in Europe at 41427 litres! The Archive is devoted to VinaKoper's best vintage wines from 1976 onwards and houses some 9000 bottles. The Istrian Rubies Club is VinaKoper's exclusive wine appreciation members club!

Visit VINA KOPER today - tastings available at the Shop and tours of the cellars available with prior booking. vinakoper@vinakoper.si Šmarska cesta 1, 6000 Koper, Slovenija Phone: +386 5 663 01 00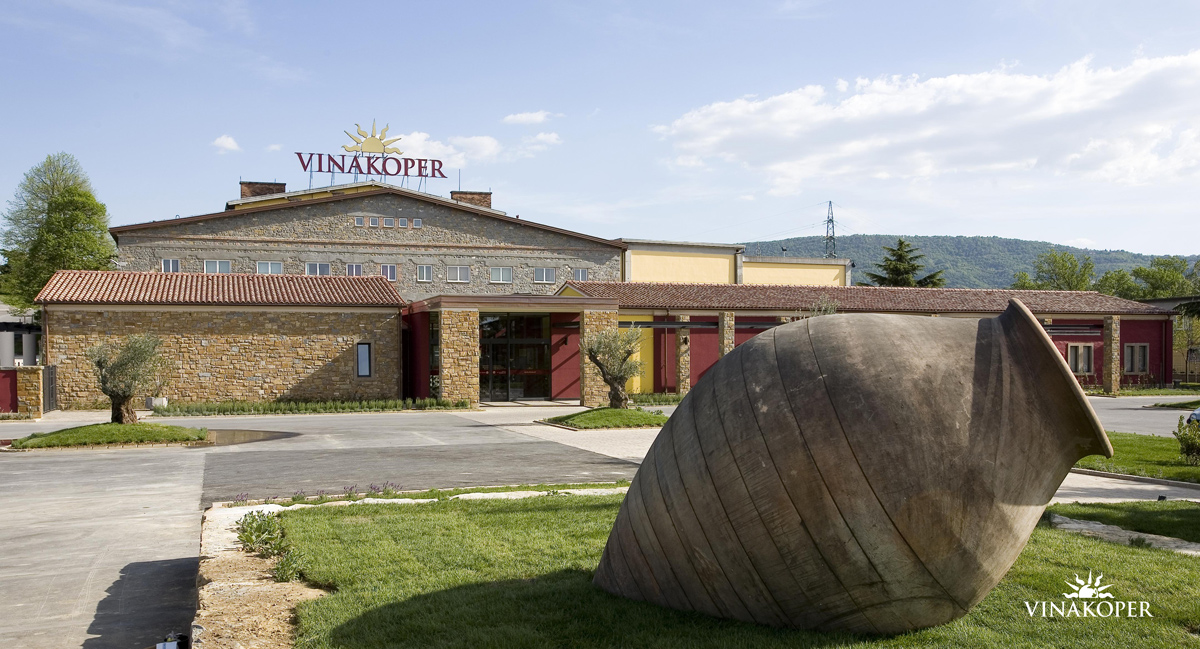 Bordon Winery


'The tradition of the Bordon estate and winery dates back to 1985. Ivan Bordon was the first private winemaker from the Slovene Istria to introduce his own wine brands. Now his son Boris continues the journey for producing top quality wines which are highly recognized and award-winning both at home and abroad. Like his father before, he passes his knowledge and invaluable experience to his son.

The old mill, which you can see when visiting and tasting our selection of wines, bears witness of the rich history of the Bordon farm.

The Refosco wine dominates among the wines we produce. It is indigenous to the Slovene Istria. We also produce Cabernet Sauvignon, Cabernet Franc, Merlot and Syrah, which are the basis for Cuveé Bon d'Or and E.vin Roséa, and the Malvasia and Moscatel white wines. The Straw Wine is a speciality of our wine cellar.

Our homestead offers comfortable accommodation for several persons in a stylish apartment. Through Sloveniaforyou you can organise pre-booked guided tours of selected wines and home-made Istrian delicacies in the Istrian room (see Tour section above). Our excellent wine offer is complemented by superb cold pressed extra virgin olive oil we produce ourselves. The surrounding hills, the olive grove visit, the sea nearby and the green river valley of Rižana are ideal for rest and relaxation, cycling, swimming and fishing. The nearby city of Koper provides an ideal opportunity for a visit and tour of the cities' rich historical and cultural heritage. Welcome!'

Visit BORDON WINERY today - tastings available and tours of the cellars available with prior booking. Dekani 63, Slovenija.

All promotional text courtesy of their respective websites and photos credits to their respective owners.-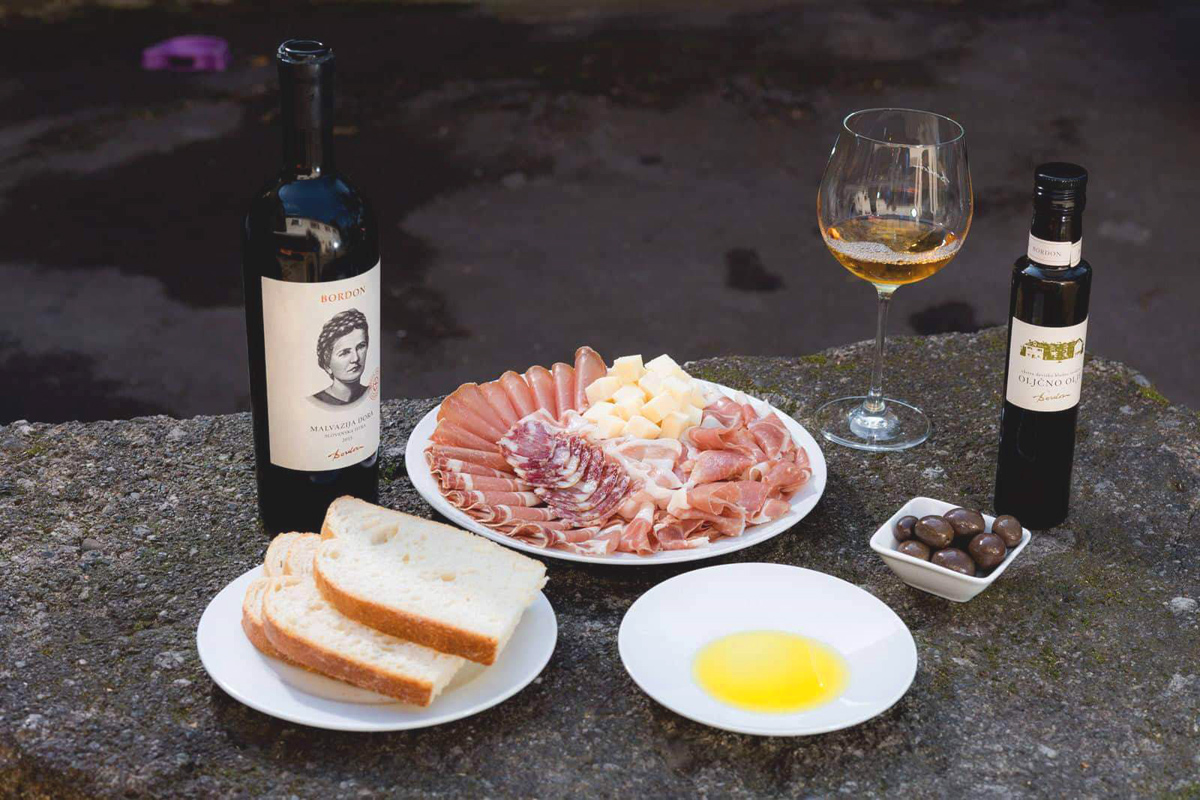 ---
HISTORY
The soil in Istrian vineyards has developed slowly over fifty million years. It includes flysch marlstone and sandstones and these rocks, rich with calcium carbonate, formed in the sea in the Eocene Epoch, more specifically during the Cuisian Stage. Fine-grained marlstone, containing more or less cemented rock fragments, sized only a few hundredths of a millimeter, make heavy soil which retains moisture longer and more easily. The soil here is mostly derived from flysch but with a higher content of limestone than the Brda area. In the sites around the port of Izola, Eocene limestone is predominant. Sandstone admixtures contain calcium carbonate and silica.


---
CLIMATE
Most of the area is Mediterranean, with the strong climatic influence of the sea; the small sub-area of the Savrin hills is submediterranean. The climate is mild, the summer heat is moderate with occasional droughts, and winter frosts are virtually unknown in this area. The grapes of this area are the earliest to ripen of all the regions.

The Koper area has 3800 hectares (9390 acres) of absolute viticultural sites. Vineyards are planted mostly on flat terrain, either on higher plateaus or on the coast. Although the sun is as hot as in the Kras area, arbour vineyards are less frequent since the soils of the area are deeper and retain more moisture than those of the Kras area; furthermore, even during dry periods, the soil tends to desiccate more slowly because of the humid air from the sea. In these climatic conditions the vine tends to grow profusely with a high yield.

The grapes mature quickly, producing abundant sugar but few acids and aromatics. To improve the quality of wine, some vignerons sow grass between the rows in some vineyards to reduce the yield and make the grapes mature more slowly: the resulting wine is more aromatic than those produced by weeded vineyards, with a pleasant fruity flavour.

The wine-growing region of Slovene Istria is divided into two sub-districts: The Coastal District includes the Milje Hills, Tinjan, the broader part of the Rižana Valley, and widely-open areas directly facing the sea, where the climate is characteristically Mediterranean. This region has an annual mean temperature of approximately 13.8°C; an average vegetative phase (April - September) temperature of 19.4°C, and a January mean daily minimum temperature of 1.6°C. Frost is rare. The vines are first exposed to it on approximately November 15, and last on approximately March 31. Annually, the Coastal District receives about 1,000mm of rainfall.

The Interior District includes the highest areas of Tinjan and flysch ridges lying in the divide between Mirna, Dragonja, and Rokava. Due to the more continental location and higher elevations, the climate here possesses sub-Mediterranean characteristics.
---
SOIL
The soil in Istrian vineyards has developed slowly over fifty million years. It includes flysch marlstone and sandstones and these rocks, rich with calcium carbonate, formed in the sea in the Eocene Epoch, more specifically during the Cuisian Stage. Fine-grained marlstone, containing more or less cemented rock fragments, sized only a few hundredths of a millimeter, make heavy soil which retains moisture longer and more easily. The soil here is mostly derived from flysch but with a higher content of limestone than the Brda area. In the sites around the port of Izola, Eocene limestone is predominant. Sandstone admixtures contain calcium carbonate and silica.


---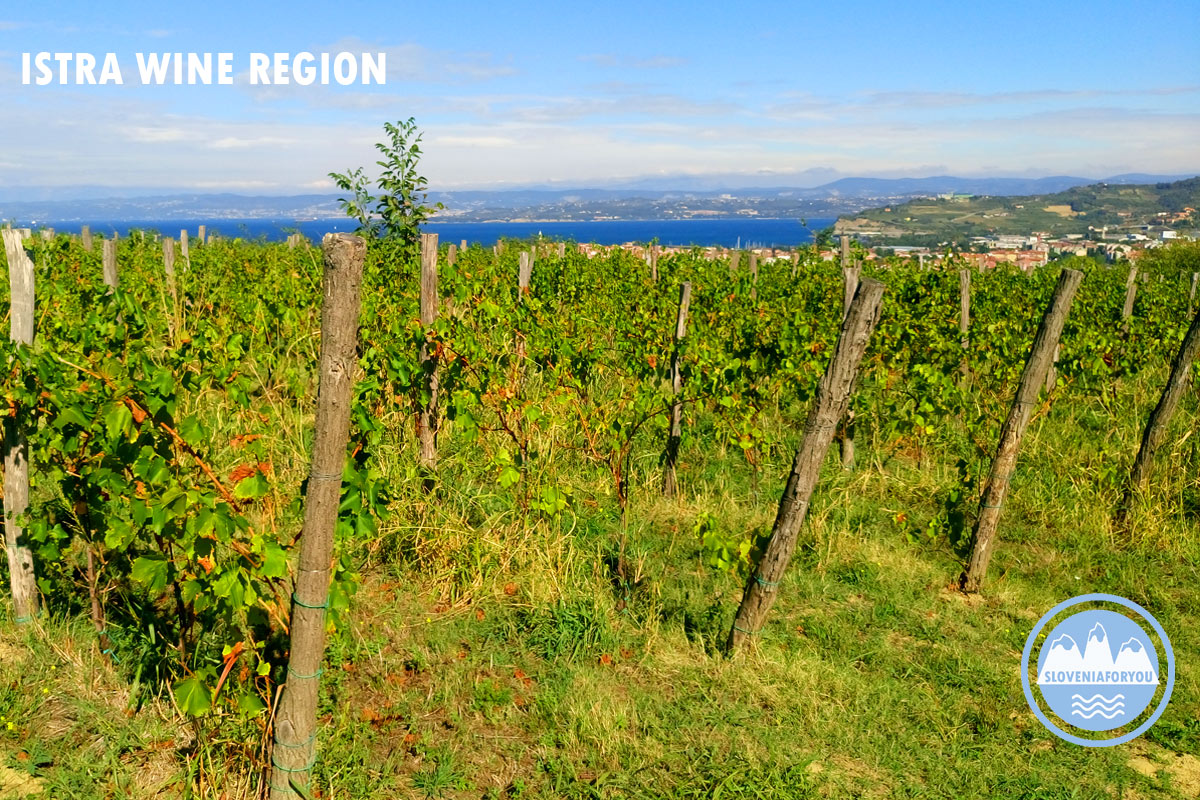 WINE TOURING

Please read this first!

Wine is serious business in Slovenia. The winemakers are passionate and genuine about their craft and love to convey this energy to all those who visit. Wine tasting is a fun, socialable and often educational activity and well worth the cost. For those who want a memorable private tour (note the emphasis on memorable, these are not meant to be drinking sessions!), we at sloveniaforyou only work with the most knowlegeble partners who can offer an above par Wine Experience.

We and our partners do not offer "pub crawl" type experiences as we feel this takes away from the true aspect of what Slovenian vinters work so hard to achieve. Our aim is to offer an opporunity for our guests to encounter Slovenian wine culture at its finest.

Ok, I'm staying in Ljubljana or Bled and want a great day out in the Istra, what do I do?

Take one of partners amazing private wine tours of course!

Scroll up to the tours section to see the tours on offer. A total wine experience or some wine tasting combined with local sights. Either way its a great day out with an experienced tour partner who knows their stuff and are eager to show you this great region!
Email us to organise a private tour.

What if I'm staying in the Istra region and I don't want to drive or don't have a car?

Not a problem. If you are staying in the Istra then we would assume you have a car but even if you don't or don't want to use it so you can wine taste, Istra is an excellent choice because the area is small and easily managed. Again, email us for a quote where our partners will pick you up and take you on a day trip with wine tastings.



---
CHECKLIST
Make sure if you're visiting the Istra wine region you check these off your itinerary!

> Visit Tourism Office in Koper, Izola or Piran and Portorož to get maps and info
> Visit VinaKoper in Koper
> Visit Bordon Winery and buy some local product and tour the farm.
> Try local Varieties of Refošk, Malvazija and Straw Wine!
> Learn about biodynamic and organic winemaking
> Drive through hillside wine villages of Padna, Marezige and Sv Peter.
> Sample and buy some acclaimed local Olive Oil
> Visit the seaside towns of Koper, Izola or Piran and Portorož
> Take in a local festival - see below

Thanks for visiting the Istra!

---
FESTIVALS
February -
Istrian Carnival
Wine and olive oil tasting, Sv. Anton

March -
Malvazija Wine Festival

April -
Asparagus Festival in Slovenian Istria
Flower, Wine and Olive Oil Festival in Ankaran
Saltmakers` Festival, Piran and Sečovlje

May -
Refošk Wine Festival, Marezige

June -
Countryside in the City
From winemaker to olive maker, Slovenian Istria
Olive, Wine and Fish Festival in Izola
St. Nazarius` Festival in Koper
Traditional Olive Festival in Dekani
Šagra village festival in Sv. Peter

July
Eurosport
Šagra village festival »Kur en bot«, Smokvica
`EtnoIstra׳ ethno-event in Šmarje

August
Festival In Masks
Fiesta on the Pier
Medieval Market in Ankaran
Fishermen's Festival, Izola
Šagra village festival »Guštovca«, Dekani
Istrian Evening in Krkavče
St. Bartholomew`s Festival in Seča

September
7th Festival Sweet Istria
Days of the European Cultural Heritage, Piran

October
Days of agriculture of Slovenian Istria in Koper
Šagra village festival – Opasilo in Padna
Fair of Salt, Wine, Olives and Souvenirs, Piran

November -
Kaki Festival in Strunjan
St. Martin`s Festival in Slovenian Istria
St. Martin`s Festival `Martinja׳ ́́in Marezige
Vine Queen of Slovenian Istria

December -
Major's Wine and Olive Oil Contest in Koper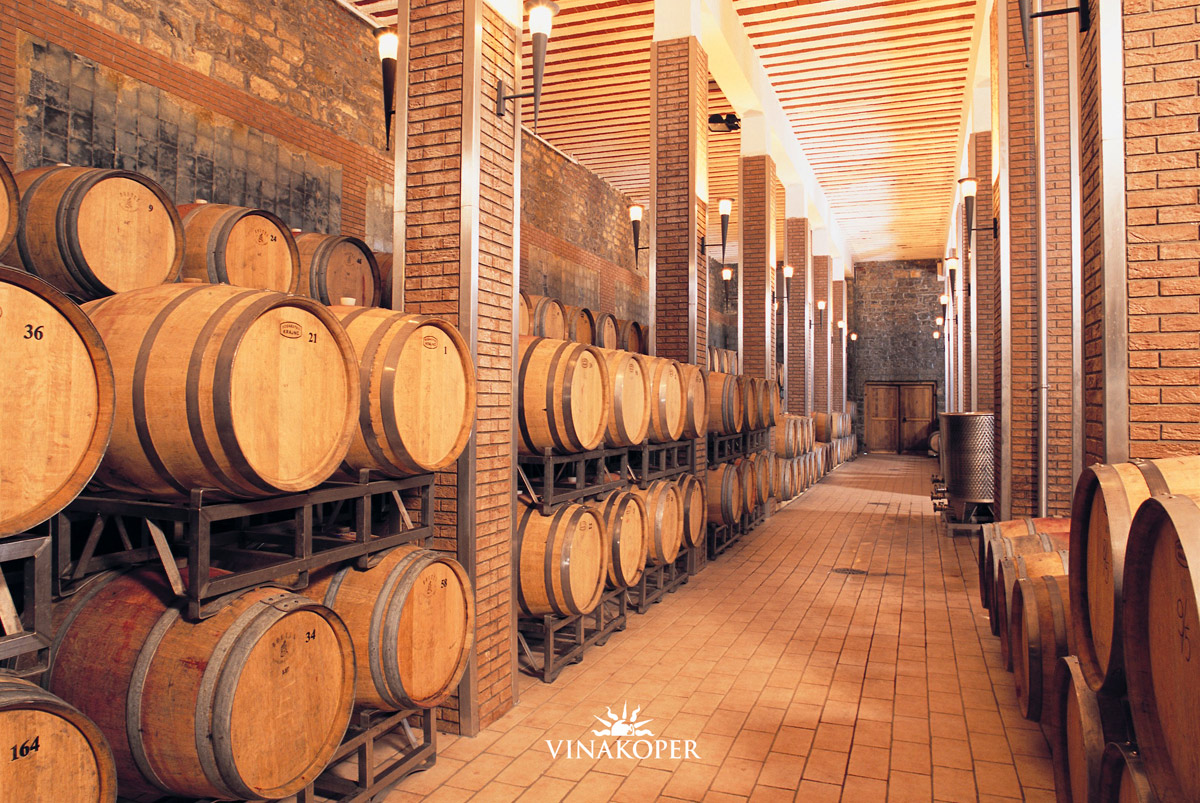 VIEW SLOVENIA'S OTHER WINE REGIONS


BIZELJSKO/DOLENJSKA - Famous for their repnice (underground wine cellars) and for the variety Cviček

GORISKA BRDA - Famous for their Rebula and Orange wines plus the local fruit.

ISTRA - Famous for their reds in particular Refošk and also try the olive oil!

JERUZALEM - Famous for its breathtaking hillside vines and fine whites!

KARST - Famous for the firey Teran and of course Pršut or Slovenian proscuitto.

MARIBOR - Famous for the Oldest Vine and beautiful local whites.

SLOVENSKE KONJICE - Beautiful vineyards and beautiful wines!

VIPAVA VALLEY - Famous for their Zelen and Pinela and beautiful countryside!



---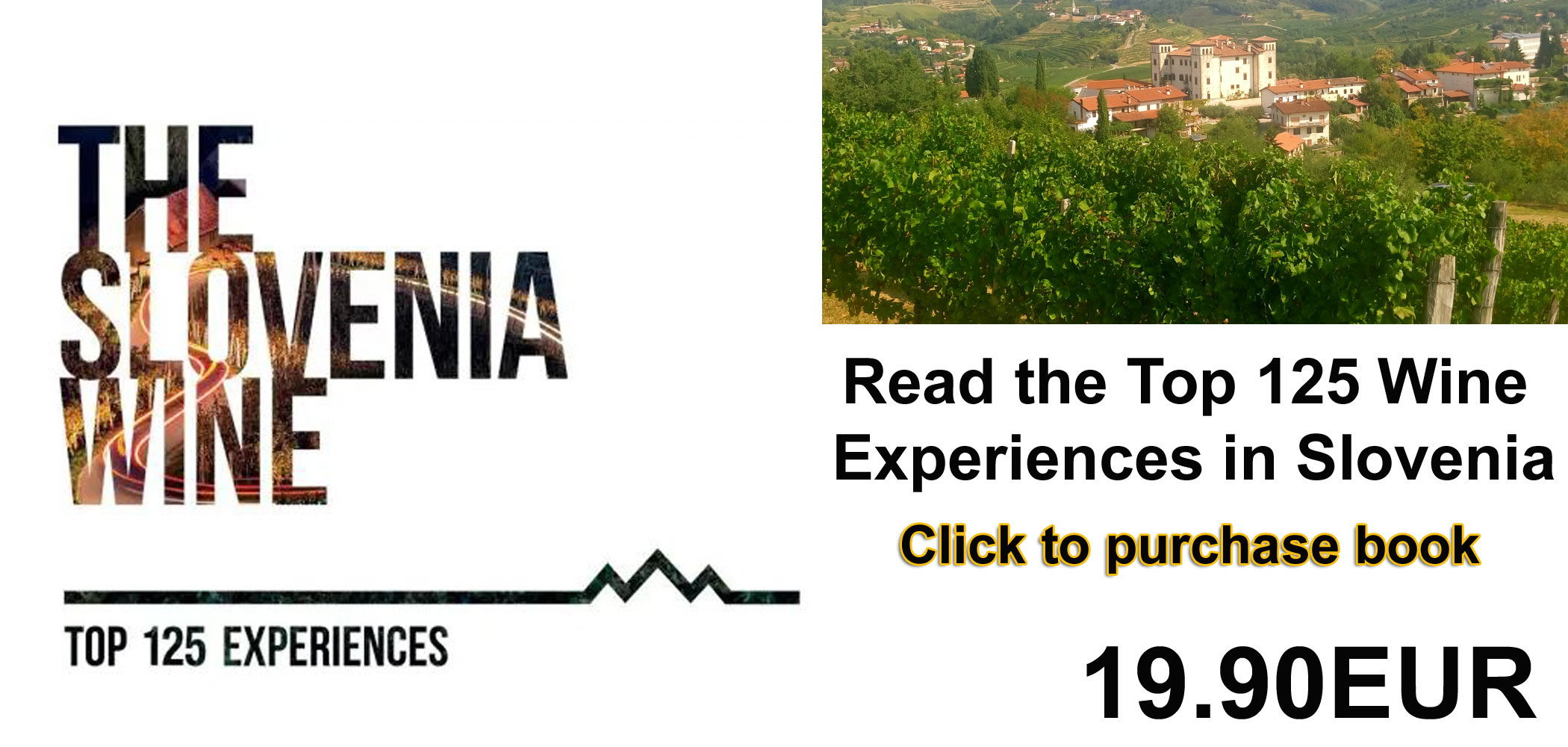 ---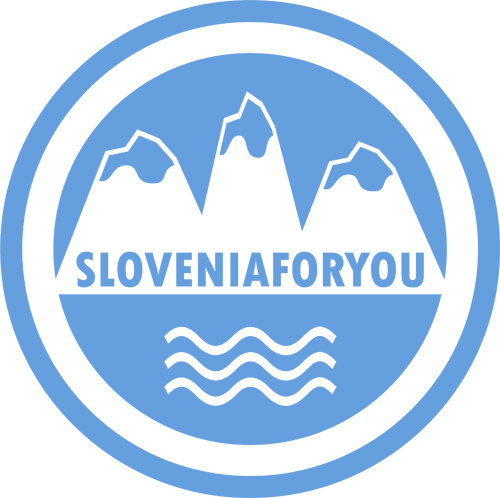 Book an exciting tour from our partners today!



Choose a service for your holiday from our affiliate partners!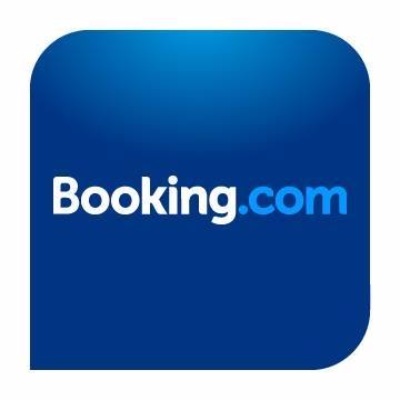 Accommodation Slovenia
Search for your ideal hotel, hostel, guest house or apartment in Slovenia and worldwide through our Booking.com link.
---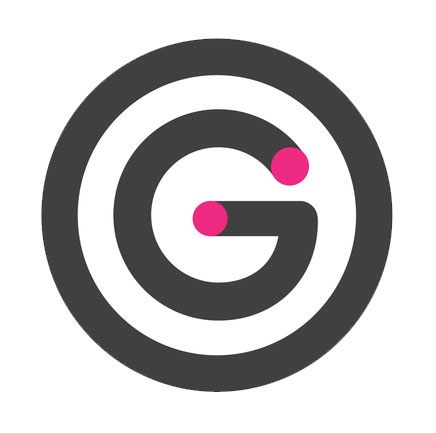 Goopti Transfers
Goopti offers the cheapest shared transfers across their network which includes Slovenia and neighbouring countries!
---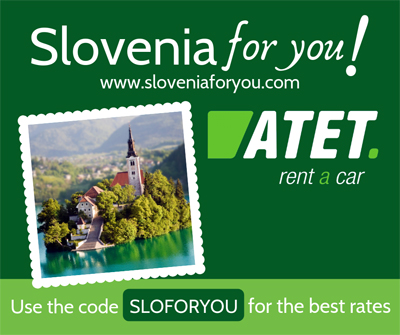 ATET Car Rental Slovenia
Book your Slovenian car rental with the best. ATET have offices in Ljubljana, Airport, Maribor & Koper.
Use code: SLOFORYOU in the booking for the best rates.
---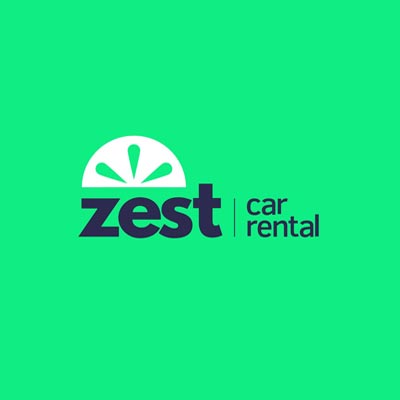 Zest Car Rental
Zest Car Rental is a great choice for car rental across Europe and the world, get a quote today!
---
请看看我们精心为您定制的团体和个人自助游览斯洛文尼亚的旅行安排,
如果您想预订,
请在这里给我们发电子邮件 Sloveniaforyou.com

Auf unserer Webseite finden Sie eine große Auswahl an öffentlichen und privaten Touren in Slowenien. E-mailen Sie Sloveniaforyou.com und buchen Sie Ihren Ausflug!

Dê uma olhada nas nossas ótimas opções de passeios por toda Eslovênia. Ha opções de passeios em grupos e também passeios exclusivos. Se quiser fazer uma reserva, basta enviar um email para nós aqui do Sloveniaforyou.com

---