LJUBLJANA CITY GUIDE

Why should I visit Ljubljana?
What is there to see and do in Ljubljana?
How do i get to Ljubljana?
What is the best time to go to Ljubljana?
Best way to get from the airport into town?
Where to stay in Ljubljana?
What's a good itinerary for Ljubljana?
Tips and facts for Ljubljana
Events and Festivals for Ljubljana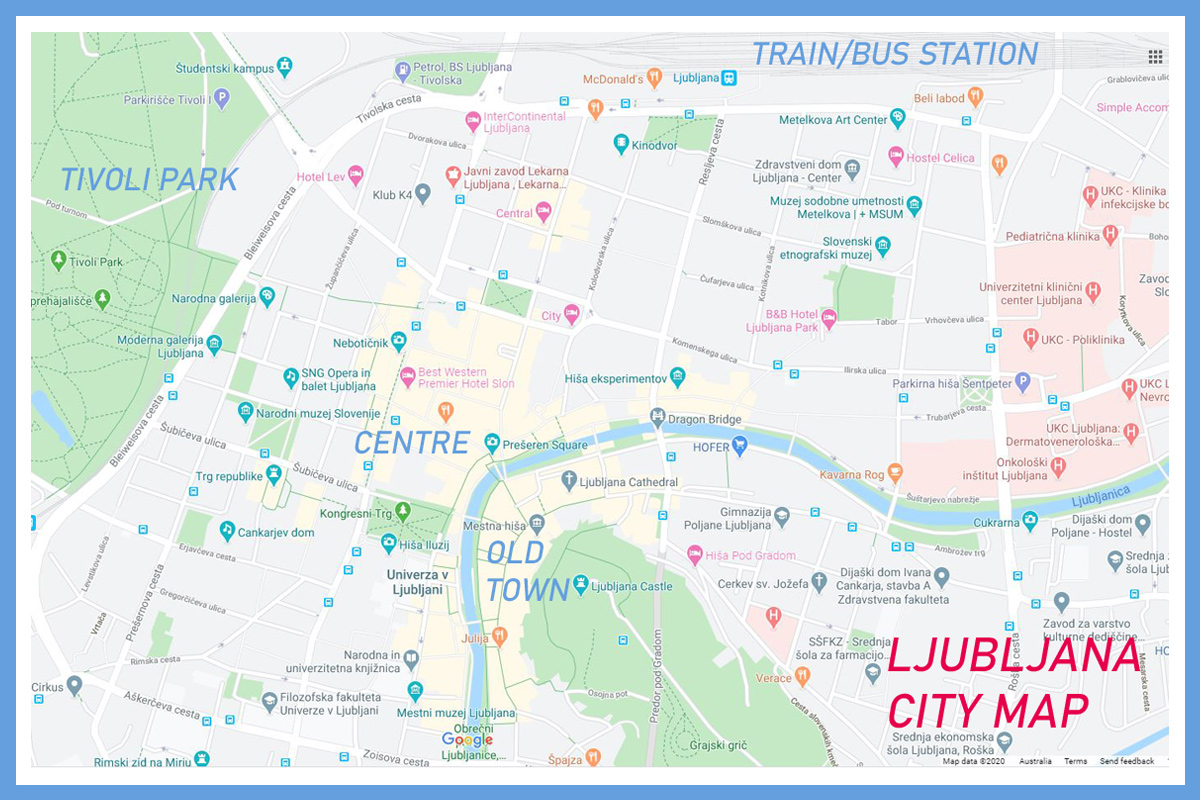 I'm looking for somewhere new to go,
WHY SHOULD I VISIT LJUBLJANA, SLOVENIA?

---
Put simply, Ljubljana is a beautiful and enjoyable place to visit. Slovenia's capital is not large, making it easy for individuals, families and couples to relax and discover all it has to offer. And it has a lot to offer. There is always something happening in Ljubljana, whether a planned event or a busker playing an accordian, you will see something new on each visit.

Spend the day visiting the castle and a museum, perhaps a walk through Tivoli Park. The evenings are perfect for a stroll on the cobbled streets of the old town where you can have a romantic dinner at a riverside restaurant followed by drinks or a cooling ice-cream in summer or a mulled wine in winter.

A city that is constantly evolving and on the move, it has a youthful vibe due to the university but also has a laid back charm and an eco-friendly outlook. Use the city as a base for exciting day trips like Lake Bled or the Jeruzalem Wine Region. Whatever you decide to do, you will enjoy your stay in the dragon city. Welcome to Ljubljana!



WHAT TO DO AND SEE IN LJUBLJANA, SLOVENIA?
Top Sights and Attractions

---
LET'S MEET IN PREŠEREN SQUARE!
A central point in Ljubljana and the place to meet friends is the famous Prešernov Square.

Named after Slovenia's most famous poet France Prešeren, the square is always bustling with tourists, locals, buskers and food vendors. Meet you there!

The LowDown:
The Square (with the unmistakeable pink backdrop from the Church of the Annunciation) is famous as the place to meet whilst in Ljubljana. Take a seat under the bronze statue of Frances Prešeren himself and watch the world go by.

The Square is often used for visual art exhibitions and is also a favourite of street performers and musical acts who gather to entertain the masses, especially in the warmer months. The Church of the Annunciation with its frescoes and paintings is worth a visit and has been rebuilt and restored a few times since the 17th century. Due to the earthquake in 1895, many of the surrounding buildings on three sides of the Square have been built in art nouveau fashion replacing many of the older Baroque facades.

Facing the river we find Plečnik's Triple Bridge. The bridge became too small to handle both vehicle and foot traffic so two extensions were built to help ease congestion. The bridge makes it easy to cross the Ljubljanica and reach the delights of the Old Town.

As a note of interest, at no4 Wolfova Ulica you'll see the terracotta figure of Julija, Prešeren's unrequited love, peering over to him. He spent three years pining for her before realising that his love was not mutual and was heartbroken forever.

Where is it \ How to get there?:
Prešeren Trg is hard to miss and everyone will come through the square at least once in their stay!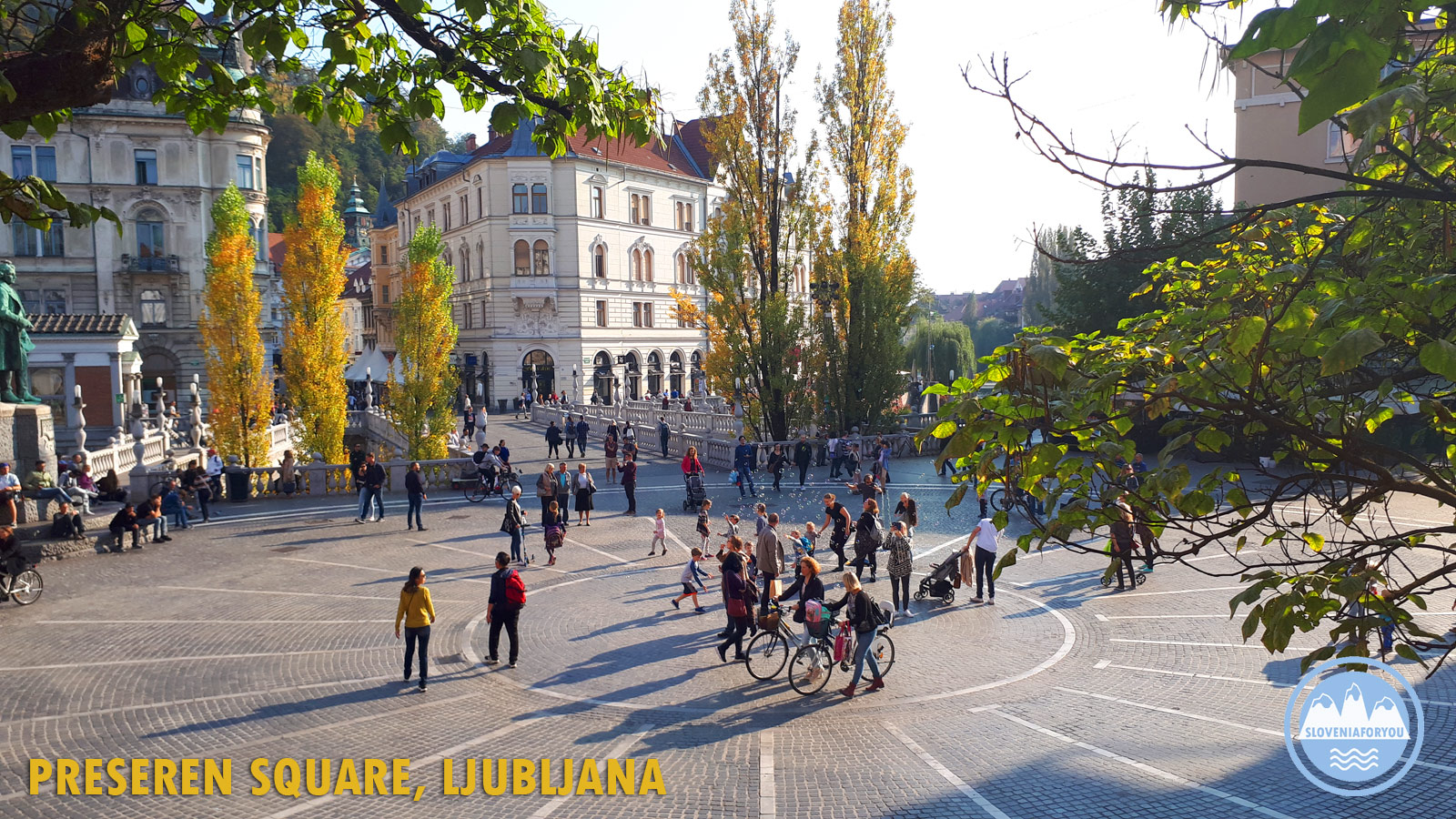 STROLL THROUGH THE MAGICAL OLD TOWN
Under the careful eye from the castle above and bounded by the Ljublanica River on the other side, the streets of the Old Town will enchant you with its rickety cobbled streets and mixed architecture. Enjoy the bustling market, St Nicholas's Cathderal and the myriad of restaurants and bars. Take the time to enjoy the Old Town and all its charms.

The Low Down:
What better way is there to while away a morning, afternoon or evening by strolling the streets and lanes of the old town. Starting at the northern end, the Dragon Bridge stands as a reminder to the famous legend of Jason and his argonauts who claimed to have slayed the menacing dragon at this site. The four dragon sentries now guard the Zmajski Most or Dragon Bridge as pedestrians and vehicles cross the Ljubljanica to get to the old town. Great spot for a photo or twelve!

Turning right after the bridge, we find the start of the Colonnades and the Ljubljana Fresh Food Market. The market is a hive of activity selling mostly food products and flowers but other items as well. Pick up some luscious strawberries or maybe grab a loaf of home made bread and some cheese for a tasty lunch snack! There is also fresh fish on sale. The sights and aromas mean that you may just have to return more than once to sample their wares! Open: MON-SAT 0600-1400 SUN Closed. Some of the market is covered but most is open air stalls.

The green dome and twin towers from the Church of Saint Nicholas just behind the markets is a well-known landmark in Ljubljana. The church is the biggest and most prominent in Ljubljana and is well worth a visit.

We continue along the riverfront and Plečnik's neoclassical Colonnades where we find the Central Market and stalls selling everything and anything from souvenirs, hats, clothing, sweets and arts and craftwork. Stop and browse and maybe treat yourself to a gift! Open: Daily except Sundays.

On the corner opposite the Triple Bridge is the main Tourist Information Centre. Turning left here down Stritarjeva Ulica we reach Mestni Trg and the Town Hall. The Robba's Fountain replica is a beautiful public landmark sculpted by the gifted Italian Francesco Robba. The three marble barrels that pour water into the pool below are said to represent Carnolia's three main rivers, the Krka, Ljubljanica and Sava rivers.

The Town Hall itself is one of the most prominent Baroque buildings in Ljubljana and a tour of the Hall and the inner courtyards are well worth it. In nearby Ribji Trg amongst the bars and cafes you will find the oldest house in Ljubljana at no2 which dates back to 1528. Continuing along and Mestni Trg turns into Stari Trg, a right turn at Pod Tranco leads you to the Cobblers Bridge which has crossed the river dating back to the 13th century. At Stari Trg no13 is the Schweiger House, a grand roccoco affair that lends itself the title as being one of the grandest houses in Ljubljana.

Nearing the bottom end of the Old Town around Levstikov Trg we find the Sticna Manor where the St James Church and St Francis Xavier Chapel are also worth a look if you can gain access! At the end of our Old Town town and across the road on Karlovska Cesta is the Gruber Palace where a peek at the grand staircase and second floor chapel are also worth your time if open!

Where is it \ How to get there?:
The Old Town is bounded the Castle Hill on one side and the Ljubljanica River on the other. It is easily reached by crossing the Dragons or Triple Bridge.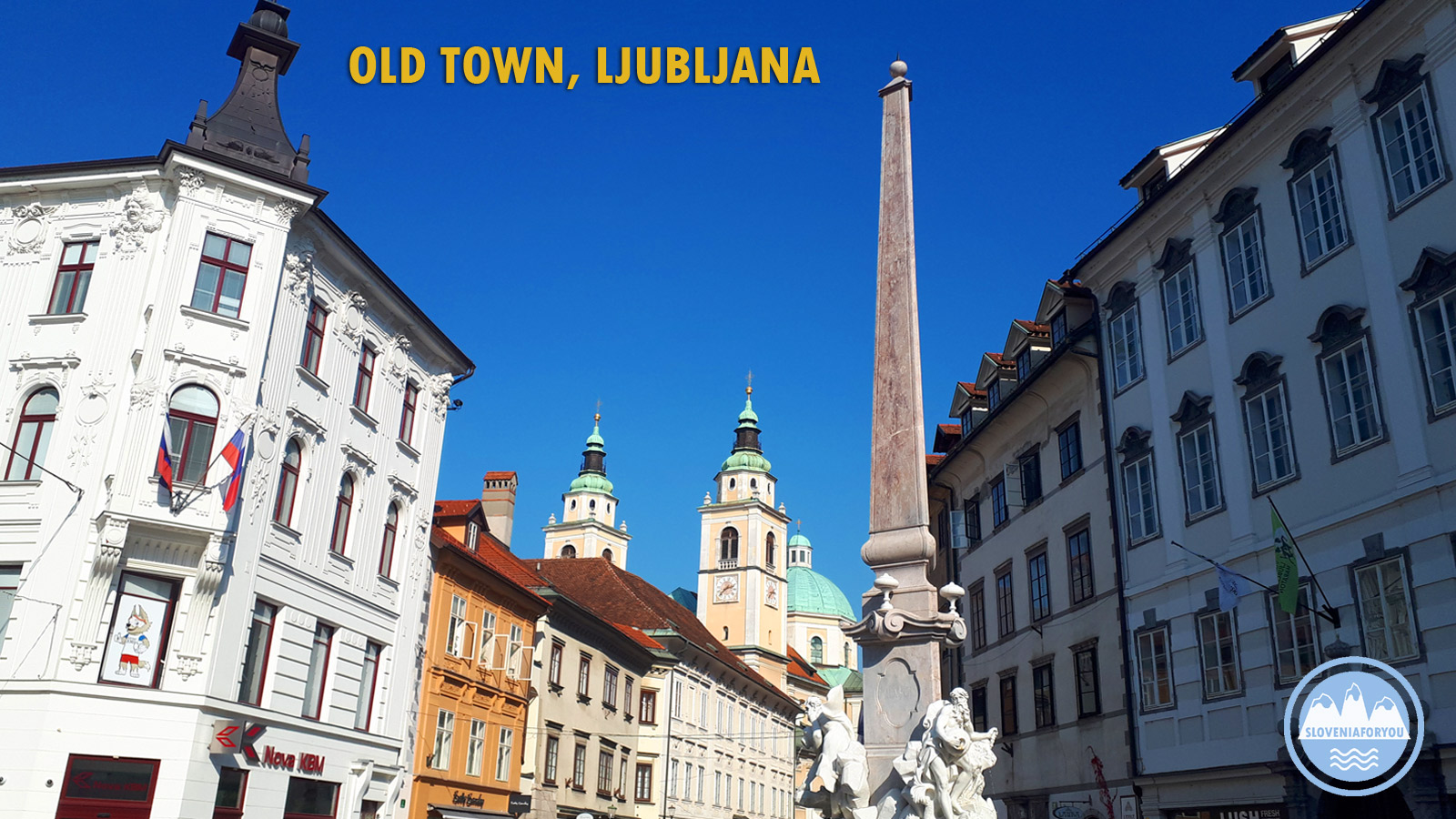 HEAD UP TO LJUBLJANA CASTLE
One of the must-sees whilst in Ljubljana, the castle affords great views from the tower and has a long and colourful history as well which you can learn about. There are two outstanding restaurants, a café and a souvenir store within the grounds.

The Low Down:
Ljubljana Castle is the city's main tourist drawcard and welcomes almost a million visitors every year from both overseas and within Slovenia. First mentioned back in Medieval times, the Ljubljana Castle was built in the 15th century to fend off the invading Turks. Largely used as a penitentiary through the 1800's and WWI, the Castle eventually became known as the Castle Republic – a shelter for the poor people of Ljubljana – with as many as 500 people from the lower classes claiming residence in the Castle and living in poor conditions. The last of the residents were finally relocated in mid-1960's so that a complete redevelopment could begin. Today, this powerful fortress and a symbol of Ljubljana functions as a venue for diverse cultural experiences and unforgettable events.

In Summer, the courtyard hosts different types of open-air events (Film Under the Stars, Panč – Stand Up Comedy festival, dance evenings, concerts, theatre) which attract both locals and tourists alike. But the Castle content is the main attraction throughout the whole year: visitors can climb up the main Viewing Tower for the exceptional views of Ljubljana and its surroundings and learn about the history of the Castle in the Virtual Museum. History buffs can visit our permanent Slovenian History Exhibition while the young adventurers can explore the highly interactive Museum of Puppetry.

With the Castle Ticket, the visitors can explore the Castle on their own as all the Castle content is included in the entry price. However, the Ljubljana Castle also offers a well-known guided tour called The Time Machine where visitors can witness the history coming back to life in front of their own eyes.

Where is it\How to get there?:
You can't miss the castle, just look up while in the centre of town!

Most people will take the funicular to the summit from opposite the old town market place.
There are also walking paths from here to the top. You may also use the Ljubljana Public Transport bus to get there.
For more info on how to reach the castle summit, click here
For current prices and opening hours, go to the official Castle website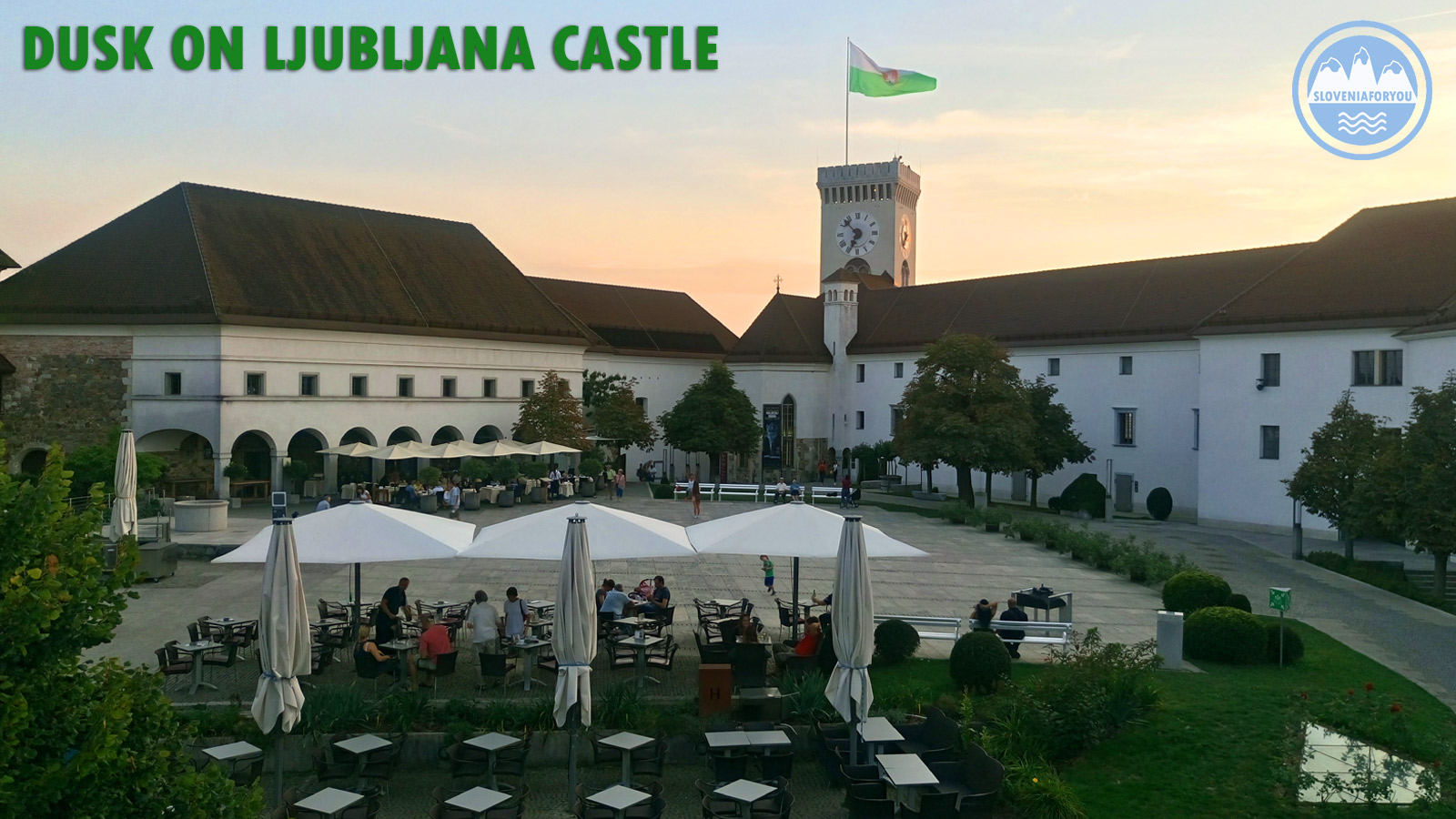 LJUBLJANA MUSEUMS
For a small city, Ljubljana has a wealth of museums and galleries for one to explore! If it is history, art or even tobacco you're into, Ljubljana has something to offer everyone.

The Low Down:
1. National Museum\Natural History Museum of Slovenia
The oldest museum in Slovenia houses the National Museum on the ground floor and the Natural History Museum on the 1st floor. The museums house a comprehensive collection of Slovene archeological treasures with items from the Stone, Bronze and Iron Age plus a large mineral collection display.

2. Museum of Modern Art
The Moderna Galerija in Ljubljana is the Slovene national institution for modern and contemporary art. Currently situated in the recently renovated space alongside Tivoli Park, Moderna Galerija is set to split the museum's activities into two venues in October 2011 when the renovations to its new space at 22 Metelkova street are finished. The former space will then serve as the Museum of Modern Art and the new space will house Contemporary Art. The museum continues to hold exhibitions from all the major Slovene artists including paintings, sculptures and video displays.

3. Museum of Contemporary History
Occupying the Cekin Mansion in Tivoli Park, this museum is dedicated to the heritage of recent Slovenian history from the 20th century to the present day. The collection of historical artefacts and archive documents, fine art works and photographs covers both World Wars and the period between, as well Slovenia's socialist period and the turbulent process of establishing it as an independent state.

4. Museum of Architecture and Design
The Museum of Architecture and Design is the central Slovene museum for architecture, town planning, industrial&graphic design, and photography. The museum systematically collects, stores, studies and presents material from these creative areas at temporary and permanent exhibitions.

5. Slovene Ethnographic Museum
The Slovene Ethnographic Museum is a museum with collections of national and European significance testifying particularly to the traditional culture in territories inhabited by Slovenes as well as to everyday life, especially of the rural population. It is also a museum with some equally important collections originating outside Europe. A museum of cultural identities; a link between the past and the present, a museum "about people, for people".

6. Ljubljana City Museum
The City museum of Ljubljana is a museum about the history of Ljubljana, the life of its people and the possible tracks for its further development.

7. Tobacco Museum
The museum collection was established in 1992. It exhibits in chronological order from Columbus's discovery of tobacco in America over 500 years ago through development of the tobacco industry in Europe, to the manufacturing of Virginia cigars. These cigars made the Ljubljana Tobacco Factory famous in 19th century Europe.

8. Railway Museum
The Railway Museum started to emerge in the 1960s and has gradually developed into a small but well laid-out and comprehensive museum in a former boiler room at Parmova 35. The central building is a rotunda and presents some of the collection of steam engines and other museum vehicles. A permanent exhibition of other key sciences needed for a railway to operate is located in the nearby ancillary building of the rotunda.

9. Virtual Museum
Under Ljubljana Castle's lookout tower, visitors to the Virtual Museum can take a virtual time walk through the squares of Ljubljana and get acquainted with the history of the city's architecture, culture and economy and the life of its residents. The city's streets, buildings and squares are presented using state-of-the-art equipment.

10. Brewery Museum
The Brewing Museum's collection offers a comprehensive overview of the history of Ljubljana's Pivovarna Union brewery and an insight into activities related to brewing, such as cooperage, transport, brewery marketing and design of restaurant equipment, beer containers and labels.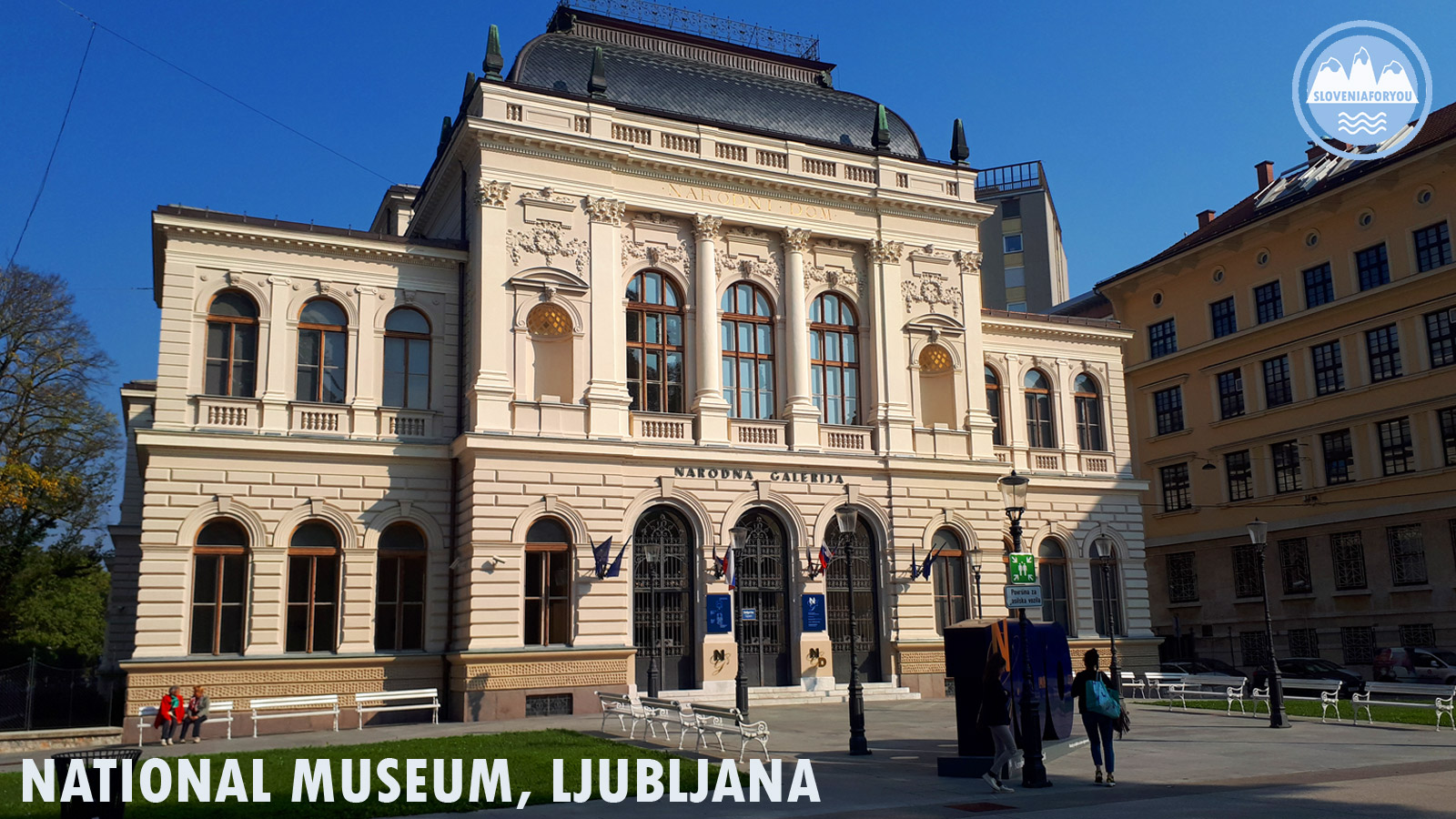 TIVOLI PARK/LJUBLJANA ZOO
West of the city lies Tivoli Park which is a favourite spot for locals to unwind and relax in a beautful park and garden setting. With leisurely walks and other attractions to keep kids and adults active, the park is a perfect place to spend and afternoon if you have spare time in Ljubljana!

The Low Down:
The actual park spans 5 square kilometres and as you enter from the park from the city, you will most likely head up the gravel road which leads to Tivoli Castle or Mansion. The mansion is home to the International Centre of Graphics Arts and is well worth a peek. Neabry is another Castle in Cekinov Grad where the Museum of Modern History is housed. See our museum section for details. Again, it is definitely worth a visit if you have time.

Behind the castle unfolds real parkland and there are several great walks if you have the time. The most popular is to the top of Roznik Hill (394m) where refreshments and a fine view greet those who have done the 45 minute trek. At the bottom of the hill is the Ljubljana Zoo and also a large Childrens Adventure playground, ideal if you are looking for a way to spend some quality time with the children. Don't forget to bring some nuts as there is a good chance you will be accosted by the resident park squirrels!

Where is it \ How to get there?:
Tivoli Park lies just west of the main city buildings in Ljubljana. Just walk west down any street and you will eventually come across the park. The Zoo is a little further afield and you may require a bus or taxi to get there.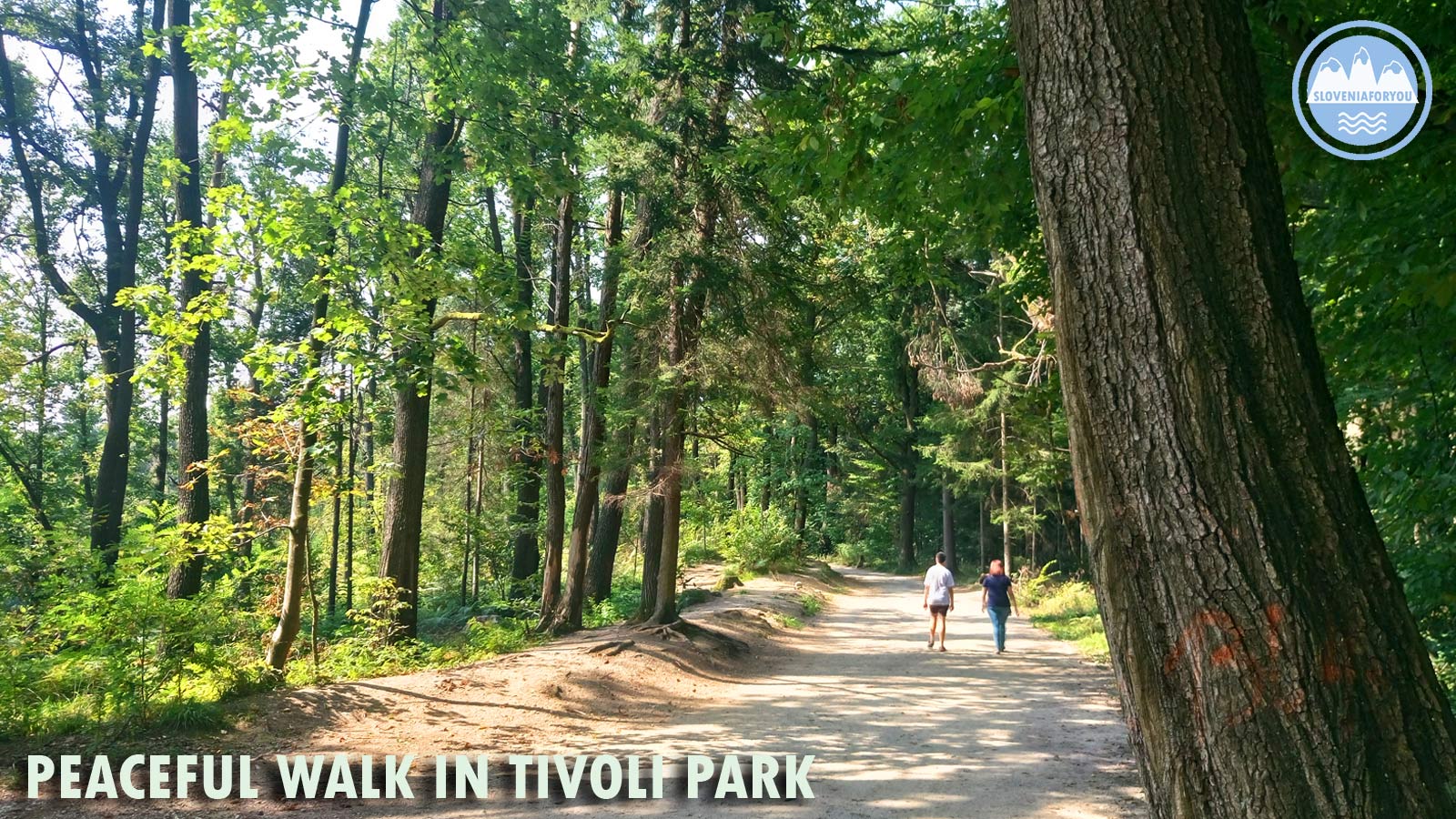 THE "SKYSCRAPER"
The Skyscaper (or Nebotičnik) was the first "high rise" building in Ljubljana and is one of the most recognisable landmarks in Ljubljana. It is definitely worth dropping in to admire the interior and have a coffee while admiring the amazing views from the top terrace.

The Low Down:
The construction of the 70 metre, thirteen storey Neboticnik between 1928 and 1933 was a technical achievement at the time in Slovenia and drew it's fair share of criticism amongst local residents and officials. Nebotičnik has a variety of shops on the ground and first floor and various offices on floors two to five. The sixth to ninth floors are private apartments and located on the top three floors are a cafe,bar and observation deck. Apart from affording one of the most beautiful views of Ljubljana from the terrace, the Nebotičnik café and restaurant offers a fine choice of à la carte dishes and is open late. The Nebotičnik lounge bar, situated one floor below the café, hosts occasional DJ performances, small concerts and other events.

Where is it \ How to get there?:
The Skyscaper is found in central Ljubljana on Ljubljana's main street on the corner of Štefanova Ulica and Slovenska Cesta. It is easy walking from Prešeren Square and a few minutes further from the bus\train station.
For the latest information click here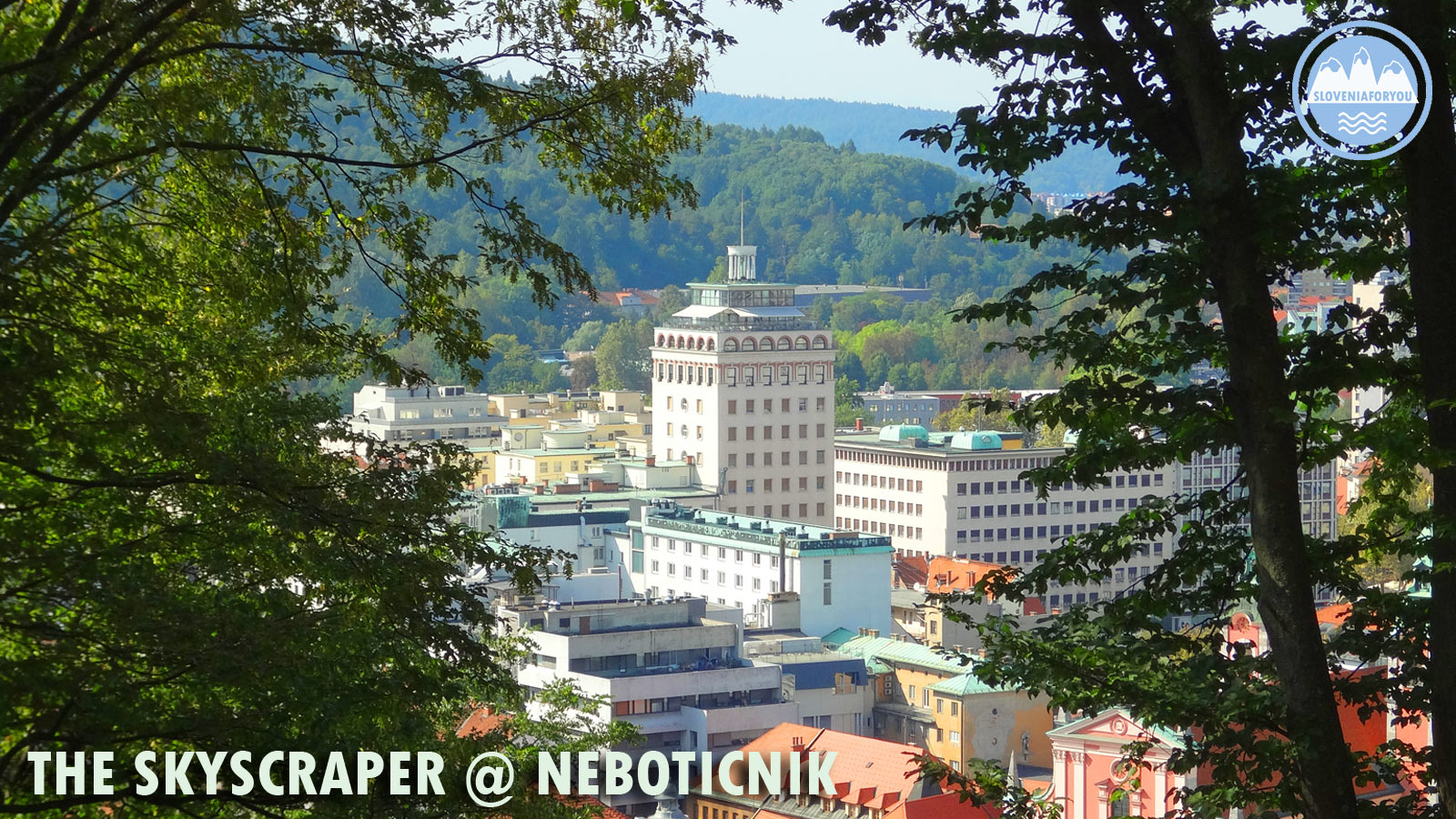 METELKOVA
Metelkova can be considered heart of the "alternative social scene" in the centre of Ljubljana. If you're looking for something left of centre, Metelkova is arguably the best after-dark destination in Ljubljana for those looking to experience something wholly unique and unpredictable!

The Low Down:
Metelkova is located on the site of former military barracks (the Slovenian headquarters of the Yugoslav National Army) and the area includes art galleries, bars, artists studios and space for designers, offices of cultural organisations. Concerts are held here regularly featuring different types of live music from Jazz, Metal, Dub and Techno. You will also find the former prison and now famous hostel "The Celica" here as well as the Ethnographical Museum.

Where is it\How to get there?:
Metelkova lies in the Central District of Ljubljana in and around Metelkova Ulica. It is a 15 minute walk from France Prešeren trg (square) in the very heart and centre of Ljubljana and only 5 minutes away from the bus and train Stations.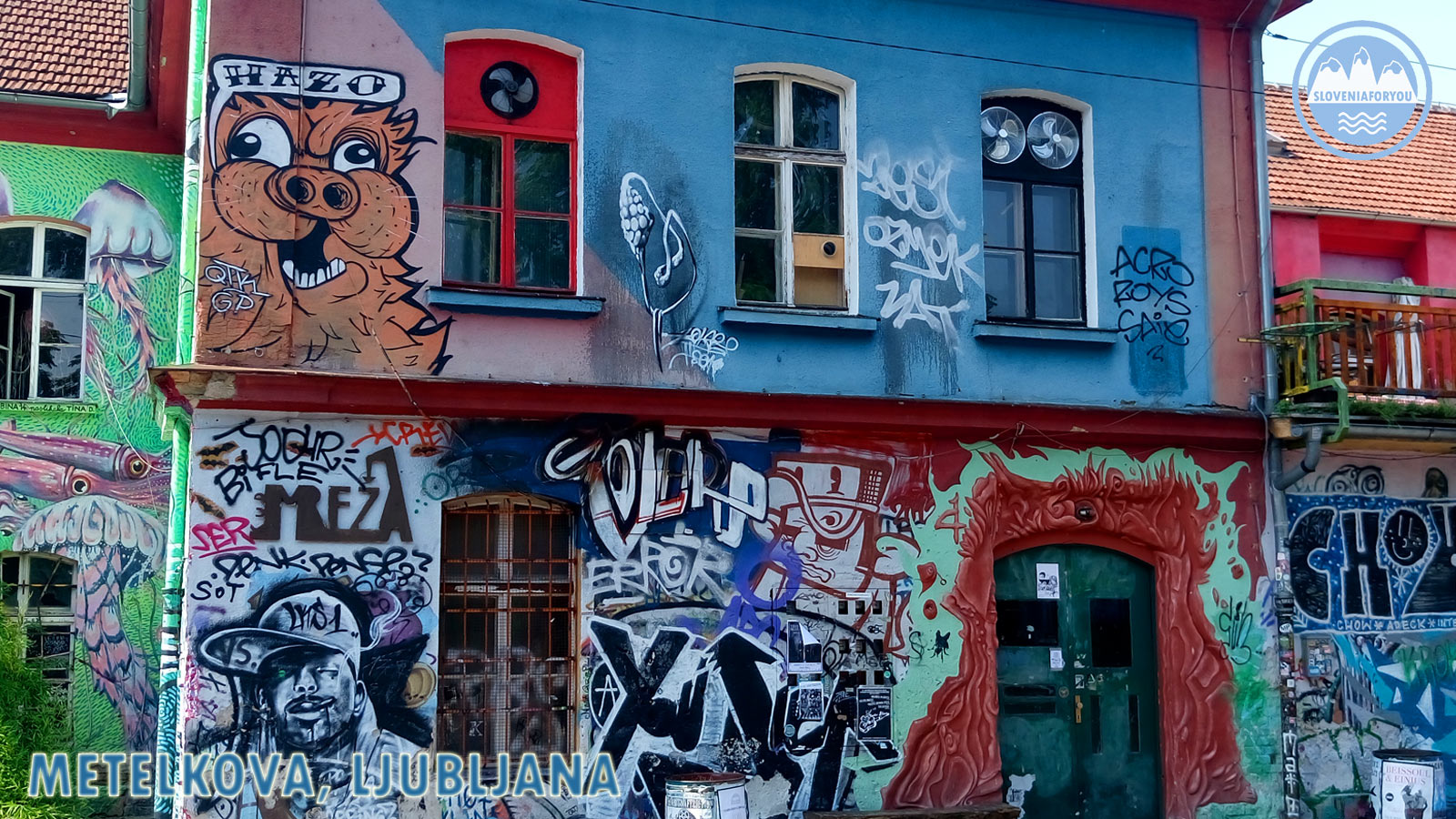 BTC SHOPPING & ENTERTAINMENT COMPLEX
BTC City is Slovenia's largest shopping and entertainment complex and indeed one of the larger ones in Europe as well. Perhaps a grand statement that consumerism and capitalism have unmistakeably arrived in Slovenia, this complex houses all the big and not so big brands with prices to match! There is also the usual eating establishments plus many sporting and entertainment venues if shopping is not your thing!

The Low Down:
BTC City is made up of lots of large "halls" or buildings like Citypark that house everything from retail stores, restaurants, bars, offices, banks and market stalls. Hall D for example houses most of the name fashion brands including Lacoste, Hugo Boss and Levi's while Hall A also has more than 170 other shops ranging from Shoes to Bedding to Sports to Gifts. Pick up a map from the Ljubljana Tourist Bureau or at BTC itself.

For kids and big kids at heart, Atlantis Water Park offers a huge pool complex complete with water slides, sauna, whirlpools and other water related activities. The centre also offers child minding services at Atlantis and at Hedgehog Corner (for toddlers) and there is also an indoor playground centre for kids to run wild. The centre also houses a large multiplex cinema centre showing the latest releases plus sports nuts will head for the Millenium Building which houses tennis and badminton courts as well as a gym plus nearby there is also billiards, squash and an indoor go-kart centre. If all that sounds exhausting, head to the 13th floor of the BTC City Tower for some lunch and fine views!

Where is it\How to get there?:
BTC is located 3km from Ljubljana's town centre in a north-easterly direction. Heading north from Slovenska Cesta, turn right at Vilharjeva Cesta and then left at Šmartinska road until your see BTC on your right. Bus from Ljubljana Centre - Routes 2, 7 and 12 bring visitors to two entrances in BTC City at Šmartinska road (bus stops next to the BTC City Office Tower and Citypark). Route number 27 runs through BTC City (bus stops: BTC Office Tower, Hall A, Market Hall, Kolosej, Emporium). Train from Ljubljana - The train operates from Monday to Saturday 5 times a day. Return ticket costs only 1.00€ For cars, there is free parking for 8500 cars.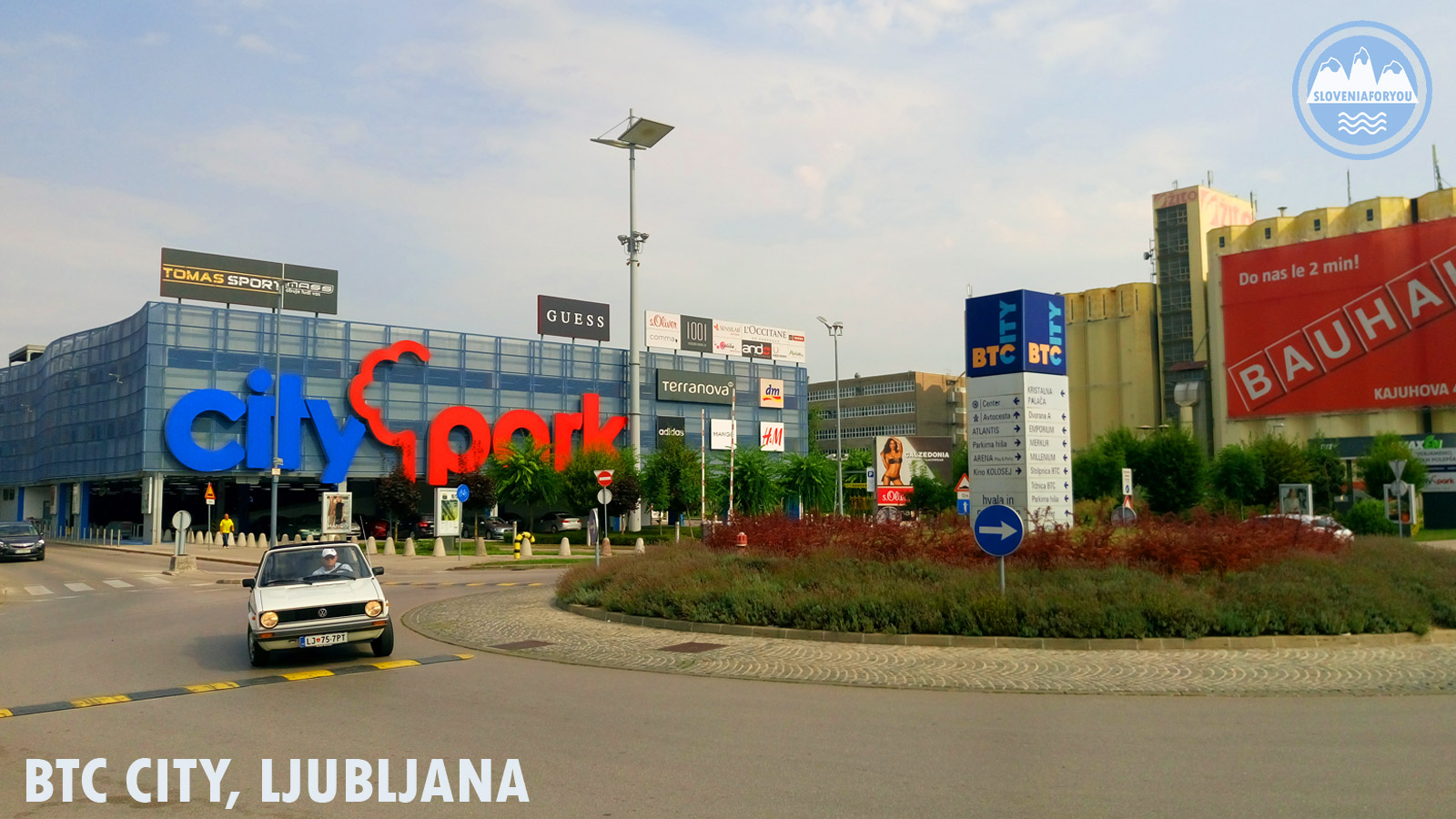 HOW DO I GET TO LJUBLJANA, SLOVENIA?

---
By Air - Flying into Ljubljana

A list of current destinations servicing Ljubljana Airport can be found HERE.
These include the long standing destinations of London, Paris, Frankfurt and Istanbul but new services and seasonal services will differ from year to year.


From Ljubljana Airport into Ljubljana

DISTANCE: 30km, TIME TAKEN TO CENTRE: 30 minutes

TRANSFER: To reach Ljubljana from the airport you can book a low cost GoOpti transfer by clicking HERE
BUS: You can use the local bus which is cheap. A transfer is preferable if you have a lot of luggage. Click HERE
CAR HIRE: To hire a car at the Airport use our partners at ATET. Use the code SLOFORYOU when booking.


From Venice/Venice Airport to Ljubljana

DISTANCE: 240km, TIME TAKEN TO CENTRE: 3 hours

TRANSFER: To reach Ljubljana from Venice or Venice Airport, book a low cost GoOpti transfer by clicking HERE
CAR HIRE: If you wish to hire a one-way car rental from Venice then contact us by email for a quote here


From Budapest to Ljubljana

DISTANCE: 460km, TIME TAKEN TO CENTRE: 5.5 hours

TRANSFER: To reach Ljubljana centre from Budapest, contact us by email for a quote here
CAR HIRE: If you wish to hire a one-way car rental from Budapest then contact us by email for a quote here
TRAIN: To access details of the service by train, click HERE


From Vienna/Salzburg to Ljubljana

DISTANCE: (VIENNA) 385km, TIME TAKEN TO CENTRE: 4.5 hours
DISTANCE: (SALZBURG) 290km, TIME TAKEN TO CENTRE: 3.15 hours

TRANSFER: To reach Ljubljana from Vienna or Salzburg, book a low cost GoOpti transfer by clicking HERE
CAR HIRE: If you wish to hire a one-way car rental from Vienna or Salzburg contact us by email for a quote here
TRAIN: To access details of the service by train, click HERE


From Zagreb/Plitvice/Split to Ljubljana

DISTANCE: (ZAGREB) 140km, TIME TAKEN TO CENTRE: 1.45 hours
DISTANCE: (PLITVICE) 204km, TIME TAKEN TO CENTRE: 3.5 hours
DISTANCE: (SPLIT) 470km, TIME TAKEN TO CENTRE: 5.5 hours

TRANSFER: To reach Ljubljana centre from Zagreb, book a low cost GoOpti transfer by clicking HERE
TRANSFER: To reach Ljubljana centre from Plitvice or Split, contact us by email for a quote here
CAR HIRE: To hire a one-way car rental from Zagreb, Plitvice or Split then contact us by email for a quote here
TRAIN: To access details of the service by train, click HERE


From Rovinj/Istra to Ljubljana

DISTANCE: 180km, TIME TAKEN TO CENTRE: 2.5 hours

TRANSFER: To reach Ljubljana centre from Rovinj/Istra, book a low cost GoOpti transfer by clicking HERE
CAR HIRE: If you wish to hire a one-way car rental from Rijeka/Istra then contact us by email for a quote here
TRAIN: To access details of services by train, click HERE


From Trieste to Ljubljana

DISTANCE: 120km, TIME TAKEN TO CENTRE: 1.5 hours

TRANSFER: To reach Ljubljana centre from Trieste, book a low cost GoOpti transfer by clicking HERE
CAR HIRE: If you wish to hire a one-way car rental from Trieste then contact us by email for a quote here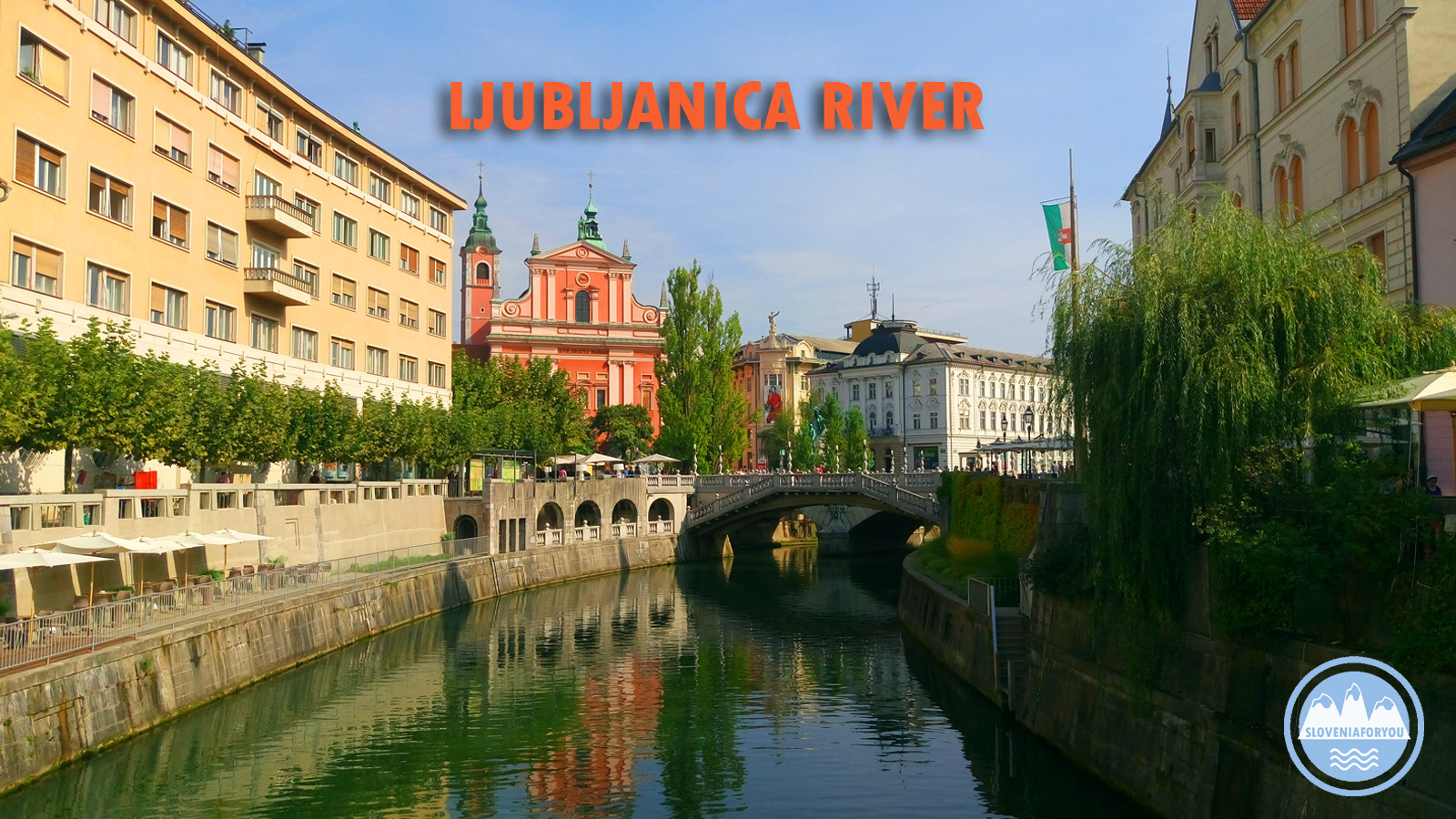 WHEN IS THE BEST TIME TO VISIT LJUBLJANA, SLOVENIA?

---
Any time is a good time to Ljubljana but if you want a more practical answer then here we go:

JULY-AUGUST - Peak time, can be hot and crowded but at least the locals go away on holidays!
APRIL,MAY,JUNE - Not a bad time with Spring blossoming but weather can be unpredictable.
SEPTEMBER - The best month in our opinion, still warm and kids go back to school.
OCTOBER-NOV - Getting colder but the autumn colours are beautiful.
DECEMBER - Christmas market is a great reason to visit.
JANUARY-FEB-MARCH - Unless you like the cold, the least likely time to visit.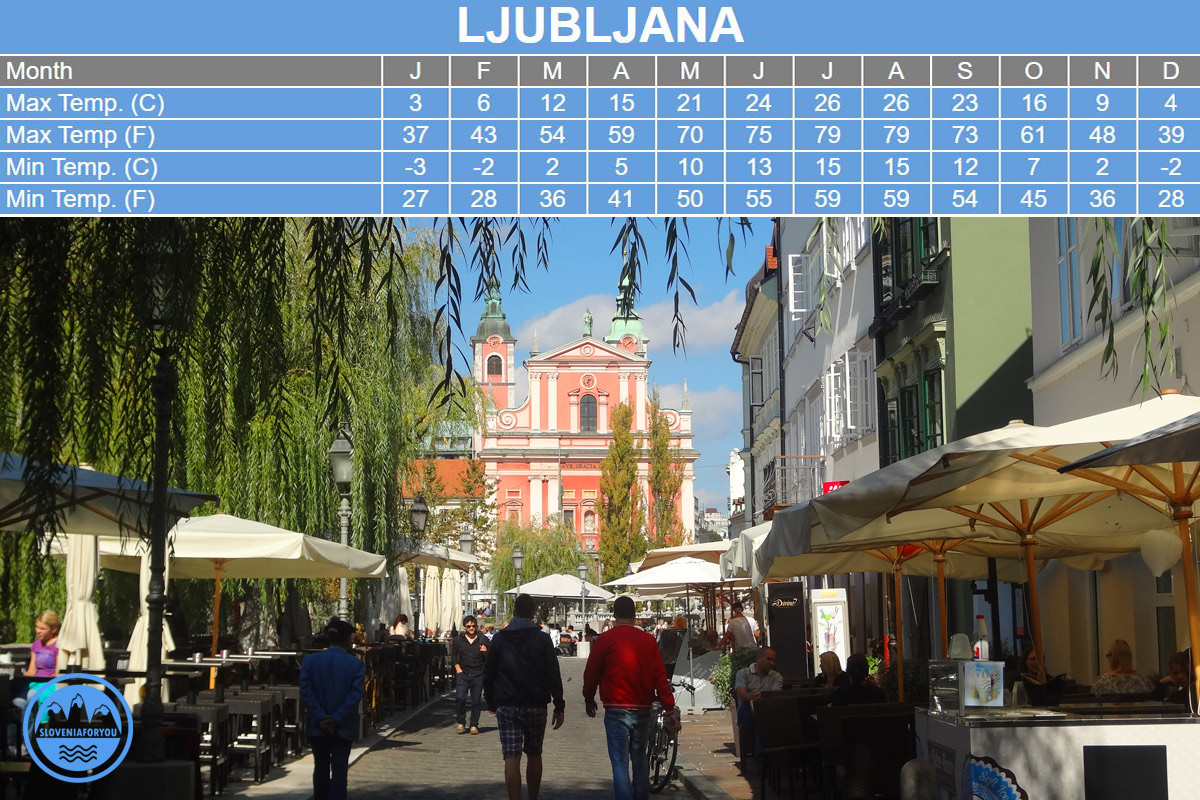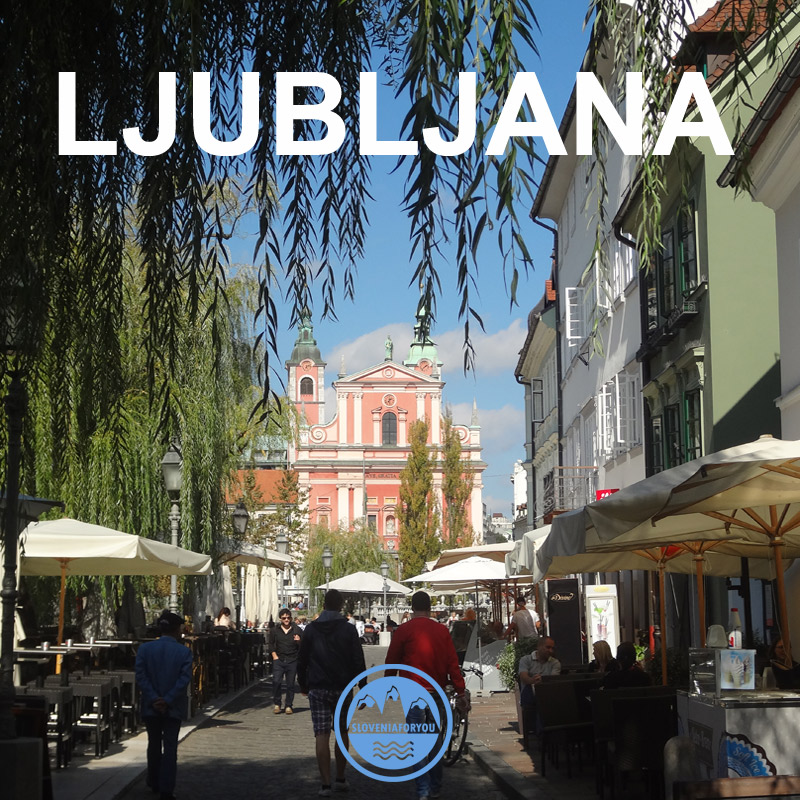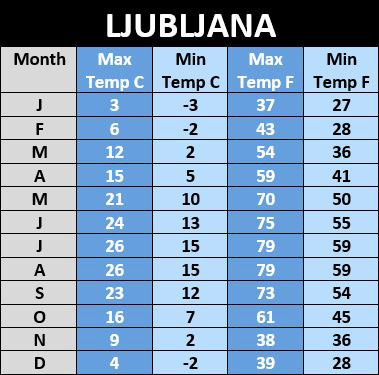 WHERE SHOULD I STAY IN LJUBLJANA, SLOVENIA?

---
There are lots of choices in all categories within the centre of Ljubljana. Ljubljana is a small city so most choices are not a far walk from the river and old town.

If you have a car you have to consider where to park as many hotels have limited spots and charge for them. Or they have a deal with a car park nearby.

Other than that there are no real issues with different areas. The areas directly along the river and Wolfova Ulica can be a little noisy from bars and foot traffic and the area around the train station is more commercial than residential. Also check whether your accomodation have a lift if you have a lot of luggage.

Here are our top picks, book using our links and enjoy your stay!


SUITED FOR COUPLES, BUSINESS:
* Central Location
* Friendly, professional staff
* Clean Stylish Rooms
* Extensive Breakfast
* 5 star comfort

A great choice if you're looking for a 5 star comfort choice in Ljubljana!



---
SUITED FOR COUPLES, FAMILIES:
* Central Location near river
* Amazing staff
* Clean Rooms
* Continental Breakfast
* Outdoor Courtyard

A great choice if you're looking for something cosy and antique with modern amenities!



---
SUITED FOR ALL, THOSE WITH CARS:
* Large Car park with easy access
* Clean Rooms
* Extensive Breakfast
* Outdoor Terrace

A great choice if you're looking for clean, comfortable rooms and easy access to a car park!



---
SUITED FOR COUPLES, FAMILIES, GROUPS:
* Very Central Location on the river
* Clean Apartments
* Amazing staff
* Those looking for privacy

A great choice if you're looking for an apartment rather than a hotel room in the very centre!



---
SUITED FOR BUDGET TRAVELLERS:
* Great central location
* Organise tours and transfers
* Friendly staff
* Clean rooms and shower
* Free wifi

A great choice if you're looking for a central hostel!



---
SUITED FOR ALL:
* Central Location near river
* Fantastic Economical Choice
* Clean Rooms
* Extensive Breakfast
* Outdoor Terrace

A great choice if you're looking for something central with modern clean rooms at a great price!



---
TOURS & ACTIVITIES IN LJUBLJANA, SLOVENIA

---
SLOVENIAN TRADITIONAL EVENING

Traditional Slovenian Dancing, Music and Food.

Why book this event?
It's two hours of fun, food and frivolity! Enjoy traditional folk music, food and dancing with others who are looking for a fun way to spend an evening in Ljubljana. Top night!

BOOK NOW BELOW.


---
---
---
TOURS & ACTIVITIES FROM LJUBLJANA, SLOVENIA

---
KARST AND COAST PUBLIC TOUR

Head for the coast and visit stops like Skocjan Caves along the way.

Why book this event?
This is a great all-round tour that features something for everyone! A Breathtaking castle at Predjama, Underground wonders at Skocjan, The grace and elegance of the Lippazaner and the charm of seaside Piran. Book today!

CLICK HERE FOR MORE INFORMATION or BOOK NOW BELOW.


---
POSTOJNA and PREDJAMA PUBLIC TOUR

Tour Postojna Caves and Predjama Castle.

Why book this event?
If you only have a couple of days in Slovenia then don't miss the no1 attraction. Postojna Caves. Backed up with the astounding Predjama Castle, this is a top double bill and a great afternoon out. Book today!

BOOK NOW BELOW.


---
BLED, BOHINJ PUBLIC DAY TOUR

Tour magical Lake Bled, Bohinj and Skofja Loka.

Why book this event?
Bled is a magical postcard perfect paradise that cannot be missed if in Slovenia. Combine this with the serene Lake Bohinj, the medieval charm of Škofja Loka and some great food and wine and this becomes the perfect day. Book today!

BOOK NOW BELOW.


---
SMALL GROUP PRIVATE TOURS around SLOVENIA

How will you choose? They are all amazing day trips!

Why book this event?
Grab the group and book a private day tour to any amazing location around Slovenia. But how to choose? They're all fantastic. Why not book more than one?

CLICK HERE TO VIEW GROUP TOURS or BOOK NOW BELOW.



---
SOCA VALLEY PUBLIC TOUR

Travel to the Slovenian Alps and the magnificent Soca Valley for sightseeing and adventure!

Why book this event?
Leave the city behind and indulge in a real cultural experience in one of the most georgeous valleys ever. The Emerald Adventure is one of the most popular tours around, you will love it!

BOOK NOW BELOW.


---
VIPAVA AND GORISKA BRDA WINE TOUR

Visit two of Slovenia's most famous wine regions for tastings and sightseeing.

Why book this event?
Because Slovenia produces some amazing wines and there are many varieties to choose from. Add in some of the most stunning vineyard scenery around and you are set for a great day!

CLICK below to BOOK.


---
MARIBOR and PTUJ WINE TOUR

Visit two of Slovenia's most famous cities for wine tastings and sightseeing.

Why book this event?
A unique opportunity to visit this wonderful part of Slovenia, east of the capital and home to warm-hearted people and beautiful wine roads.

BOOK NOW BELOW.


---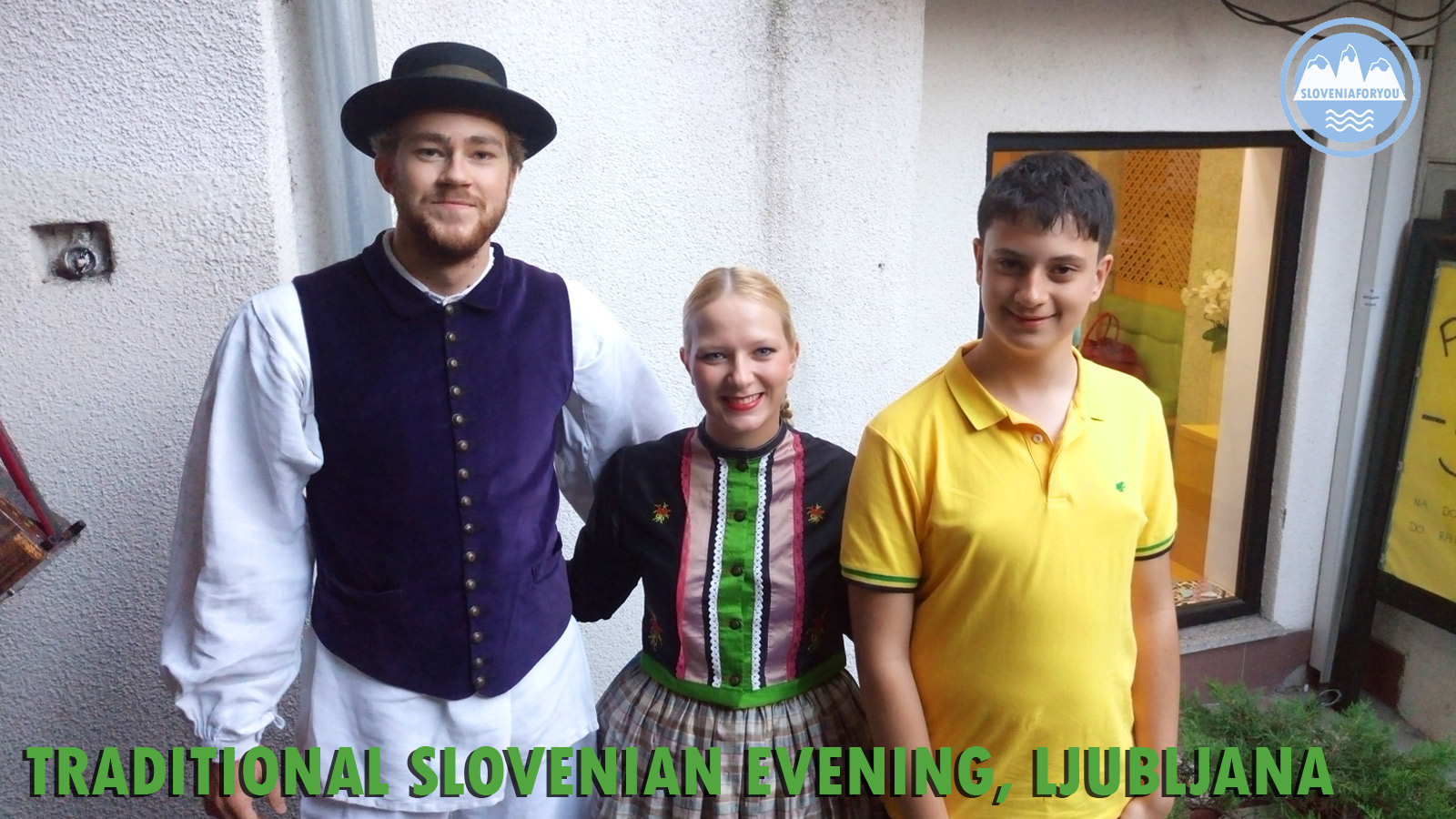 I'M HERE, WHAT'S A GOOD ITINERARY FOR LJUBLJANA, SLOVENIA?

---
Ljubljana centre is compact enough to walk around in one day. In two days you could also explore the city in more detail and visit Tivoli Park or some museums. If using Ljubljana as a base then of course you could base yourself here for 3-7 days and explore the city and take day trips as noted above.
Here are some suggested itineraries and ideas:

Ljubljana in one day -
After breakfast, visit the market in the old town
Take our Ljubljana Walking Tour get acquainted with the city.
Lunch, try the excellent pizza at Foculous perhaps!
Take the Funicular up to the Castle and enjoy the views and history.
Enjoy an afternoon cocktail at a riverside bar.
Dinner at a restaurant in the old town.
Drinks and super views from Neboticnik.

Ljubljana in two days -
Day one as above.
Day two walk to Tivoli Park and climb to the summit of Rožnik Hill.
Return via road down to Restaurant Čad and have a delicious grilled lunch!
Visit the National Museum or one of the other museums noted above.
Visit Metelkova for something different.
Dinner at another restaurant.
Stroll the old town and riverside, buy an ice cream or another cocktail!

Ljubljana in 3-7 days -
Days one as above, use day two as above for day three perhaps.
Take several great day trips (see our tour section) like lake Bled, Postojna Caves and Maribor.
Visit BTC for some window shopping or have a swim at Atlantis.

Tips for Visiting Ljubljana

You may see the green Kavalir buggies whizzing around town. Make use of them if you need to get from one end of town to the other quickly, they are free!
A trip to the castle for sunset is a good idea on a nice day.


---
---
DID YOU KNOW? FUN FACTS FOR LJUBLJANA, SLOVENIA

---
1. The Three bridges were made for practical and not esthetical reasons. Today's middle bridge was too small for vehicle and foot traffic, but instead of demolishing it and making it bigger, architect Joze Plečnik decided to make 2 smaller ones aside it.

2. There is a hidden face of a sculpturer on the Slovene doors of the Ljubljana Cathedral. Rubbing his nose brings you good luck says the legend.

3. If a virgin crosses a dragon bridge, the legend says that the dragons will wag their tail.

4. There are cherry and other fruit trees planted on the embankment of the Ljubljanica river.

5. People from Ljubljana are called frogs amongst the rest of Slovenians.

6. Among the many projects that Plečnik created for Ljubljana, one was to destroy the castle to make space for the Slovenian parliament. (It wasn't realised!)

7. It is very common that Ljubljana people leave the city for a weekend, to enjoy nature around Slovenia. Sundays can feel very quiet indeed in the city centre.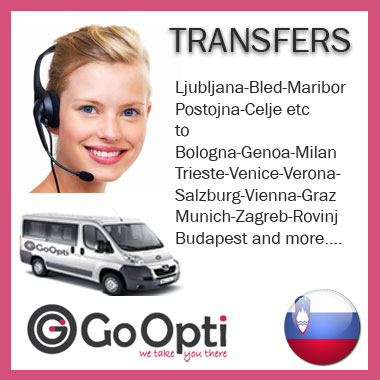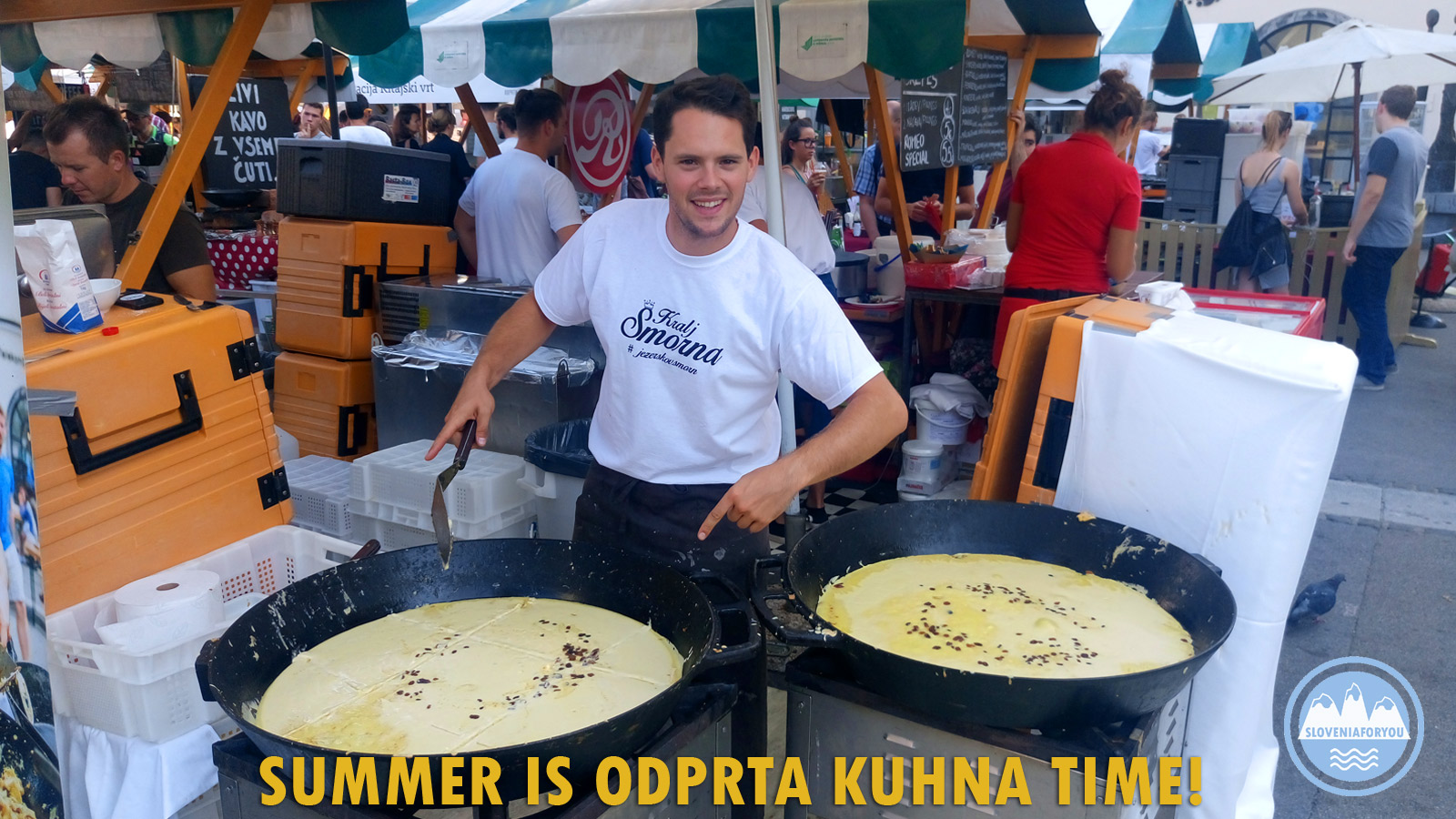 ---
---
EVENTS AND FESTIVALS IN LJUBLJANA, SLOVENIA?

---
There is always something happening in Ljubljana all year round. Here is a calendar of the major events. You may want to plan your holiday to coicide with these events!

MAY - Druga Godba Festival
Primarily started in the socialist days as an alternative to the drab offerings served up by state run festivals, this festival has always prided itself as being on the cutting edge. It is usually accompanied by other art forms like film, poetry, lectures and exhibitions. Today, artists come from far flung places like the Comoros Is and Mongolia to perform and the crowds love it.

MAY - OCTOBER - Odprta Kuhna
Odprta kuhna is a unique and the most popular food market in Slovenia that has been bringing freshness and innovation to the Slovenian culinary scene since 2013. It has become a regular Ljubljana event and every sunny Friday from early spring to late fall its stands attract thousands of foodies and fans of relaxed hanging-out.

JULY-AUGUST - Ljubljana Festival
Ljubljana Festival is the biggest, oldest and most important festival in both Slovenia and the wider region. Over the years, it has become a way of life during the summer holidays for residents and visitors of Ljubljana alike; and for visitors not only from surrounding countries but from far beyond as well. With its colourful cosmopolitan spirit, the festival contributes a great deal to the life and energy of the Slovenian capital, itself considered one of the liveliest cities in Europe.

JULY - Anadesetnica Festival
The Ana Desetnica international street theatre festival, held at various outdoor venues across Ljubljana, it brings together a large number of street artistes, clowns, circus performers, jugglers, tightrope walkers, fire-eaters, musicians, "provocateurs", dancers and actors from Slovenia and abroad. The Ana Desetnica festival is remarkable for its well-defined artistic concept and its organizers' efforts towards complementing the vibrancy of city life in Ljubljana with the vibrancy of the festival.

DECEMBER - Festive December Christmas Market
The Christmas Market in Ljubljana is a collection of diverse and beautifully lit stalls extending along several blocks, at one point reaching across over a bridge and spreading along the opposite bank. The snowy air is warm with the scent of wine and roasting chestnuts. A large troupe in Santa Claus costumes dance an energetic jig to the accompaniment of a string quartet. Stallholders sell cakes, chunks of fruit skewered and dunked into hot, molten chocolate, pretzels, exquisite homemade candles, woven baskets and furniture. Ribbons and mistletoe are strung festively from eaves and cornices. Definitely a beautiful thing to see whilst in Ljubljana over Christmas.


---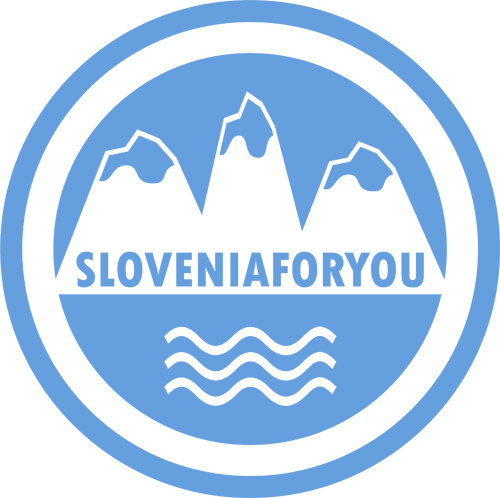 Book an exciting tour from our partners today!


---
CHECK OUT ANOTHER CITY GUIDE

---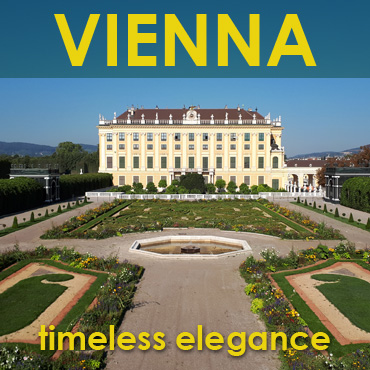 ---

Choose a service for your holiday from our affiliate partners!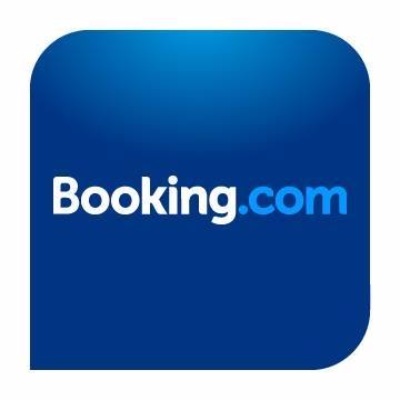 Accommodation Slovenia
Search for your ideal hotel, hostel, guest house or apartment in Slovenia and worldwide through our Booking.com link.
---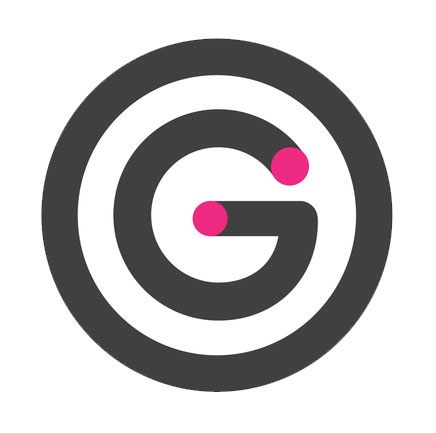 Goopti Transfers
Goopti offers the cheapest shared transfers across their network which includes Slovenia and neighbouring countries!
---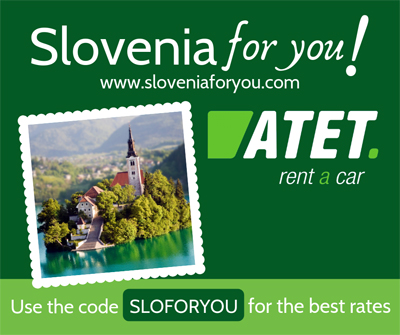 ATET Car Rental Slovenia
Book your Slovenian car rental with the best. ATET have offices in Ljubljana, Airport, Maribor & Koper.
Use code: SLOFORYOU in the booking for the best rates.
---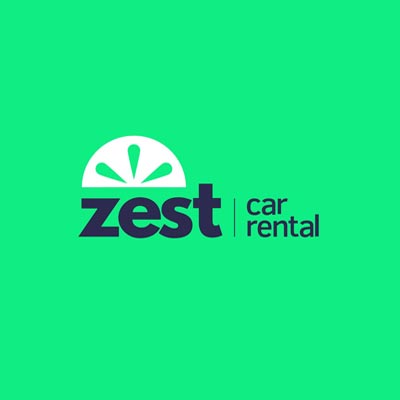 Zest Car Rental
Zest Car Rental is a great choice for car rental across Europe and the world, get a quote today!
---
请看看我们精心为您定制的团体和个人自助游览斯洛文尼亚的旅行安排,
如果您想预订,
请在这里给我们发电子邮件 Sloveniaforyou.com

Auf unserer Webseite finden Sie eine große Auswahl an öffentlichen und privaten Touren in Slowenien. E-mailen Sie Sloveniaforyou.com und buchen Sie Ihren Ausflug!

Dê uma olhada nas nossas ótimas opções de passeios por toda Eslovênia. Ha opções de passeios em grupos e também passeios exclusivos. Se quiser fazer uma reserva, basta enviar um email para nós aqui do Sloveniaforyou.com

---