The Posavje wine region lies in the southern-eastern part of Slovenia along the Croatian border and is made up of 4 sub-regions: BIZELJSKO-SREMIC, SMARJE-VIRSTAJN, DOLENSKA and BELA KRAJINA.
BIZELJSKO-SREMIC is made up of a narrow strip of land along the northern bank of the Sava River, protected by the mountains from the harsh north winds therefore making for some of the best wine growing conditions in the region.
SMARJE-VIRSTAJN rests in the shadow of the Alps with a cool climate and sandstone soils necessitating careful placement of the vineyards among the rolling wooded hills.
Across the Sava and further south is DOLENSKA, which makes up most of the Posavje region, an area with both alpine and Pannonian climatic influences, gentle hills, and south-facing vineyards.
Where the foothills of the Alps give way to the more open plains is the area called BELA KRAJINA, known for hot summers, cold, snowy winters, and the rocky limestone soil known as Karst.
THE VINO
Good-quality white and red wines are produced in the Posavje region, The most famous wine of these areas is "Cviček ". Connoisseurs particularly praise the Red Bizeljčan blends made from Pinot Noir and Blue Franconian grapes. One amazing feature of the Bizeljsko region are the underground caves or repnice that have been used as wine cellars. A must visit when touring this region.
Similar white and red wines are produced in the Smarje district. The specialty of this area is Modra Frankinja, consistently among the best in Slovenia. Modra Portugalka, Zametna Crnina, and Modri Pinot are also cultivated with good results, but the proportion of red varieties is declining.
Dolenjsko is full of romantic, dream-like countryside, which is full of hills covered with woods. The sunny hill-slopes at the edge of the woods are ideal for the growing of grapevines and thus we find the famous Cviček. Cviček is a blend of Red Blue Franconian and Žametna črnina varieties plus white Kraljevina and Italian Riesling.
Winegrowing in Bela Krajina covers the landscape between the southern slopes of Gorjanci, republican border to the Stari trg at the Kolpa to Črmošnjice. Bela krajina Winegrowing extends over 1460 hectares of vineyards. The Typical wine of this district is Metliška črnina. Wine is distinguished by a variable bouquet of tiny berries with moderate acidity. Good vintages mature for several years and eventually give the wine a nice rounded maturity.
WHERE TO START?
A car is really a necessity to travel the wine route. Driving through Zuzemberk to Novo Mesto makes a nice starting point. Grab some information from the tourist centre then plan where you would like to visit. Perhaps spend the morning down in Bela Krajina then lunch near Brezice and head for Bizeljsko/Smarje returning via Celje.
HOW TO GET TO BIZELJSKO/DOLENSKA?
From Ljubljana, you take the main freeway (A2) towards Novo Mesto. But we highly recommend the scenic route 216 via Zuzemberk. For Bizeljsko after Novo Mesto continue on A2 to Brezice where you can turn left onto route 219. Here Bizeljsko hugs the Croatian border and inland. Head south from Novo Mesto on the 105 to reach Metlika/Crnomelj and surrounding area of Bela Krajina. The area around Novo Mesto represents Dolenjska with vineyards on both sides of the Krka and surrounding area.
For Smarje you can reach Bizeljsko and keep heading north towards Podcetrtek and then Smarje pri Jelsah or reach Smarje pri Jelsah via the E57 from Ljubljana turning off at Celje onto the 107.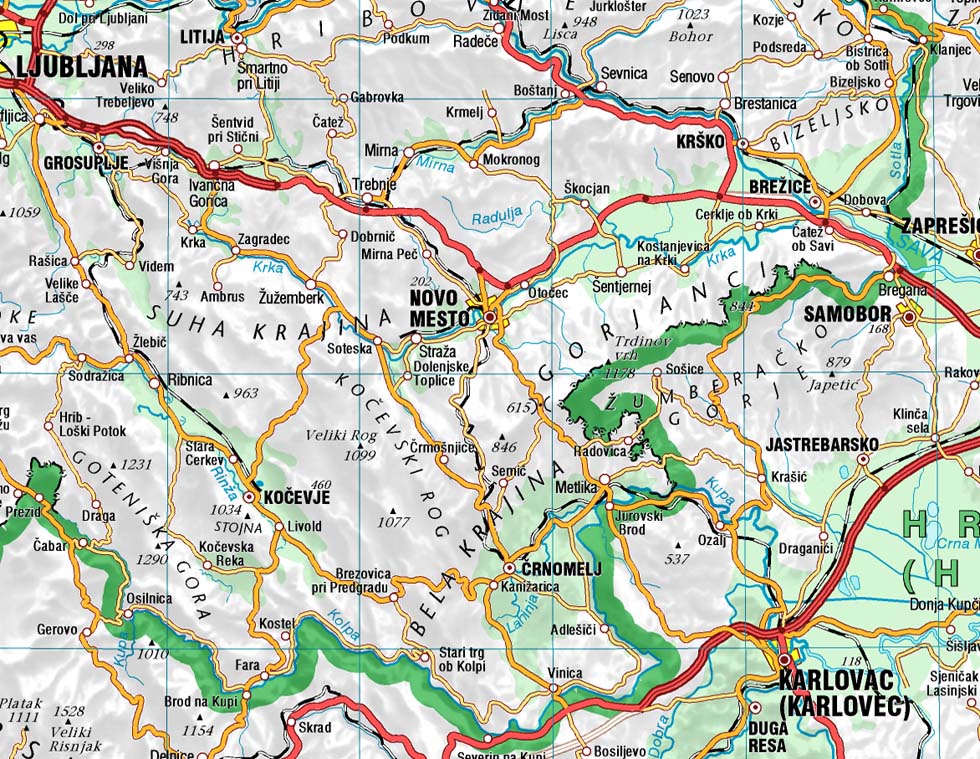 Back to Top
CVICEK (Blend)
The most famous wine of these areas is "Cviček", which is produced mainly from the reds "Žametna črnina" and "Modra Frankinja" plus whites "Rdeca kralievina", "Italian Riesling" and "Silvaner". This exact combination gives it its specific taste.
Its origins date back to the Middle Ages when it was known under the name Marvin. Then, with the abolition of traditional viticultural system, the wine's quality gradually dropped as it became more and more sour. That's when it was renamed cviček, from an old Slovenian word for a very sour wine. Nowadays it is a full-bodied, rich wine with a perfectly balanced acidity and characteristic aroma. People in Slovenia believe that it has healing properties and is often recommended to diabetics as it is dry and contains hardly any sugar. It is often served with various stews and smoked meat.
The best areas for growing grapes for "Cviček" are on the slopes above the River Krka, ie Gadova pec, Bocje, Trska gora nad Krskim and Drenovec.
Cviček is a dry wine with a low alcohol content of up to 10.0 vol%, which reflects its homeland region of Dolenjska. Light, fresh, drinkable but at the same time lively, Cviček is definitely a wine for the modern drinker.
Today Cviček is protected within the European Union with the mark ptp, which ensures its high quality and simultaneously sets strict rules, according to which it can only be produced in its one homeland, Dolenjska. making it unique and a delight to drink!
The staple wine of this area is the humble Cvicek, traditionally a blend of fourteen different wines (this is now considered to be an exaggeration) - fresh, tart, and low in alcohol. The "recipe" differs from site to site. Most Cvicek is produced for home consumption and never reaches the market: cultivating at least a small mixed vineyard is a traditional hobby of area residents.
WHAT OTHER VARIETIES ARE PRODUCED?
SMARJE-VIRSTAJN
A mixture of white and red wines are produced in the Smarje district. The hillslopes are very suitable for the growing of the following types of grapes: Virgtajn, Sladka gora, Vinski vrh, Tinsko and Buce. The whites include some excellent Laski Riesling (Welsch Riesling), Beli Pinot, Chardonnay, Sivi Pinot, Renski Riesling (Rhine Riesling), Zeleni Silvaniec, Traminer, Ranina, Rizvanec, Sauvignon Blanc, and Zlahtnina. The red Slovenian wines here are fairly light, fresh and fruity and chiefly made from Frankinja, Modri Pinot, Portugalka, Sentlovrenka, Kraljevina, Gamay, Zweigelt, and Zametovka.
Their pride however is probably a special, fresh Laski Rizling, the vine grown in 30% of all vineyards; Chardonnay and Beli Pinot also achieve admirable quality in Smarje-Virstajn. Local producers even try their hand at Traminec, which can turn out surprisingly good in climatically ideal years. The true specialty of this area, however, is Modra Frankinja, consistently among the best in Slovenia. Modra Portugalka, Zametna Crnina, and Modri Pinot are also cultivated with good results, but the proportion of red varieties is declining.
As in the other areas of Posavje, blends are quite popular, along with excellent rosé wines. Among white blends, Laski Rizling dominates, while red wines are based on Zametna Crnina and Modra Portugalka. The best known blended wines are the white and red Virstajncan. However, the proportion of traditional blends is declining as winegrowers are turning more and more to varietal wines.
BIZELJSKO-SREMIC
This is a first class white Slovenian wine area using Sipon, Beli Pinot, Laski Riesling (Welsch Riesling), Zeleni Silvanec, Sauvignon Blanc, and Chardonnay. There are reasonable to good red wines from Modri Pinot and Modra Frankinja, and full-bodied, warm and strong Pozne Trgatve (Spatlese), Suhi Jagodni Izbori (Trockenbeerenauslese), and Ledeno Vino (Eiswein). The last of these is an elegant sparkling Slovenian wine made by the traditional method. There is also a rare and amusing port-type Slovenian wine. The climate is gentle since the area presents its mountainous "back" to the cold winds of the north. The south and southwest facing slopes along the Sava valley are considered to be the best viticultural sites of all Posavje. Modra Frankinja reaches its best in this area - the phenomenal 1983 vintage is archived in the Oresje Castle, which houses the area's largest cellar. The best white wines are Sauvignon, Chardonnay, and Laski Rizling. The area grows a unique white vine, the autochthonous Rumeni Plavec, which ferments into an acid-rich wine used primarily for blending. This grape is grown in quantity only in the Bizeljsko-Sremic area and can not be found outside the Posavje region.
The area produces some characteristic blended wines: Bizeljcan is an aromatic, dry blend of Laski Rizling, Sauvignon, Rumeni Plavec, and Sipon; white Sremican is a dry blend of Laski Rizling, Sauvignon, and Rumeni Plavec; red Sremican is a dry red wine blended from Modra Frankinja, Zametna Crnina, and Laski Rizling - a somewhat rare combination since blending of red wines with white wines is quite uncommon in Slovenia. Specialties of this area include white, rosé, and red sparkling wines produced in accordance with the Methode Champenoise and Tawny Port.
On the south side of the Gorjanci mountains, in Bela krajina, the following types of grapes are grown on the sunny slopes: "Zametovka", "Modra frankinja" and "Sentlovrenka". The wine produced from these grapes is used, together with some "Portugalka", to produce the famous "Metliska Crnina" wine. These areas are not rich ones, but the countryside is very beautiful. The vineyards are split up into small fields, which are mostly cultivated in the old way. The grapes are mainly processed in the attractive old cottages ("zidanice"), which are spread about the vineyards. Here Nature is unspoilt, and all kinds of wild animals graze at the edge of the vineyards.
DOLENJSKA
Good Slovenian wines from this area are whites such as Laski Riesling (Welsch Riesling), Zeleni Silvanec, Sauvignon Blanc, and Chardonnay, and the red Modra Frankrinja. A good Blaufränkisch contains about 12.0 vol. % alcohol, a discreet fruit taste and pleasant freshness, which persists a long time with maturing. It is also distinguished for the high content of antioxidants.
The most widely appreciated white blend is Dolenjsko belo; its composition varies, although Laski Rizling, Kraljevina, Rumeni Plavec, Sauvignon, and Beli Pinot are the most common ingredients. This is a light wine, rich in acids, and is believed to have medicinal properties. It is supposed to alleviate chronic rheumatism and arrest the formation of kidney stones.
BELA KRAJINA
This southern most wine area of Slovenia produces excellent red wines from varieties such as Modra Frankinja, Zametovka, Portugalka, Sentlovrenka, Gamay, and Modri Pinot.
Belokranjec (or White Carniolan) is a wine made from high-quality white grape varieties. The primary grape varieties from which the wine is made are Italian Riesling and Kraljevina (Grau Portugiser), which constitute at least half of the total quantity of grapes used. The remaining share consists of Pinot Blanc, Chardonnay, Sauvignon Blanc, Sylvaner, Rhine Riesling, Chasselas Blanc and Yellow Muscat; no individual variety must exceed a share larger than 10%.
Belokranjec is distinguished by its dry, rich and full flavour, which makes it a perfect drink with white meat, poultry and fish, cold appetizers and vegetarian dishes, but it can also be served as an aperitif.
To the locals from Bela krajina the Žametna črnina wine represents what Cviček represents to the people from the Dolenjska region. The microclimate, ground and the diligence of the Bela krajina winegrower guarantee its quality. The wine is made from different grape varieties: 60% is made up of Blue Franconian, which gives the wine its rich flavour. Žametna črnina, which makes up at least 30%, gives the wine its pleasant aroma, which reminds one of the scent of forest fruit. The rest consists of other red grape varieties, such as Portugalka (Blauer Portugeiser), St. Laurent and Gamay.
The most widely known wines of the area are blends, the most famous being Metliska Crnina. Traditionally a blend of Modra Frankinja, Modra Portugalka Zametna Crnina, and Sentlovrenka - rich in extract and velvety. It is distinguished by its medium alcohol level (between 10.3 and 11.5%) and pleasant acidity (5.5 to 7.0 g/l). It is important for the wine to be served at the appropriate temperature – between 13 and 15°C. It is a dry wine, so it goes well with grilled dishes, mushroom dishes, game meat dishes and dried meat cold cuts.
A somewhat less macerated variety of the same ingredients blends into a lighter, lively wine that does not require aging. Selected varieties of Modra Portugalka and Sentlovrenka produce a light, gentle red wine that should be consumed young. Belokranjski rosé is a dry rosé wine blended from Zametna Crnina and Modra Frankinja. Bela Krajina also produces some of the best Modri Pinot in Slovenia. In the past, red grapes were predominant in the area, but in the last few decades white wines have been taking over the vineyards.
Judging from the awards won by wines from Bela Krajina, local producers have been quite successful with Beli Pinot, Chardonnay, Sauvignon, Rumeni Muskat, and Renski Rizling - in fact, some connoisseurs prefer these white wines to their more prestigious equivalents from the Podravje region because of their more moderate acidity. Belokranjec as mentioned above, is the best known white blend. Late harvest Laski Rizling is also being archived, but most precious are the tiny, 0.375 liter (12.68 fl. oz.) bottles of 1985 Laski Rizling Ice Wine, regaled with numerous Grand Champion titles. The Pozne Trgatve, Jagodni Izbori, and Ledeno Vino wines of Bela Krajina are also excellent.
REPNICA
»Repnice« are underground cellars dug into the sand. Many years ago they were used instead of refrigerators for storing crops. Today they are used for storing bottled wine, because the constant temperatures from 4 – 10 °C and very high moisture (95-98%) provide an ideal environment for wine storage. What is special about these cellars is that can be more than 12m deep, completely hand-dug. Nothing except nature helps them stay as they are. Silicat sand is a left-over reminder of the Panonic Sea and is what makes these »repnicas« so solid. make sure you visit one whilst in the area!
Back to Top
The term "Dolenjska" applies to most of the Posavje winegrowing region; in ampelographic terms, the Dolenjska winegrowing area encompasses the sites along the right (southern) bank of the Sava River from Litija to the northern slopes of the Gorjanci range. This area is the geological contact between the Alps, the Dinaric Mountains, and the Pannonian plain. Originally, this was a deep valley, later filled in by the Sava and Krka rivers. Gently sloping low hills composed of post-Carbonate loess and sandstone. The climate is mixed, with alpine and Pannonian influences. Only the southern and southwestern slopes of the low hills descending to the banks of Krka and the flatlands along the Sava are suitable for viticulture.
Among the hills of Posavje there are a great number of distinct soil types, some of which are highly localized. The climate is equally wide-ranging, with some of the wettest and driest conditions of the Slovene winegrowing regions separated by very short distances. Though more white wines are produced overall in Posavje, many reds are bottled as well, and in some areas reds actually predominate.
Smarje - This area lies between two mountainous borders, two spurs of the Alps. The soils are similar to those in Haloze - mostly mid-Tertiary sandstone based on dolomite rock, the preferred viticultural sites are those with a high proportion of marl, hilltop sites are preferred, especially those protected by surrounding higher wooded hills.
Bizeljsko - Composition of the soil between any two hills in this area can be completely different. For instance, in Janeževa gorca thre is mainly brown soil with some admixture of marl, clay and flintstone. Soil in other areas are based on flintstone or silicat sand. Thus one can expect that the sort of wine from one vineyard will be completely different to that same sort from the other vineyard.
Silicat sands act like spounge witholding moisture. This explains the absence of drought in spite of very high temperatures in the summer time. The Bizeljsko region has mostly continental climate with a touch of Panonian climate. This area statistically has the highest number of sunny days in Slovenia so it's no coincidence that vines have been grown here for centuries. The first to plant vines in this region were supposedly the Romans. The region's very pleasant micro-climate is probably the reason why wine has been made here for so long!
Dolenjska/Bela Krajina -Most of the area's viticultural sites are on the southern or southwestern slopes of rounded hills, mostly around 350 meters (1,150 ft.) above sea level. The area's soils where most of the vineyards are planted are predominantly marly loam and loess moderately rich in organic compounds, the product of decaying Cretaceous and Jurassic limestone. This is a climatically mixed area: It experiences both Mediterranean and Pannonian influences; the foehn wind brings warm and humid air from the Adriatic sea. Spring comes very early, summers are very hot but may be interrupted by spells of rain and cooler weather, and winters tend to be generous with snow and quite cold.
Back to Top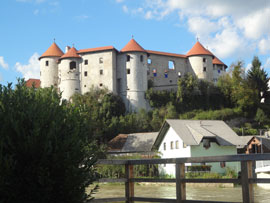 Leaving Ljubljana head for Ivancna Gorica and south to Zuzemberk on the Krka river. Grad Žužemberk is one of the most picturesque castles in Slovenia with sweeping views of the surrounding area. It is used for concerts and events especially during the summer months. Heading on via the 216 we reach Soteska where we find the ruin of another famous old castle at Soteska Manor. Just south of here is the first of many fine spa resorts to be found in the region. The resort at Dolenjske Toplice is a nice place to relax and the town is as pretty as they come. With its extensive range of state-of-the-art medical and wellness services and its swimming pool complex, it draws guests from all over Europe. Heading further south we reach the largest towns in Bela Krajina, Crnomelj and to the east Metlika. Crnomelj and Metlika hold some awesome festivals like Jurjevanje and spring's Vinska Vigred.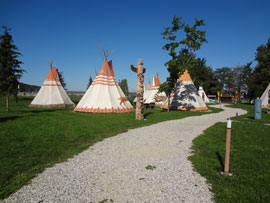 Head North and we reach the biggest city in this region, Novo Mesto. It is an important city for Slovenia in terms of industry. Stop to enjoy a few hours in this fine city.
Just east of here is the famous Otocec Castle. Slovenia's only island castle is now restored as a beautiful luxury hotel offering golf, wellness and fine dining. Smarjeske Toplice is another big spa resort which can be found nearby and offers 3 hotels and wellness facilities. The cute little island town of Kostanjevica na Krki can be found on route 419 from Novo Mesto. The 419 leads us to Brezice which has some nice restaurants and a castle. Nearby is Terme Catez, the biggest spa resort in Slovenia with a huge outdoor water park plus indoor pools as well. The kids will love it and the adults too! Many types of accommodation are available including the novel indian village where you can stay in a teepee!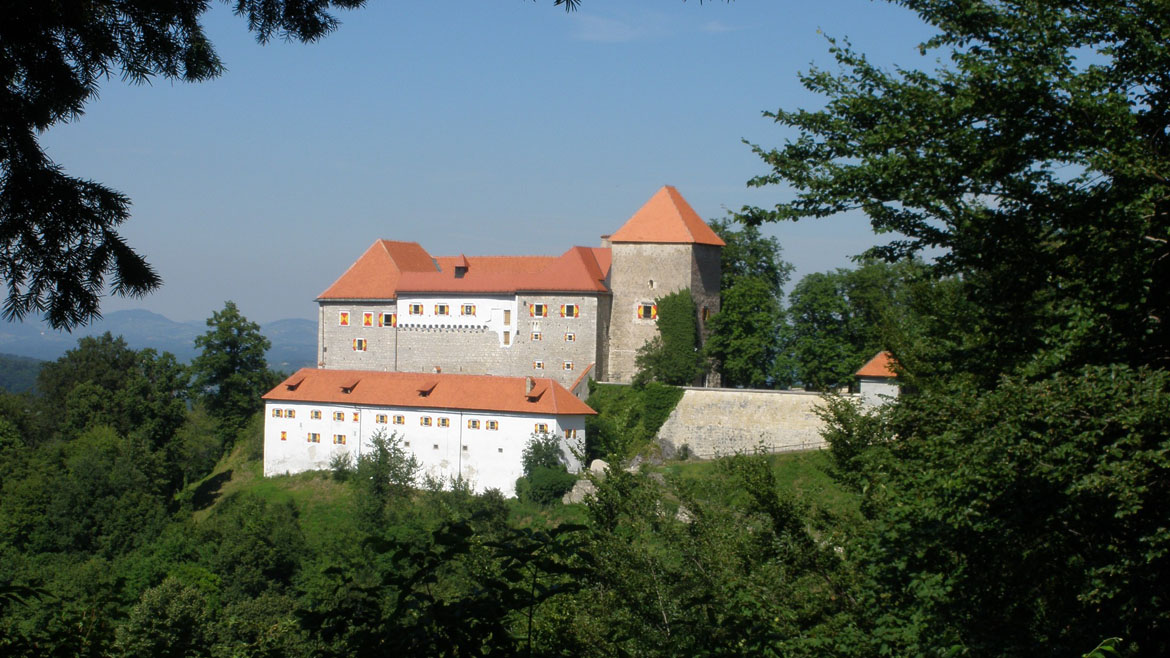 Mokrice Castle is also located nearby and it is a beautiful type of renaissance castle now converted into another luxury hotel. It has a popular golf course.
Head north-east to enjoy Brezovica, Bizeljsko and the Bizeljsko wine region. Here you will find the famous "Repnice" wine cellars. Look out for the Vinska Klet signs offering wine tastings. Podsreda Castle is another beautiful castle that is worth a visit. Podcrtrtek is found further north plus the town of Olimje, famous for the earliest chemist plus yet another spa resort at Terme Olimje. The Smarje wine region is found further north around the town of Smarje pri Jelsah.
This is yet another amazing region of Slovenia that is a delight to discover.
Back to Top