LAKE BLED CITY GUIDE

Why should I visit Lake Bled?
What is there to see and do in Lake Bled?
How do i get to Lake Bled?
What is the best time to go to Lake Bled?
Where to stay in Lake Bled?
Tours from Lake Bled
What's a good itinerary for Lake Bled?
Tips and facts for Lake Bled
Events and Festivals for Lake Bled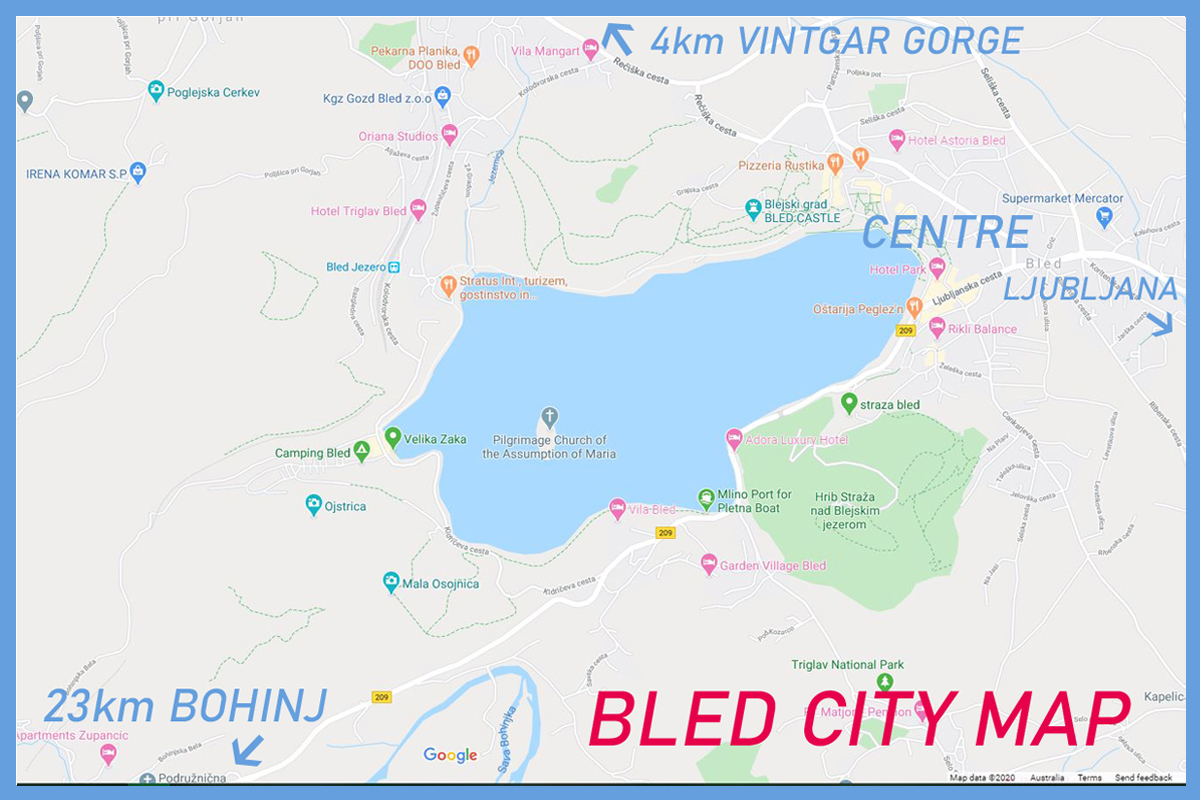 I'm looking for somewhere stunning to go,
WHY SHOULD I VISIT LAKE BLED, SLOVENIA?

---
Put simply, Bled is beautiful beyond words. Romantic and Timeless, come and seek your corner of paradise.

There is much to keep you busy, but don't rush too much, Bled isn't the place for that. There are more and more activities on the yearly calendar but what can beat an early morning stroll around the lake itself?

From Bled Castle you can spy the island in the middle of the lake and of course visiting it by pletna is a highlight of any trip. Have a romantic dinner at a lakeside restaurant or perhaps a horse carriage ride, weddings are very popular here!

You can walk, ride or take the tourist train around the lake. Climb the surrounding hills for excellent vantage points. You can also use the lake as a base for exciting day trips to Lake Bohinj, Vintgar Gorge, Radovljica and Kropa. Whatever you decide to do, you will enjoy your stay in paradise! Welcome to Lake Bled!





WHAT TO DO AND SEE IN LAKE BLED, SLOVENIA?
Top Sights and Attractions

---
WHERE IS THE LAKE?
"Where is the lake?" is the question most ask as soon as they get off the bus. The lake unfolds before them as they walk down the hill, a place of timeless beauty and elegance. Whatever you do whilst here, make sure you take time out to unwind and enjoy the magnificance of Lake Bled!

The LowDown:
The Lake was first mentioned in 1004 and we're sure they marvelled at its beauty just as we do today. To get acquainted, there is nothing better than to stretch your legs with a lazy walk around the lake. The length is 6km and can be done in a brisk hour or a lot longer for those who will want to linger and take up the numerous photographic opportunities!

Heading west from Bled Town you pass the famous Hotels Toplice, Trst and Jadran. There is plenty of history here and these hotels were the first to take advantage of the thermal springs that still supply the hotels today.

Walking past the Straza Hill which has skiing in winter and tobagganing in summer, you go round a corner into Mlino, a small hamlet that also houses the famous Hotel Vila Bled. This was a famous summer residence for the late President Tito and these days guests can sit down to a regal dinner at the hotel restaurant. Not cheap, but something to consider if you want to experience some fine dining.

Continuing on to the far side of the lake, we pass Osojnica hill which offers great views if you wish to take the path to the summit. The far side at Zaka is where we find the Bled Camping site and the Slovene Rowing Centre. Regular World and National Championships are held on the lake.

As we head back to town we pass the Grajsko Kopalisce or the swimming area underneath the Castle. It's a very popular spot in summer. The steepish path also leads up to the castle from here which is partly obscured by trees and woodland. Approaching town again, we take in Vila Preseren and the multitude of merchants who will tempt you to take a boat ride to the island in the traditional pletna. Will you succomb to their calls?

Under the shadow of the Hotel Park we end our journey. It's time to find some refreshment or maybe a hearty meal at a local eating establishment.

Bikes can be hired from our partners in Bled, just email us with your request

There is also a tourist train that goes around the lake and stops at 7 locations. Buy tickets on board which are good for one trip only. The train runs roughly every 45 minutes from late April to when it gets cold in October. It doesn't run on days when the weather is really bad or when the driver doesn't feel like it! When running, it tries to coincide with arrivals of trains at Bled Jezero station.

Where is it \ How to get there?:
Lake Bled is situated in north-west Slovenia about 50 minutes north-west of the capital Ljubljana.
It is an easy bus or car ride from the capital.
Trains also arrive at Bled-Lesce where a short taxi or bus ride is needed to get to the lake.
For those coming from Nova Gorica\Italy, there are trains which leave from Nova Gorica and arrive at Bled Jezero station on the western side of the lake. There are no buses to the other side of the lake so take a taxi or even the tourist train.
Tourist Train: Usually June-September 0900-2100 May/October weekends in good weather.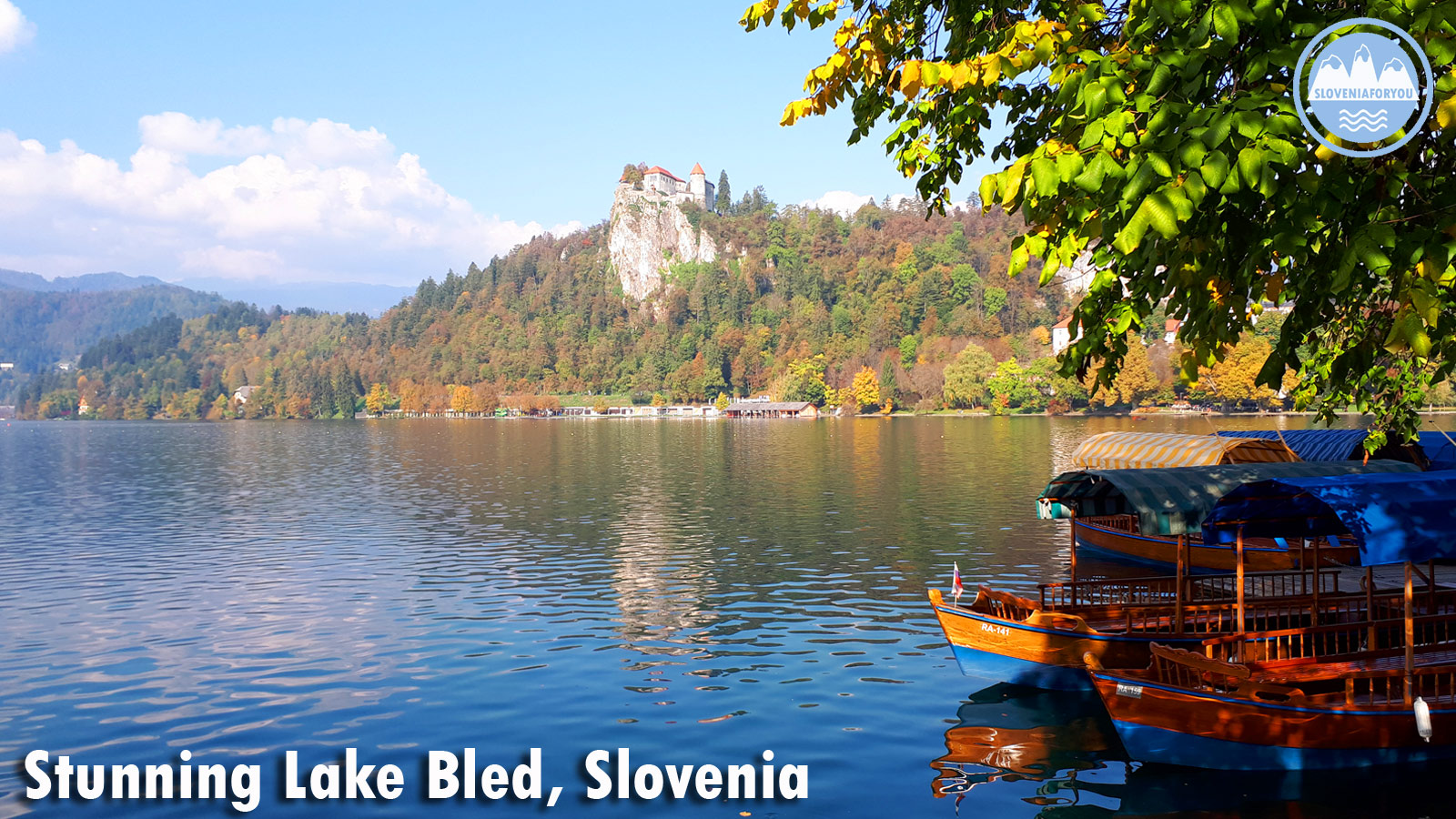 TO PLETNA OR NOT PLETNA?
A highlight of any trip will be a ride on a traditional pletna boat to the church of the Assumption on Slovenia's only island! Bled's answer to Venice's gondolas, you will hear the loud voices of merchants calling for customers to fill their boats

The Low Down:
The pletnas can be taken from 5 spots around the lake and boats usually only leave when full so expect a wait if you are the first to get on.
The trip itself is then 30 minutes from town (shorter from other locations) with 30 minutes on the island and another 30 back.

Where is it \ How to get there?:
Pletnas can be taken from out front the Vila Preseren, Hotel Toplice, Penzion Mlino, Camping Bled at Zaka and the rowing centre.

Pletna Return Trip: about 14 euros - Roughly from 0900-1900 (depending on Church opening times)

On the Island:
After disembarking from the gondola, you are free to roam the small island for 30 minutes. Slovenia's only natural island is home to the Church of the Assumption of Mary dating back to the 1400's.

The church is a favourite for weddings and it is customary for the groom to carry the bride up the 99 steps leading up to the church.

Kids also love ringing the wishing bell which has been tolling since 1534.
The island also has a small cafe and souvenir\information building.
You can of course, also hire a row boat and spend as much time here as you like!

Church Admission: 6 euros/4 euros
Apr/Oct: 0900-1800
May to Sept: 0900-1700
Nov to Mar: 0900-1600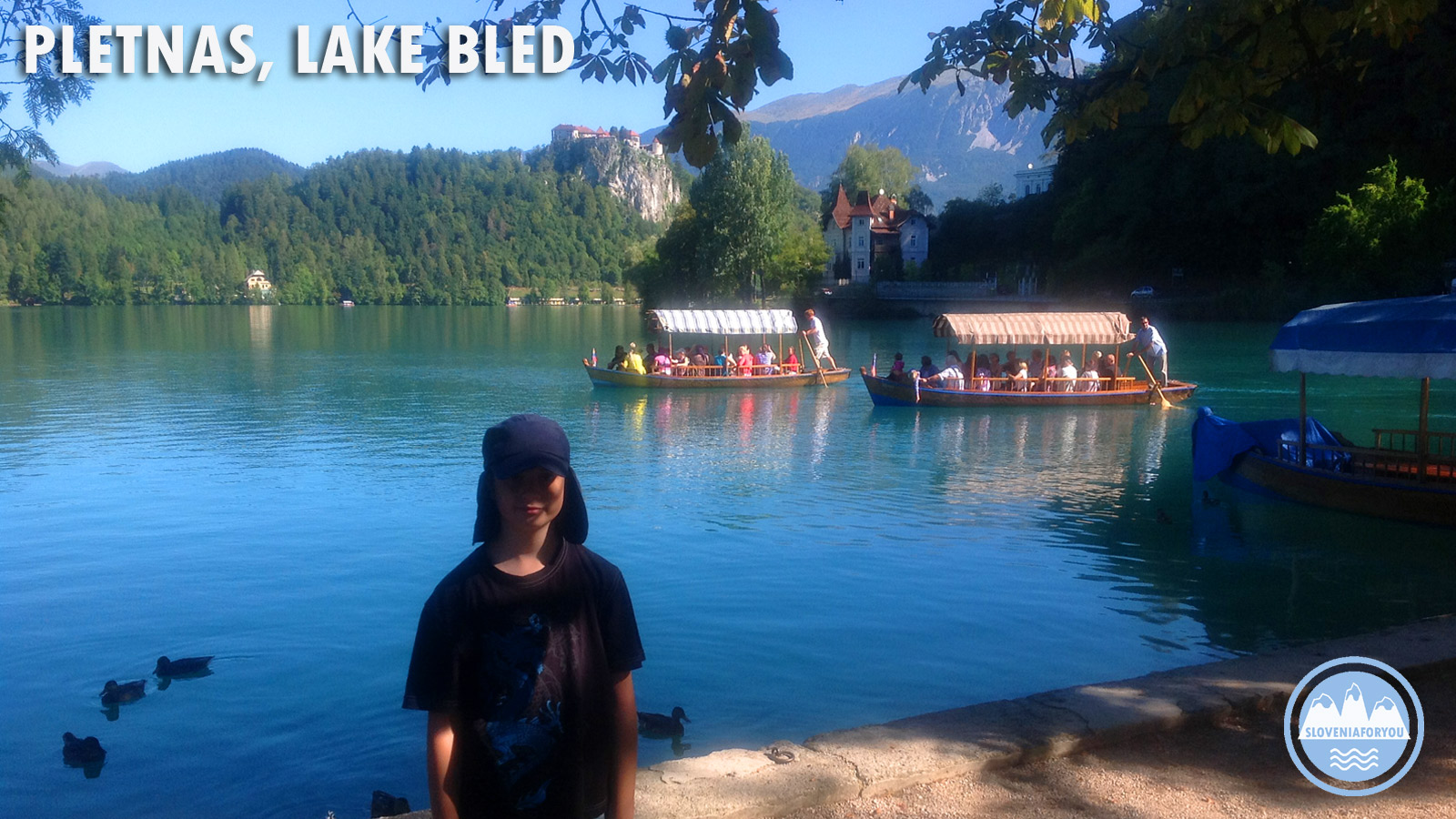 CASTLE VIEWS ARE AMAZING!
Slovenia's oldest castle sits majestically over Lake Bled keeping watch on the waters and surrounding lands below. No-one comes to Bled without making the trek up the 130 metre summit where the effort is paid back tenfold with breathtaking views over the lake and the nearby Alps.

The Low Down:
Ljubljana's castle is the city's main tourist drawcard and welcomes over 120000 visitors every year from both overseas and within Slovenia.

Made up of two parts, the Upper and Lower courtyard, the castle is yet another must-see on your list of must-see locations in Slovenia!
The Upper Courtyard houses the main residence and the gothic chapel while the lower courtyard houses the outbuildings complete with defensive walls and gothic tower.

The residence houses a restaurant and the museum which illustrates Bled's history from the Bronze Age to the present. In summer the Castle takes on a festive atmosphere with the visit of a "Count" and also the competition of the famous Archery Tournament. Take in one of the many evening concerts that also take place under magical starry skies.

Weddings and functions are very popular here and patrons can also print their own memorial certificate in the printing works or bottle some wine with their own personal label in the wine cellar. Also browse around in the herbal gallery and take time to view the frescoes in the chapel

Where is it\How to get there?:
You can't miss the castle when standing at the lake's edge.
From just past the Vila Preseren and behind the swimming area, there are signs pointing the way up to the castle.

There is a brand new paved path taking you to the top but it is still quite a climb (especially when its windy!) so be sure to take your time.
Alternatively, there is a road where you can drive to the top and park your vehicle.

For current prices and opening hours, go to the official Castle website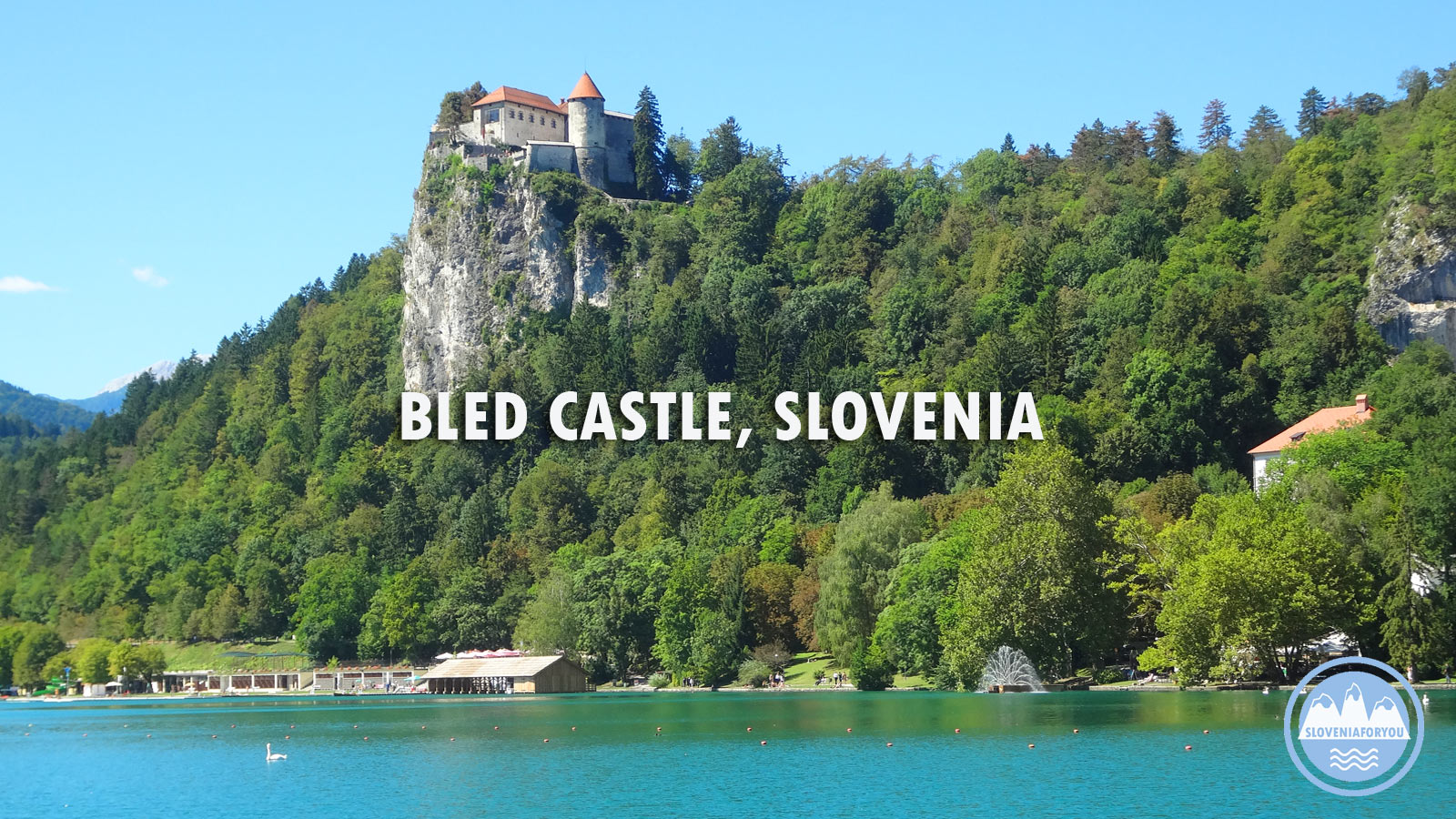 ROW, ROW, ROW YOUR BOAT!
Hiring your own rowboat to row around the lake is also a popular choice for visitors. You are able to tie up on the island and wander about at your leisure or just frolic around the lake itself.

The Low Down:
Rowboats are great fun if you want to do your own thing on the lake. Just don't forget to take into account the size of the lake or your arms and hands may need a holiday of their own just to recover! For something fun for the kids, there are 3 swan boats on the far side of the lake for hire. Rowboats are not available for hire on days when the weather is bad.

Where is it\How to get there?:
Rowboats can be hired from the Lido Swimming Area, the western side of the lake at Velika Zaka, out front of the Penzion Pletna and out front of the Hotel Toplice.

Rowboats:
about 12-18€ p/hour, charge for extra hours, deposit required
Pension Pletna/Hotel Toplice every day
Marjan Polak/Grajska Boathouse/Klemen Pangerc - May to October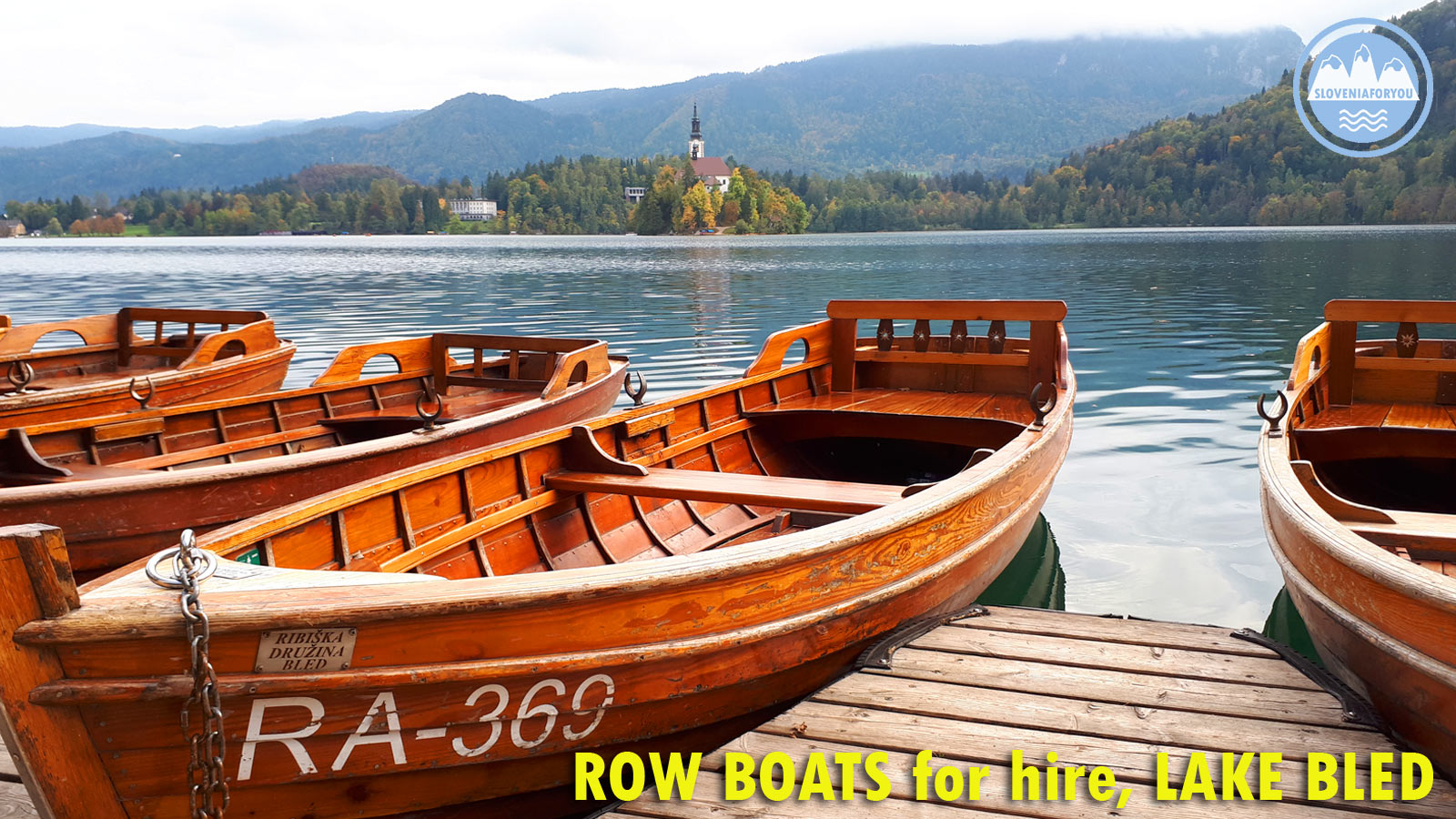 HORSE CARRIAGE RIDE!
What could be more fun than taking a horse and carriage ride around the lake by coachmen (fijaker) in traditional costume?
Popular in all seasons, you don't have to be a romantic to hire one, but your partner would probably love it!

The Low Down:
These traditional carriages leave from a point by the Festival Hall. A standard ride usually lasts 30 minutes but you can also prearrange a carriage for as long as you like and to go wherever you like.

Carriages have taken guests to Vintgar Gorge and up to the Castle! Santa even arrives in a carriage around here! Of course, they are also booked out for the plethora of weddings that occur in Bled with the carriage taking the lucky couple to the registry office in style!

Prices are listed for the most common journeys (40-90euros) but rides can be pre-arranged to any nearby location (80-120euros) - Prices are based on 2 people. For the local coachman's (fijakers) site, click here


---
THE MIGHTY VINTGAR GORGE
Not far from Bled and nestled at the bottom of a ravine where the mighty Radovna River flows, we find the picturesque tiny village of Vintgar whose claim to fame is the magical Vintgar Gorge.
It is definitely a must-see tourist attraction if you are visiting Bled and is easily reached by car, bike or on foot.

The Low Down:
Vintgar is a narrow gorge carved out over time by the Radovna river which weaves and cascades through the gorge at great speed, only slowing briefly in places to catch it's breath. Many men perished or were injured in the process of building the narrow walkways that cling to the sides of the gorge back in the 1800's.

Today the experience is exhilarating and thousands traverse the trail that leads 1600m to the Šum Waterfall. Enjoy the sounds of the crashing waters as a torrent of emerald green rushes beneath your feet. Stopping also to admire the surrounding nature and wildlife, your camera will have many opportunities to catch that magical shot.

You can buy a ticket at the booth upon reaching the Gorge and as mentioned above, the trail is around 1600m long. At the end of the trail there are toilets and a refreshment stand so you can take break before heading back along the same route. It is possible for serious hikers to continue on along the marked paths.

Adults: 5euros, Children 6-15: 2.50euros, Students:4 euros.

The walkways are quite narrow and high in places so watch your footing whilst walking. Shoes with good traction are a good idea and it's probably not the best idea to visit when it's raining as the path will be slippery.
You may want to plan your visit to avoid the crowds as squeezing past oncoming traffic becomes a little tiring after a while.

Where is it\How to get there?:

By car: Travel north on the road leading out of Bled. The roads are marked. You can't miss it as there are several signs pointing the way.
Walk\Bike: There are also signs if you want to walk or ride the path from Bled. The distance is a leisurely 4 kilometres.
Bus: Buses also head along the main road, but they are not as frequent as tourists might like and you still need to walk a kilometre or so from the road.
At the Gorge: There is a car park available that is large enough to take cars and the big tourist buses.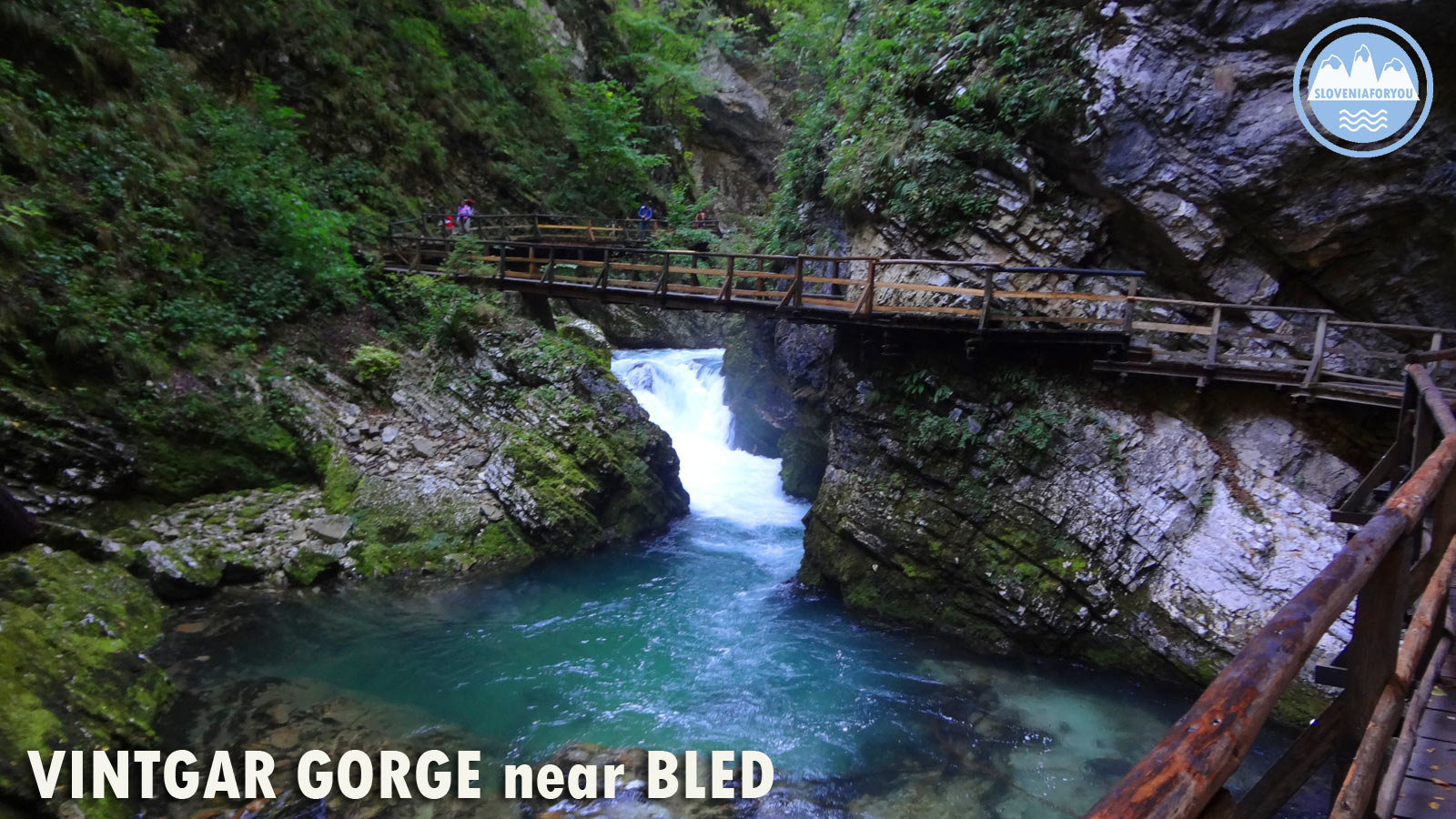 TOBOGGANING ON THE STRAZA
Fun for the young and young at heart, the tobaggan or "Funbob" on the Straza is another great activity for you to try whilst in Bled!

The Low Down:
Open from April to October every year, the toboggan course is 520m long and reaches maximum speeds of 40km\h. The ride twists and turns its way to the bottom and is great fun for older kids and adults!

Toboggan Lift and One Ride - Adults: 9euros, Children 6-14: 6euros
When: Summer June-Sept daily - 1000-2000 Outside Summer Weekends - 1100-1700

Where is it\How to get there?:
The toboggan is found on the Straza hill which is immediately left of the main town of Bled. Their is an access road that runs behind the main town round the back of the Hotel Golf and Penzion Mayer (Pod Strazo) which leads to either the top of the Straza or the base.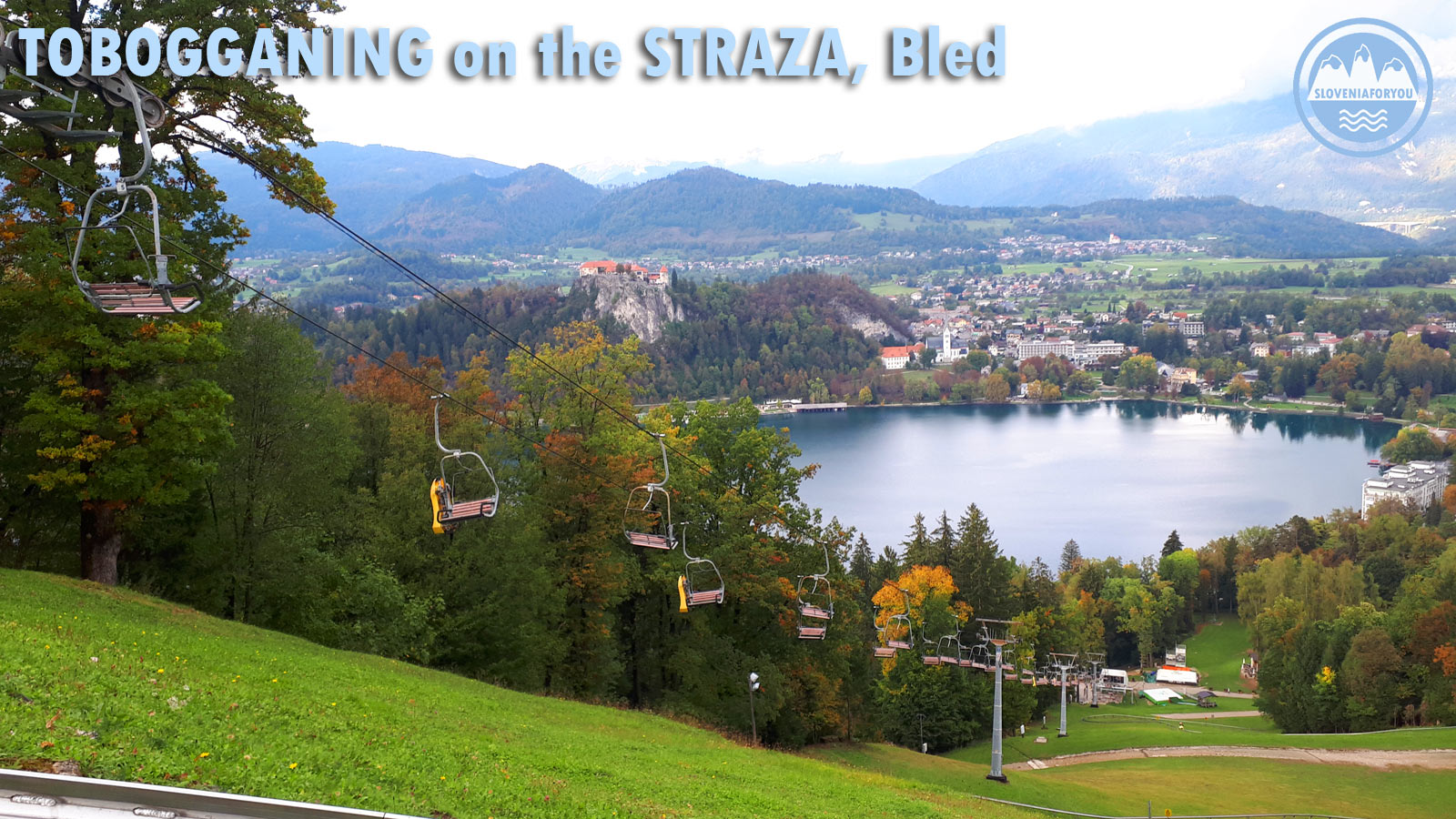 SWIMMING AT THE LIDO
What better way to cool down on warm summers day but with a dip in Lake Bled? The Public swimming area is always a hit with young and old alike!

Have a refreshing swim or relax in a deckchair on the grassy foreshore, the choice is yours!

The Low Down:
The 300m enclosed stretch of land along the lake welcomes swimmers from June to late September and has many activities to keep the kiddies busy while the parents relax by reading a favorite book, taking a snooze or just enjoying the sun!

The playground area features waterslides, swimming pools, climbing walls, trampolines, chess board, table tennis tables and a sandbox for the little ones. The change rooms have full change facilities including lockers and you can also hire beach umbrellas.

There is also a boat shed for those who want to hire a rowboat and of course you can buy refreshments from the kiosk.
Out on the water there are waterslides, diving platforms and inflatables to climb aboard and jump off.

Please be aware that the water is deep here and you will not be able to stand up when jumping in. Little ones obviously will need an inflatable safety device on them.

You can also swim on the far western side of the lake in the allocated swimming areas. You will find shallower water here and it is free of charge.

Please note the Lido is closed on rainy days

Adult: 7euros - Children to 14: 5euros - Students: 6euros
Hire: Deckchair-3euros, Safe Deposit-3euros, Lost key-5euros, Cubicle-7euros, Locker-2euros.
Open May to mid-September.

Where is it\How do I get there?
The public swimming lido is located on the northern side of the lake right under the castle and next to the Vila Preseren. Other public swimming areas can be found on the western side of the lake near the camping ground in the Zaka area.
Further information can be found here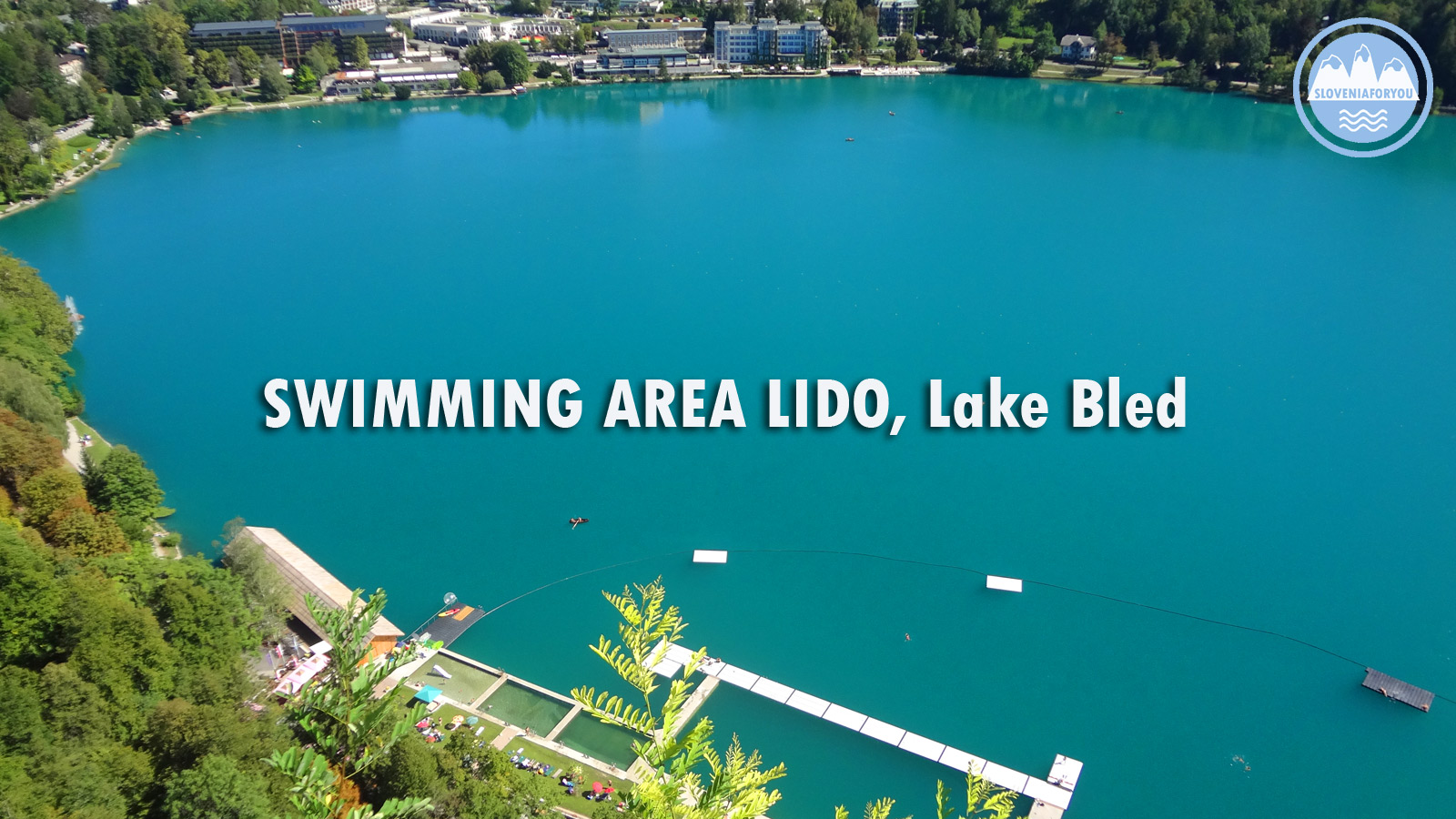 SKATING IN WINTER
When the lake has frozen over in winter and the sun is shining through, it is difficult to imagine a more magnificent sight than to see adults and children gliding over the ice here at Lake Bled! Come and experience it for yourself!

The Low Down:
The number of days that the lake is frozen is obviously dependant on the weather and some years will see lots of activity on the lake, while others will see hardly any! Even when partly frozen, the locals know where it is safe to skate and where its not! Ask if in any doubt!

For those skaters who can't hang around for the weather to turn, breathe easy as there is also an ice skating rink on the lake front. Open from August to April every year, the arena at the Sporthall (Sportna Dvorana) holds world championships in skating and ice hockey as well as tempting locals and visitors. Skates can be hired at the hall althouth check with the information centre or the hall as it is only open at certain times of the day and on certain days.

Adults: 5euros, Children7-14: 3.50euros, Students: 4.50euros.
Skate rental: 4.50euros

Where is it\How do I get there?
The Sportna Dvorana is on the lakefront around from the Park Hotel in the town of Bled.
Further information can be found here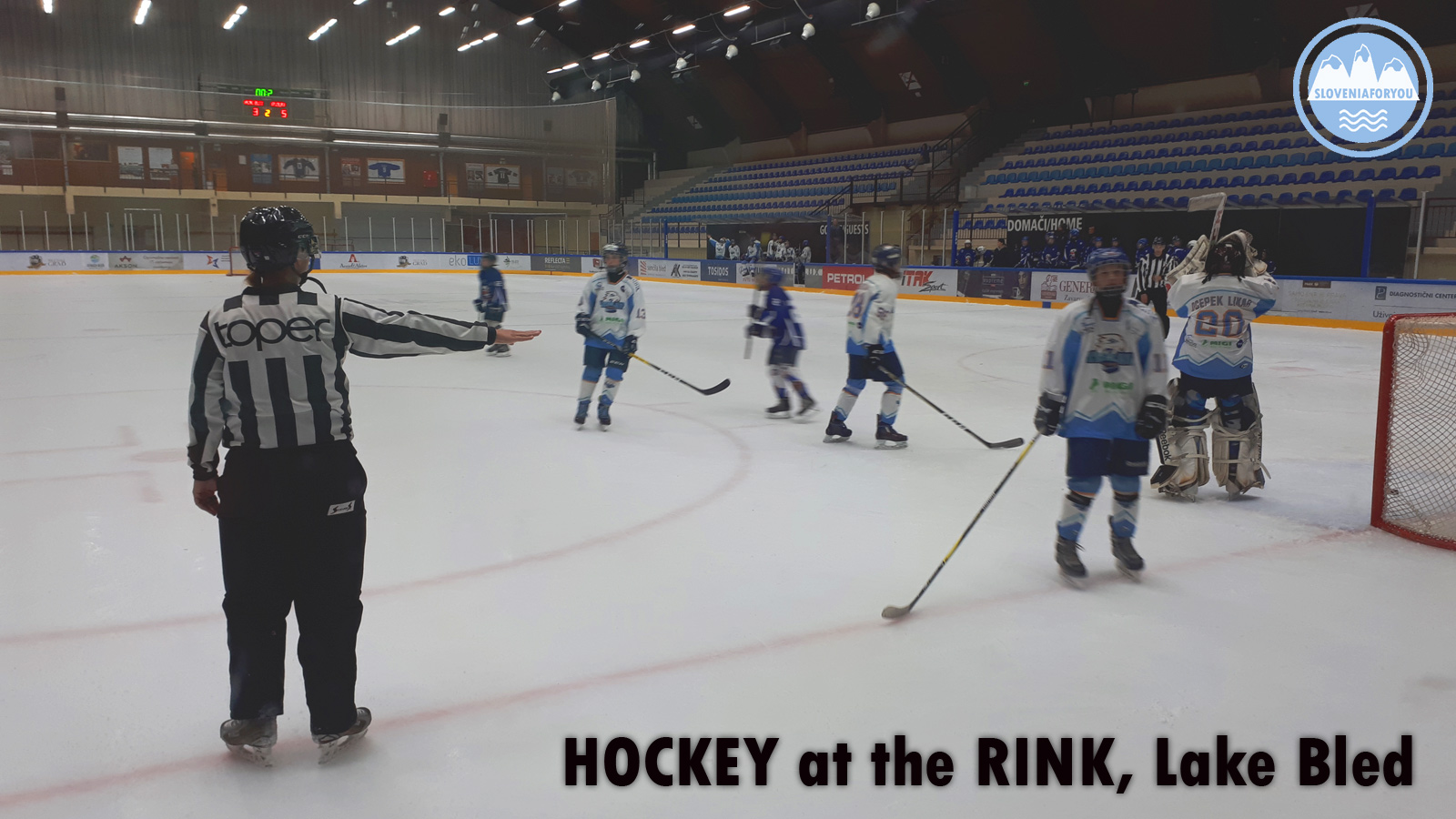 EATING KREMSNITA!
Bled may be a favourite holiday destination for its outstanding beauty, but there is a culinary delight that is almost as famous here and must be tried before your departure!

We're talking about the Kremsnita, a cream cake that dares you to stop at one! There were wild scenes in Bled in 2009 as the 10th million Kremsnita was made, sold and eaten!

The Low Down:
An explosion of cream, vanilla and a hint of rum, the Kremsnita was said to be have been invented by a Hungarian chef at the Park Hotel back in the 1950's.

With a recipe that has stayed the same since that day, it is another reason that people flock back to Bled time and time again.

Don't try to cut right through one, they are manufactured to be quite uncooperative and you may end up with a mess!
Instead, eat the top layer and work your way down!

You can of course, buy the Kremsnita at other places, but the original is still being chunred out to hungry guests at the Hotel Park.

Where is it\How do I get there?
The Park Hotel on the lakefront is where the original Kremsnita can be found!
They also make a wicked one at the Vila Preseren and at almost all the other hotels in Bled!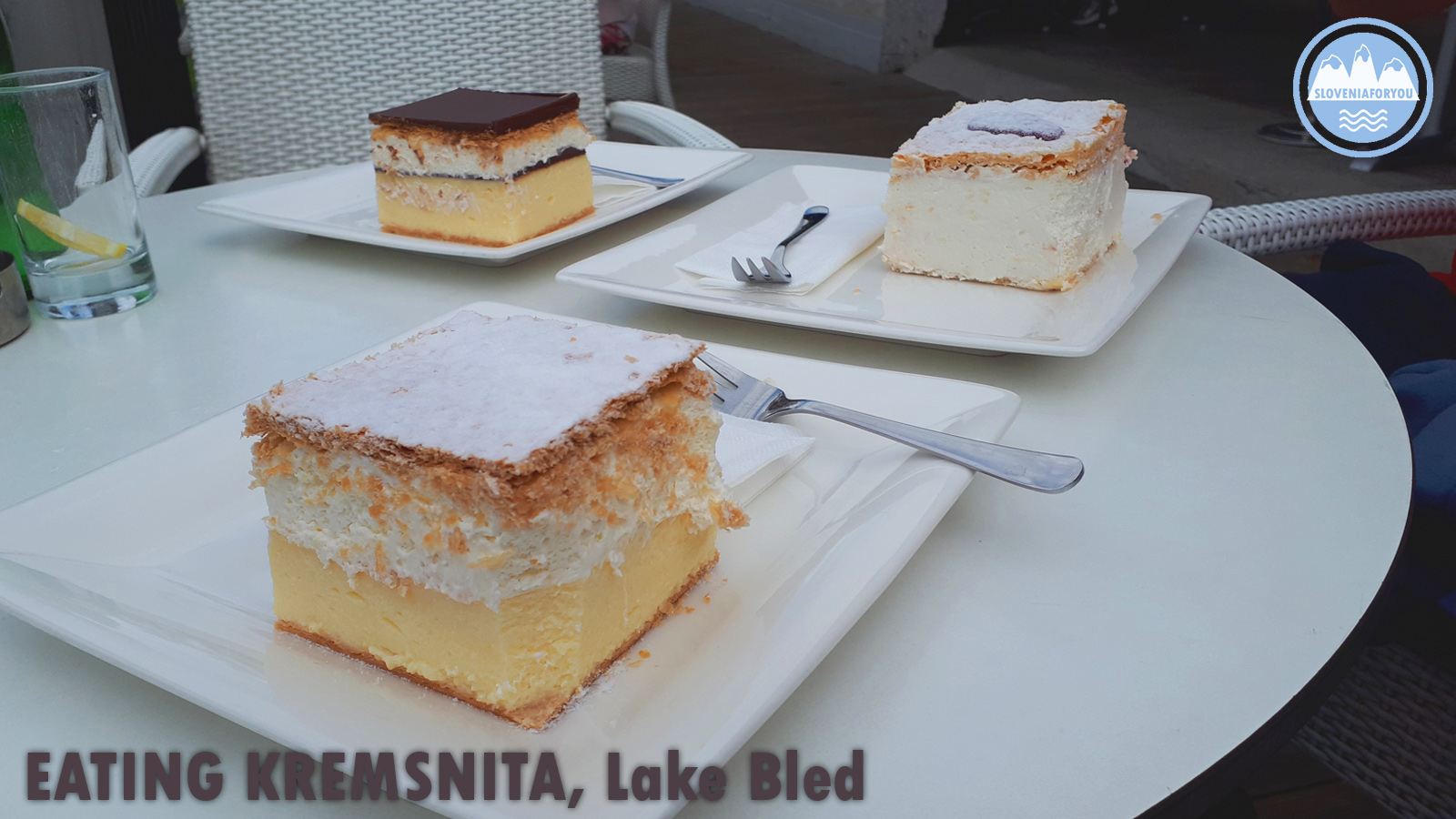 GOLFING IN BLED
Only 4 kms east from the centre of Bled, golfing at the Bled Golf Club is a fantastic experience! Take in the stunning views of the Alps while playing the beautifully designed course.
If you don't play, this will make you want to take up the game! The club runs special offers throughout the year and welcomes everyone to spend a relaxing day on the fairways!

The Low Down:
Opened in 1937 and redesigned into a serious course for tournaments, this is Slovenia's oldest course and is located in a magnificant setting of towering mountains, rolling countryside and flowerbeds bursting with colour.

The club is made up of the Kings 18 hole course and also a challenging 9 hole course complete with water hazards. Why not play both? There is also a putting green, floodlit driving range, chipping green and golf school on site.

Tournaments are held throughout the year so please check their website to see when the course is available.

Accommodation and Dining is also available with the club offering 2 suites and 7 double rooms plus an acclaimed restaurant, meaning you never have to leave the club if desired!

Reservations are requested at least 3 days prior to playing and the club will allocate you a start time closest to the time requested.

18 holes: 70euros, 9 holes: 35euros

Further information can be found here

Where is it\How do I get there?
Located 4km east of the main town, the course is found at 10C Kidriceva St and is just off the main road as you approach Bled from Lesce.


---
GET LUCKY AT CASINO BLED
If you have a few euros to spare, you may want to consider Casino Bled as a place to while the night away.

The Low Down:
The casino is open into the wee hours of the morning and offers the usual array of games including 6 roulette tables, 4 blackjack tables, 1 draw poker table, 1 punto banco and 3 texas hold'em tables. There are also numerous electronic gaming machines and bingo if the tables aren't your thing. There is also a restaurant for patrons.

Where is it\How do I get there?
The casino is found in the main centre of Bled town, out front of the Hotel Park on the lakefront.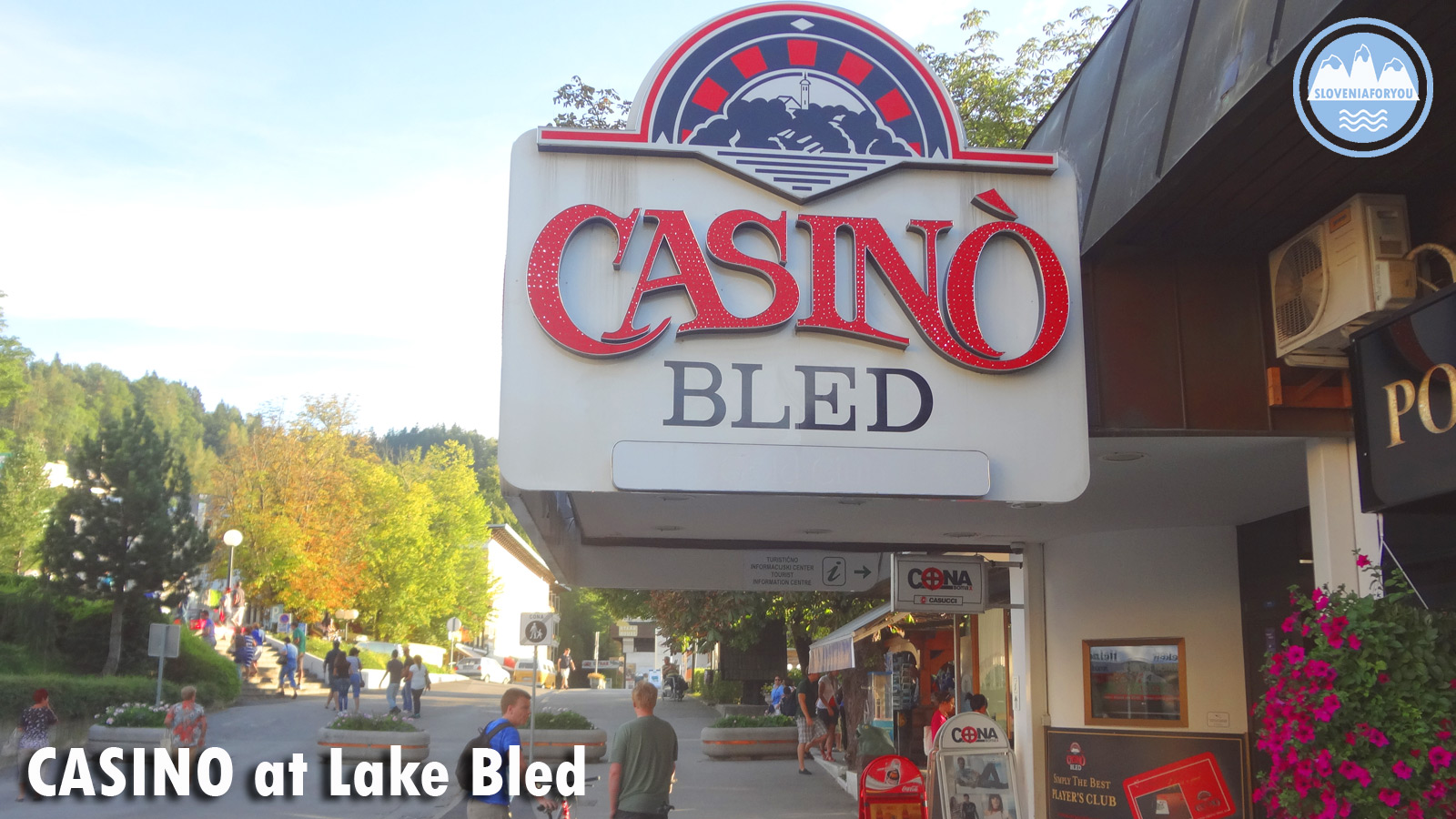 THERMALS ANYONE?
Around the turn of the 20th century, Arnold Rikli opened baths at Lake Bled to tap into the rich thermal springs that lay below. They were later closed as locals feared being overrun by tourists but thankfully they have been unearthed again and now several hotels along the lakeside pipe the thermal water straight into their pools!

The Low Down:
The Guests at the Toplice, Park and the Golf Hotel can take advantage of the thermal pools which are an excellent way of relaxing after a hard days sightseeing!

The pool at the Toplice is set at a temperature of 22C and guests can also drink the water from a special tap.

The Ziva Wellness Centre is a new concept at the Golf Hotel and comprises thermal pools, sauna and a centre for beauty, mind and spirit! The thermal pools are set to 28C and the area also includes a children's pool, an outdoor pool and 2 whirlpools for relaxation. The centre is designed so that guests can move easily between the different areas and also includes "relaxation chill out" areas! This centre is open to the public as well.

The Park Hotel combines an indoor pool with poolside bar, sauna and fitness centre.

Where is it\How do I get there?
The Toplice, Hotel and Park are all located in the main town centre of Bled. Further information can be found here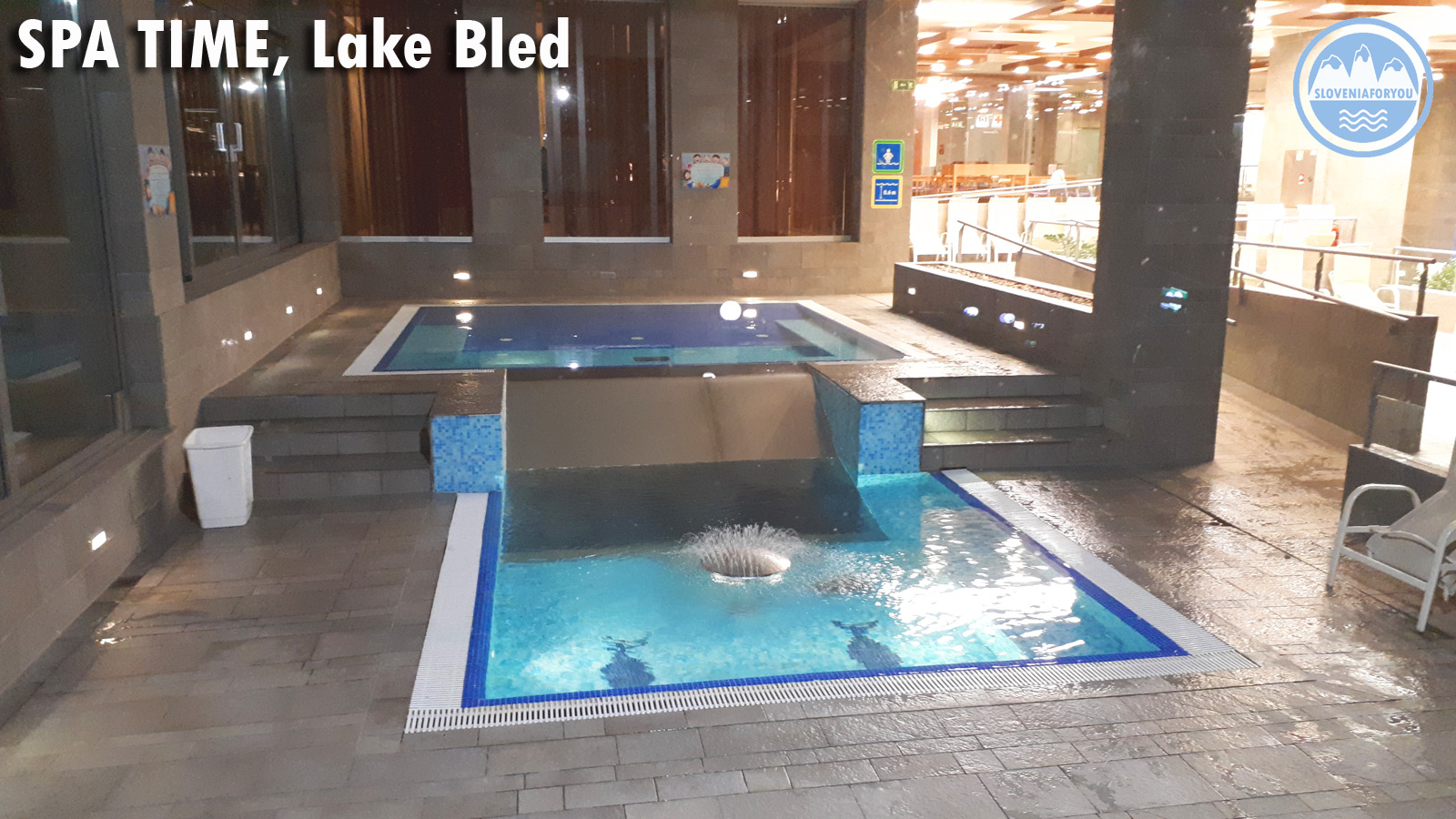 HOW DO I GET TO LAKE BLED, SLOVENIA?

---
By Air - Flying into Ljubljana Airport

A list of current destinations servicing Ljubljana Airport can be found HERE.
These include the long standing destinations of London, Paris, Frankfurt and Istanbul but new services and seasonal services will differ from year to year.

From Ljubljana Airport to Lake Bled

DISTANCE: 35km, TIME TAKEN TO CENTRE: 30 minutes

TRANSFER: To reach Bled centre from the airport you can book a low cost GoOpti transfer by clicking HERE
BUS: You can also use the local bus which is cheap but a transfer is preferable because you need two buses to reach Bled (Airport to Kranj and then Kranj to Bled) and also you may have a lot of luggage. Click HERE
CAR HIRE: If you wish to hire a car at the Airport then without doubt use our partners at ATET for the best service in Slovenia. Use the code SLOFORYOU when booking.


---
From Ljubljana to Lake Bled

DISTANCE: 50km, TIME TAKEN TO CENTRE: 45 minutes

BUS: To reach Bled centre from Ljubljana, then check the local bus timetable HERE
TRANSFER: To reach Bled centre from Ljubljana, book a low cost GoOpti transfer by clicking HERE
CAR HIRE: If you wish to hire a car in Ljubljana then without doubt use our partners at ATET for the best service in Slovenia. Use the code SLOFORYOU when booking.


---
From Venice/Venice Airport to Lake Bled

DISTANCE: 280km, TIME TAKEN TO CENTRE: 3.5 hours

TRANSFER: To reach Bled centre from Venice or Venice Airport, book a low cost GoOpti transfer by clicking HERE
CAR HIRE: If you wish to hire a one-way car rental from Venice then contact us by email for a quote here


---
From Budapest to Lake Bled

DISTANCE: 520km, TIME TAKEN TO CENTRE: 6 hours

TRANSFER: To reach Bled centre from Budapest, contact us by email for a quote here
CAR HIRE: If you wish to hire a one-way car rental from Budapest then contact us by email for a quote here
TRAIN: To access details of the service by train to Ljubljana, click HERE


---
From Vienna/Salzburg to Lake Bled

DISTANCE: (VIENNA) 370km, TIME TAKEN TO CENTRE: 4 hours
DISTANCE: (SALZBURG) 240km, TIME TAKEN TO CENTRE: 3 hours

TRANSFER: To reach Bled centre from Vienna or Salzburg, book a low cost GoOpti transfer by clicking HERE
CAR HIRE: If you wish to hire a one-way car rental from Vienna or Salzburg then contact us by email for a quote here
TRAIN: To access details of the service by train, click HERE


---
From Zagreb/Plitvice/Split to Lake Bled

DISTANCE: (ZAGREB) 200km, TIME TAKEN TO CENTRE: 2 hours
DISTANCE: (PLITVICE) 260km, TIME TAKEN TO CENTRE: 3.5 hours
DISTANCE: (SPLIT) 520km, TIME TAKEN TO CENTRE: 7 hours

TRANSFER: To reach Bled centre from Zagreb, book a low cost GoOpti transfer by clicking HERE
TRANSFER: To reach Bled centre from Plitvice or Split, contact us by email for a quote here
CAR HIRE: If you wish to hire a one-way car rental from Zagreb, Plitvice or Split then contact us by email for a quote here
TRAIN: To access details of the service by train, click HERE


---
From Lake Bohinj to Lake Bled

DISTANCE: 23km, TIME TAKEN TO CENTRE: 30mins

BUS: To reach Bled centre from Bohinj, then check the local bus timetable HERE
On the far side of the lake which is Ukanc (Vogel) look for these stops: Bohinj Zlatorog, Zicnica Vogel, Pod Voglem.
For the near side of the lake, look for Bohinj Jezero and Ribcev Laz.
NOTE: Some buses go to the far side, others will go to Ribcev Laz and loop around through Stara Fuzina back to Bled.
This service is run by Alpetour

TRANSFER: To reach Bled centre from Bohinj, book a low cost GoOpti transfer by clicking HERE

---
From Trieste to Lake Bled

DISTANCE: 150km, TIME TAKEN TO CENTRE: 2 hours

TRANSFER: To reach Bled centre from Trieste, book a low cost GoOpti transfer by clicking HERE
CAR HIRE: If you wish to hire a one-way car rental from Trieste then contact us by email for a quote here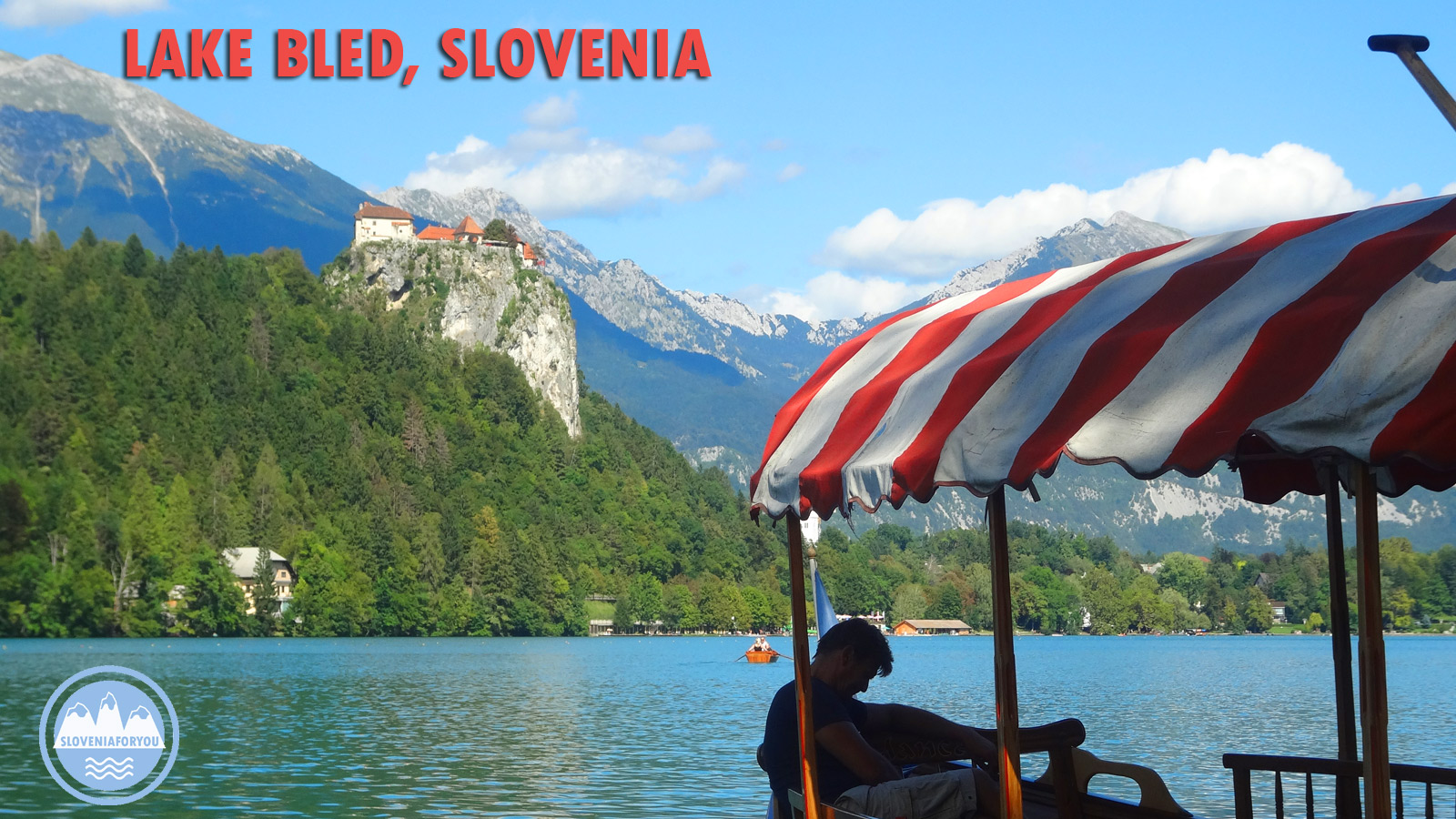 WHEN IS THE BEST TIME TO VISIT LAKE BLED, SLOVENIA?

---
Any time is a good time to Lake Bled but if you want a more practical answer then here we go:

JULY-AUGUST - Peak time, can be hot and crowded but at least the locals go away on holidays!
APRIL,MAY,JUNE - Not a bad time with Spring blossoming but weather can be unpredictable.
SEPTEMBER - The best month in our opinion, still warm and kids go back to school.
OCTOBER-NOV - Getting colder but the autumn colours are beautiful.
DEC-JAN-FEB-MARCH - Unless you like the cold, the least likely time to visit.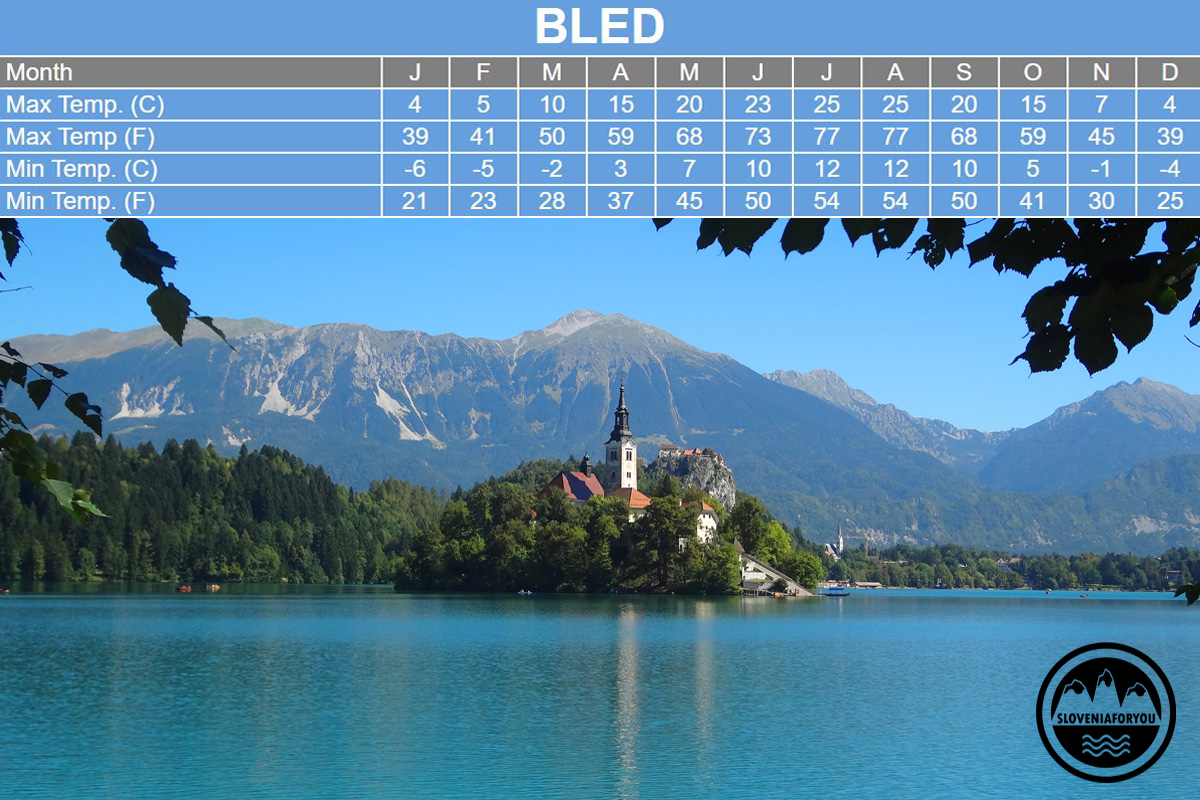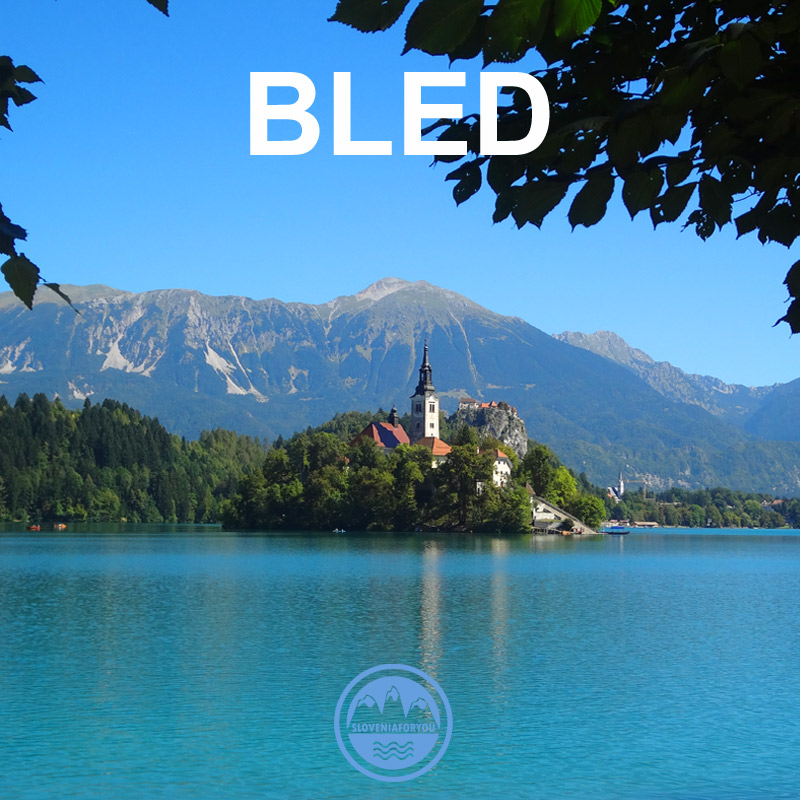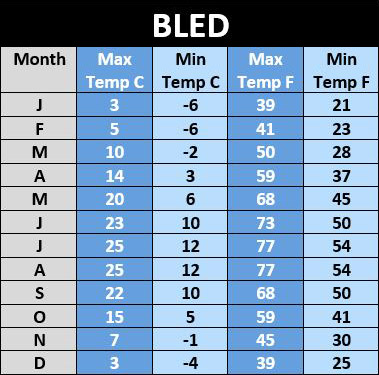 WHERE SHOULD I STAY IN LAKE BLED, SLOVENIA?

---
There are lots of choices in all categories within the centre of Ljubljana. Ljubljana is a small city so most choices are not a far walk from the river and old town.

If you have a car you have to consider where to park as many hotels have limited spots and charge for them. Or they have a deal with a car park nearby.

Other than that there are no real issues with different areas. The areas directly along the river and Wolfova Ulica can be a little noisy from bars and foot traffic and the area around the train station is more commercial than residential. Also check whether your accomodation have a lift if you have a lot of luggage.

Here are our top picks, book using our links and enjoy your stay!


The beautiful Penzion Mayer is located close enough to the lake shore for guests to do all sightseeing in Bled by foot. Rooms are spacious and have a small balcony. It is very quiet. The family that runs the inn is helpful and extremely nice. The breakfast is lovely (fresh fruit, yogurt, homemade muesli, eggs to order) as well. If we return, we will surely stay here again.



---
A wonderful stay that I recommend but it's not enough. I'm in love with this place, people, home. Magical nature all around the house. Really warm treat from the owner, Petra. And the house is something extraordinary - really recommend to all who want a special experience.



---
I loved all aspects of staying here. The owner is so sweet & helpful. The surrounding are beautiful. We had dinner & breakfast here. Superb....lettuce from her garden, fresh farm eggs, goat cheese & an exceptional apple pie. Hidden quiet place. Cozy apartments and comfortable beds with sunrise views.



---
The view is nice, you can see Bled lake and the island with the church from the room clearly. Breakfast was very tasty. I loved the finish sauna and the pool. One word: AWESOME!



---
Hostel was fabulous!!! Everything about it made us feel so welcome especially the staff! Great value for money and great location.



---
The treehouse was wonderful. My kids had the time of their lives hanging out in the loft area and I had a comfortable bed on the main floor. Breakfast was included and was delicious. There was a lot of variety. No one went hungry! The location was perfect. Everything we wanted to do was within walking distance. We will be back!



---
TOURS & ACTIVITIES FROM BLED, SLOVENIA

---
E-BIKES around BLED

Hire an E-Bike and do a self guided tour around Bled.

Why book this event?
The most popular activity in Bled, the original self-guided Bled eBike Tour! Row to Lake Bled Island with your own boat, or optionally see Bled from a viewpoint or have a swim in the lake. BOOK NOW BELOW.


---
BLACK HOLE UNDERGROUND KAYAKING

Kayaking in an underground mine. Great experience!

Why book this event?
An unique tour of underground adventure! Experience kayaking below the ground from Bled and explore abandoned mines in what will be an experience you will be talking about for a long time. Kayaking equipment is provided.

BOOK NOW BELOW.


---
KARST AND COAST PUBLIC TOUR

Head for the coast and visit stops like amazing Skocjan Caves along the way.

Why book this event?
This is a great all-round tour that features something for everyone! A Breathtaking castle at Predjama, Underground wonders at Skocjan, The grace and elegance of the Lipazzaner and the charm of seaside Piran. Book today!

BOOK NOW BELOW.


---
POSTOJNA and PREDJAMA PUBLIC TOUR

Tour Postojna Caves and Predjama Castle.

Why book this event?
If you only have a couple of days in Slovenia then don't miss the no1 attraction. Postojna Caves. Backed up with the astounding Predjama Castle, this is a top double bill and a great afternoon out. Book today!

BOOK NOW BELOW.


---
SMALL GROUP PRIVATE TOURS around SLOVENIA

How will you choose? They are all amazing day trips from Bled!

Why book this event?
Grab the group and book a private day tour to any amazing location around Slovenia. But how to choose? They're all fantastic. Why not book more than one?

CLICK HERE TO VIEW GROUP TOURS or BOOK NOW BELOW.



---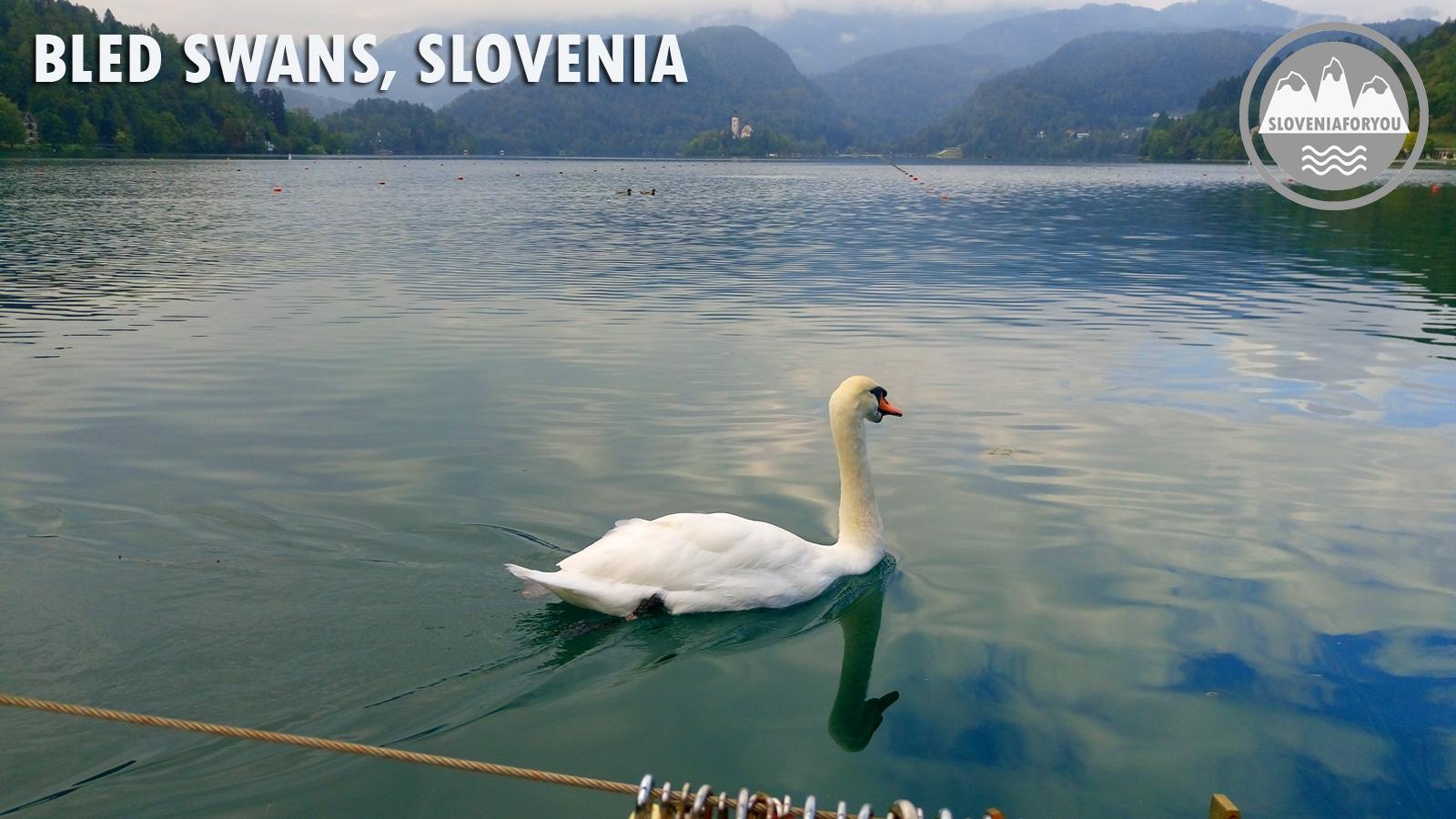 I'M HERE, WHAT'S A GOOD ITINERARY FOR LAKE BLED, SLOVENIA?

---
Lake Bled is a great place to relax and to explore the lake and region. In one day you could walk the lake, visit the castle and the island by pletna. In two days you could also explore Vintgar Gorge, Radovljica and Kropa. If using Bled as a base then of course you could base yourself here for 3-7 days and explore the lake and take day trips as noted above. Here are some suggested itineraries and ideas:

Bled in one day -
After breakfast, walk the lake before it gets too warm in summer.
or Take our partners Bled E-bike Sightseeing Tour and get acquainted with the lake and region in comfort!.
Take the path up to the Castle and enjoy the views and history.
Lunch, try the excellent pizza at places like Rustika, Pri Planincu or Gallus
Take the pletna to Bled Island and ring the wishing bell!
Enjoy an afternoon cocktail by the lake.
Dinner at one of Bled's numerous restaurants.
Drinks at a lakeside bar like Devil Bar.

Bled in two days -
Day one as above.
Day two walk, ride or drive to Vintgar Gorge in the morning before the crowds come.
Have lunch in the charming nearby town of Radovljica.
Continue on to Kropa, a famous iron forging town.
If time, perhaps an evening stroll in Kranj or Skofja Loka
Dinner in Kranj, Skofja Loka or Bled
An evening stroll near the lake with ice-cream!

Lake Bled in 3-7 days -
Days one and two as above
Take several great day trips (see our tour section) like lake Bohinj, Postojna Caves or Ljubljana. Visit further afield for the day like Kranjska Gora, the Soca Valley via the Vrsic Pass and even Austria or Italy are not far away.

Tips for Visiting Lake Bled

- Traffic is becoming heavier all the time as Bled becomes more popular. Try to avoid arriving back into Bled during peak hours and times when the tour buses arrive. Long delays are common!




---
---
DID YOU KNOW? FUN FACTS FOR LAKE BLED, SLOVENIA

---
1. Slovenia only has one official island and here it is, on Lake Bled!

2. On the island there are the famous 99 steps dating back to 1655. it is customary for the groom to carry the bride up the steps for good luck!

3. Fed only by underground springs, the thermal variety were brought to prominence by Arnold Rikli who explored their healing properties.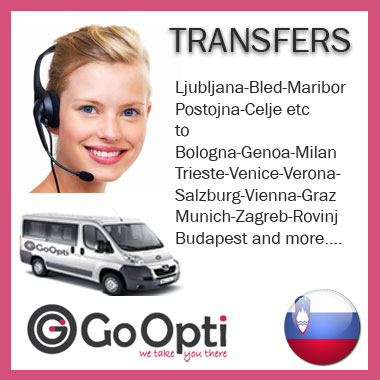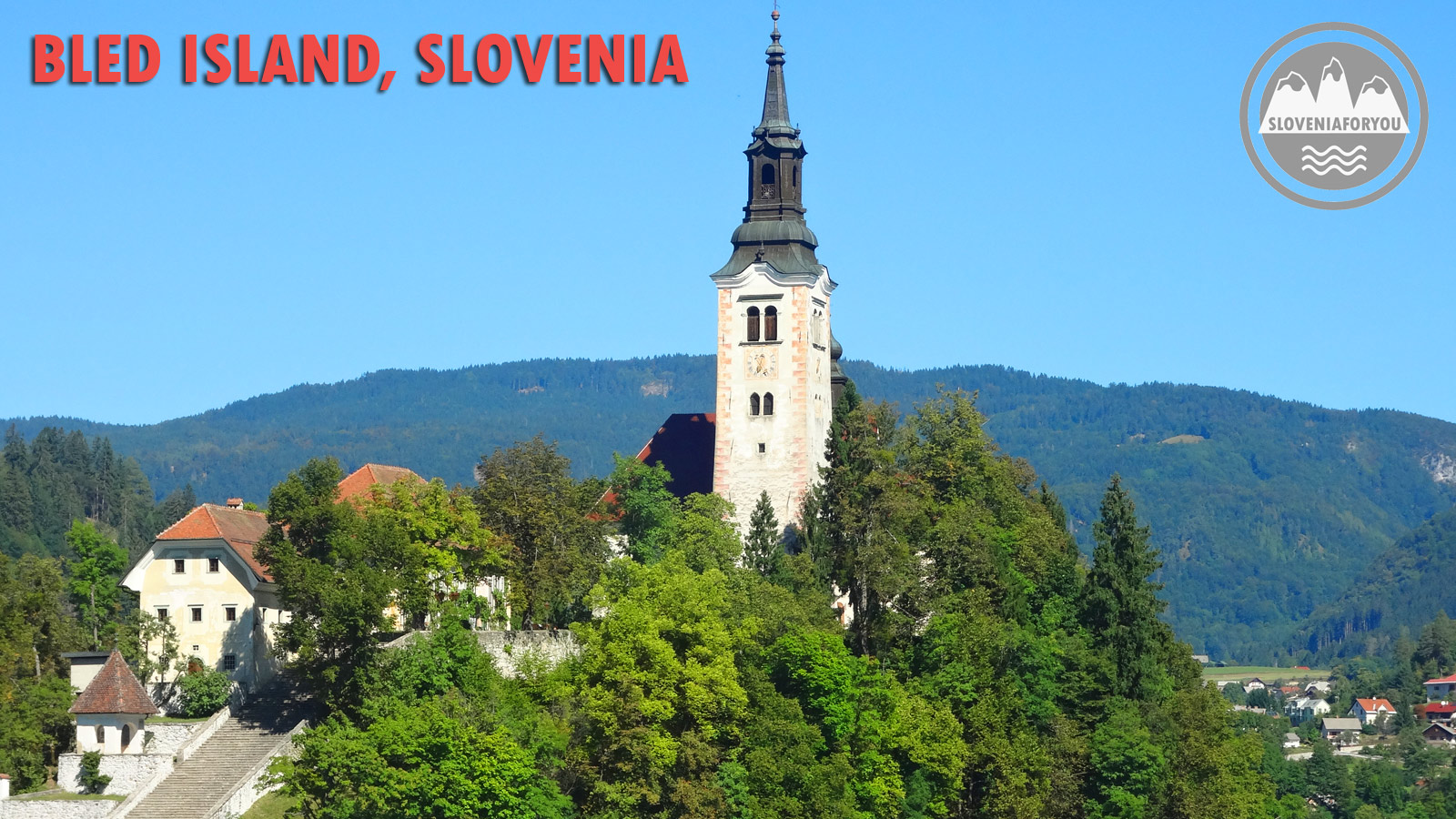 ---
---
EVENTS AND FESTIVALS IN LAKE BLED, SLOVENIA?

---
There is always something happening in Bled all year round, especially in the summer months.
Here is a calendar of the major events. You may want to plan your holiday to coicide with these events!

JUNE - Medieval Days

Celebrating a history dating back at least a thousand years, Medieval Days at Bled Castle (or Veldes as it was known in German) entices more than 20 medieval, music and dance groups with more than 200 costumed performers from Slovenia, Germany, Italy, Croatia, Hungary and the Czech Republic. Producing an authentic medieval atmosphere, the program also offers an opportunity to see skillful craftspeople making medieval handicrafts in the mock Medieval market complete with childrens workshops for stilt and armour making and much more!

JULY - Bled Days/Nights

Bled turns it on for summer tourists with their Bled Days and Bled Nights festival. Every year they come for a few days to see the production of local arts and craft and to listen to concerts along the promenade. The highlight is the traditional Bled Night, when the lake is lit up and the sky above glows. The organisers launch 15,000 lights in egg-shells (made by Andrej Vidic from Bled) into the water. They illuminate the whole lake and this leads to a triumphant finale where magnificent fireworks light up the lake with amazing colour.

JULY - Bled Music Festival

Every year several venues in Bled like Bled Castle and the Festival Hall host a series of concerts. The detailed concert programme promises special treats for all music enthusiasts! Concerts of various music genres and styles will be accompanied by masterclasses and outreach workshops where master musicians will share their knowledge with young talents. In the course of over 20 years, the masterclasses of Festival Bled has lead to over 1,900 aspiring musicians gaining inspiration to become renowned artists in their own right. Organisers have invited world-renowned professors of violin, viola, cello, chamber music, singing, organised jazz, rock, pop and ethno music.

AUG - Okarina Festival

The Okarina International Music Festival is where World music comes to Bled from all parts of the globe. Top musicians perform at Bled Castle and the lake shore promenade, sending out a clear message on the importance of multiculturalism. More than 240 ensembles and solo musicians coming from all continents have performed in Bled over a quarter of a century as part of Okarina Festival.

SEPTEMBER - Rowing Regatta

With its perfect setting and calm waters, lake Bled is often the host of national and international rowing events like the World masters Regatta. Teams will arrive from all corners of the globe and accommodation will be scarce so make sure you book ahead! Grab a seat with a view of the action and enjoy!

NOV - Okerkrainer Festival

The autumn mood lifts in Bled with the traditional event in November - the Oberkrainerfest, organized by Bled Tourism. This volksmusical event, with internationally known ensembles, offers plenty of fun and entertainment and is a unique opportunity for fans of the national music and Oberkrainermusik. Combined with an excellent culinary offer, the festival attracts several thousand visitors from Switzerland, Austria, Germany, Italy and Hungary to the sports hall of Bled. The two-day or three-day event offers you plenty of music and entertainment!

DEC - Potica Festival

The Potica Festival on Bled Island is intended for all enthusiasts who cherish this sweet or salted Slovenian speciality. The four-day event features live baking of the potica cake, an exhibition as well as the option of buying potica cakes. The event also offers an unforgettable ride in a Pletna boat to the island.

DEC/JAN - Festive White Christmas Village

Throughout the month of December, Bled offers many events to celebrate Christmas. One of the events is the "Sinking of the Bell" – Christmas night. This event is from a centuries-old legend that involves an actual sunken bell, the Pope, nuns and a murder mystery! Another celebration is the New Year's Eve fireworks display, which is held along the waterfront. Every December weekend is loaded with events suitable for children. There's also the arts fair, which is usually hosted at the Hotel Park. And on Christmas Eve and Christmas Day, you can watch Santa Claus ride into town in his horse-drawn sleigh.


---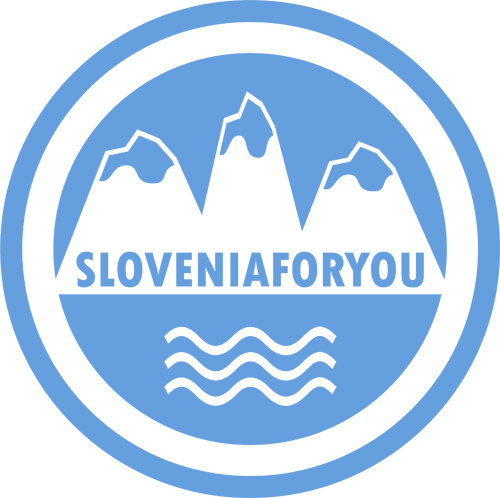 Book an exciting tour from our partners today!



Choose a service for your holiday from our affiliate partners!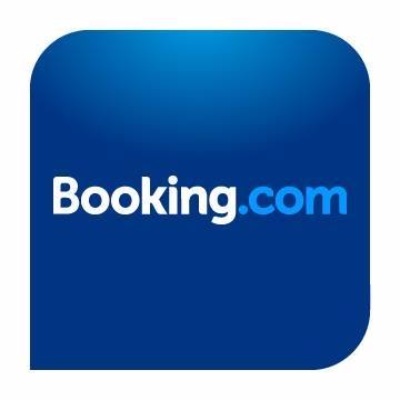 Accommodation Slovenia
Search for your ideal hotel, hostel, guest house or apartment in Slovenia and worldwide through our Booking.com link.
---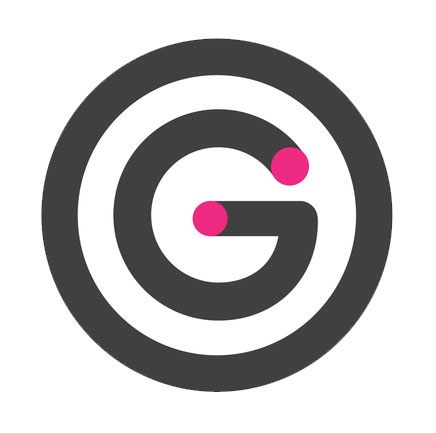 Goopti Transfers
Goopti offers the cheapest shared transfers across their network which includes Slovenia and neighbouring countries!
---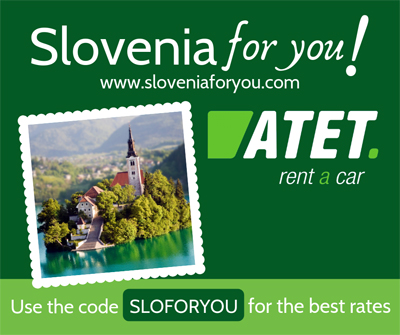 ATET Car Rental Slovenia
Book your Slovenian car rental with the best. ATET have offices in Ljubljana, Airport, Maribor & Koper.
Use code: SLOFORYOU in the booking for the best rates.
---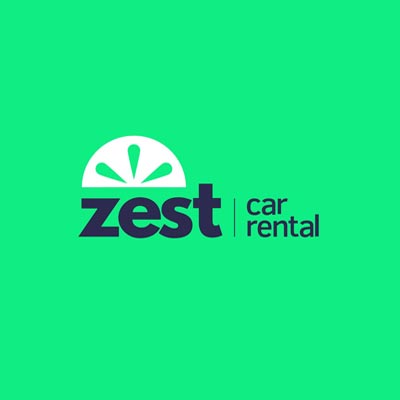 Zest Car Rental
Zest Car Rental is a great choice for car rental across Europe and the world, get a quote today!
---
请看看我们精心为您定制的团体和个人自助游览斯洛文尼亚的旅行安排,
如果您想预订,
请在这里给我们发电子邮件 Sloveniaforyou.com

Auf unserer Webseite finden Sie eine große Auswahl an öffentlichen und privaten Touren in Slowenien. E-mailen Sie Sloveniaforyou.com und buchen Sie Ihren Ausflug!

Dê uma olhada nas nossas ótimas opções de passeios por toda Eslovênia. Ha opções de passeios em grupos e também passeios exclusivos. Se quiser fazer uma reserva, basta enviar um email para nós aqui do Sloveniaforyou.com

---