LAKE BOHINJ GUIDE

Why should I visit Lake Bohinj?
What is there to see and do in Lake Bohinj?
How do i get to Lake Bohinj?
What is the best time to go to Lake Bohinj?
Where to stay in Lake Bohinj?
Tours from Lake Bohinj
What's a good itinerary for Lake Bohinj?
Tips and facts for Lake Bohinj
Events and Festivals for Lake Bohinj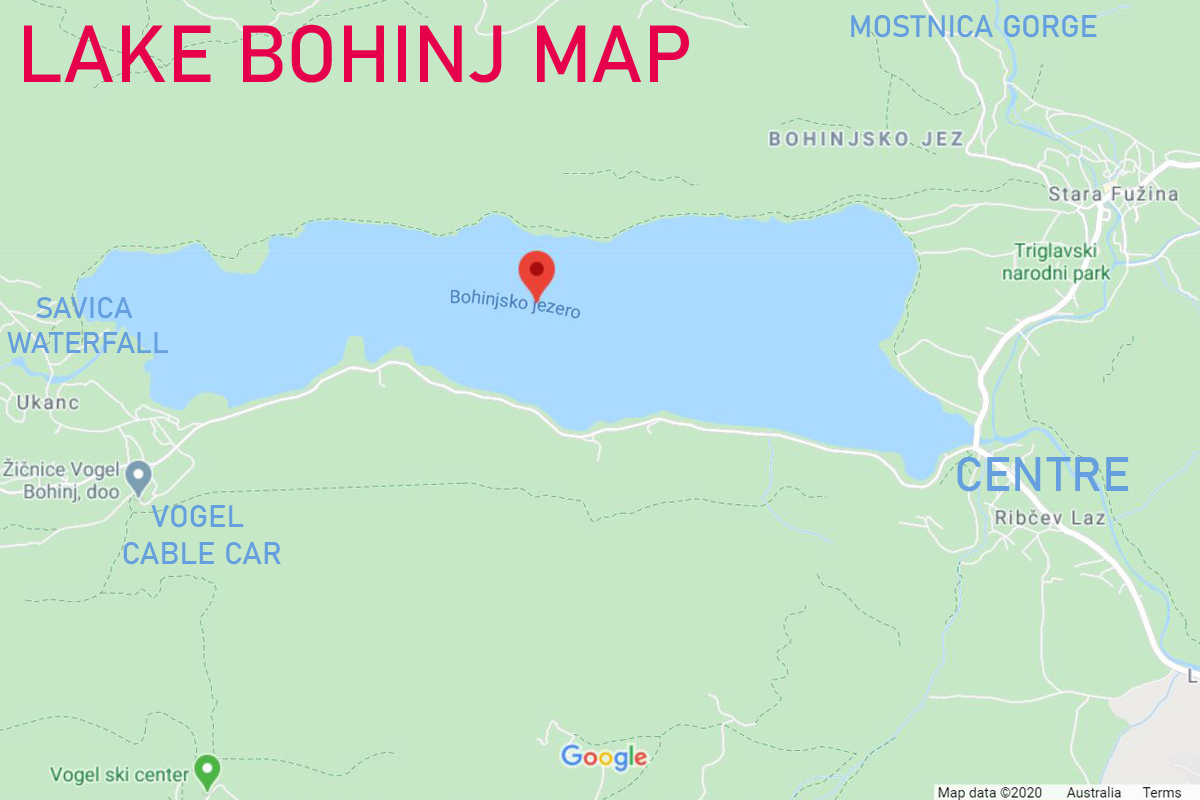 I'm looking for somewhere stunning to go,
WHY SHOULD I VISIT LAKE BOHINJ, SLOVENIA?

---
Where Lake Bled may be seen as the tourism show pony for Slovenia, the purists will have none of it. You will run into many who will claim that Lake Bohinj is simply the real deal and once you embrace its shores at Ribčev Laz , you begin to see why.

This brooding, eerily calm and silent body of water is a nature lovers paradise. It is usually the start for short or long hiking treks into the Julian Alps. Many set out to climb Slovenia's largest and most famous peak, Mount Triglav.

In winter enjoy the slopes of Mount Vogel, reached by a stunning cable car ride from Ukanc. Anglers and kayakers will enjoy the smooth waters of the lake. For those who are not fitness fanatics, exploring the local towns like Stara Fužina and Studor is a joy.

Enjoy the beauty of Lake Bled, then come to Bohinj to become one with nature!

Welcome to Lake Bohinj!
WHAT TO DO AND SEE IN LAKE BOHINJ, SLOVENIA?
Top Sights and Attractions

---
SLOVENIA'S LARGEST LAKE


Slovenia's largest lake is a picture of peace and serenity. It's brooding and mystical feel are encouraged by the steep mountain faces that rise out of the lake on the northern side, with mountain peaks also dominating the background to the west and south. On clear days you can even see the peak of the mighty Triglav. If it is nature and alpine beauty you long for, then Bohinj is your number one choice!

The LowDown:
The Lake is popular as a holiday destination due to its peace and quiet, and the myriad of opportunities for visitors to interact with the pristine surroundings. Whether you choose an activity around the lake, or move off into the surrounding Julian Alps, the daily stresses of our everyday lives will disappear as you embrace the fresh alpine air. Most people will arrive at the largest lakeside town at Ribčev Laz. Accommodation is usually sourced here or at nearby Stara Fužina.
There is further accommodation at the other end of the lake at Ukanc.

After settling in, a walk around the lake is a must to get your bearings. A lot larger than Bled, the 12km walk is done in about 4-5 hours depending on your speed and whether you stop for breaks along the way. Most people start by following the lake just over the bridge in Ribčev Laz on the north side. The trail hugs the northern side of the lake until you reach the other end at Ukanc. Cross the Savica river and head towards the cable car station to Vogel. The trail on the southern side is elevated above the busy road until you reach Ribčev Laz again.

For those who wish to experience the lake itself, there are scenic boat excursions available. The 2 boats (Bohinj and Zlatorog) run from Ribčev Laz to the Zlatorog Camp Site and return frequently during May to October with extended hours during July and August. For the remaining months excluding January and February the boat runs when the weather is good or if the boat has been booked by a group.
Ask at the Information centre to make a reservation.

Fishing is a very popular pastime on the lake and Sava Bohinjka River from around March to November. You can obtain permits from the tourist office. Lake Trout, Brook Trout and Brown Trout are found along with Char and Grayling. Only fly-fishing is allowed in the river. Spinning, Fly Fishing and Coarse Fishing are permitted in the lake. Swimming is another popular pastime in the lake and there are a few places around the shore where you can enjoy shallow waters. The best areas are at the western end of the lake and the bay pocket at the north eastern corner. You may find some nude bathing happening around the northern inlets so beware! There are 15 marked bike trails around the lake so hire yourself a bike and get out there! The whole family will love the experience. Some winters the lake freezes over and people can be seen taking a leisurely stroll across the lake.

Where is it \ How to get there?:
Lake Bohinj is situated 26km west of Lake Bled and most people will reach Ribčev Laz (the main town) via this road. The train also stops at Bohinjska Bistrica from either Bled or Most Na Soči, where you can offload your car from the car train and drive on, or catch a bus to Ribčev Laz.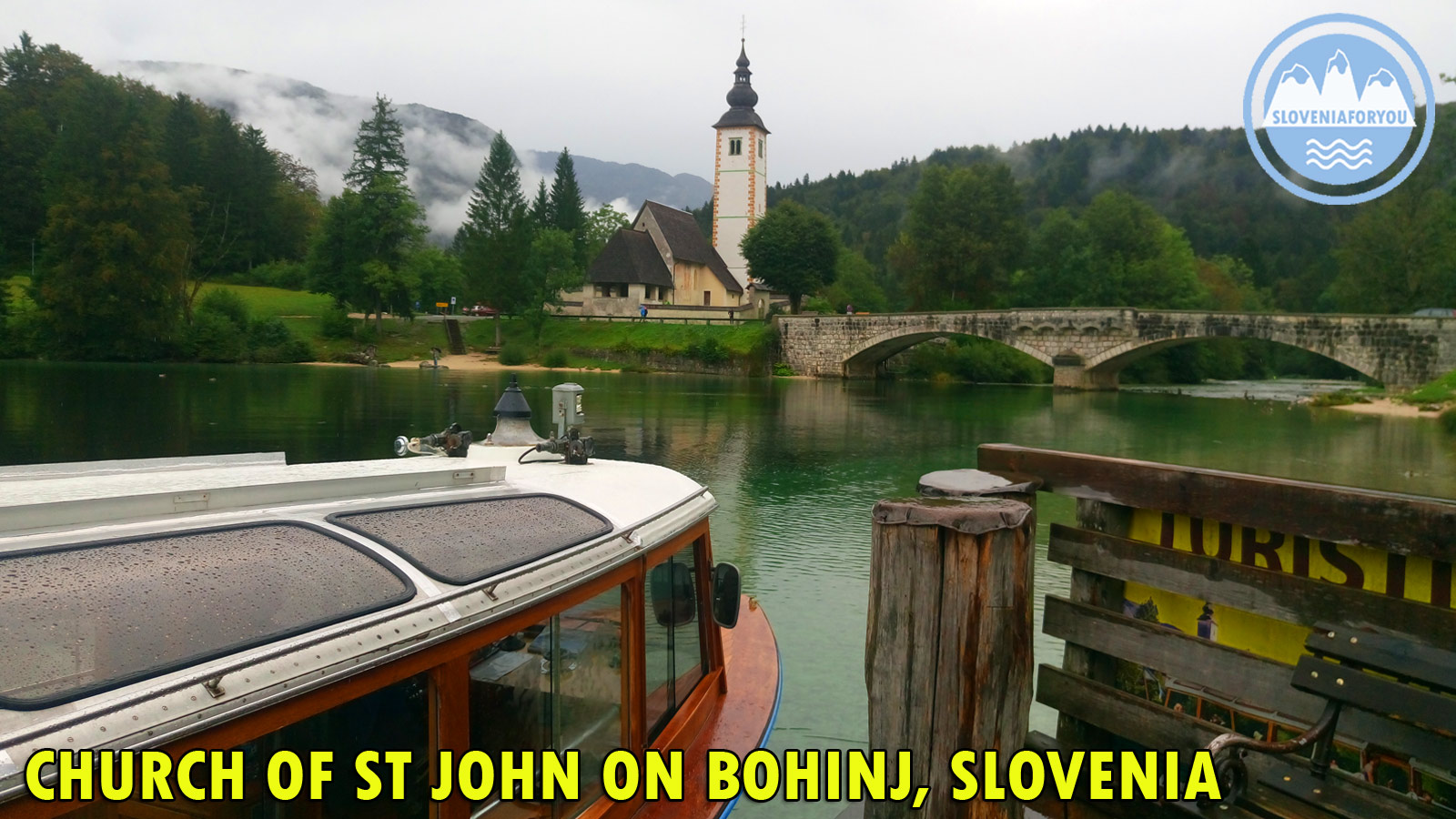 ---
Ribčev Laz


Ribčev Laz is the main town on Lake Bohinj. Everyone stops here to visit the tourist centre and view the lake for the first time. Get your maps and other info then decide how to spend your day or days at Bohinj!

The Low Down:
Ribčev Laz is home to some larger style hotels like the Hotel Bohinj, Hotel Center and Hotel Jezero. There are then some cute, smaller guest houses like Hotel Gasperin and Penzion Rozic.

Visit the tourist centre to get your bearings and book accommodation and activities. You can also enquire about the Bohinj Card. They have a great range of maps and brochures plus heaps of souvenirs.

Next door there is a small supermarket and the Hotel Center's restaurant does a great pizza!

Across the road visit the monument to the four couraegous men which commemorates the first ascent of Mount Triglav before heading to the bridge where we can get the first magnificent views of lake Bohinj. Tourists block cars as they scramble for photos. Across the bridge is the iconic St John the Baptist church with its beautiful frescoes. On both sides of the lake you can also swim on hot days.

Go for a short walk along the lake on the original side and you will be able to take photos with the mighty fabled Zlatorog or Golden Horn statue. Its here you can also take the tourist boat or hire a kayak or canoe. Across the road is Pod Skalco which has a nice outdoor restaurant and rock climbing wall. So all in all enough to keep you busy before you continue on exploring the lake.

Where is it\How do I get there?
Ribčev Laz is located on the main road from Bled and is about 23km from Bled.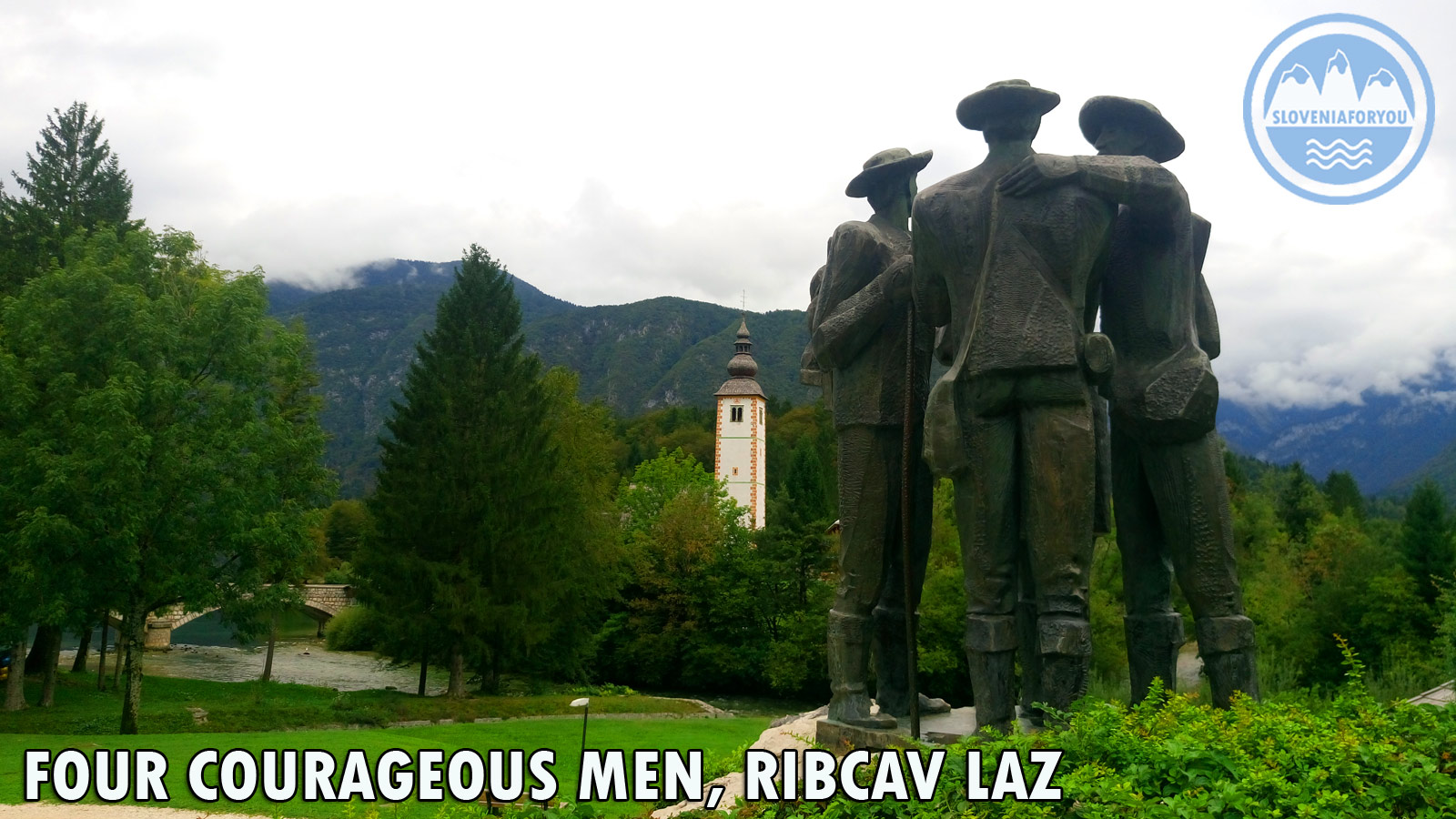 ---
SAVICA WATERFALL (OR SLAP!)


France Prešeren, the most famous Slovene poet, chose the waterfall for his epic poem entitled Krst pri Savici (Christening at Savica), and from that it has been labelled "The Source of Life" and a location dear to all Slovenes hearts.

From the Triglav Lakes above, the waters from the source of Slovenia's longest river come cascading down 60 metres into the deep pool below.

A visit to Bohinj is not complete without visiting the Savica Falls!

The Low Down:
Visitors can approach the falls by car and on foot, but everyone must pay the entrance fee and then hike the remaining 500 odd steps (or 20 minutes) that zig-zag uphill through the woods and over streams. You finally reach the small viewing platform where you can see the power of the Savica as it crashes into an emerald pool below.

Take note that you should be in moderate health as the rocky path is uneven and very demanding, especially in summer! Take your time and break when needed.

The place is packed with tour groups and day trippers in peak season, so expect some jostling as everyone tries to get pole position to view the falls and take their holiday snaps! The falls are best viewed after a decent downpour and it's a good idea to bring something waterproof to combat the spray!

Where is it \ How to get there?:
The falls are located at the far (western) end of Lake Bohinj. Follow the road along the lake from Ribčev Laz to Ukanc.
From the old Hotel Zlatorog the falls are about 4kms away.

You can choose to take the paved road by car or follow the signed walking paths. By foot it takes about 45 minutes. Once you reach the entrance, you must pay a fee then everyone must walk the final steps to the falls.

For current prices and opening hours, go to the official Savica website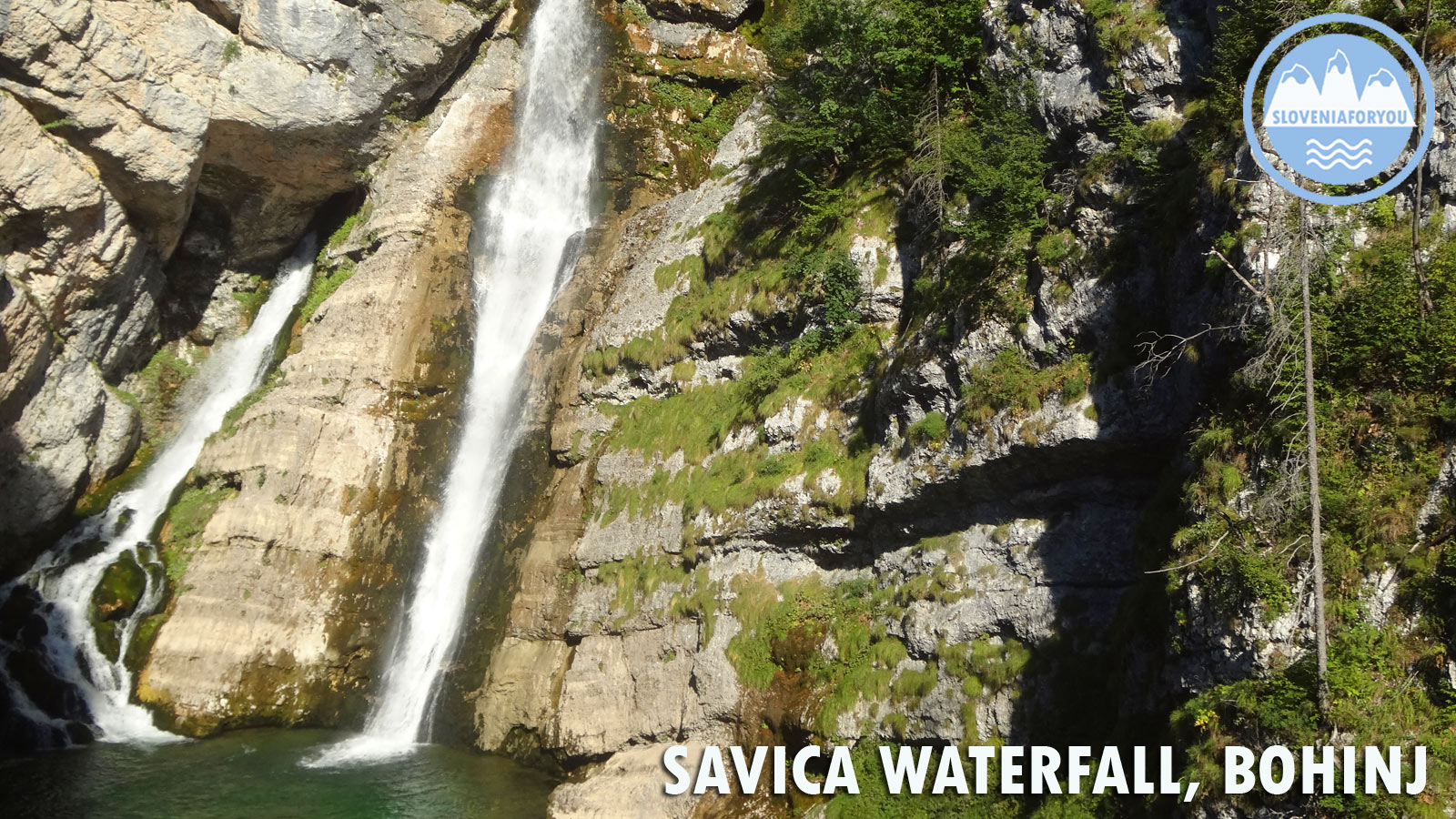 ---
GLIDING UP INTO THE CLOUDS!


Towering high above Lake Bohinj's southern edges, Mount Vogel at 1800m is one of Slovenia's premier ski resorts in winter. It is also one of 'the' places to check out some amazing views over the Alps and Lake Bohinj. If you are visiting Bohinj, definitely place a trip up to the summit on your list!

The Low Down:
In winter, Vogel is a hive of skiiers and boarders enjoying the 26km of beautifully groomed runs, whilst in the other seasons, visitors can take the gondola to the summit for some amazing views! A new feature is the new zipline for thrillseekers.

The cable car station is located at the western end of lake in Ukanc, about 250m above the Z. For those who have the nerves to scale the 1540m to the summit, the 5 minute effort is more than worth it. On a clear day the peaks and sky unfold around you as far as the eye can see.
At the top there are chairlifts that take you near the summit proper for a few extra euros.
There is a kiosk at the top for refreshments!

The ski season can last from November to May and there is accommodation, refreshments and hire facilities at the summit. See our Ski Page for more information. The summit can also be reached on foot from Ukanc or Ribčev Laz and allow for 2 hours to complete the trek.

Where is it\How to get there?:
The cable car station to the summit of Mount Vogel can be found at the western or far end of the lake at Ukanc. Take the road from Ribčev Laz.

For current prices and opening hours, go to the official Vogel website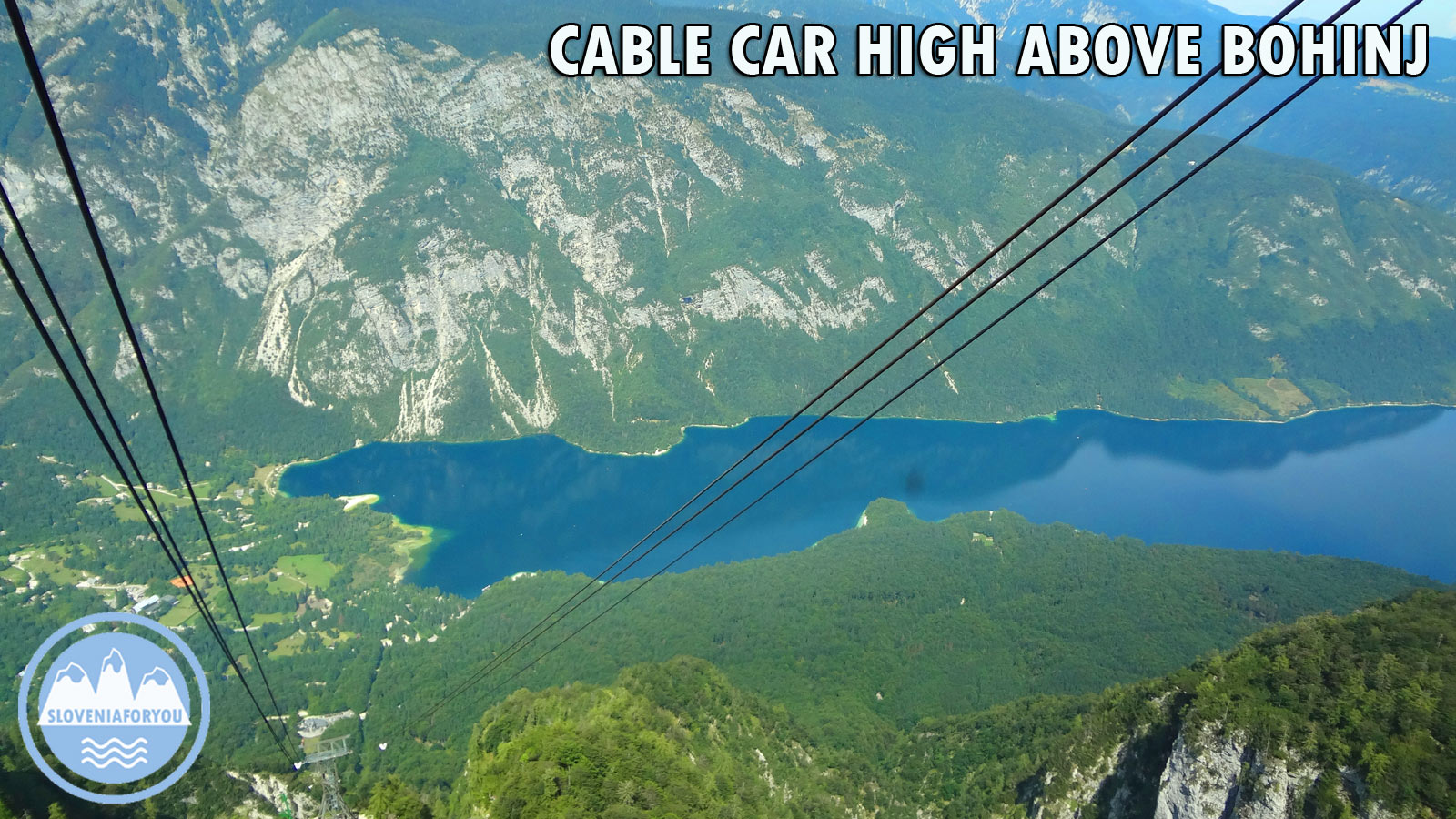 ---
HIKING IN HEAVEN?


One of the main reasons people come to Bohinj is because it is one of the main starting points for many of the trails that lead up into the Alps.

It is of course said that every Slovene must climb Triglav once in their lives and so they come in droves to do just that! There are easy, moderate and difficult trails to suit all levels. Don't be a spectator, get out on the track and experience nature at its best!

The Low Down:
Pick up a map from the tourist office and decide which trail (there are 16 marked trails) you want to try! Trails lead off from Stara Fužina just north of Ribčev Laz through the Voje Valley and onwards towards Triglav. Other popular trails include the one to Savica Waterfall and then onwards to the Lakes and Komna. South of the lake there is of course Vogel. Looking at the guide, you're sure to find a trail that suits you. Hikers will be rewarded with lush meadows with fields of flowers (in season), green valleys and towering mountain peaks in all directions. Drink in those views, they are truly magnificent!

Hiking season is at its peak in summer from around May to September with those attempting Triglav having the best chance in August and September. Of course it goes without saying that the conditions in the mountains are anything but predictable. Things can change in a matter of hours or even minutes so make sure you are well prepared. Mountain huts are available along the higher routes for those tackling Triglav amongst others over 2 or 3 days. They get extremely busy in peak times so make sure you try to book ahead! Look for the targets or red circle with a white centre that mark the trails. Happy hiking to all!

Where is it\How to get there?:
Pick up a hiking guide from the main tourist office at Ribčev Laz. The guide will mark out dozens of different trails and show their starting points.

Here is a great example of one such hike from Bohinj: Hike to Mt. Pršivec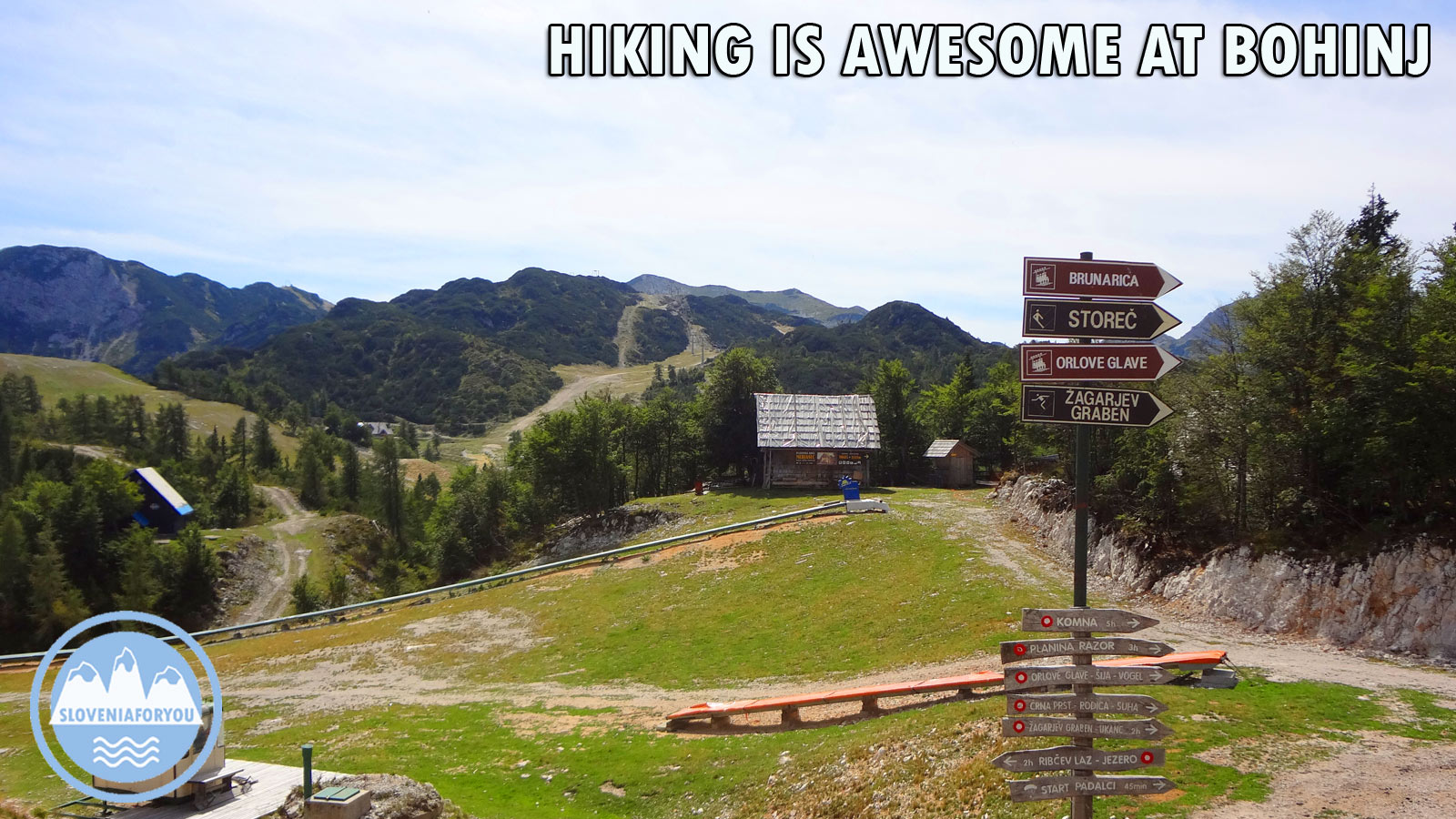 ---
ADVENTURE SPORTS AROUND BOHINJ


Bohinj and the surrounding area is a great place to take part in all kinds of Adventure Sports. So if you're not the type who likes lying by the pool, Bohinj is a great choice for the whole family!

The Low Down:
There are many activities on offer around Lake Bohinj. These include Canyoning, Horse Riding, Kayaking, Mountain Biking, Hydrospeed, Tandem Paragliding, Ziplining, Sky Diving, Rafting, River Tubing, Rock Climbing and Hiking and Skiing which have already been mentioned.

Most of the water activities are on the Sava Bohinjka River whilst tandem paragliding take off spots can be found at Vogar (north of lake) and also Studor, Vogel and Kobla. The Bohinj Horse Centre is the main focus for horse lovers in nearby Studor. Mountain Bikers can pick up a trail map from the tourist office, there are many trails (15 marked) to choose from. Climbers can find a climbing wall within walking distance of Ribčev Laz whilst more serious climbers will head for Pod Skalco, Pod Bellevue, Pec, Nomenj and Bitnje.

If you need more information on any of these activities, then drop us a line and we'll point you in the right direction!

Contact us if you wish to book an activity via our email address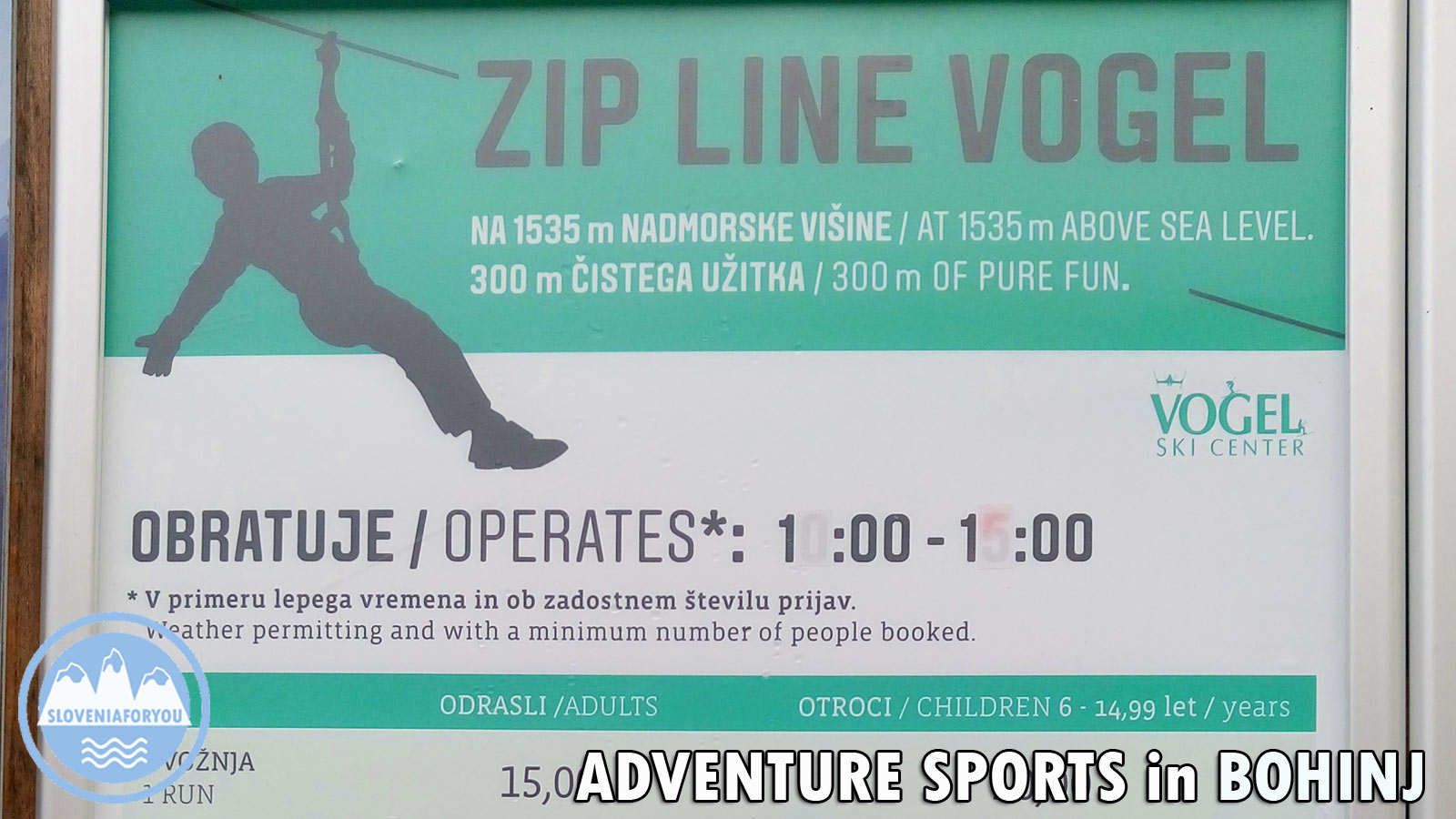 ---
MOSTNICA GORGE AND WATERFALL


The ravines of the Mostnica Gorge provide yet another fantastic walk with endless photo opportunities. This walk culminates upon reaching the 20 metre high Mostnica Waterfall below Mount Tosc which is also known as the Voje Waterfall. A great way to spend a relaxing afternoon!

The Low Down:
Just north of Ribčev Laz, the trail through the Mostnica Gorge up to the waterfall begins about 1km north of Stara Fužina.

In season, you must pay a small fee at the entrance to the Gorge. The 2km gorge is very narrow in places as the path winds along both sides of the gorge, so it is possible to take one trail and return via the other. In some places, you can get very close to the river itself, whilst in others, the path veers away from the river, only to return later. The highest point is around the stone carved "Devils Bridge" at a height of around 20m and built in 1777.

There are many bridges to admire and the main talking point is the rock shaped like an elephant. Another 20 minute walk past the gorge and you arrive at the Koca Na Voje hut which can be a good place to stop for a drink on a hot day. Continue on another 45 minutes and you reach the Waterfall which cascades over its lime wall in 3 sections. The Slide Waterfall at the top falls about 15m onto the moss before falling another 5m onto the Mostnica Waterfall proper which plunges 20m into a beautiful emerald green pool. There is another fall called the Konjski Rep that is 5m in height. .

Where is it\How to get there?:

The start of the main trail to the Gorge\Waterfall is about 1km north of Stara Fužina.


---
ALPINE DAIRY "CHEESE ROUTES"


In the highland alpine pastures around Bohinj, dairy farming was once big business with large quantities of cheese being made. Today it is all manufactured in a factory in Srednja Vas but you can still relive the past at the excellent Alpine Dairy Museum in Stara Fužina. If you want to take it a step further, you can visit the pastures themselves as you choose from a list of great walking trails. On many trails, you can still meet with the herders and dairy farmers to taste their wares. What a great day out!

The Low Down:
The Alpine Dairy Museum is contained in a building in Stara Fužina that was once a dairy itself. They house an enjoyable and interesting collection of old photos, dairy farming equipment and even a mock herders village.

Dairy Farming was big business amongst the family co-operatives that formed in the late 19th century and was still going strong until modern manufacturing technology eventually saw the local practice die out from the 1950's onwards. A few die-hard farmers still continue the tradition however, combining their skills with a head for business as they now welcome tourists high onto the highland pastures to sample sour milk, curd cheese, raw butter and the regional speciality "Mohant". The views are also to die for! Pick up a map from the tourist office and choose from the many trails that are on offer.

Where is it\How to get there?:
Trails to the farms and pastures centre around Bohinjska Bistrica and the highlands north of Stara Fužina and Srednja Vas.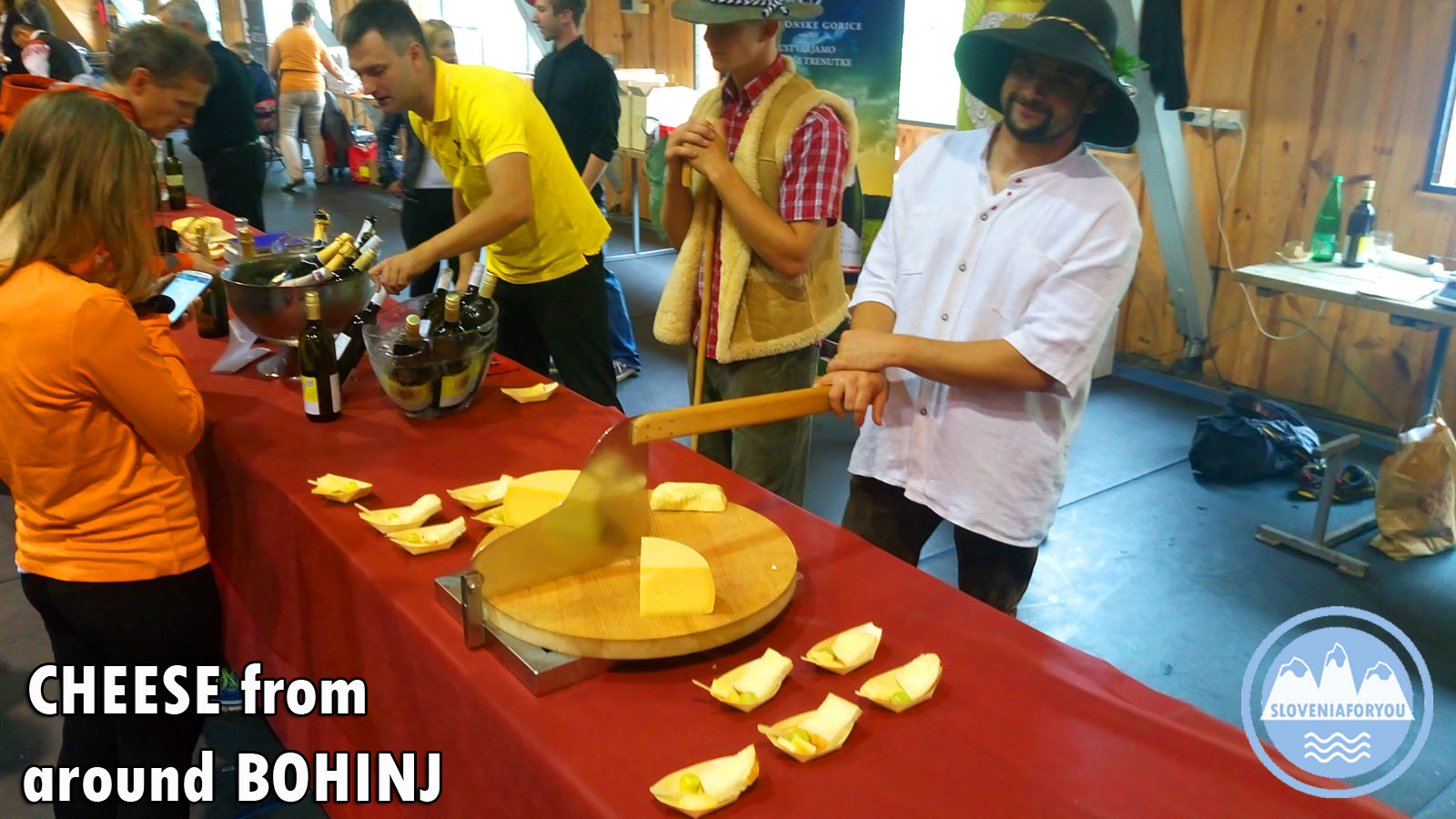 ---
SO WHERE'S THE HAY?


You may see thousands of haystacks across Europe, but only Slovenia has the unique double haystack or "toplar" as known locally. Easily identified by the double rack complete with roof for storage, nowhere is there a better example of them than here in Studor near Bohinj.

The Low Down:
The toplars in Studor are probably the most scenic collection of the hay drying racks anywhere. Dating back to the 18th and 19th centuries, the racks make excellent hay. Modern machinery means that the practice is almost obsolete but there are still examples of beautifully preserved Toplars in Studor that are still used today.



Where is it\How do I get there?
Studor is found a few kilometers north-east of Ribčev Laz on the road that crosses the bridge at Ribčev Laz and continues through Stara Fužina to Studor.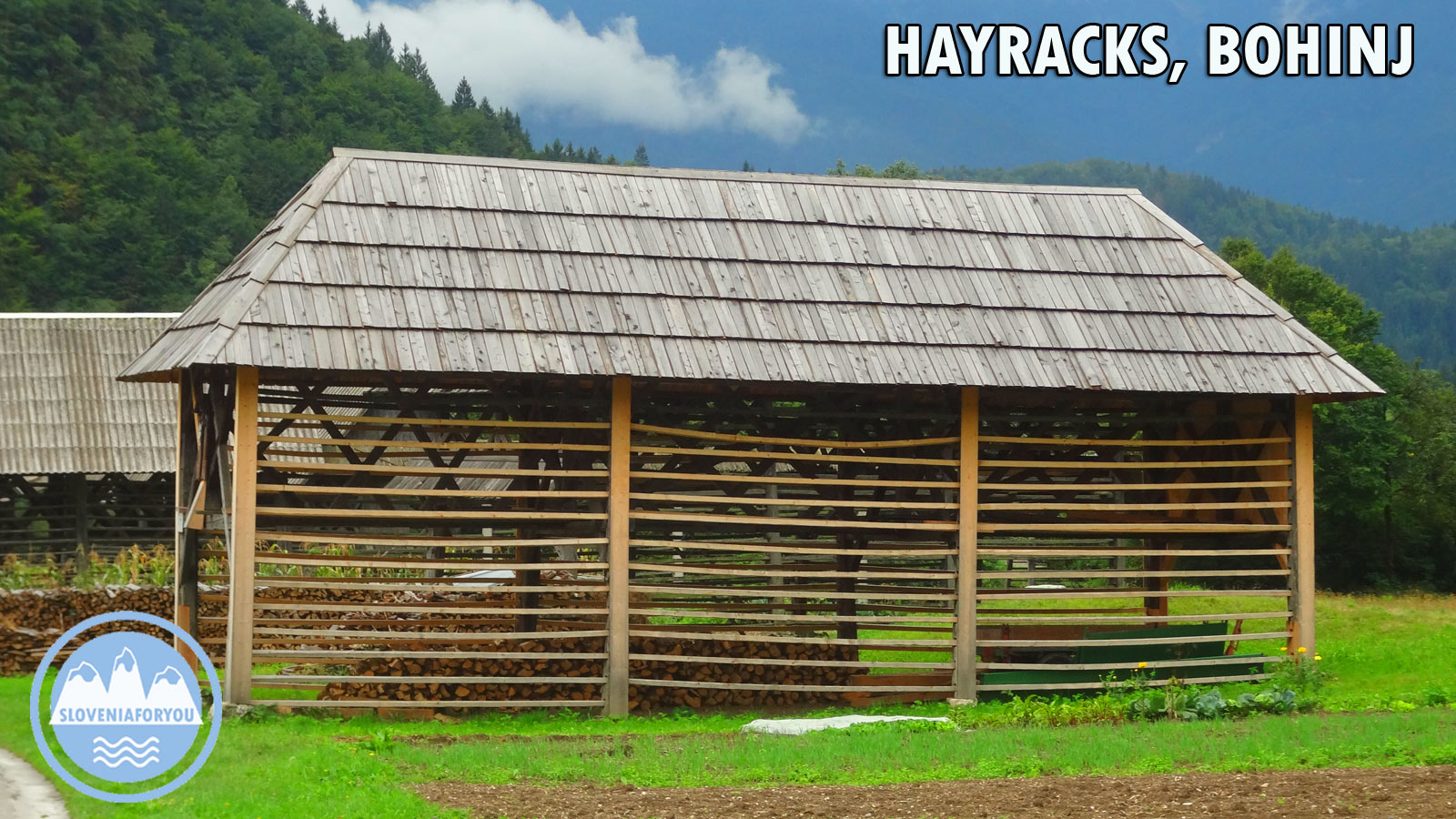 ---
BOHINJSKA BISTRICA


Bohinjska Bistrica is more often than not given the cold shoulder by tourists who see no reason to stop there with the lake only a few minutes up the road. The town is the largest town in the region and for those who cannot find accommodation at the lake, Bohinjska Bistrica makes a great base for exploring the area

The Low Down:
In summer, the town sees quite a bit of activity around the train station as people with cars are either getting on or off the car train which goes through the mountain to Most Na Soci on the other side. In winter, the ski slopes at Vogel attract locals and foreigners alike. There is also an aquapark with slides and climbing walls plus wellness facilities that will keep you amused for an afternoon. Campers also swell the numbers in peak season as the Danica campsite is a popular site for locals and foreigners!

The town has a couple of good restaurants including the Strudl which recreates traditional dishes typical of what farmers used to eat (think potatoes, cheese, jota and of course Strudel!) Bohinjska will keep you occupied for a few hours and a walk around the town is nice especially along the river Bohinjska Bistrica and Belica.

Where is it\How do I get there?
Bohinjska Bistrica is located on the main road from Bled to Ribčev Laz at lake Bohinj and is about 20km from Bled and 5km from lake Bohinj.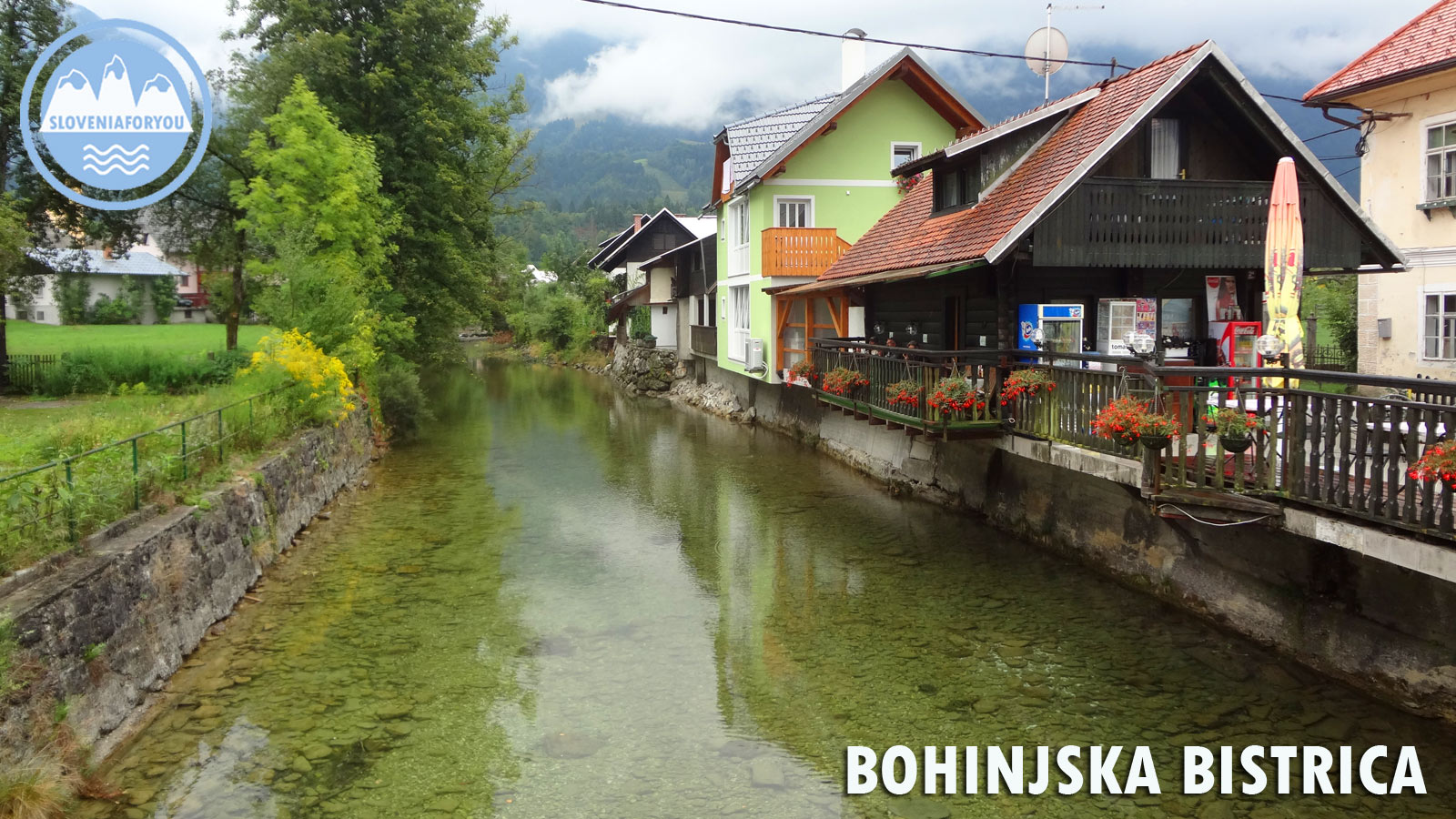 HOW DO I GET TO LAKE BOHINJ, SLOVENIA?

---
By Air - Flying into Slovenia

A list of current destinations servicing Ljubljana Airport can be found HERE.
These include the long standing destinations of London, Paris, Frankfurt and Istanbul but new services and seasonal services will differ from year to year.


---
From Ljubljana Airport into Lake Bohinj

DISTANCE: 60km, TIME TAKEN TO CENTRE: 1 Hour

TRANSFER: To reach Bohinj centre from Ljubljana Airport contact us by email for a quote here
BUS: You can also use the local bus which is cheap but a transfer is preferable because you need two buses to reach Bohinj (Airport to Kranj and then Kranj to Bohinj via Bled) and also you may have a lot of luggage. Click HERE
CAR HIRE: If you wish to hire a car at the Airport then without doubt use our partners at ATET for the best service in Slovenia. Use the code SLOFORYOU when booking.


---
From Ljubljana to Lake Bohinj

DISTANCE: 80km, TIME TAKEN TO CENTRE: 1.30 hours

BUS: To reach Bohinj centre from Ljubljana, then check the local bus timetable HERE On the far side of the lake which is Ukanc (Vogel) look for these stops: Bohinj Zlatorog, Zicnica Vogel, Pod Voglem. For the near side of the lake, look for Bohinj Jezero and Ribčev Laz.
NOTE: Some buses go to the far side, others will go to Ribčev Laz and loop around through Stara Fužina back to Bohinj. This service is run by Alpetour

TRANSFER: To reach Bohinj centre from Ljubljana, contact us by email for a quote here
CAR HIRE: If you wish to hire a car in Ljubljana then without doubt use our partners at ATET for the best service in Slovenia. Use the code SLOFORYOU when booking.


---
From Venice/Venice Airport to Lake Bohinj

DISTANCE: 300km, TIME TAKEN TO CENTRE: 3.5 hours

TRANSFER: To reach Bohinj centre from Venice, contact us by email for a quote here
CAR HIRE: If you wish to hire a one-way car rental from Venice then contact us by email for a quote here


---
From Budapest to Lake Bohinj

DISTANCE: 550km, TIME TAKEN TO CENTRE: 5.5 hours

TRANSFER: To reach Bohinj centre from Budapest, contact us by email for a quote here
CAR HIRE: If you wish to hire a one-way car rental from Budapest then contact us by email for a quote here
TRAIN: To access details of the service by train to Ljubljana first, click HERE


---
From Vienna/Salzburg to Lake Bohinj

DISTANCE: (VIENNA) 400km, TIME TAKEN TO CENTRE: 4.5 hours
DISTANCE: (SALZBURG) 280km, TIME TAKEN TO CENTRE: 3.5 hours

TRANSFER: To reach Bohinj centre from Vienna/Salzburg, contact us by email for a quote here
CAR HIRE: If you wish to hire a one-way car rental from Vienna or Salzburg then contact us by email for a quote here
TRAIN: To access details of the service by train, click HERE


---
From Zagreb/Plitvice/Split to Lake Bohinj

DISTANCE: (ZAGREB) 230km, TIME TAKEN TO CENTRE: 2.5 hours
DISTANCE: (PLITVICE) 290km, TIME TAKEN TO CENTRE: 4 hours
DISTANCE: (SPLIT) 550km, TIME TAKEN TO CENTRE: 6.5 hours

TRANSFER: To reach Bohinj centre from Zagreb, Plitvice or Split, contact us by email for a quote here
CAR HIRE: If you wish to hire a one-way car rental from Zagreb, Plitvice or Split then contact us by email for a quote here
TRAIN: To access details of the service by train to Ljubljana, click HERE


---
From Trieste to Lake Bohinj

DISTANCE: 180km, TIME TAKEN TO CENTRE: 2 hours

TRANSFER: To reach Bohinj centre from Trieste, contact us by email for a quote here
CAR HIRE: If you wish to hire a one-way car rental from Trieste then contact us by email for a quote here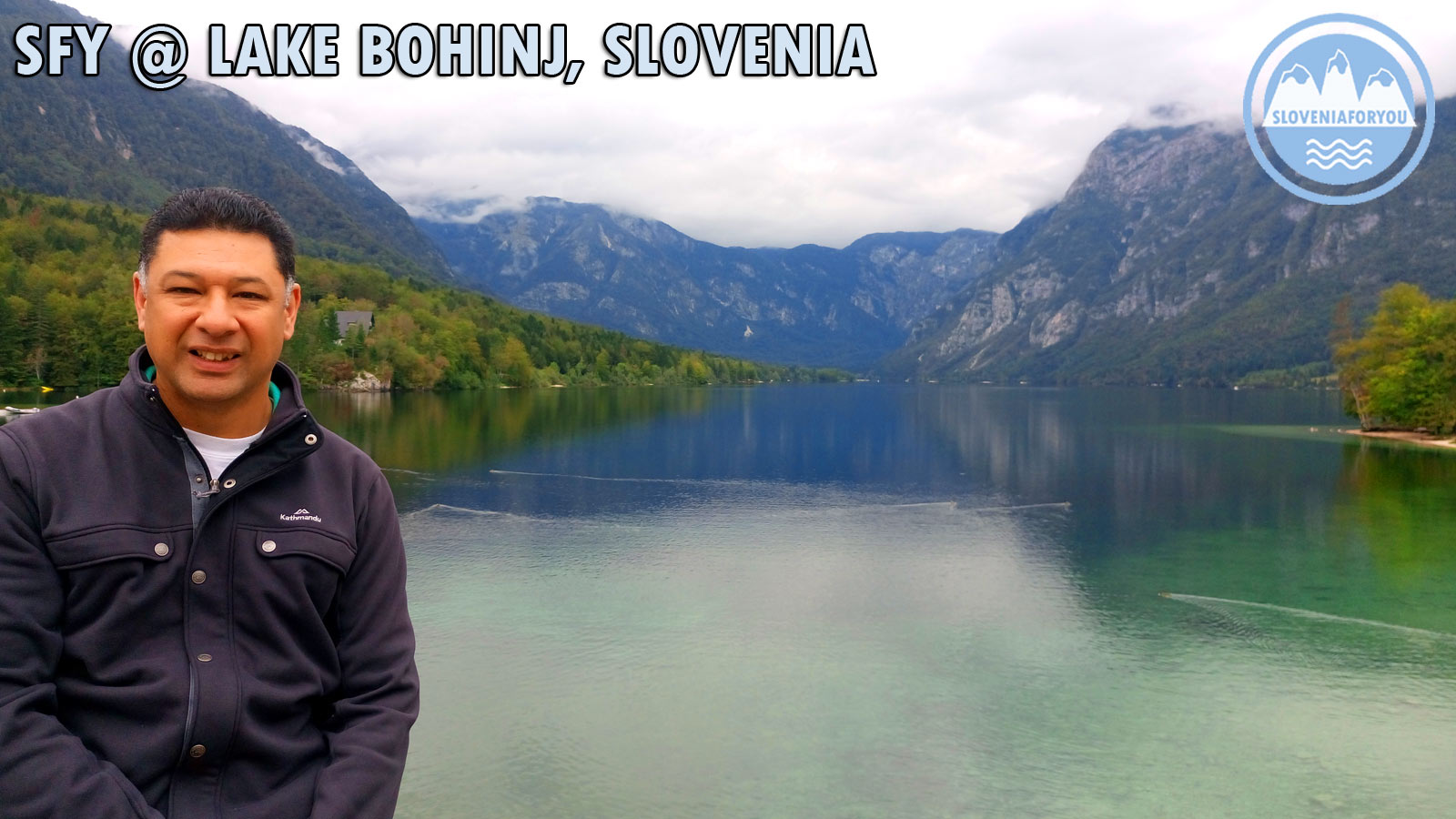 WHEN IS THE BEST TIME TO VISIT LAKE BOHINJ, SLOVENIA?

---
Any time is a good time to Lake Bohinj but if you want a more practical answer then here we go:

JULY-AUGUST - Peak time, can be hot and crowded but at least the locals go away on holidays!
APRIL,MAY,JUNE - Not a bad time with Spring blossoming but weather can be unpredictable.
SEPTEMBER - The best month in our opinion, still warm and kids go back to school.
OCTOBER-NOV - Getting colder but the autumn colours are beautiful.
DEC-JAN-FEB-MARCH - Unless you like the cold, the least likely time to visit.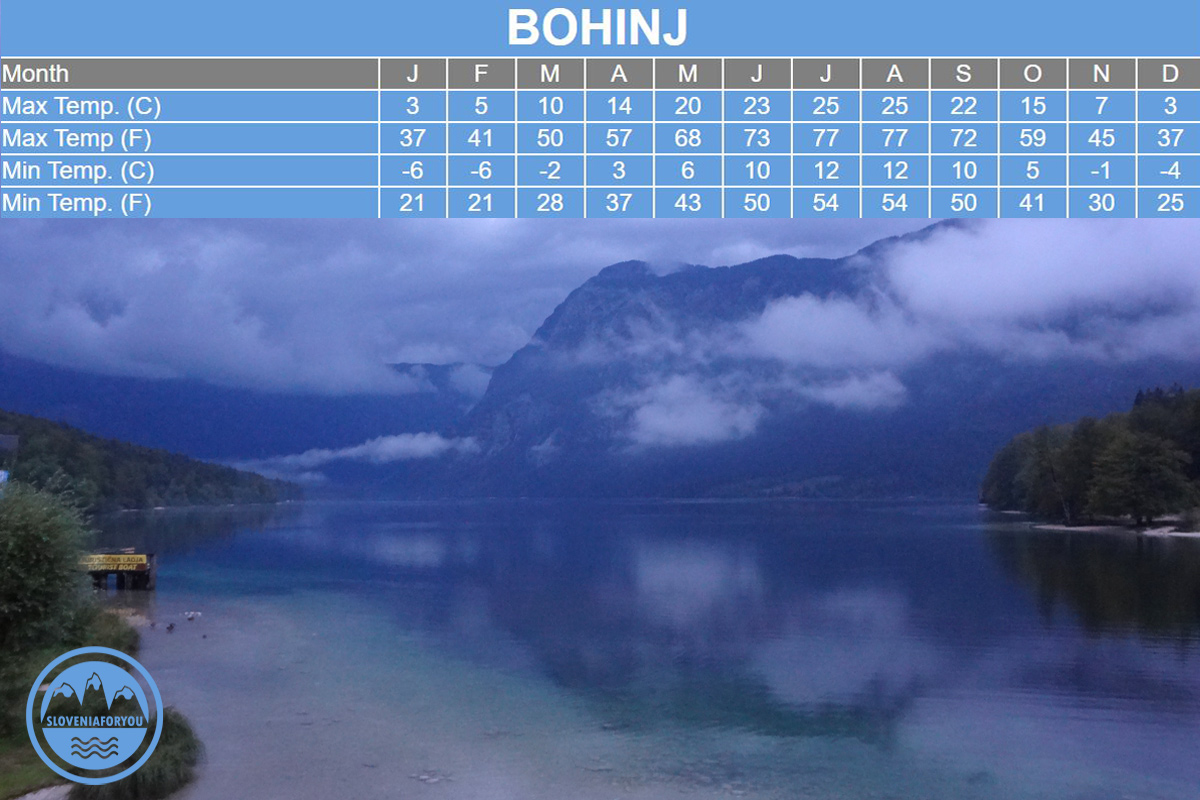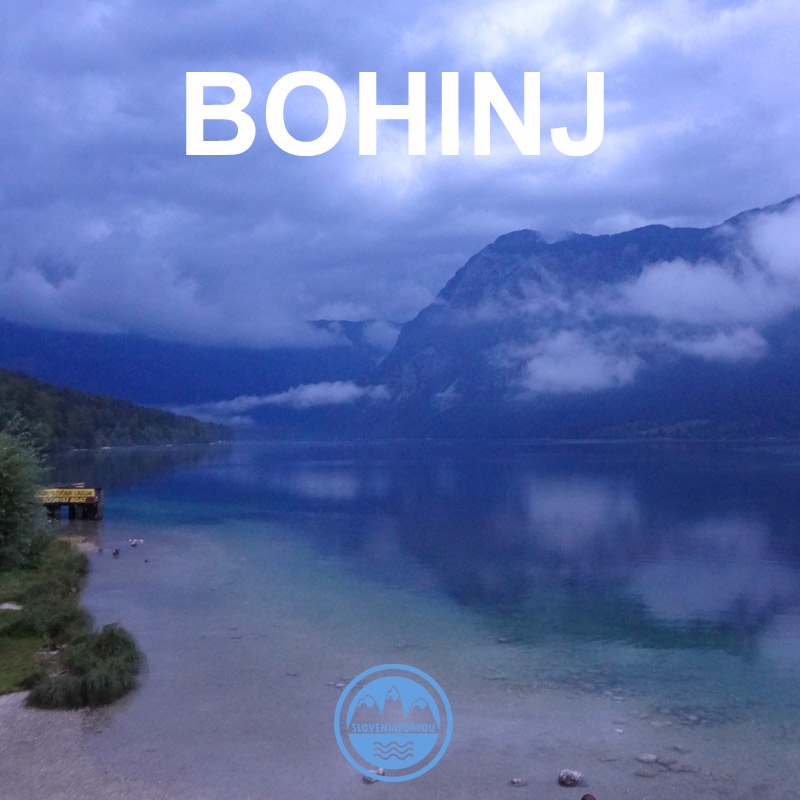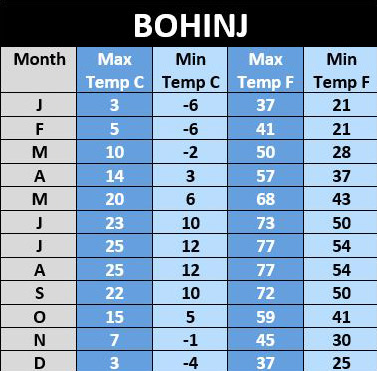 WHERE SHOULD I STAY IN LAKE BOHINJ, SLOVENIA?

---
There are lots of choices in all categories within Ribčev Laz and Ukanc. The surrounding area like Stara Fužina is also a good choice. Peruse the options listed below and pick one that suits your needs, all bookings help keep the website going!

Here are our top picks, book using our links and enjoy your stay!


Everything was perfect! New house, super clean, modern, relaxing. The owner was very friendly and helpful!! For our next stay in Bohinj we will want to stay only here!!



---
Exceptionally nice reception, everyone is really professional. The surroundings are nice and everything is spotlessly clean. I like the quirkiness of the signs, menus..cute! Overall a very pleasant stay for a fair price.



---
Rooms are superclean. Good wifi. Comfy bed. Exceptional breakfast and friendly staff. Restaurant in the guesthouse is amazing. All dishes were great value for money. Desserts are especially tasty, one of the best I ever tried.



---
Loved being at the top of the lift. Fab views and convenient for high level walks. Great when all the crowds have gone. Everything was clean, the breakfast was amazing.



---
My family and I loved our stay, staff was very helpful and friendly . We spent hours in the pools. There was a good selection of food for breakfast and dinner, had the best duck ever one evening that I will never forget. Highly recommend this hotel. I don't know where to start about the location of beautiful Bohinj valley.



---
Great, cozy family atmosphere! Friendly and helpful staff and tasty breakfast. The rooms are very clean and there the possibility of using the sauna. Close to the Vogel cable car (10min driving) and 5 min to Aqua Park Bohinj. Walking distance to the lake. We highly recommend this place!



---
TOURS & ACTIVITIES IN BOHINJ, SLOVENIA

---
ACTIVITIES AROUND BOHINJ!

Looking for a relaxing ride or something more strenuous?

Our partner in Bohinj has the best experiences and tours available around the lake and region.
Experiences include:

Ultimate Bohinj Bike Ride
Ultimate Bled Bike Ride
Bike and Taste - A break with a view!
Bike and Train - Soca Valley, yes please!
Soca Valley Grand Bike Tour - its pretty grand!
Ultimate Kranjska Gora Ride
Soca Valley with EBike - make it a little easier!
Around Bohinj and Savica Waterfall
Mostnica Gorge and Voje Valley - awesome!
Bohinj Cheese Tour - follow your nose!
Evening Torch Walk - different!
Climb Mt Triglav - why not?
7 day MTB Slovenia tour - got a group?

You know what to do, email us today if any of these interest you whilst in Bohinj!

CLICK HERE TO ENQUIRE or BOOK TOUR - ask about TIMES, CONDITIONS and PRICES - info@sloveniaforyou.com


---
THE BOHINJ STEAM TRAIN

Why book this event?
The 100 year old steam train is an unforgettable experience and well worth fitting into your schedule! See the beauty of the Slovenian countryside, mountains, villages, lakes, rivers and green pastures! - CURRENTLY CANCELLED DUE TO COVID19 but check site for updates!

CLICK HERE TO BOOK TOUR including TIMES and PRICES


---
LAKE BOHINJ TOURIST BOAT

Why book this event?
Take a journey on the crystal clear surface of lake Bohinj (the largest lake in Slovenia). During the ride the guide will explain interesting facts about the history, cultural heritage of Bohinj, and interesting excursions, which can be combined with Tourist boat. In fine weather with the roof open the beautiful views are especially attractive. Its all about the majestic scenery of the Slovenian alps and countryside.

CLICK HERE FOR MORE INFORMATION


---
TOURS FROM LAKE BLED!

Make your way to Lake Bled or enquire if pickup is available from Bohinj.

CLICK HERE FOR MORE INFORMATION.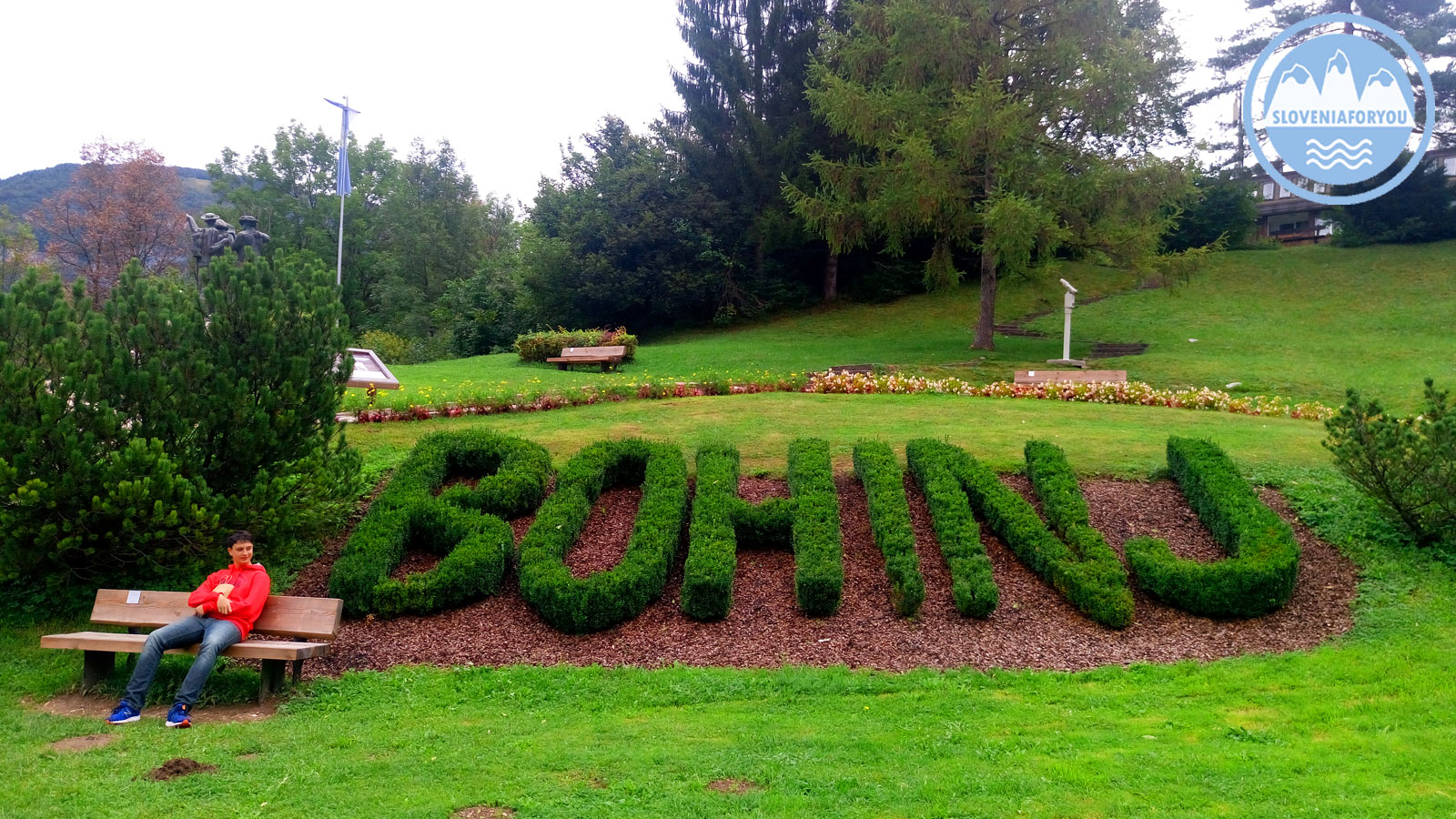 WHAT'S A GOOD ITINERARY FOR LAKE BOHINJ, SLOVENIA?

---
Lake Bohinj is a great place to relax and to explore the lake and region. Here are some suggested itineraries and ideas:

Bohinj in one day -
After breakfast, take a leisurely walk around the lake and take in the beauty of Bohinj.
Start on the far (church) side at Ribcev Laz and walk around to the far end at Ukanc. Hike up to Savica Waterfall
Come back to Ribcev Laz by tourist boat. (Check schedule)
Dinner at one of Bohinj's numerous restaurants (check before departing what is open)


Bohinj in two days -
Day one as above.
Day two - ascend up to Mount Vogel via the cable car.
Enjoy the mountain air and views. Maybe do a little hike.
Travel to Stara Fužina and have lunch somewhere like the Mihovc.
Walk the Mostnica Gorge trail.
Dinner at one of Bohinj's numerous restaurants.


Lake Bohinj in 3-7 days -
Days one and two as above
Take several great day trips (see our tour section) like lake Bled, Postojna Caves or Ljubljana
Visit further afield for the day like Kranjska Gora, the Soča Valley via the Vršič Pass and even Austria or Italy are not far away.

In Bohinj you can also enjoy a paddle on the lake, other adventure activities, do a longer hike like the Cheese Routes or explore the villages of Stara Fužina, Studor and Srednja Vas.

Tips for Visiting Lake Bohinj

- Bohinj is famous for being fogbound so we would advise against ascending to Vogel if the weather isn't clear as you won't be able to see the amazing views (but you might get some great cloud shots!)

- Establishments serving breakfast in Bohinj are few (most restaurants open for lunch) so have breakfast at your hotel.

- No powered boats are allowed on the lake which makes it very tranquil indeed!




---
---
DID YOU KNOW? FUN FACTS FOR LAKE BOHINJ, SLOVENIA

---
1. Bohinj is awash with references to the legend of Zlatorog (The Golden Horn). Make sure you learn the story behind the legend!

2. It is interesting to know that Lake Cerknica, an intermittent lake, is actually larger than Lake Bohinj during its flood seasons, but disappears entirely during dry seasons.

3. The Triglav National Park is the only National Park in Slovenia!

4. Bohinj means "godly" in Slovene which is fairly apt!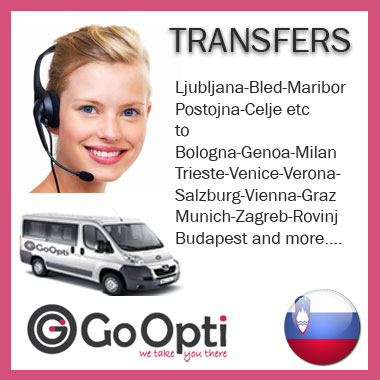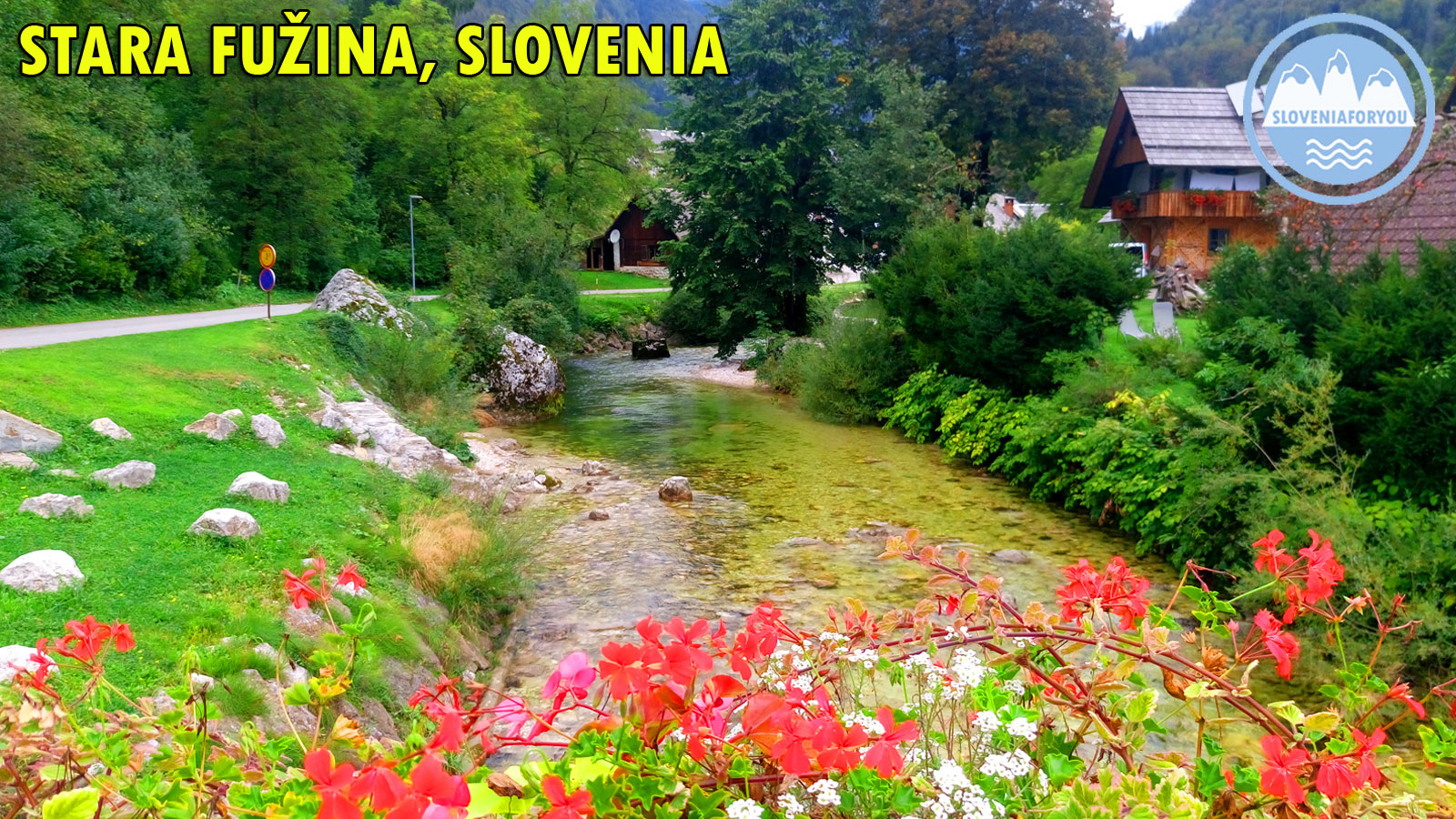 ---
---
EVENTS AND FESTIVALS IN LAKE BOHINJ, SLOVENIA?

---
There is always something happening in Bohinj all year round, especially in the summer months.
Here is a calendar of the major events. You may want to plan your holiday to coincide with these events!


MAY - Bohinj Wildflower Festival

This is a great time to be in Bohinj with Spring in full bloom with a myriad of colurs across the meadows, hills and mountains. See some rare and just plain beautiful specimans of wildflowers plus take in the stunning beauty that is Lake Bohinj and the Julian Alps.

Wild Flowers continue to this day to play an important part in our local culture and while farming methods are changing and young people are becoming less directly involved in managing the land, there is a strong desire to promote and raise awareness of our unique natural and cultural heritage.


The festival will last for a fortnight and provide a bouquet of events that have one thing in common – the presentation of alpine flowers in all kinds of environment in Bohinj (along the waters, meadows, hills, mountains). The purpose of this festival is to remind the local people and the visitors of the unique natural advantage of Bohinj as a tourist destination in the sense of nature preservation and tourism. On the other hand we wish to develop more tourist-like products that are connected to Bohinj's natural and cultural heritage, Triglav National Park and similar trends.

Click HERE for more info

SEPTEMBER - Cows Ball/Cheese and Wine Festival

Bohinj turns it on during September with a weekend of cheese, wine and cows!

The cheese and wine festival on the Saturday is a new event which highlights the best of the local cheese and wines from around Slovenia. Buy tokens and taste as many varieties as you like. There is also live music for you to enjoy!

On the Sunday the cows are brought down from the mountain and paraded for festival-goers. See traditional costumes and try the local food as well. Basically an afternoon knees up so come along and have a great time!

Click HERE for more info

DECEMBER - Pokljuka Biathlon

The best competitors come each year for the Biathlon World Cup on the hilltops of Pokljuka. Come enjoy the excitement of the competition plus take in the fresh winter mountain air. Cross-country skiing is famous up here with lots of trails to choose from!

Pokljuka is one of the best known Slovenian plateaus. The plateau is mostly forested; the Šijec peat bog is interesting for its great ecological significance and providing shelter to many animals and plants.



---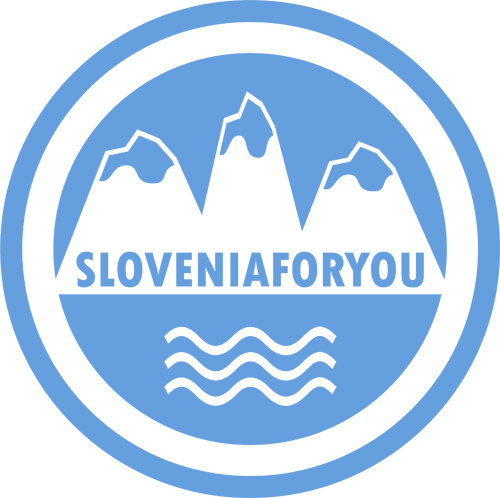 Book an exciting tour from our partners today!



Choose a service for your holiday from our affiliate partners!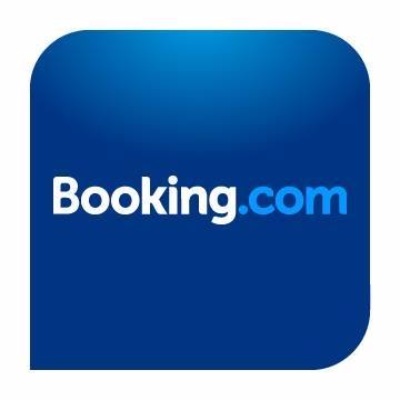 Accommodation Slovenia
Search for your ideal hotel, hostel, guest house or apartment in Slovenia and worldwide through our Booking.com link.
---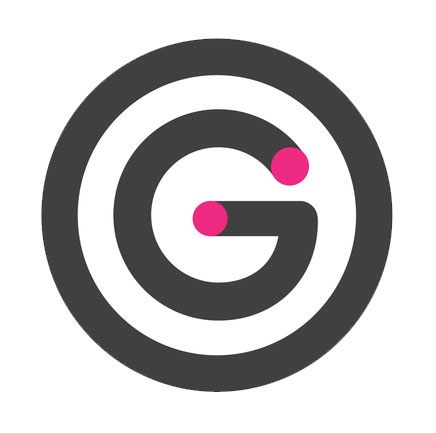 Goopti Transfers
Goopti offers the cheapest shared transfers across their network which includes Slovenia and neighbouring countries!
---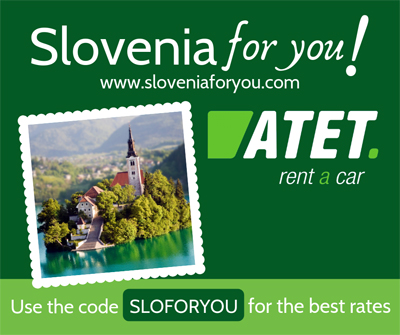 ATET Car Rental Slovenia
Book your Slovenian car rental with the best. ATET have offices in Ljubljana, Airport, Maribor & Koper.
Use code: SLOFORYOU in the booking for the best rates.
---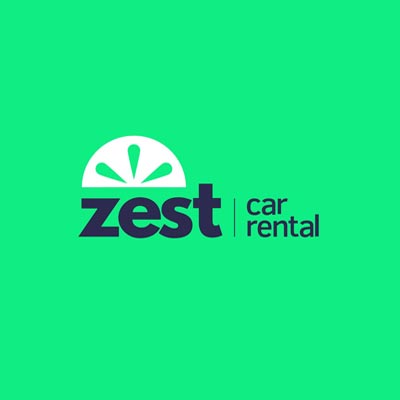 Zest Car Rental
Zest Car Rental is a great choice for car rental across Europe and the world, get a quote today!
---
请看看我们精心为您定制的团体和个人自助游览斯洛文尼亚的旅行安排,
如果您想预订,
请在这里给我们发电子邮件 Sloveniaforyou.com

Auf unserer Webseite finden Sie eine große Auswahl an öffentlichen und privaten Touren in Slowenien. E-mailen Sie Sloveniaforyou.com und buchen Sie Ihren Ausflug!

Dê uma olhada nas nossas ótimas opções de passeios por toda Eslovênia. Ha opções de passeios em grupos e também passeios exclusivos. Se quiser fazer uma reserva, basta enviar um email para nós aqui do Sloveniaforyou.com

---