Our complete wine guide for the:
JERUZALEM WINE REGION
welcome
dobrodošli
Sloveniaforyou
Slovenia's no1 independent website!


---
Where is Jeruzalem?
Where to start?
How to get to Jeruzalem?
What varieties is Jeruzalem famous for?
Jeruzalem Wine Tours
Jeruzalem Accommodation
Leading Estates
History
Climate
Soil
Wine Touring
Checklist
Festivals

---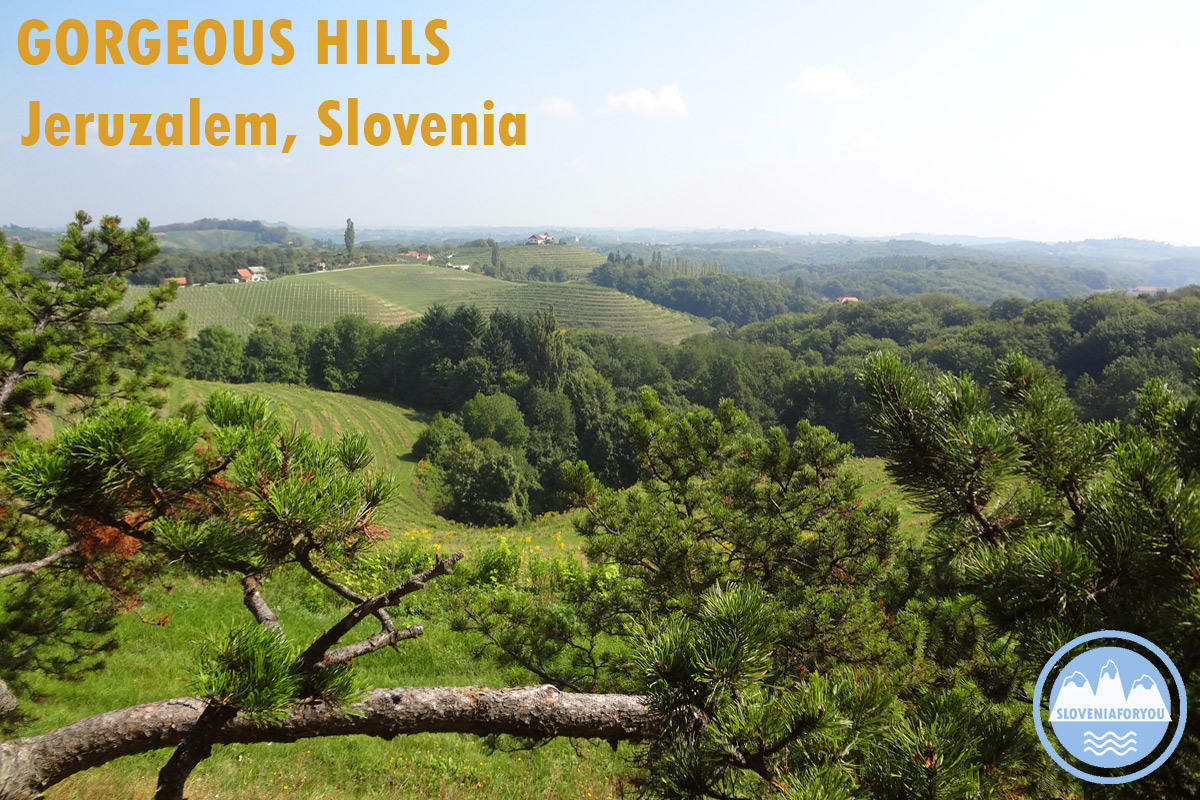 WHERE IS JERUZALEM?
Almost on the border with Croatia, the hills of Ljutomer-Ormož rise lavishly above the Mura and Drava rivers.

Jeruzalem is contained in this area which is particularly famous for its amazing landscapes, which many people consider to be some of the most beautiful in the world.

Jeruzalem, with its holy name, has it all: an energetic vibe, wine roads with top wines and exquisite viewpoints. Some say it has every right to be named a "heavenly place".

During all seasons, the landscape on the Jeruzalem Wine Route shines with a special intensity of colors and shapes. The hospitality of the people along the way makes it even more colorful. Tourist farms, bars, wine growers, artisans and locals invite you to visit the route throughout the year.

Like Goriška Brda, this area is scarely populated and feels like another world so come and lose yourself in the stunning countryside that makes up this corner of Slovenia.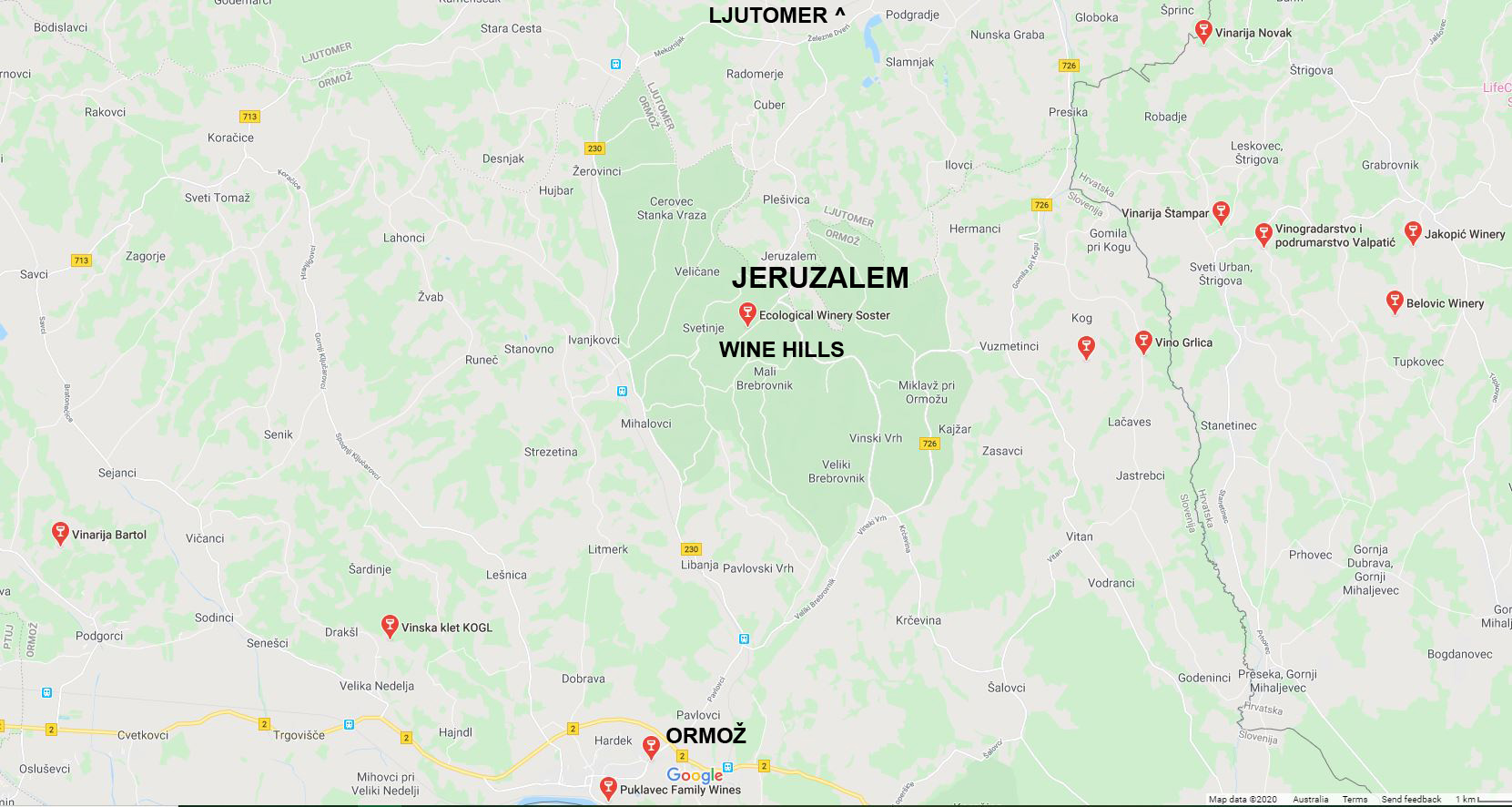 ---
WHERE TO START?
A car is really a necessity to travel in the region and the Tourist Information Centre/Wine Shop at Jeruzalem is a good place to start. What an inspirational location.
The hills are very impressive and you can stop and have lunch at the Hotel Dvorec Jeruzalem (with local vino of course)! Beautiful.
The views from the terrace are a good introduction to this wonderful area!.

The centre sells the best local wines and has tourist info/brochures and souvenirs for sale! This will set you up nicely for the day as they can explain everything about the local labels and varieties they produce. After you choose your accommodation, you can explore the region on foot, by car, bicycle or bus and whichever way you choose; it is a unique experience than mixes nature, culture, traditions, gastronomy and of course, wine! Have a great holiday.

THE VINO

They take their wines very seriously here and a lot of families live off a combination of wine production and tourism. Therefore it is no surprise that the area is famous for its high quality wines with long traditions. Thanks to the great diversity and varieties of white wines produced in this area, you can truly say that Jeruzalem-Ljutomer-Ormož is a true symphony of whites! Wine lovers, and especially white wines lovers, will discover a true Slovenian paradise here among incredible nature.
---
HOW TO GET TO THE JERUZALEM REGION?
Its not hard to get lost in this area. When you get off the main roads, all the narrow country roads look the same but getting lost can be a good thing. You can end up in places you never imagined! Having said that, its an easy drive from Maribor or Ljubljana.

From Ljubljana, why not take the A1 towards Maribor and turn off for Ptuj (A4). Perhaps spend a night in charming Ptuj before heading onwards to Ormož (route 2). Then take route 230 towards Ljutomer. In between is the Jeruzalem Krajinski Park. Look for the signs to Jeruzalem on the right (pass through Svetinje).

You can also enter from the eastern side as well along route 726. From Maribor you can also enter from Ljutomer (take E653) then south on route 230.

Of course if you don't have a car, please email us to arrange a transfer!
---
WHAT WINE VARIETIES IS JERUZALEM FAMOUS FOR?
THE BELI PINOT (white)

Numerous small producers bottle wine from their own vineyards, but the two large centers of viticulture are Ljutomer and Ormož. As in Haloze to the west, white wines are the traditional product of this area, but some producers also achieve outstanding results with red wines, most notably the Modri Pinot.

All wines produced like the Riesling achieve excellent quality, but the Beli Pinot can be regarded as the champion of champions. Jeruzalem-Ormož is also famous for its Sipon, an acid-rich wine with a noble bouquet; some ampelographers believe that the grapevine is autochthonous to this area. .


WHAT OTHER VARIETIES ARE PRODUCED?
Let your palate decide between Furmint, Italian Riesling or Riesling , Chardonnay , Sauvignon and Pinot blanc, a selection further complemented with Pinot Gris and Pinot Noir, Traminec, Rumeni Muscat, Muscat ottonel, Müller- Thurgau, Kerner and Ranina.

The best known blends of the area are Jeruzalemcan and Ljutomercan. The former contains Sauvignon, Beli Pinot, Sivi Pinot, Renski Rizling and Laski Rizling - the wine is fresh and quite rich in acids. Ljutomercan is a blend of Laski Rizling, Renski Rizling and Chardonnay, and other white varieties may be added depending on the vintage.


---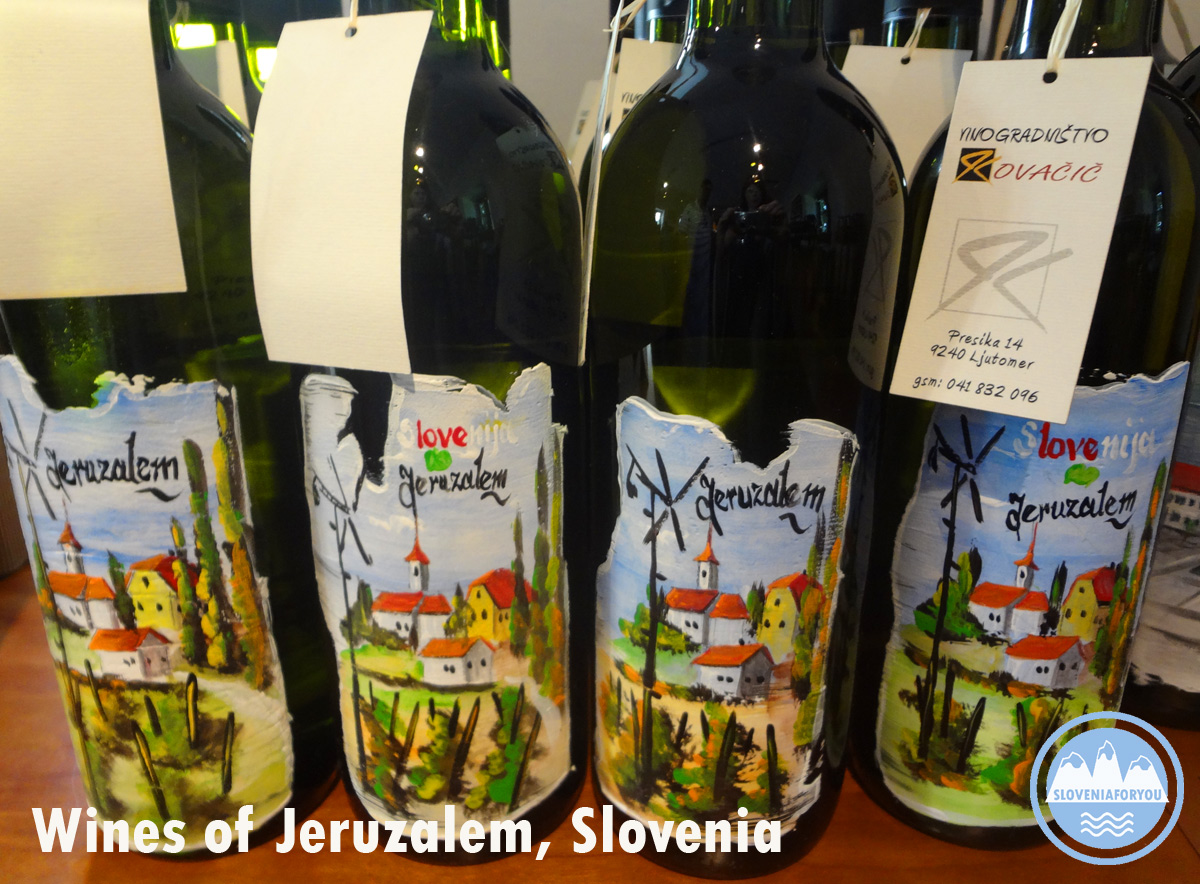 JERUZALEM WINE TOURS
JERUZALEM + SLOVENSKE KONJICE
---
A typical regional tour
What is the cost?
How do we book?

---
WHERE TO STAY?