Coming from Ljubljana, that huge mass of stone that is Mount Nanos looms larger than life and is the indicator that we are approaching the turnoff for our home region, the mighty Vipava Valley.

The long descent affords stunning views of the valley below. Picturesque little towns are set amongst vineyards and gorgeous rolling hillsides. Finally you reach the valley floor signalling you have arrived, welcome to the Vipava Valley!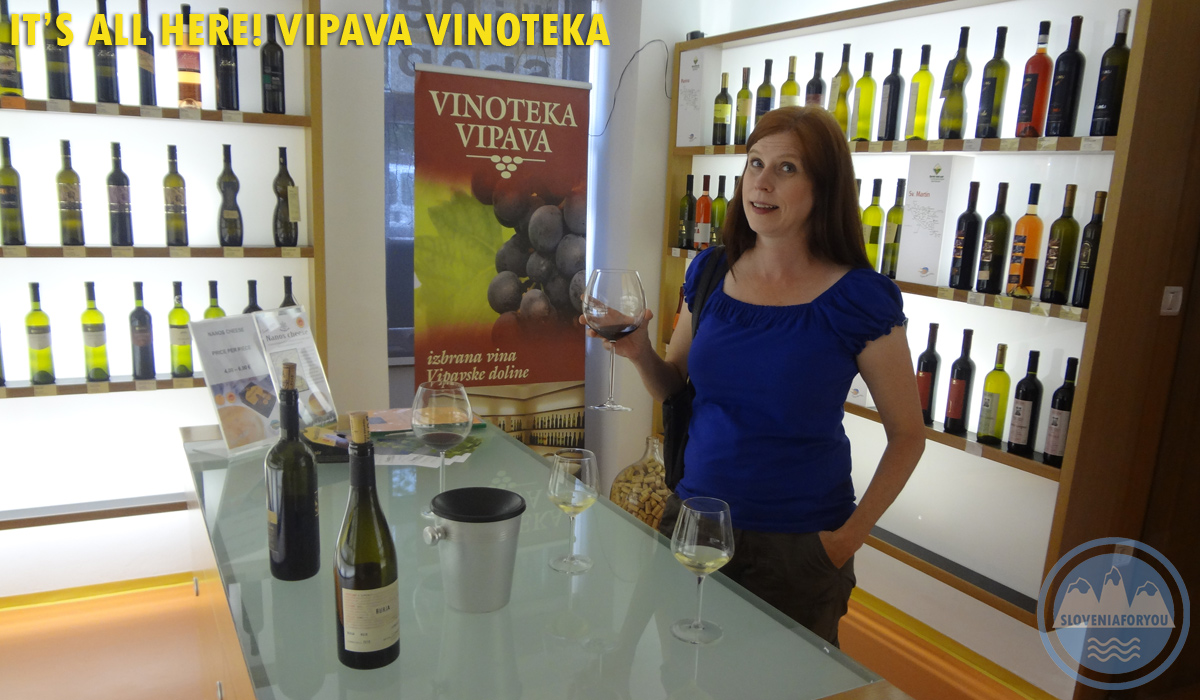 You will find all the regions wines here!



Through our partners in the valley, Sloveniaforyou can offer the most amazing day trips from Ljubljana or if you like, base yourself in the valley for a few days and explore the immense beauty and serenity of the area.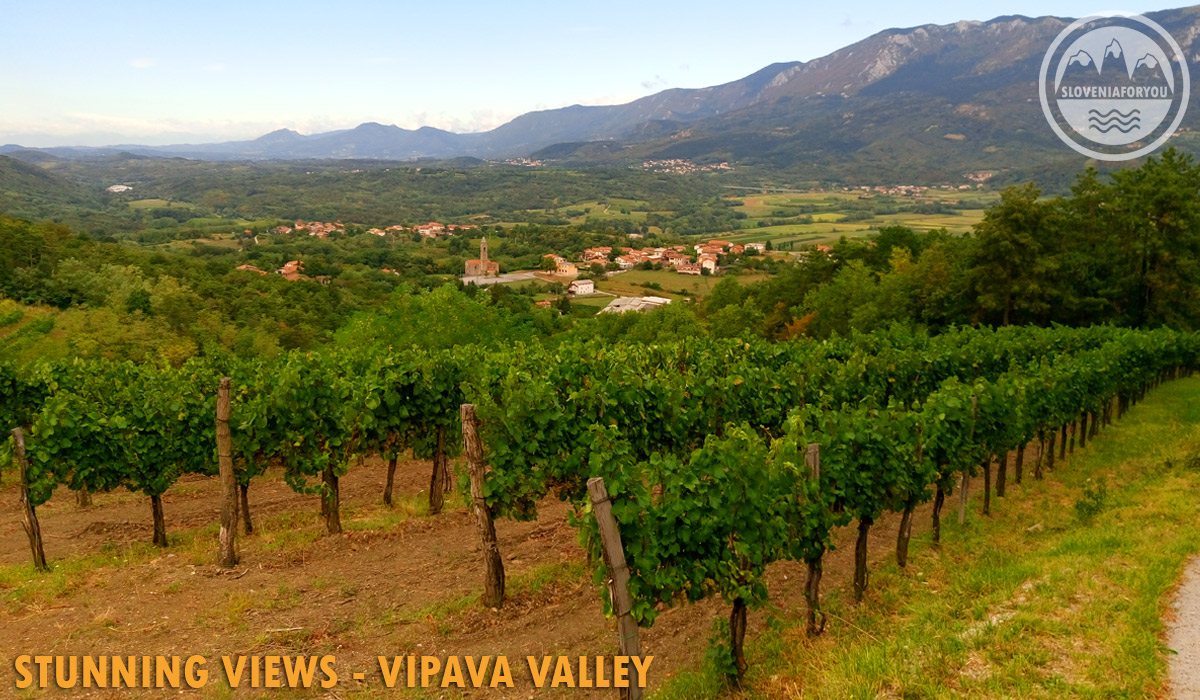 Come and sample to best of what the Vipava Valley has to offer.



Of course it's all about the wine and like everywhere in Slovenia, they take it very seriously in the Vipava Valley. The passion is infectious and you get a real sense of "joie de vivre" whenever you meet a local winemaker. Names like Tilia, Guerila, Burje and
LepaVida
resonate here and they are more than happy to show you their wares.
Sloveniaforyou and Faladur can put together the perfect day for you that includes visits to one or more wineries, plus the chance to dine in exclusive restaurants or just locally at a traditional inn. Round off the day with some stunning sightseeing and you have a day (or days) to remember.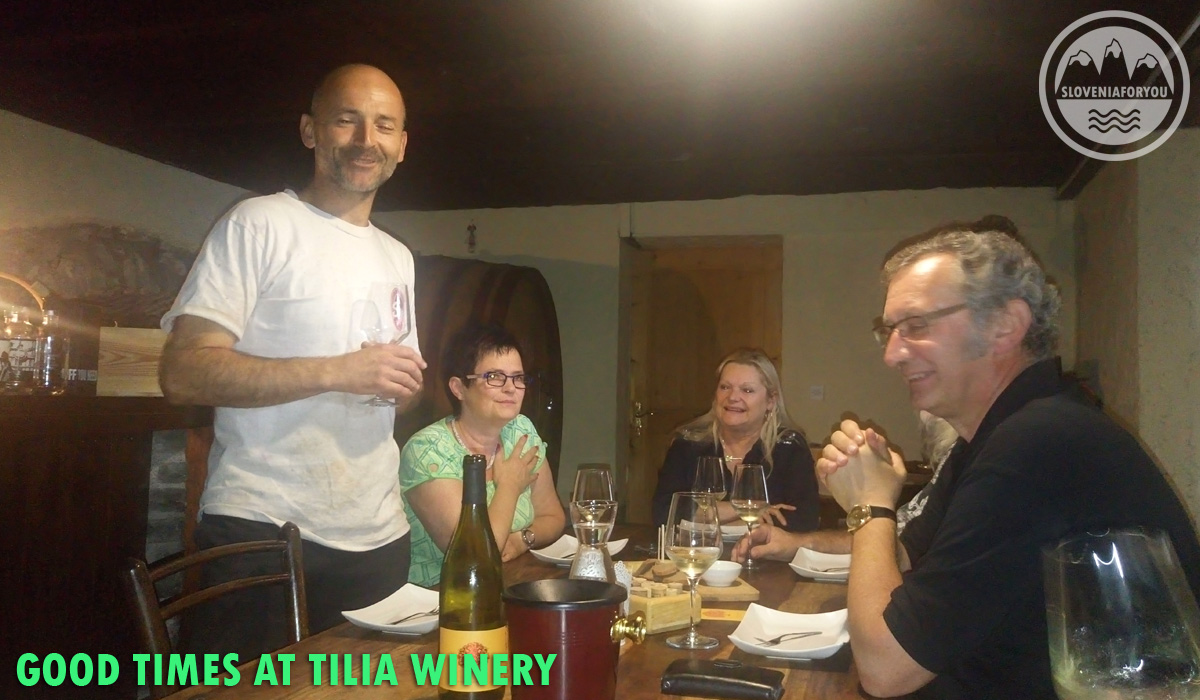 Matjaz will introduce you to the best of Vipava at Tilia winery



A visit to Tilia Winery is a case in point. The owner Matjaž is typical of those who take pride in their craft. Charismatic, charming, informative, animated and jovial, he has the full attention of the group as he describes the nuances of his latest creations.
Try the novelty of an orange wine, can you taste the nuttiness? Should Chardonnay be aged in barrels?
More and more Pinot noir is being cultivated here now and sales have tripled over the last few years. "No tannins, and no balance, it's a creative variety" and that's exactly what Matjaž loves about it. "Its exciting, aged longer, always evolving and very robust, and its flying off the shelves" he exclaims. Try some yourself and see. "Pinot has a purpose, to bring people together" he adds, and no one can deny it is definitely doing that today. Everyone is having a great time trying different varieties with local cheese.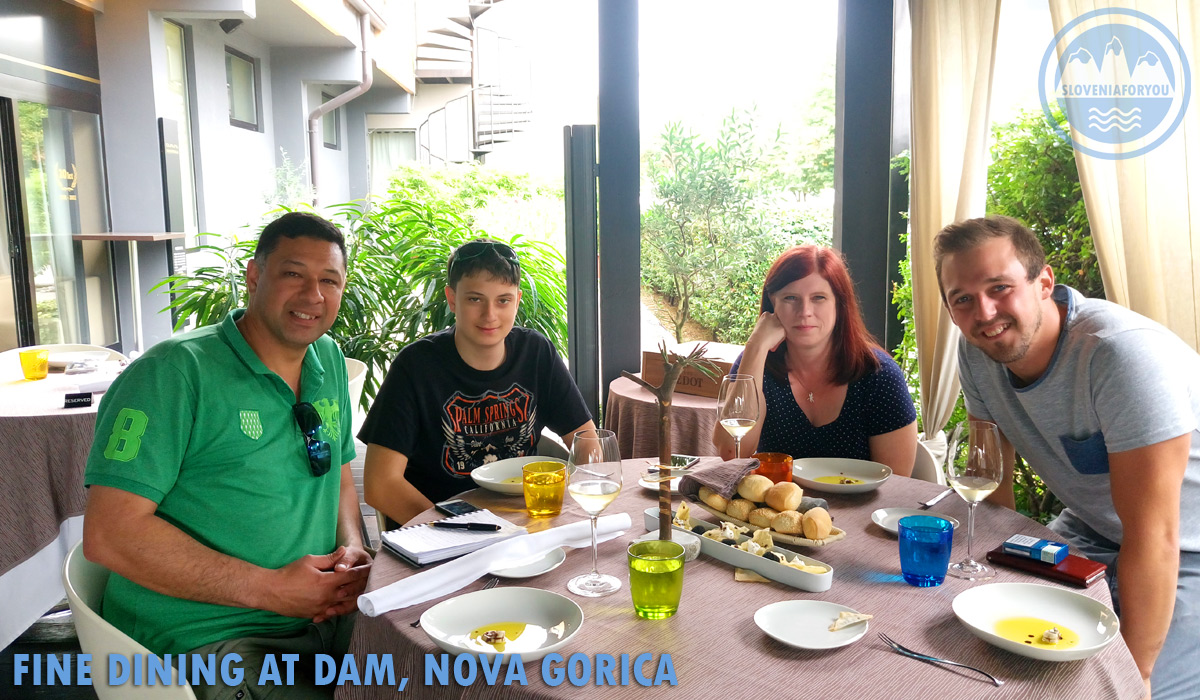 A great experience and the perfect place for lunch, Dam restaurant in Nova Gorica.



As we bid a fond farewell to Matjaž and Ana, guests can decide to splurge on a multi course degustation at an exclusive restaurant like Dam in Nova Gorica, or perhaps settle for lunch at a local inn. We will of course visit the home of Faladur in Vipava, to sample the best local wines, craft beers and local produce.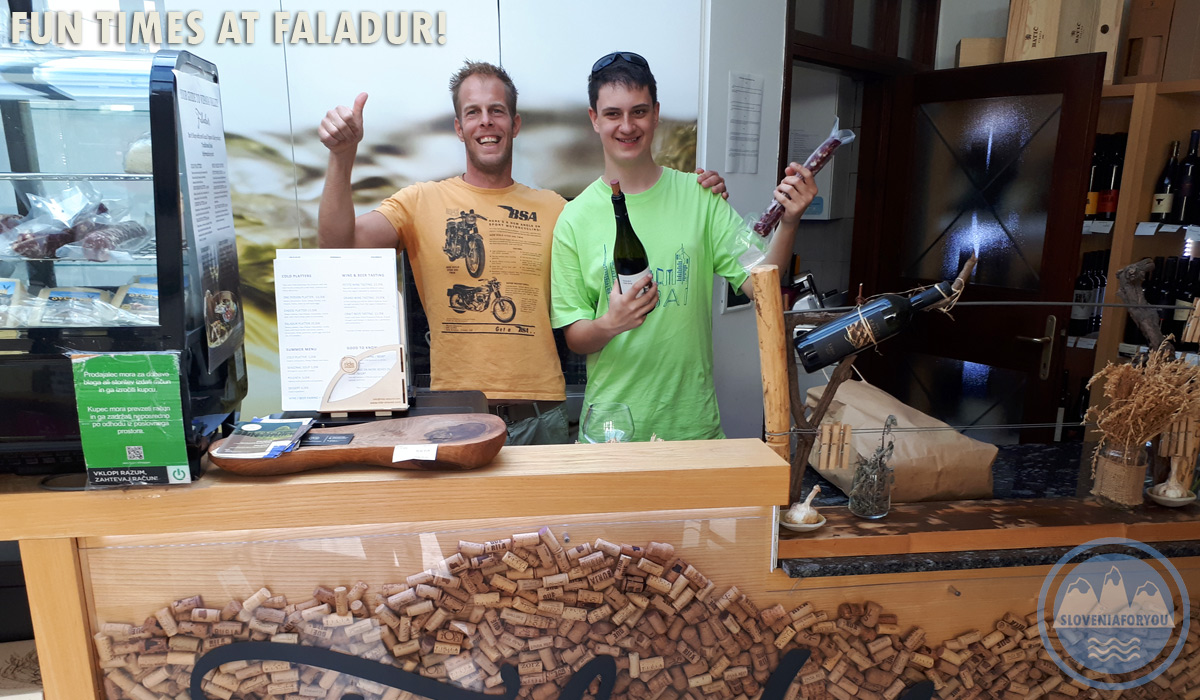 Come and sample to best of what the Vipava Valley has to offer at Faladur.



At Faladur, Matej and the team are on hand to make sure you have the best experience and they regularly organise tasting events for locals and tourists. Faladur is a great idea that embraces the produce of the whole region in one place. They even brew one of Slovenia's best craft beers in Pelicon/3rd Pill.
We end the day by scaling the heights of Mount Čaven and taking in stunning sunset views across the Vipava Valley as far as the Adriatic.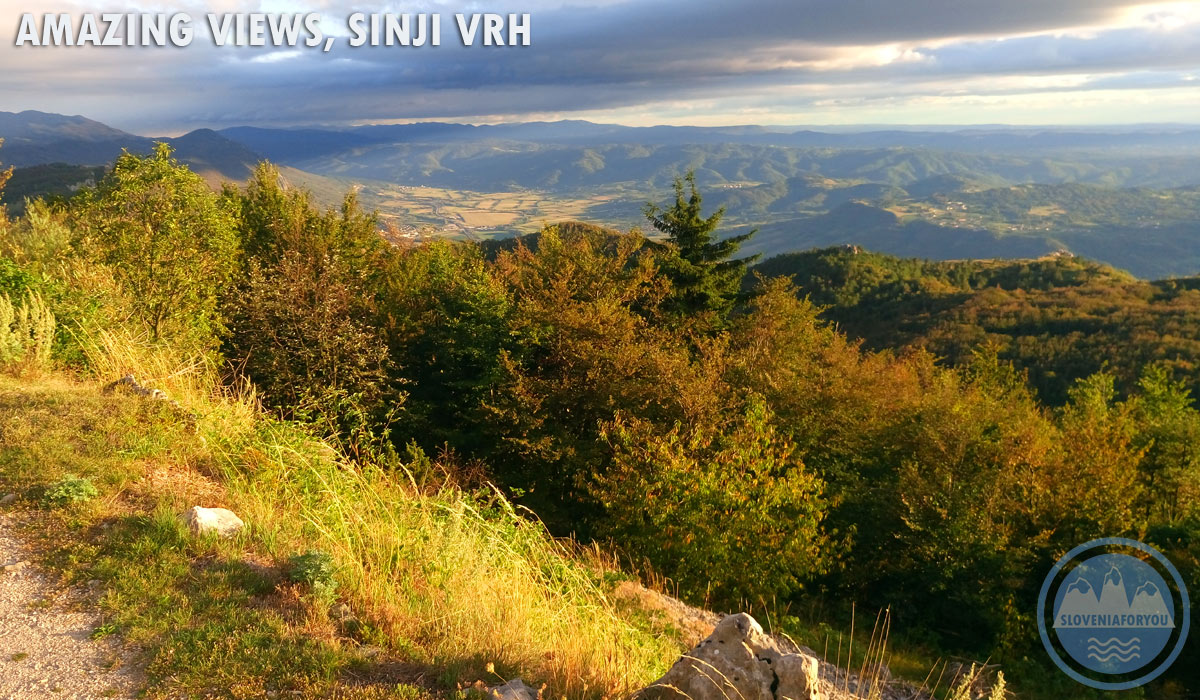 Vipava has its fair share of stunning views and landscapes like from Sinji Vrh



Up here at Sinji Vrh they have a lodge popular with artists, hikers and cyclists. We are greeted with local schnapps and admire the expansive countryside.
Of course it would be hard to discover these places without the knowledge of a local guide so we invite you to join us and book a trip to the Vipava Valley today. As mentioned earlier, tours from
Ljubljana
or anywhere else can be arranged, or multi day itineraries can also be made for those staying longer.
Seriously people, we believe a holiday should be an experience (not just ticking places off a list), and an experience is definitely what our partners provide! Enquire and book today!
---
WHERE IS IT?
The Vipava Valley is about 80km/1 hour west of Ljubljana near the Italian border and easily reached by the major freeway. Ajdovščina and Vipava are the major towns here and the valley is surrounded by mountains and hills on both sides. A pictureque valley full of vineyards and cute villages like Vipavski Križ, you will love a day out here!
---
LOOKING TO BOOK A FANTASTIC WINE TOUR?
Our partners have that covered too. Book a memorable day tour from Ljubljana or spend a few days in the Vipava Valley and visit some wineries. Either way our partners have you covered.

Email us at info@sloveniaforyou.com to get a quote or ask a question.
---
BOOK A SERVICE TODAY!
TRANSFERS - Need to get to the Vipava Valley? Our partner can get you here in comfort!
Email us to enquire or book a transfer - info@sloveniaforyou.com



ACCOMMODATION - Want to book accommodation in the Vipava Valley? Browse HERE for some beautiful options!
Email us to discuss the best location to stay - info@sloveniaforyou.com


---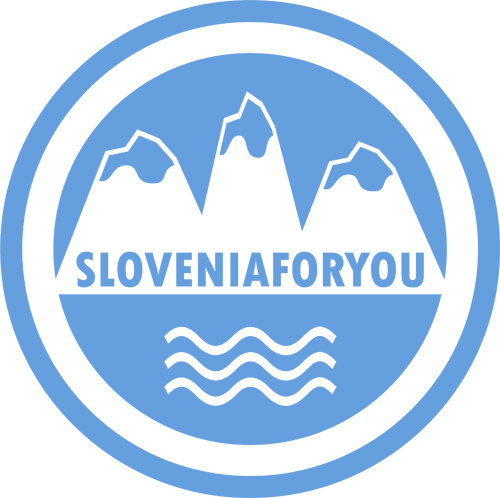 SFY Blog

YOU MAY ALSO LIKE....
---
Lepa Vida Winery Review - Vipava Valley
Goriška Brda Wine Trails
---
Book an exciting tour from our partners today!


---
Choose a service for your holiday from our affiliate partners!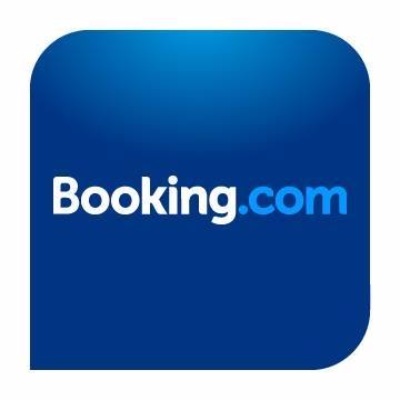 Accommodation Slovenia
Search for your ideal hotel, hostel, guest house or apartment in Slovenia and worldwide through our Booking.com link.
---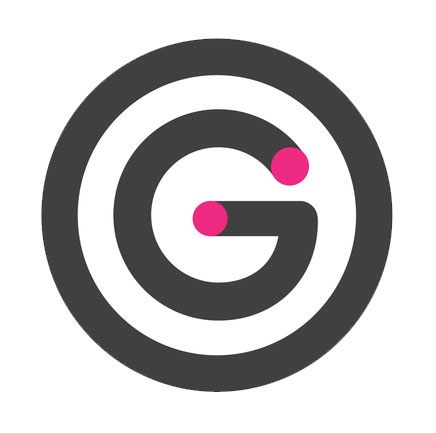 Goopti Transfers
Goopti offers the cheapest shared transfers across their network which includes Slovenia and neighbouring countries!
---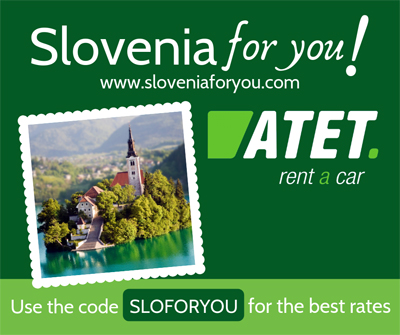 ATET Car Rental Slovenia
Book your Slovenian car rental with the best. ATET have offices in Ljubljana, Airport, Maribor & Koper.
Use code: SLOFORYOU in the booking for the best rates.
---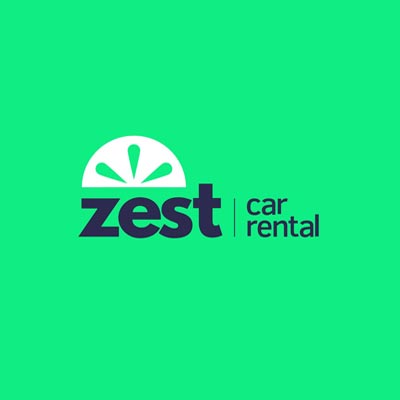 Zest Car Rental
Zest Car Rental is a great choice for car rental across Europe and the world, get a quote today!
---
如果你需要出租车接送服务,
包括在斯洛文尼亚境内各地,
或者斯洛文尼亚境外(威尼斯,
克罗地亚,奥地利) 请给我们发电子邮件,
我们将提供报价!

Benötigen Sie einen Taxi Transfer innerhalb Slowenien oder außerhalb (Venedig, Kroatien, Österreich), dann e-mailen Sie uns einfach für ein Preisangebot!

Se você precisar de translado para qualquer lugar dentro ou fora da Eslovênia (Veneza, Croácia, Áustria, etc.), basta enviar um email para nós aqui do Sloveniaforyou.com, que lhe faremos um orçamento imediatamente.

---