To Repnice or not Repnice?
Turnip and find out!
Author: Sloveniaforyou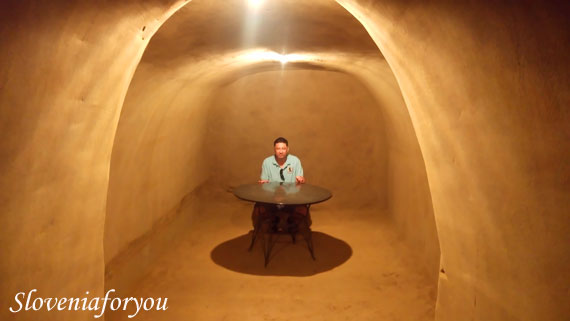 Please don't turn the light off!
There is something strange happening in the vineyards of Southern Slovenia....... Distinguished winegrowers with bushy moustaches are luring unsuspecting visitors like ourselves down into the depths of a secret world, where quartz is king and the solitude cool.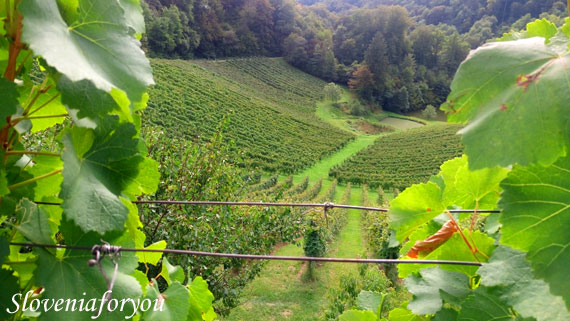 Beautiful hidden vineyards off the main roads in Bizeljsko.

The "Repnice" are underground cellars that were built centuries ago to keep the mighty turnip cool in times when refrigeration was just an 'ice' dream.

The turnip or "repa" in Slovene, was the main source of sustenance for livestock and the Repnice was an ingenious solution for storage over the long winters, especially here in the lower parts of Slovenia.

General Electric and Westinghouse soon put an end to this enterprise and the poor old Repnice were left abandoned and unloved. That is until recently, when some bright spark deduced that the constant low temperature and high humidity were the perfect match for storing vino and so the tradition began.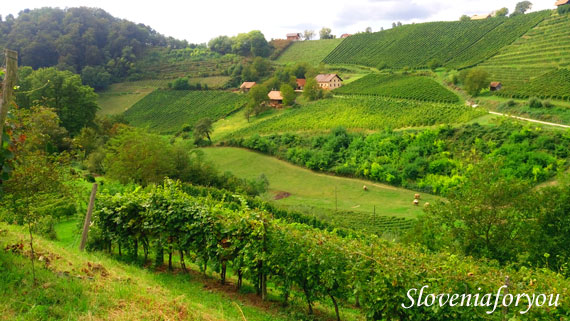 Stunning views across the valley from Vino Graben

Janez Šekoranja is sitting peacefully on his verandah stroking his feline accomplice as we mistakenly turn into his driveway at Vino Graben and throw our hands up in the air signifying we have taken a wrong turn along the tight winding backroads of Bizeljsko.

We were actually looking for another property but Janez is quick to offer assistance and beckons us to stay. Is he intrigued at our appearance or just bored? Either way we accept his offer as he looks like a man with a good story to tell. And so he does as it turns out.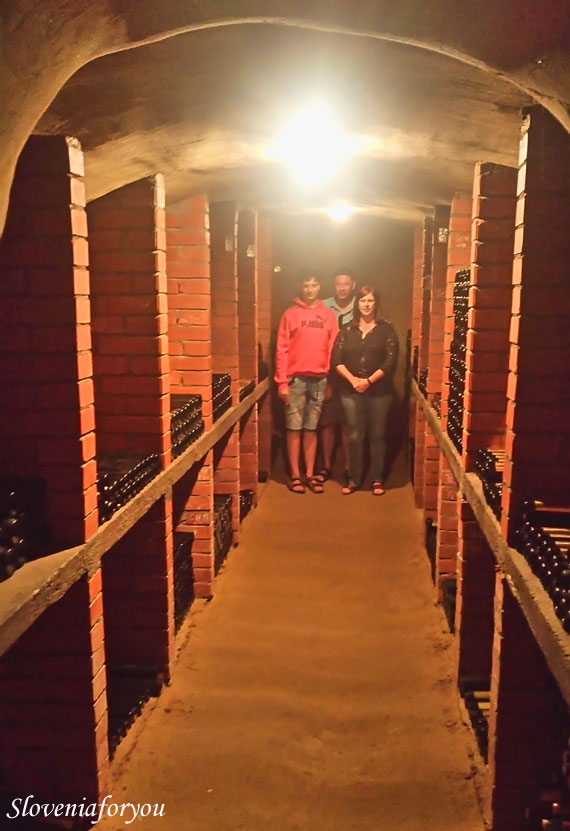 This is where they keep the good stuff!

Janez is actually quite a famous figure in wine circles having prior dealings with Bill Clinton and Alain Ducasse just to name a couple. Now, in the shadows of a lazy summer day, he is a content man with plenty of time on his hands for lost souls like us.

It turns out that we have made the right decision in staying as his "Repnice" is the deepest (at more than 12 metres) and one of the most publicised in the land and he's not shy in telling you about it. Experts from the geological society were employed in making sure that this repnice was safe and sound. Building it was no easy feat, hand dug using basic tools like the handy pick, the crystal quartz here is as hard as they come with a rating of 8.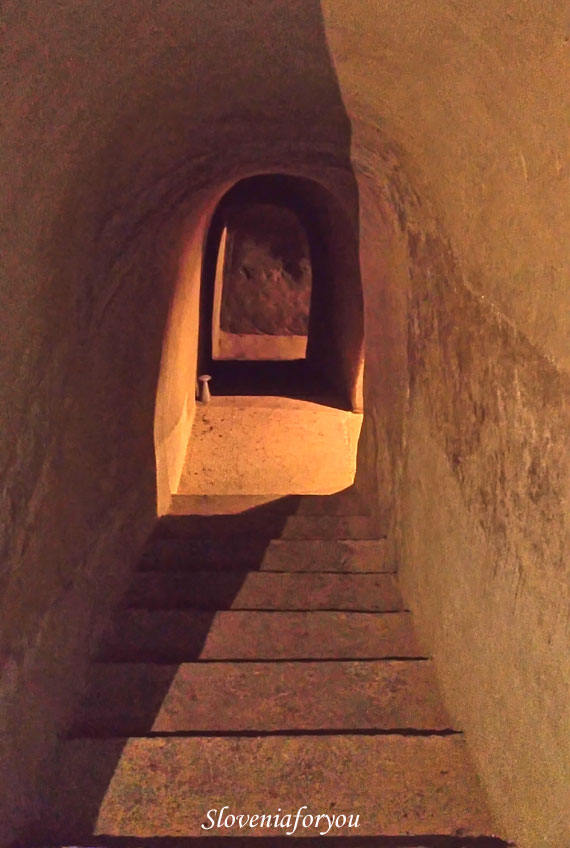 Inside the deepest repnice at over 12 metres!

So was it all worth it? Janez seems to think so as he leads us down the narrow staircase and shows us the various rooms in his repnice. Built in 1992, the temperature is a constant 3-10c and with his self-proclaimed system of "termite aeration", he thinks he is onto a good thing in regards to protecting his best vintage.

For sure, this is all very impressive, but what about the vino? Well in his youth Janez travelled the world collecting awards and touting his wares with great aplomb. His late harvest Gamay has been a favourite of Alain Ducasse, (the world famous chef/restaurateur) and as such it appears on his menu at his New York and Paris restaurants. Bill Clinton also made repeated orders from the White House.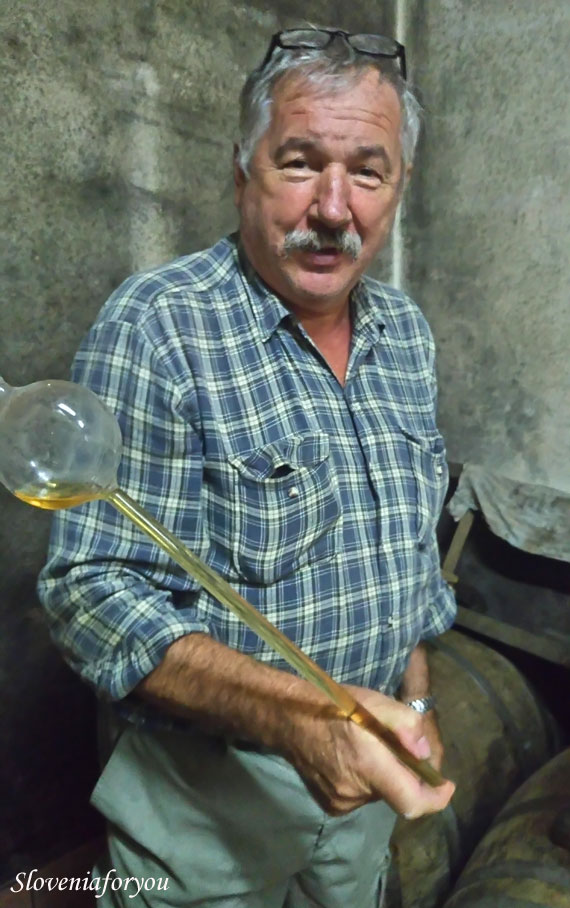 Here, let's try some of this! (Janez Šekoranja)

Down in his "normal" cellar, we try some of his prized best offerings which are not to be spit out. The Gamay (most famous in France for producing fruity reds and often blended with Pinot) is relatively unknown in Slovenia but Janez is quick to pronounce his love for a good Beaujolais and anything French. It has strong berry and chocolately notes and being soft, fruity with a low alcohol content, makes it perfect for food such as chicken and game. He is also proud of his Traminec, Sauvignon Blanc, Rumeni Plavec and Pinot Gris.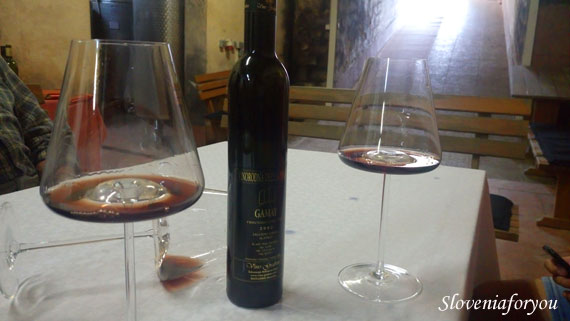 Trying some prized 2002 Gamay, do not spit this out!

We naturally purchase a couple of bottles of our favourite tipple and bid farewell. Two hours have flown by and we're sure Janez could talk all night such is his enthusiasm.

This is definitely a must-do and the beautiful countryside make it a must-see area of Slovenia with a chance to see something really unique.

This could possibly be the best mistake we've made so far on our investigative day trips!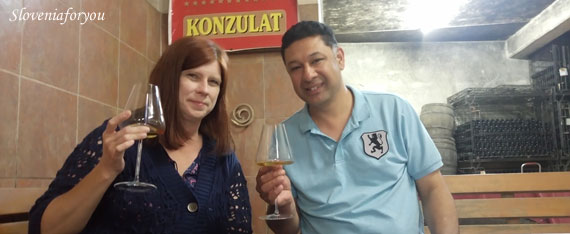 A really good experience and highly recommended!



WHAT IS IT?

The "Repnice" are underground cellars that were built centuries ago to keep the mighty turnip cool as it was the main source of sustenance for livestock. Today they have been transformed into wine cellars.

WHERE IS IT?

The "Repnice" is unique to the Bizeljsko area of Southern Slovenia. The tourist centre in Brezice can give you a list and map of repnice in the area. The one we visited (there are many nearby too) is at
Vino Graben which is located in Brezovica na Bizeljskem.

Heading north on the 219, turn left at Brezovica na Bizeljskem, the road veers left and uphill where you turn right at the intersection. Follow the road until there is another intersection and turn left. On the left is the Repnice Najger and a little further on on the right is
Vino Graben.

WHEN IS IT?

Usually open weekends. On weekdays an appointment is necessary so call ahead.


---