Do I need a car while visiting Slovenia?

Of course this largely depends on where you want to go and how long you are staying.
If you are staying in Ljubljana for instance, then it is quite easy to do day trips to popular places like Koper, Maribor, Bled and Postojna by bus or train. Things get a little more complex when you want to travel to other places where public transport is more infrequent. This is where a car rental makes total sense and gives you total freedom on where to go and for how long.

For places like Kranjska Gora, Vrsic Pass, Bovec, Kobarid, Goriska Brda, Nova Gorica, Postojna&Predjama, Skocjan Caves, Lipica, The Coast, Logarska Dolina, Ptuj, Jeruzalem Wine Region and all the Spa Resorts, a car is almost a necessity!

ONE WAY CAR RENTALS across EUROPE

We also specialise in one way car rentals now so if you need to get from point A to B from and to Slovenia (eg to Budapest, Split, venice, Salzburg etc.) Please note we do not do ONE DAY one way rentals. Check our One Way Rentals page: CLICK HERE!
So where is the best place to hire a car in Slovenia?

Sloveniaforyou.com highly recommends using
Zest car Rental or ATET Car Rental
for car hire in Slovenia.
ATET
are an outstanding local company who deal with top line clients such as American presidents and diplomats as an example. They pride themselves on the best customer service which can sometimes be worth its weight in gold in comparison to some of the larger firms.
To book a car through ATET, click on the box to the right to view their website for great rates and car details. Change the language from Slovenian to English if need be. Also contact them if you don't have a credit card, you may be able to arrange a cash deposit on some bookings.
The guys at ATET will look after you in Slovenia!
---
Zest Car Rental
are a UK based company that deal with most of the leading car hire companies in Slovenia like Avantcar etc. to bring you the best deals they can offer. In some cases, the quotes will be cheaper than if going through the same company in Slovenia!
To book or get a quote with Zest, use the booking\quote engine on the right and enter your preferred details. The engine will take you to the Zest Car Rental site where you can see your quotes and make a booking.
There is also a list of the all the major car rental companies and their office locations in Slovenia below.
Click
here
to view a handy packing checklist courtesy of Zest Car Rental!
All bookings made through our website help keep us going so we appreciate your support! :)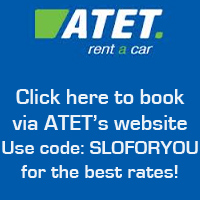 What do I need to check when hiring a car in Slovenia?

Age
Drivers must be at least 21 years of age to rent a car in Slovenia.
Drivers under the age of 25 may incur a Young Driver Surcharge.
Drivers between the age of 21 and 24 may be restricted to certain types of vehicles.
Border Crossing
If you want to travel to other countries and back, check that this is allowed and if so, you will need a CBC or Cross Border Card.
Changes
It may pay to also ask if any charges are involved for changing your dates if you need to.
Damage
Always do a walkaround before driving off and note all defects on the car. Take photos and make notes plus advise the office before you leave.
Drop Off/Pick Up Surcharge
Many companies will charge fees for dropping off at a different location from where you picked up the car. There may also be a surcharge for airport pickups. Drop offs in another country (if allowed), are normally very expensive.
Excess
CDW is like full or comprehensive insurance but may require you to pay an excess if you have an accident. Read your policy carefully.
Insurance
You must have 3rd party insurance by law but you can also get CDW and SCDW (Collison Damage Waiver and Super CDW). Super CDW gives you 100% protection and zero responsibility no matter what happens in an accident. CDW is like full or comprehensive insurance but may require you to pay an excess if you have an accident. Read your policy carefully and ask what the excess is.
Mileage
Check to see how many kilometres you are allowed, some offer unlimited mileage which is fantastic!
Office Hours
Work out when you are arriving and departing and see if the office is open. If not, there may be a surcharge for out of hours pick up or drop off. This may also apply for weekends and holidays. Many companies are located at hotels so drop off is not a problem as you just hand the keys to reception, but pick up will need someone present so a charge applies.
Online Bookings
Some companies only allow you to book 30 days at a time online so multiple bookings may be needed.
Petrol
Dont drive off without checking what fuel your car takes! Diesel is now a popular choice for longer mileage.
Roadside Assistance
Check what sort of roadside assistance your company has as this may prove the difference between a good or bad holiday if you break down!
Season
Prices can vary depending on the season of the year (high in summer and around Christmas for example), ask and plan your dates accordingly if needed.
Second Driver
Make sure that if more than one person if driving the car, that they are included on the paperwork otherwise your insurance will be invalid. Again, a surcharge may apply. The second person must supply the same valid driving ID that the main driver requires.
Snow Tyres
Between NOV 15 and MAR 15 (sometimes earlier), it is compulsory for all cars in Slovenia to be fitted with snow tyres and snow chains are usually kept in the boot as well.
Transmission
Nearly all cars on the road in Slovenia are manual (or stick). If you require an automatic, make sure this is stated as most hire companies only have a few on hand and they are generally more expensive.
Vignette
If travelling on Slovenia's main freeways, you must have a "vignette" sticker on your windscreen that can be electronically tagged on designated freeways. Many rental companies will include this automatically but always double check. For more info on vignettes, check here:
What are the general road laws in Slovenia?

Check with your rental company about purchasing a "Vignette". A vignette is a toll sticker which is required for travel on expressways and freeways. If you do not display a vignette sticker on your vehicle you will be fined.

Between November 15 and March 15, all cars in Slovenia, including rental cars are required to be equipped with snow tyres. This may incur an additional surcharge, depending on which rental company you choose.

Car renters are required to pay authorities for all fines and court costs for parking and traffic offences.

You must have insurance in accordance with Slovenian Legislation.
You will need Legal Liability, Third Party and Public Liability insurance.

You must used dimmed headlights even during the daylight hours in Slovenia.
It is illegal to use a hand held mobile phone while driving a car in Slovenia.
In Slovenia everyone in the vehicle must wear a seat belt. This includes rear passengers as well as front.

There is a speed limit of 50 km/h in built up areas, 90 km/h on single carriage ways, 100 km/h on double carriage ways and 130 km/h on highways.

You must drive on the right in Slovenia and keep in the right lane if not overtaking.

And of course, do not drink and drive! Happy motoring!
What are the roads like in Slovenia?

The major roads and highways between the major centres are in very good condition and are well maintained.
Freeways and the Ljubljana Ring Road are two lanes in most places.

Secondary and country roads are for the most part in good condition and country roads between villages are very narrow with minimal passing space so beware of drivers coming the other way!

Car Rental Locations in Slovenia

LJUBLJANA


&nbsp&nbsp Devova 6a - Ph: 386 1 513 70 17





&nbsp&nbsp Trg Osvobodilne fronte 5 - Ph: 386 1 234 4650



Also Avantcar, Avis, Budget, EuropCar, Hertz, Thrifty,
LJUBLJANA AIRPORT


&nbsp&nbsp Zgornji Brnik 130a - Ph: 386 1 513 70 17





&nbsp&nbsp Zgornji Brnik 130a - Ph: 386 4 238 2414



Also Avantcar, Avis, Budget, EuropCar, Hertz, Thrifty,
BLED


&nbsp&nbsp Ljubljanska cesta 20 - Ph: 386 1 513 70 17





&nbsp&nbsp PickUp/Delivery Service - Ph: 386 30 645 350



Also Avantcar, Budget, EuropCar, Hertz
MARIBOR


&nbsp&nbsp Hotel Betnava,Eve Lovše 15
&nbsp&nbsp Ph: 386 40 39 66 93




&nbsp&nbsp Partizanska 48 - Ph: 386 40 135 000



Also Avantcar, Avis, Budget, EuropCar, Hertz
KOPER


&nbsp&nbsp Istrska cesta 12, Koper - Ph: 386 40 80 88 29





&nbsp&nbsp Prastanika 21 - Ph: 386 5 626 2620



Also Avis, Hertz