SLOVENIA - Where is Slovenia and how do I get there?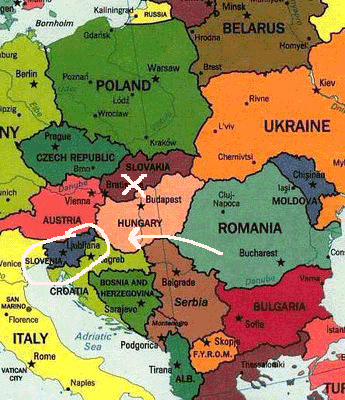 As you can see, Slovenia is found wedged in between Austria to the north, Italy to the west, Croatia to the south and Hungary to the east.
Note the big X so as not to confuse you with Slovakia!!!

Slovenia's capital Ljubljana is served by several airlines and is linked to many cities across Europe including Amsterdam, Banja Luka, Barcelona, Belgrade, Brussels, Copenhagen, Frankfurt, Helsinki, Istanbul, Kiev, London Gatwick, London Stansted, Moscow, Munich, Paris, Podgorica, Prague, Pristina, Sarajevo, Skopje, Tel-Aviv, Tirana, Toulon, Vienna, Warsaw and Zurich.

Airlines visiting Ljubljana include the national carrier Adria Airways, as well as Finnair, Turkish, Easyjet, Montenegro Airlines, Air France and Czech Air.

Slovenia is also close enough that visitors can arrive at Venice, Trieste, Graz and Zagreb airports with short connections to Slovenia by car, bus or train.

Alcohol
Beer, Wine and Spirits are widely available from most supermarkets, restaurants and pubs with all the local brands widely supported with some of the popular foreign brands also available.

Wine:
Locally produced wine is of a good standard and is slowly making an impact on the world stage as Slovene wines try to find their position in the marketplace.
There are over 40,000 wineries in Slovenia and they are mostly located in 3 main wine growing areas: Primorska to the west, Posavje to the south east and Podravje to the east.
Whites account for 75% of the output in Slovenia but the reds are now emerging as Slovene winemakers try to diversify by experimenting with both varieties. In the wine growing areas, families are fiercely proud of their product and like nothing better than sharing a bottle over dinner with friends.

See our'Wineries' page for a more in-depth look at Slovene wine.

Beer:
In regards to the amber fluid, Slovenes enjoy their lager and are big drinkers if we look at the per capita stats.
A rivalry had existed between the 2 biggest brands in Slovenia and you are said to be either green or red in supposed reference to your political and social status.
Green is for Zlatorog from Laško. The legendary brew is made in the town of the same name dating back to 1825 and because of its bitter taste, it is regarded as the 'real mans drink'.
Union the Red from Ljubljana has a sweeter taste and is considered a bit of a yuppie's beer for the suits. In any case it was said that one never drank the other. Its all immaterial now as Heineken owns Laško Breweries which owned Union as well and control over 90% of the country's market.

Spirits:
As in the rest of Eastern Europe, the Slovenes make their own firey brands of 'Rakija' or Brandy.
They are usually distilled from fruit but Slovenes also make a mean version from honey. It's usually referred to as Slivovka or Slivovec and should be sipped and never drunk by the shot unless you have no plans for the rest of the week.

In general, consuming alcohol to excess in Slovenia is frowned upon although alcoholism is a problem in less affluent areas. Having said this, you are only likely to encounter the odd docile drunk at closing time.

Crime
Slovenia is one of the safest countries in Europe, if not the world.

It is pretty rare that you will see or encounter crime of any kind in your travels, and violent crimes are almost unheard of.

With an approximate 10,000 convictions each year, the major crimes are larceny and fraud with violent crimes way down the list.

In general, travel for single women and everyone else shouldn't present a problem but that's not to say you shouldn't take precautions. Be vigilant and alert with your belongings like you would anywhere else in the world.

Recently a global exercise was undertaken to see which city possessed the most honest citizens in the world. Organisers left mobile phones on park benches to see if passers by would hand them in or simply walk off with them. Ljubljana received top marks with 29 of the 30 phones handed in. Need we say more?

Currency
Euro (implemented 1 Jan 2007).

The Euro has taken over from the short lived Tolar.
It comes in all the usual denominations of notes and coins.

If you wish to get an approximate idea of how many euro's you can buy for your money, use:
XE.com's Universal Currency Converter

Driving
Roads:
Slovenia's main roads are well-developed and safe for travel. Country roads are notoriously narrow and caution is needed due to speeding drivers and a lack of passing space. Highways are clearly marked and connect neighbouring cities and countries.

Parking:
Parking can be difficult in a lot of towns as parking space is limited and town streets are notoriously narrow. Good examples are Piran and Ljubljana where parking is scarce and also expensive.
Yellow spaces are reserved. Blue spaces, parking for 30 minutes. White spaces for longer periods with appropriate fee paid.

Driving Culture:
Traffic moves on the right in Slovenia and travellers from countries like the USA and Australia are often astounded by the aggressiveness and speed of drivers both in cities and on highways. You will easily be passed even if doing 130km per hour on the main freeways. Many of the serious accidents in Slovenia occur as a result of high-speed driving.

Misc Information:
By Slovene law, the maximum legal blood-alcohol limit for drivers is 0.05.
International Driver's Licences are valid for a maximum of one year, after which residents of Slovenia are required to obtain a Slovene driver's licence.
Motorists are required to have their headlights on during the daytime plus drivers and passengers alike must wear seat belts.
The use of mobile phones whilst driving is prohibited in Slovenia.
Snow chains or winter tyres are mandatory in winter from October to March and a fine applies if not adhered.
Buses have right of way.

The maximum speed limits of vehicles in towns are:
50 km/h - in built up town areas
30 km/h - in speed limit zones
10 km/h - in pedestrian zones.

The maximum speed limits of vehicles outside of towns are:
130 km/h - on highways/freeways
100 km/h - on roads marked as such
90 km/h - outside built up areas



Electricity
Traditional Voltage is 220V, 50hz but Slovenia is moving to the standardised EU voltage of 230V, 50hz.


The variance will not affect most appliances as they are built to tolerate variances in Voltage. Slovenia uses a round, two-pin plug.
You will need an adaptor and\or voltage coverter if your appliance uses a different plug.
Most travel voltage converters cover appliances from 50-1600 watts but they are not designed for long periods of use.
Electronic goods need a suitable transformer.

Emergencies
112 Fire and First Aid.
113 Police (Accidents etc.)
1987 Roadside assistance
(112 is a free charge call for use anywhere in the EU.)


EU
Joined the EU in May 2004.

While the older generation in Slovenia were still adjusting to a post-socialist society,
they also found themselves having to decide whether to join the EU as well.

Most surveys declared that joining the EU would not have any visible impact on the common man, but many agree that joining the EU raised prices but has placed Slovenian businesses in a stronger position with business grants on offer and Slovenian products available to a wider market.
Surveys also declared that people felt more secure by being part of the EU's military might, and that students would benefit from more opportunities in the EU market.

Geography
Highest Mountain:
Longest River:
Borders:
Coastline:

Mt Triglav (2864m)
Sava (221km)
Italy (280km), Austria (320km), Hungary (100km), Croatia (670km)
46.6km

Hospitals
Slovenia has a high standard of health and hygiene and their hospitals are also well equipped with modern equipment and well trained staff, many of whom will speak very good english as well.

Every town of note in Slovenia will have a medical center and they are generally open from 0700 to 1900 weekdays although times may vary.

Members from fellow EU countries who hold a valid European Health Insurance Card (EHIC) can avail themselves of general and most emergency treatments at no charge. This includes ambulance travel if referred by a local GP. Otherwise ambulance costs can be up to 70%.
Citizens of other countries must pay for medical services and are encouraged to purchase travel health insurance before arriving in Slovenia.

Independence
Declared Indepedence: 25th June 1991.

In 1990, Slovenia were the first republic in Yugoslavia to hold democratic elections and the ensuing electorate vote declared overwhemingly in favour of an independant republic.
After a brief 10 day stand off with Serbia, Yugoslav forces withdrew and Slovenia as an independant nation was born. It was effectively recognised by the world on 15th January 1992 and from there quickly proceeded to join the United Nations, NATO and the EU.

Internet
Slovenes have taken to the net in astonishing numbers in recent years and recent stats show there is over 1.25 million registered users with over 75% of homes having an internet connection.

DSL and Cable Broadband services are widely available and where Siol (Telekom Slovenije) once dominated the market, new entities have joined the race in providing web access to Slovenes.

Internet usage is widespread, and you might be surprised to find farmers in remote areas furiously clicking away at their keyboards. For tourists, internet cafes and accessible terminals at libraries are easy to find in nearly all towns.

The main ISP's are Siol, Amis, Telemach and T2. The country suffix for Slovenia is 'si'.

Language
The official language is Slovene.

Italian, German and Hungarian are all spoken along their respective border areas.
Slovenes also have a good understanding of neighbouring slavic tongues like Serbo-Croatian.

Being a slavic language, many Slovene words are very similar to those found in other languages like Czech and Russian.

English has taken over from German in schools and is widely understood, especially amongst the younger generation who speak english very well indeed.
English speakers should have no trouble at all whilst travelling throughout tourist areas in Slovenia.

Main phrases:
dober dan - good day
na svidenje - goodbye
hvala - thanks
prosim - please
kako si? - how are you?
koliko stane? - how much is it?

Opening Hours
In General:

Shopping centres:
Monday – Friday 09:00 – 21:00
Saturday 08:00 – 20:00/21.00
Sunday 09:00 – 15:00
Most stores closed on holidays.

Other stores:
Monday – Friday 08:00 – 19:00
Saturday 08:00 – 13:00
Sundays and holidays closed

Banks:
Monday – Friday 08:00 – 12:30; 14:00 – 17:00/18:00
Saturdays and Sundays closed

Post offices:
Monday – Friday 08:00 – 18:00/19:00
Saturdays 08:00 – 12:00/13:00 (in larger towns)
Sundays and holidays Closed

Phone
386 International Country Code

Mobile phones are all the craze now and you're nobody if you don't have the latest model.

Slovenia is now ahead of the average EU figure for the number of users per capita with 94% of the population having one. Mobile telephones in Slovenia operate on the frequency bands of 900 MHz and 1800 MHz. Roaming is available on the following mobile networks: Mobitel, Simobil, Debitel, Easymobil, Mmobil, Tušmobil.

Mobile users from many countries can set up their phones so they can use their exisiting number in Slovenia. See your provider for details.

Alternatively, phone cards are very popular in Slovenia where you can hire a phone with a prepaid amount and top it up when you need to. Go to any mobile phone store in Slovenia for more details.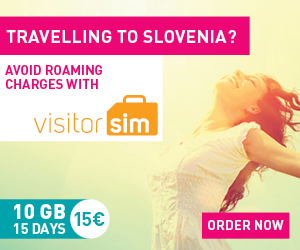 Stay connected, get Visitor SIM!

We all know how expensive it can be, to have internet access while on holiday, but Visitor SIM has solved this problem in Slovenia! They are offering a tourist SIM card, allowing fast and easy access to the Internet through any smart device you may be using. There's no subscription fee and the whole thing is Pay As You Go. You can have it delivered to your hotel in Slovenia.

Political
Slovenia is a parliamentary representative democratic republic, whereby the Prime Minister of Slovenia is the head of government.

Miroslav Cerar Jr from the Modern Centre Party is the current Prime Minister and the President is Borut Pahor.

Current parties in parliament are the Democratic Party of Pensioners of Slovenia, For Real,Liberal Democracy of Slovenia, Slovenian Democratic Party, Slovenian National Party, Slovenian People's Party and the Social Democrats.

Slovenes elect a head of state, (the president) and a legislature. The president is elected by the people for a five year term. The National Assembly is Slovenia's parliament and has 90 members who are elected for a four-year term.

Population
2,065,000 (Jan 17'')

Cities:
1. Ljubljana (Capital)
2. Maribor
3. Celje
4. Kranj
5. Koper
6. Velenje
7. Novo Mesto
8. Ptuj
9. Trbovlje
10. Kamnik



Pop: 280,000
Pop: 94,000
Pop: 38,000
Pop: 37,000
Pop: 25,000
Pop: 25,000
Pop: 23,000
Pop: 17,500
Pop: 14,000
Pop: 14,000


Public Holidays
Jan 1,2
Feb 8
Easter
Apr 27
May 1,2
May 31
Jun 25
Aug 15
Aug 17
Sep 15
Oct 31
Nov 1
Nov 23
Dec 25
Dec 26

New Years Day
Preseren Day (Cultural heritage Day named after the poet)
Easter Monday Holiday
Resistance Day (Day of uprising against occupation)
Labour Day
Pentecost
Day of Slovene Statehood - Independance Day
Assumption Day
Slovenes from Prekmurje Incorporated into the Mother nation (State holiday, Not work free)
Restoration Day- Reunion of Slovene Littoral with homeland (State holiday, Not work free)
Reformation Day
All Saints Day
Rudolph Maister Day (State holiday, Not work free)
Christmas Day
Independence Day


Religion
Roman Catholic (82%)
Like in most western countries, church attendances and religious activity are on a slow decline as the younger generation find other distractions like i-pods and the internet to keep them preoccupied.
However, you will still find the older generation shuffling off to mass every Sunday in every town and village throughout the country.

Smoking
Smoking is still one of the most popular pastimes even though laws have been brought in banning smoking in all indoor public (restaurants, bars etc.) and work places since August 2007.

Time Zone
GMT\UTC +1

Slovenia falls under CET or Central European Time.

Slovenia engages in Daylight Savings from the last weekend in March until the last weekend in October. An hour is added thus becoming GMT\UTC +2.



Tipping
Tipping in Slovenia is not traditionally customary, but it has become increasingly prevalent in restaurants these days. You can always add the obligitory 10% if you feel you've received good service as i'm sure no-one will complain!

Tollways
Slovenia's decision to introduce Vignettes (Prepaid Toll Fee for Freeway use Stickers) in July 2008 has raised much controversy from road users, especially from their closest neighbours. The tolls were described as grossly unfair and overpriced for a country with only 487km of highway system.

Slovenia has been heavily criticised for not offering a short term vignette for those who use the roads infrequently, or for those who are just passing through. The original vignette asked for car users to buy a 6 month vignette for 35 euro or a yearly pass for 55 euro. It was a similar story for motorcyclists as well.

From 1st July 2017, a seven-day vignette, valid for seven days including the day of purchase, will cost 15 EUR. This means that for most visitors who are travelling for over a week will actually be obliged to buy a monthly vignette at a cost of € 30.

From 1 July 2017:
All vehicles up to 3500kg
Annual vignette - Cars EUR 110.00
Monthly vignette - Cars EUR 30.00
Weekly vignette - Cars EUR 15.00

Annual vignette - Motorbikes EUR 55.00
Six month vignette - Motorbikes EUR 30.00
Weekly vignette - Motorbikes EUR 7.50

Vignettes can be purchased at: Petrol stations in Slovenia and neighbouring countries
At some offices of foreign motoring organisations
At post offices in Slovenia
At some news kiosks.

Using a toll road without a valid vignette (without paying the toll) can and probably will incur a fine of between 300 and 800 euros.

The annual vignette for the current year is valid from 1 December of the preceding year to 31 January of the following year (a total of 14 months). The six-month vignette is valid for six months from the date of purchase or to the last day of the sixth month if the sixth month does not have that day. The monthly vignette is valid from the moment of purchase to the same date of the following month or the last day of the month if the following month does not have that day. The weekly vignette is valid for seven consecutive calendar days beginning on the day chosen by the user on purchasing the vignette.

If carrying a trailer or caravan, a second vignette is NOT needed unless it weighs more than 3,500kg.
If so, you would expect to pay a toll as per vehicles over 3,500kg (but unless your vehicle is clearly larger than the standard trailer\caravan, we have doubts this would apply!).

From August 2009, a satellite-based electronic tolling system is due to be introduced for Trucks, Buses and other vehicles weighing more than 3.5 tonnes to replace the conventional methods of paying at toll booths.

Visa Requirements
Since Jan 1, 2008 internal borders with Italy, Austria and Hungary were abolished and EU citizens are now free to cross the border as and when they please as long as they have their ID cards on them and they dont stay longer than 30 days.

Citizens of the USA, UK, Canada, Ireland, Australia, New Zealand, Israel, Japan and the other European countries do not need visas to enter Slovenia for stays of up to 90 days. A valid passport (preferably one that will not expire in the next 6 months) is all that is needed.

For all other countries, check with your consulate but in most cases you will need a visa valid for six months.

Water
The water is perfectly safe to drink throughout the country. In fact, in the mountain regions, the water will probably be the purest you will ever taste!